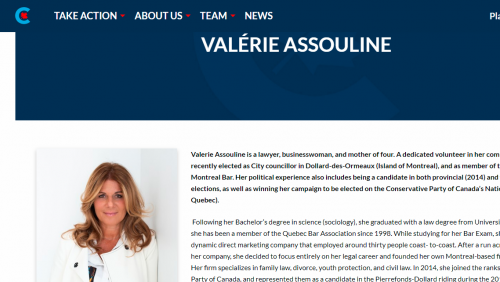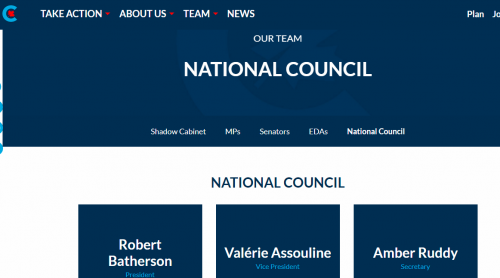 Does anyone see it as a conflict of interest when a city councillor (regardless of which city) takes a prominent position with a national party? Who does this person represent? How would any potential dual loyalty be resolved?
Valerie Assouline is a lawyer, businesswoman, and mother of four. A dedicated volunteer in her community, she has been recently elected as City councillor in Dollard-des-Ormeaux (Island of Montreal), and as member of the Board of the Montreal Bar. Her political experience also includes being a candidate in both provincial (2014) and federal (2015) elections, as well as winning her campaign to be elected on the Conservative Party of Canada's National Council (VP – Quebec).
Following her Bachelor's degree in science (sociology), she graduated with a law degree from Université de Montréal, and she has been a member of the Quebec Bar Association since 1998. While studying for her Bar Exam, she had also founded a dynamic direct marketing company that employed around thirty people coast- to-coast. After a run across Canada to develop her company, she decided to focus entirely on her legal career and founded her own Montreal-based firm, SOS-LAWYERS. Her firm specializes in family law, divorce, youth protection, and civil law. In 2014, she joined the ranks of the Conservative Party of Canada, and represented them as a candidate in the Pierrefonds-Dollard riding during the 2015 General Elections. Her grassroots, on-the-ground campaign, helped by her popular Conservative-themed camping trailer, was much talked-about during and since the elections across the province of Quebec, allowing her to be elected as National Councillor to represent CPC members.
Will such a person use their position within the national party to secure more money and influence for their city? Would that person zealously stand up for the interests of the city district? What happens when these promises collide?
And it isn't just her. The CPC National Secretary, Amber Ruddy, is a current pharma lobbyist. Robert Batherson, the CPC President, started up his own lobbying firm. CPC Leader, Erin O'Toole, is a former Facebook lobbyist. Thornhill Candidate, Melissa Lantsman, is a former pharma lobbyist.
(1) https://www.conservative.ca/
(2) https://www.conservative.ca/team-member/valerie-assouline/
(3) https://sosavocats.ca/en/about/
(4) https://www.westislandblog.com/dollard-lawyer-valerie-assouline-takes-death-of-7-year-old-granby-girl-case/