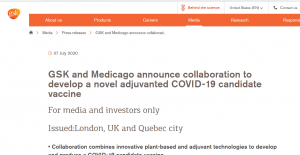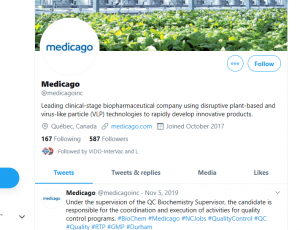 1. Other Articles On CV "Planned-emic"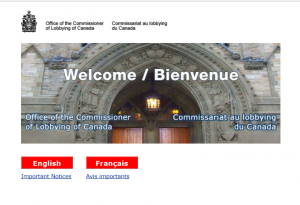 This series continues into the lies, distortions and manipulations of the coronavirus industry. In order to understand why it's happening, it's necessary to show the lobbying, influence peddling and money trail that is going on. This is a multi billion dollar industry, and a lot of people have a vested interest in prolonging it.
2. Important Links
(1) https://money.usnews.com/investing/news/articles/2020-07-07/gsk-philip-morris-venture-tie-up-for-potential-covid-19-shot
(2) https://us.gsk.com/en-us/media/press-releases/gsk-and-medicago-announce-collaboration-to-develop-a-novel-adjuvanted-covid-19-candidate-vaccine/
(3) https://twitter.com/medicagoinc
(4) https://canucklaw.ca/wp-content/uploads/2020/07/who.proposed.vaccine.options-1.pdf
(5) http://lobbyist.oico.on.ca/
CLICK HERE, for the Federal Lobbying Registry.
(6) https://lobbycanada.gc.ca/app/secure/ocl/lrs/do/vwRg?cno=366144&regId=897841#regStart
(7) https://lobbycanada.gc.ca/app/secure/ocl/lrs/do/vwRg?cno=361856&regId=878369&blnk=1
(8) https://lobbycanada.gc.ca/app/secure/ocl/lrs/do/vwRg?cno=362841&regId=888951
(9) https://lobbycanada.gc.ca/app/secure/ocl/lrs/do/vwRg?cno=362892&regId=885889&blnk=1
(10) https://lobbycanada.gc.ca/app/secure/ocl/lrs/do/vwRg?cno=363869&regId=886566
(11) https://lobbycanada.gc.ca/app/secure/ocl/lrs/do/vwRg?cno=363846&regId=886416.
(12) https://www.opensecrets.org/federal-lobbying/clients/summary?cycle=2018&id=D000000133
(13) https://www.medicago.com/en/technologies/#production-platform
(14) https://marketrealist.com/2020/07/philip-morris-stock-rises-fda-approves-iqos/
(15) https://www.who.int/news-room/detail/13-04-2020-public-statement-for-collaboration-on-covid-19-vaccine-development
3. Piece On Big PMI Tobacco/Vaccine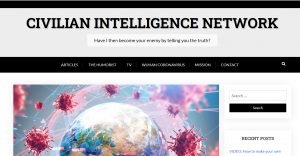 An interesting article by Civilian Intelligence Network on big tobacco and its role in the development of a CV vaccine. Very detailed, go take a look. Philip Morris is involved in many surprising things.
4. Plant-Based Vaccine In The Works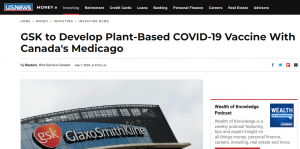 (Reuters) – The world's largest vaccine-maker GSK has put its vaccine booster technology to work in a potential new COVID-19 shot, to be developed with a Canadian biopharmaceutical company backed by tobacco company Philip Morris.
Rather than developing its own vaccine in the global race to combat the pandemic, GSK has instead focused on contributing its adjuvant technology to at least seven other global companies, including Sanofi and China's Clover.
There are no approved vaccines for the respiratory illness caused by the new coronavirus, but 19 vaccines are being trialed in humans globally and some treatments, such as Gilead's remdesivir, have been approved in certain regions.
GSK said on Tuesday the companies aimed to make their vaccine available in the first half of next year and produce about 100 million doses by the end of 2021. An early-stage human trial of three different dosage levels is expected to begin in mid-July.
Medicago, headquartered in Quebec City, Canada, is privately owned. PMI has a 33% stake, and Mitsubishi Tanabe Pharma holds the remainder.
This seems to be for real, a plant-based vaccine to the alleged CV pandemic. However, there are a lot of things to consider, especially who is behind this vaccine. It's also worth looking at the lobbying and influence peddling that goes on.
In its press release, GSK outlined the agreement and pointed out that Medicago is 2/3 owned by Mitsubishi Tanabe Pharma (MTPC), and 1/3 by Philip Morris International (PMI). Apparently Philip Morris — yes the cigarette company — is reconsidering its ownership stake in Medicago.
So GlaxoSmithKline and Medicago are going to develop a plant-based vaccine. Let's take a look into them.
5. Gates Foundation A Regular Donor To GSK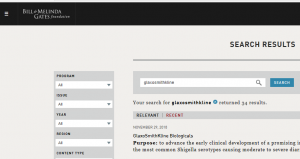 | Year | Amount | Purpose |
| --- | --- | --- |
| Nov 2011 | $16,956,274 | HIV research |
| Nov 2012 | $2,098,761 | HIV research |
| Nov 2013 | $2,347,273 | TB/Malaria |
| Oct 2014 | $1,281,469 | Ebola vaccine |
| Nov 2014 | $6,000,000 | Adjuvanted vaccines |
| Nov 2014 | $14,060,000 | RTS,S, Malaria |
| Nov 2014 | $1,199,441 | Malaria/TB/HIV |
| Jan 2015 | $1,291,432 | Malaria/TB |
| Dec 2015 | $10,799,189 | Shigella vaccine |
| Oct 2016 | $1,511,994 | Malaria testing |
| Apr 2017 | $687,790 | Pathogen research |
| Aug 2017 | $1,801,900 | TB drugs |
| Nov 2017 | $320,265 | Malaria control |
| Nov 2018 | $4,992,331 | Shigella serotypes |
The Bill & Melinda Gates Foundation has donated millions to GSK, (GlaxoSmithKline), in recent years. Gates seems to be 100% behind the vaxx agenda.
The Gates Foundation Trust, which is a separate entity from the Foundation, holds millions in stocks and bonds of various pharmaceutical companies. Part 21 of this series laid out some of the vast financial ties Bill Gates has to the pharmaceutical industry.
It should also be noted that the Gates Foundation has heavily financed Imperial College London, and Neil Ferguson's bogus computer models. It also owns virus patents, and is heavily involved in ID2020.
6. Gates/GSK Partnered In AbCellera Grant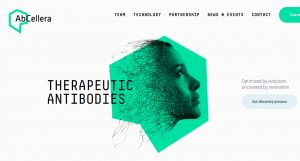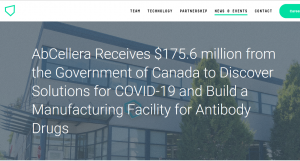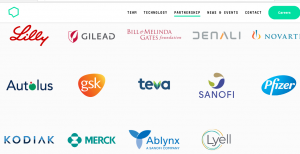 This a bit of a side track, but worth mentioning briefly. It was covered in Part 14 of the series that the Bill & Melinda Gates Foundation and GlaxoSmithKline, were 2 of the partners in the May 2020 grant of $175.6 from the Canadian taxpayers to the company AbCellera.
7. Crestview Lobbyists Hired By GSK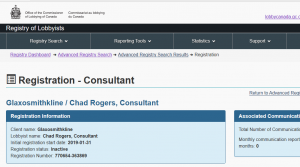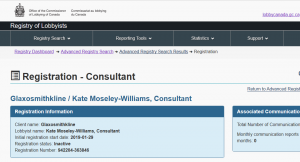 At one time GlaxoSmithKline has 2 registered lobbyists from Crestview Strategy: Chad Rogers and Kate Moseley-Williams. However, there are no filed communications reports. A bit strange to recruit but not use them. However, looking at the other GSK records, there are over 200 reports filed from other people going back to 1996.
Why care about Crestview Strategy? Because they are the same firm that GAVI (funded by Gates), was using to lobby the Trudeau Government over the last few years.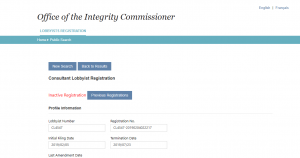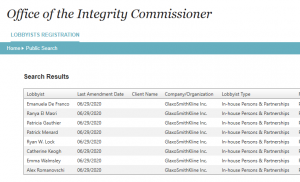 However, Kate Moseley-William did lobby the Ontario Government in 2019 on behalf of GSK. And bit of information: on June 29, 2020, 8 lobbyists from GSK met with ON officials.
8. GSK's Heavy Lobbying In U.S.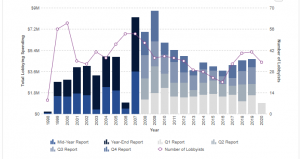 According to Open Secrets, GlaxoSmithKline spends a few million every year lobbying in the U.S., and has anywhere from 10 to 60 lobbyists on the payroll. But that probably has no influence on its ability to get FDA approval on its products.
9. Medicago ON VLP/Plant Technology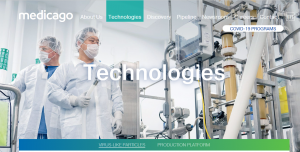 In very broad strokes, Medicago would be using plants to generate VLP (virus-like particles) which replicate CV and can be given to people to develop immunity. Replicating a previous technique for CV is essentially the partnership that GSK and Medicago would be involved in.
10. Crestview's Jason Clark Now With Medicago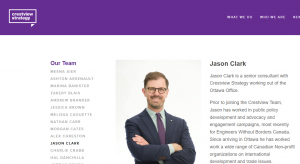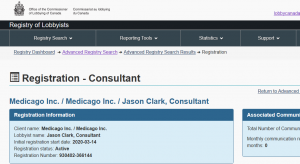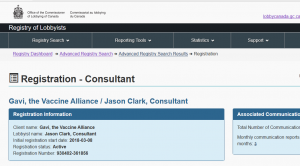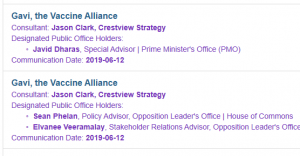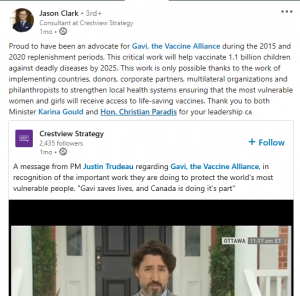 An interesting fact: Crestview Strategy lobbyist Jason Clark, previously lobbied both the Prime Minister's Office, and the Office of the Official Opposition. Addressed in Part 4, this was done on behalf of GAVI, whom he proudly represented. Now, Clark is registered as a lobbyist with Medicago.
11. Ex-Crestview Lobbyist Jennifer Babcock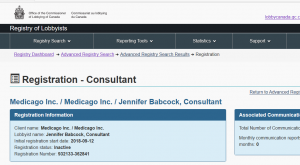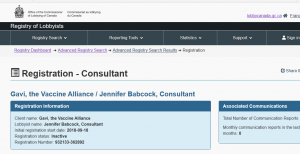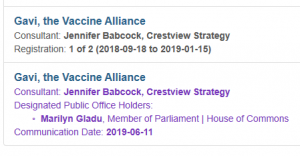 Jennifer Babcock has been a registered lobbyist both for GAVI, and for Medicago. Incidently, she has also been a lobbyist for Merck, and for the Alliance for Safe Online Pharmacies.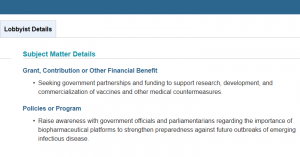 In fact many lobbyists for the firm Crestview Strategy have had Medicago as a client. Another firm, Magnet Strategy Group, has also worked with Medicago. As the information should make clear, the goal of the lobbying is getting funding from the various Governments.
12. Medicago Co-Owner PMI, Heated Cigs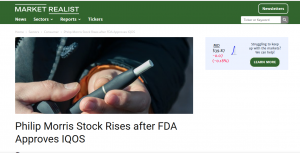 On Tuesday, the FDA authorized Philip Morris's IQOS, an electrically heated tobacco unit, to be marketed as an MRTP (modified risk tobacco product). IQOS is the first and only electronic nicotine product to get authorization from the FDA to be marketed as an MRTP. The company claims that the product is fundamentally different from other tobacco products and also a better choice for smokers.
The FDA stated that IQOS heats tobacco and doesn't burn it. The process significantly reduces the production of harmful chemicals. Smokers will be less exposed to harmful chemicals by switching completely to IQOS. The FDA concluded that IQOS could benefit tobacco users and non-tobacco smokers based on the current evidence.
Philip Morris International (which owns 1/3 of Medicago) just received FDA approval to sell electronically heated tobacco, which they market as a healthier choice for smokers. Rather than get people off cigarettes, a new model is pitched.
There seems to be some cognitive dissonance here. This group helping to develop a vaccine to save lives is also developing a new form of smoking to help kill people. But business is business I guess.
Interestingly, Philip Morris has suggested selling its 1/3 share of Medicago.
13. WHO Statement On Vaccine Collaboration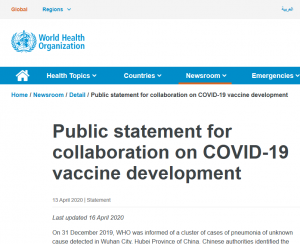 Declaration
We are scientists, physicians, funders and manufacturers who have come together as part of an international collaboration, coordinated by the World Health Organization (WHO), to help speed the availability of a vaccine against COVID-19. While a vaccine for general use takes time to develop, a vaccine may ultimately be instrumental in controlling this worldwide pandemic. In the interim, we applaud the implementation of community intervention measures that reduce spread of the virus and protect people, including vulnerable populations, and pledge to use the time gained by the widespread adoption of such measures to develop a vaccine as rapidly as possible. We will continue efforts to strengthen the unprecedented worldwide collaboration, cooperation and sharing of data already underway. We believe these efforts will help reduce inefficiencies and duplication of effort, and we will work tenaciously to increase the likelihood that one or more safe and effective vaccines will soon be made available to all.
To anyone who thinks that this is only a passing phase, it's not. There are many players who are vested in seeing some sort of vaccine(s) come out, regardless of whether it's needed.
14. WHO Considering Many Vaccines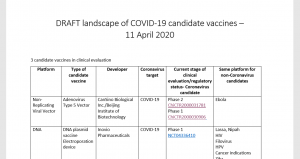 who.proposed.vaccine.options
For some context, it must be noted that there are many companies working to develop a vaccine using different approaches. This was from the World Health Organization in April. There aren't any plant based vaccines listed, but perhaps the revised list will change that.
Non-Replicating Viral Vector
Adenovirus Type 5 Vector
CanSino Biological Inc./Beijing Institute of Biotechnology
DNA DNA plasmid vaccine
Electroporation device
Inovio Pharmaceuticals
RNA
LNPencapsulated mRNA
Moderna/NIAID
DNA
DNA with electroporation
Karolinska Institute / Cobra Biologics (OPENCORONA Project)
DNA
DNA plasmid vaccine
Osaka University/ AnGes/ Takara Bio
DNA
DNA
Takis/Applied DNA Sciences/Evvivax
DNA
Plasmid DNA, Needle-Free Delivery
Immunomic Therapeutics, Inc./EpiVax, Inc./PharmaJet, Inc.
On second thought, considering what the World Health Organization is allowing to go forward, maybe a plant based virus isn't as bad as some other options.
15. Saini's M-132 Ensures Canada's Participation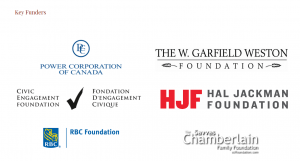 It was outlined in Part 7 and Part 9 of the series how Motion M-132 was introduced in the fall of 2017. Hearings were held with lobbyists in 2018, and the findings were formally adopted in March 2019. This motion ensures Canada will be continuously funding vaccine research for Canada and the world. What convenient timing to clear legislative hurdles.
Of course the murders of Barry and Honey Sherman in late 2017 were convenient as well. We wouldn't want any possible virus cure being readily available. Where's the profit in that?
16. Nothing Stops This (Vaccine) Train
It's obvious that there are many, MANY players pushing the vaccine agenda. There's surely billions of dollars at stake for whoever comes up with a vaccine first.
Sure, people like Bill Gates are eugenicists obsessed with world depopulation. Sure, WHO modelling, predictions, and case counts are repeatedly wrong. And sure, some Western politicians like their newfound sense of absolute power. But the business interests cannot be overlooked.
This plant-based vaccine is just the tip of the iceberg.