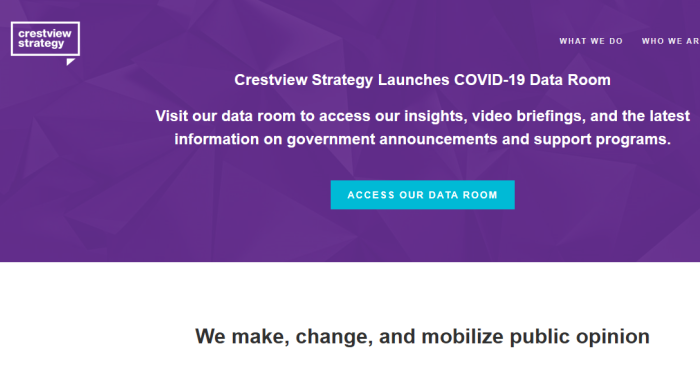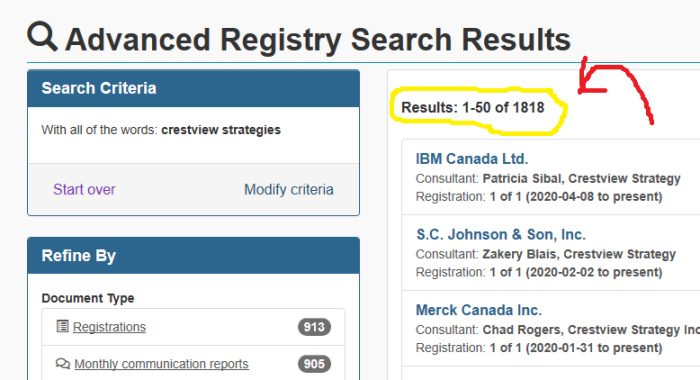 Influence peddling in Canada is more than just a full time job. It requires hiring additional staff, and having additional offices in other cities.
1. Other Articles On CV "Planned-emic"
(A) https://canucklaw.ca/cv-0-corona-plandemic-lobbying-deleted-resources-cl-listings-theresa-tam-canadas-hoaxer-zero
(B) https://canucklaw.ca/cv-1-coronavirus-patent-by-pirbright-institute-funded-by-gates-foundation-climate-change-scam-15/
(C) https://canucklaw.ca/cv-2-coronavirus-research-at-usask-gates-foundation-undp-funded-ivi-douglas-richardson/
(D) https://canucklaw.ca/cv-3-bill-gates-vaccines-un-who-gavi-id2020-us-cdc-all-involved/
(E) https://canucklaw.ca/cv-4-gates-foundation-lobbied-trudeau-using-proxies-into-accepting-vaccine-agenda/
2. Context For This Piece
A previous piece address the attempts by GAVI (the Global Vaccine Alliance) to lobby the Federal Government into pushing the vaxx agenda. GAVI used a lobbying firm called Crestview Strategy to do their dirty work
In going through the profiles of the Crestview Strategy staff, it becomes disturbingly obvious that many of them have political connections. In fact, many of them were involved in recent elections, getting politicians into office.
So what happens after their candidates gain power? Do they owe favours? Is there any quid pro quo? Or do people go their own way? It seems that the ties run deep. This list doesn't even include everyone.
3. Crestview's Corporate Documents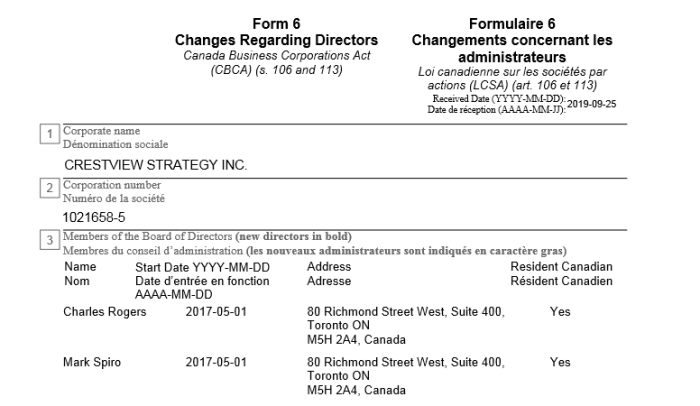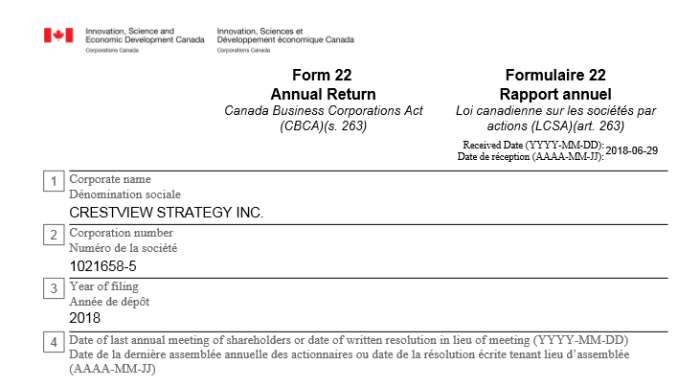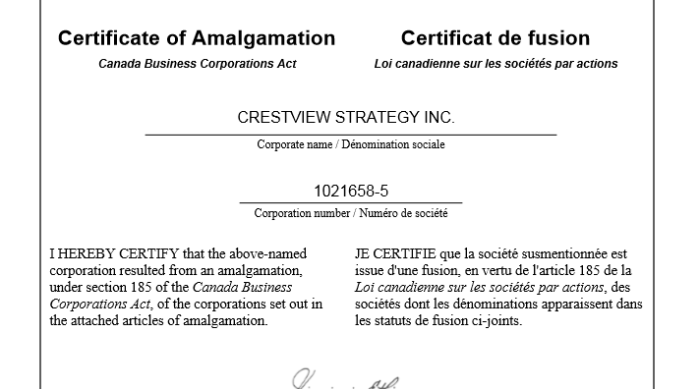 Crestview Annual Return (1)
Crestview Registered office & Directors (3)
Crestview.Certificate.Of.Amalgamation (2)
crestview.directors.change.2019
4. Crestview Lobbied For GAVI/Gates Foundation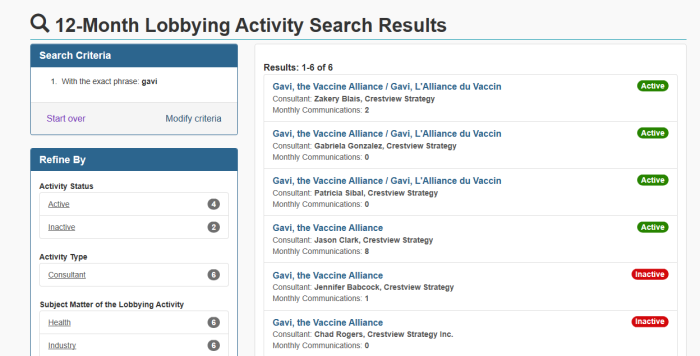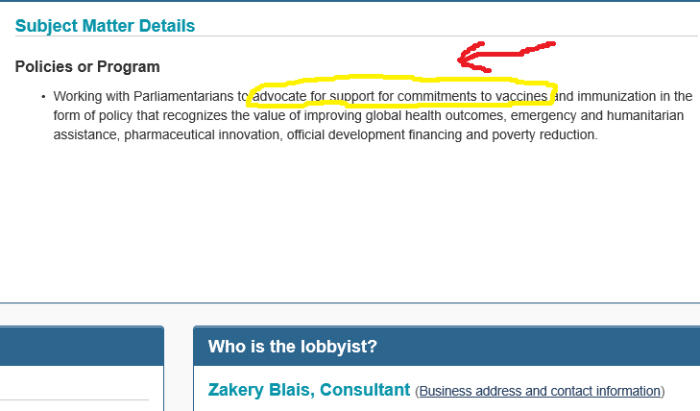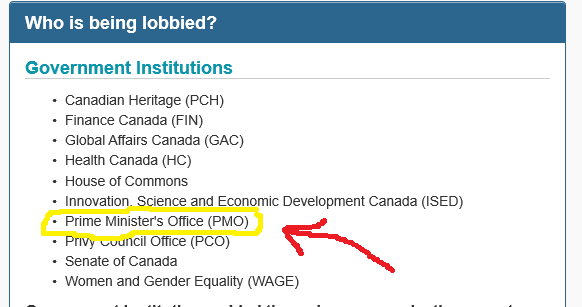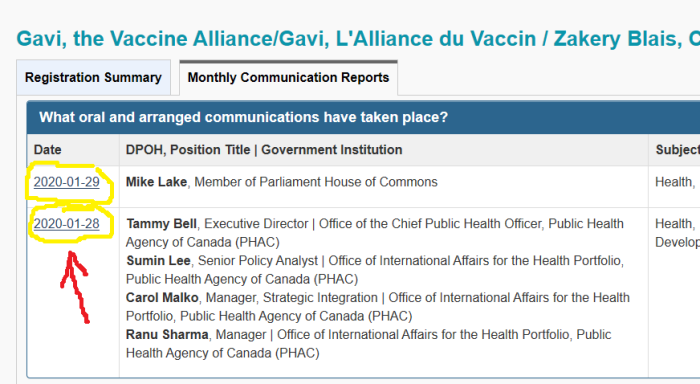 Crestview was lobbying the Federal Government at the end of January, 2020, even as the public is being told that there is nothing to worry about. Interesting.
The following bit was covered in the previous piece. There are 20 communications reports on file over the last two years where Crestview Strategy has lobbied the Federal Government on behalf of GAVI, the Global Vaccine Alliance.
Dates of Communications Reports
(1) 2018 March 8
(2) 2018 March 9
(3) 2018 March 9
(4) 2018 October 9
(5) 2018 October 9
(6) 2018 October 9
(7) 2018 October 10
(8) 2018 October 10
(9) 2018 October 10
(10) 2019 June 11
(11) 2019 June 11
(12) 2019 June 11
(13) 2019 June 12
(14) 2019 June 12
(15) 2019 June 12
(16) 2020 January 28
(17) 2020 January 29
(18) 2020 January 29
(19) 2020 January 29
(20) 2020 January 30
No, these aren't duplications. The registry indicates multiple reports on these dates.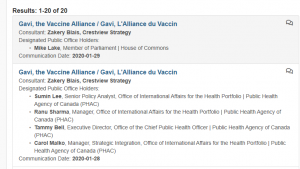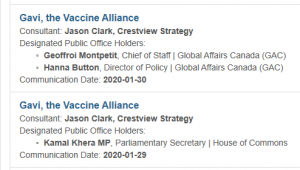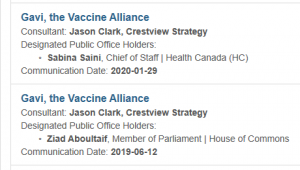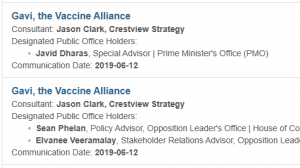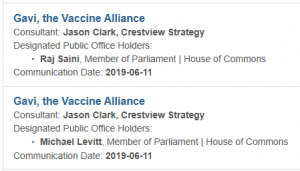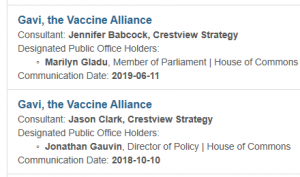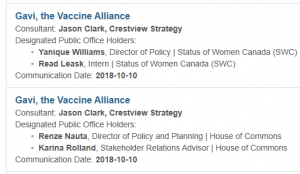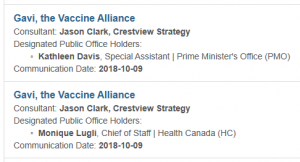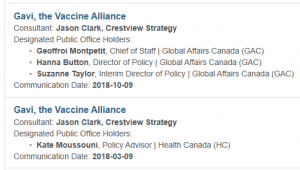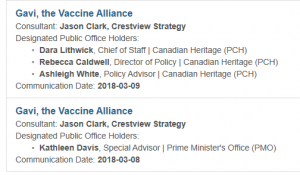 These are just the 20 reports that are on file with the Office of the Lobbying Commissioner. It's fair to assume that there have been many, many more talks that aren't documented.
Also, going through the profiles of the Crestview Strategy staff, it is troubling to see just how many of them have political connections. While people are allowed to vote and advocate as they please, there comes the serious question of conflicts on interest.
5. Crestview Lobbyist Ashton Arsenault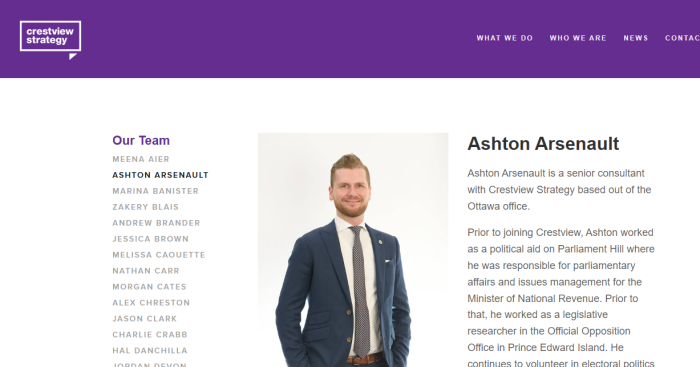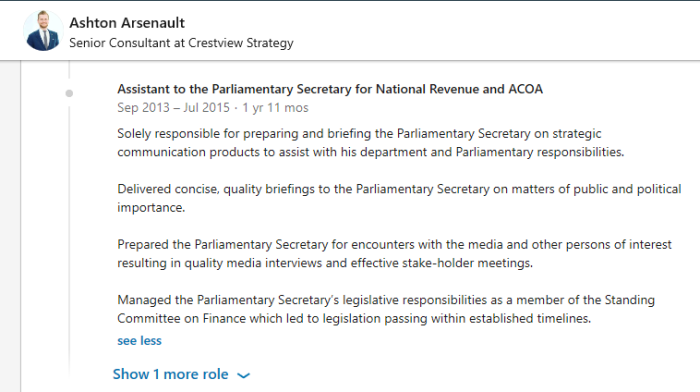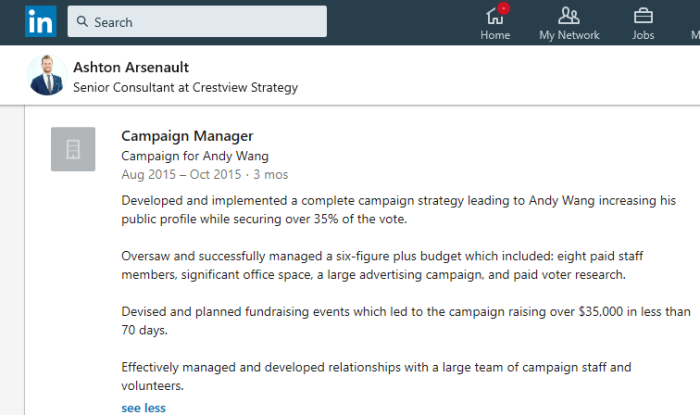 Prior to joining Crestview, Ashton worked as a political aid on Parliament Hill where he was responsible for parliamentary affairs and issues management for the Minister of National Revenue. Prior to that, he worked as a legislative researcher in the Official Opposition Office in Prince Edward Island. He continues to volunteer in electoral politics at the federal level.
Ashton has been involved in politics for several years, serving as a campaign manager for a Conservative candidate in the 2015 General Election. As well, he served as the University of Prince Edward Island's Chair of Council from 2011-2012.
Among other roles, Arsenault helped with the 2015 election campaign of CPC candidate Andy Wang.
6. Crestview Lobbyist Zakery Blais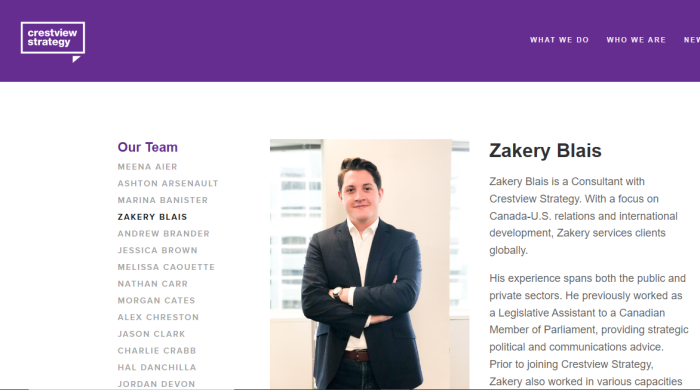 Zakery Blais is a Consultant with Crestview Strategy. With a focus on Canada-U.S. relations and international development, Zakery services clients globally.
His experience spans both the public and private sectors. He previously worked as a Legislative Assistant to a Canadian Member of Parliament, providing strategic political and communications advice. Prior to joining Crestview Strategy, Zakery also worked in various capacities in public affairs, including as an analyst focused on the energy and natural resources sectors.
That is from his profile on the Crestview Strategy webpage.
Fun fact: Blais was an assistant for David Lametti, a former Parliamentary Secretary, and currently the Attorney General of Canada. While Crestview CLAIMS it doesn't operate on a who-you-know basis, the current lobbyist pushing this is the Attorney General's former assistant. Not exactly arms length, is it?
7. Crestview Lobbyist Andrew Brander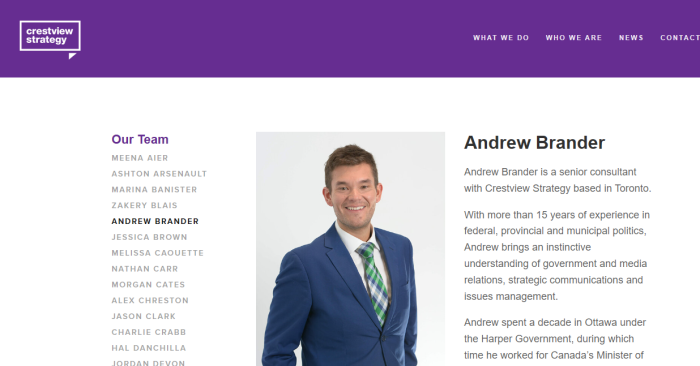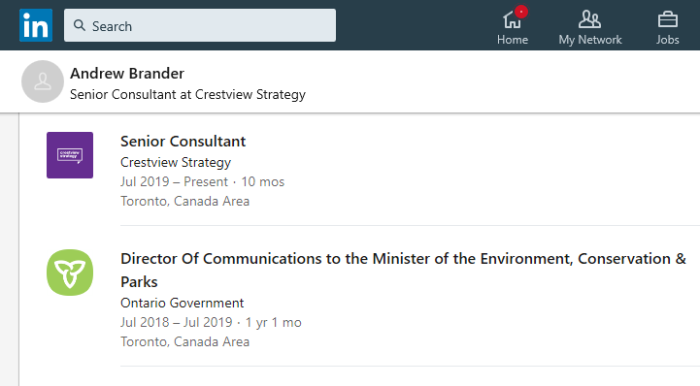 With more than 15 years of experience in federal, provincial and municipal politics, Andrew brings an instinctive understanding of government and media relations, strategic communications and issues management.
Andrew spent a decade in Ottawa under the Harper Government, during which time he worked for Canada's Minister of Transport, Minister of Labour and Minister of Natural Resources. On various occasions, he was recognized by his colleagues, appearing in The Hill Times Terrific 25 survey of top parliamentary staffers. During his time in opposition politics, he worked for the Finance Critic and served as Chief of Staff for the Deputy Leader of the Official Opposition. Andrew served as senior staff in the Ford Government, most recently as Director of Communications for The Honourable Rod Phillips, currently Ontario's Finance Minister.
Brander spent a decade in Harper's Government, and has also been in the Ontario Provincial Government.
8. Crestview Lobbyist Melissa Caouette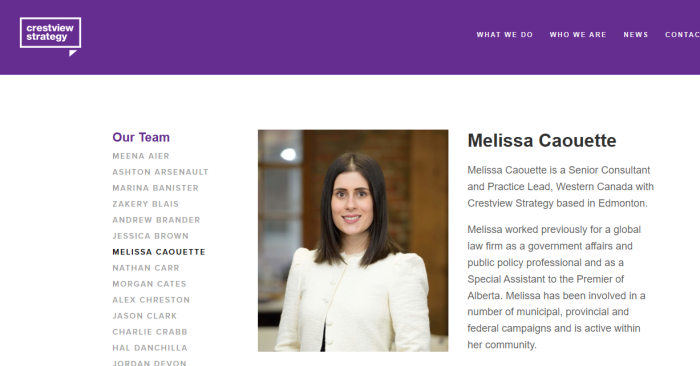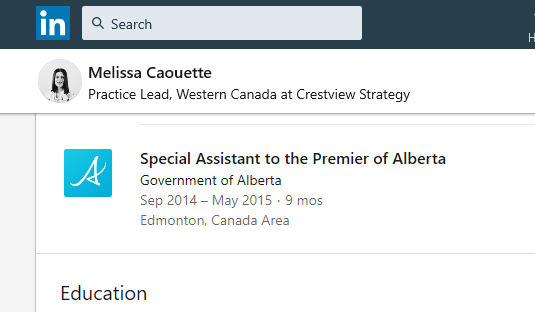 Melissa worked previously for a global law firm as a government affairs and public policy professional and as a Special Assistant to the Premier of Alberta. Melissa has been involved in a number of municipal, provincial and federal campaigns and is active within her community.
Interesting. She has been an assistant for the Alberta Premier, and has been involved in municipal, provincial and federal elections campaigns.
9. Crestview Lobbyist Nathan Carr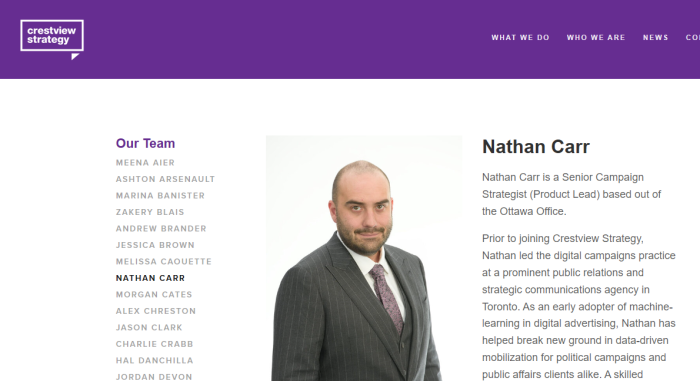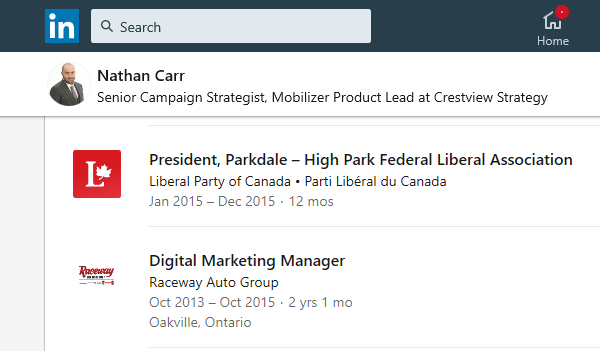 Prior to joining Crestview Strategy, Nathan led the digital campaigns practice at a prominent public relations and strategic communications agency in Toronto. As an early adopter of machine-learning in digital advertising, Nathan has helped break new ground in data-driven mobilization for political campaigns and public affairs clients alike. A skilled campaigner, Nathan has led teams to winning outcomes through federal, provincial, and municipal elections.
Carr was involved in the 2015 Federal election. In fact, he was the President of the High Park Liberal Riding Association.
10. Crestview Lobbyist Alex Chreston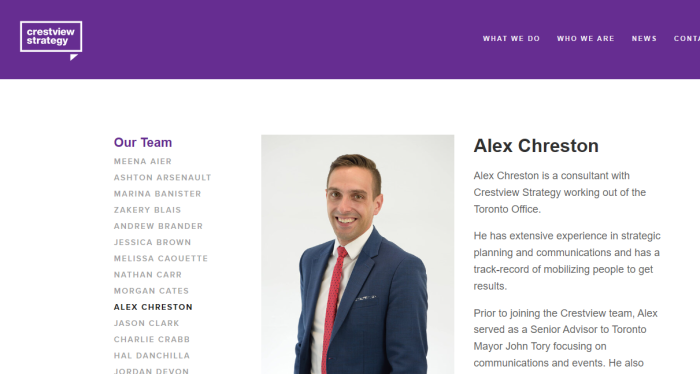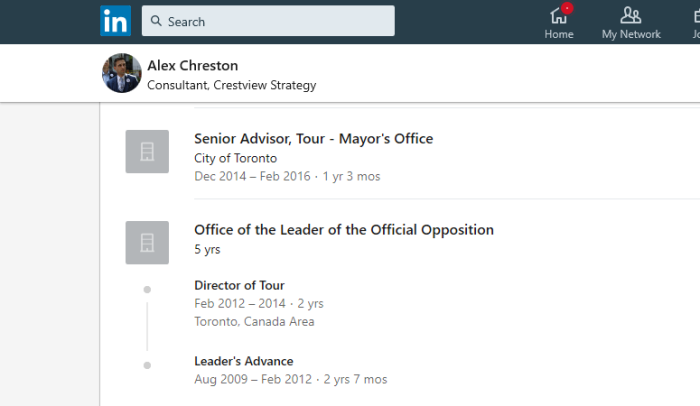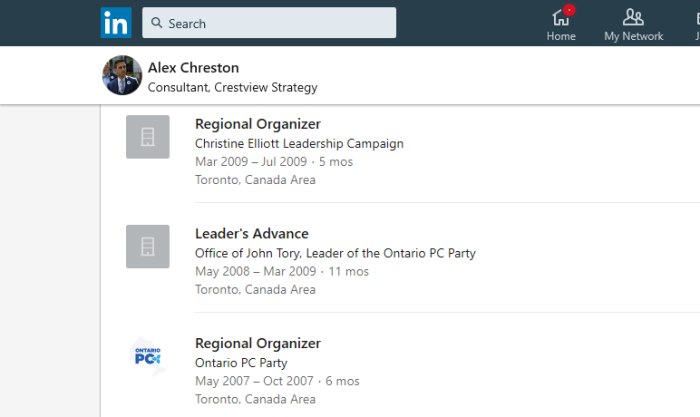 Prior to joining the Crestview team, Alex served as a Senior Advisor to Toronto Mayor John Tory focusing on communications and events. He also spent a decade working at Queens Park where he served as a senior aide in the Office of the Leader of the Official Opposition under both John Tory and Tim Hudak.
Additionally, Alex has worked in strategic planning and execution on campaign teams for multiple provincial and local elections.
Chreston is yet another lobbyist with political connections. He has ties to the Ontario Conservatives, and to Toronto candidates.
11. Crestview Lobbyist Jason Clark
Prior to joining the Crestview Team, Jason has worked in public policy development and advocacy and engagement campaigns, most recently for Engineers Without Borders Canada. Since arriving in Ottawa he has worked work a wide range of Canadian Non-profit organizations on international development and trade issues. Previously, Jason managed one of the largest public engagement campaigns on climate change, energy and sustainability in Great Britain, working in partnership with all levels of government, business, industry and trade associations, the public sector and civil society. Jason has also worked with female entrepreneurs and social enterprises in Lesotho, Africa.
[Jason Clark] volunteered for several Ottawa-area Liberal Party of Canada candidates during the 2015 election campaign.
That is from his profile page with Crestview Strategy.
12. Crestview Lobbyist Hal Danchilla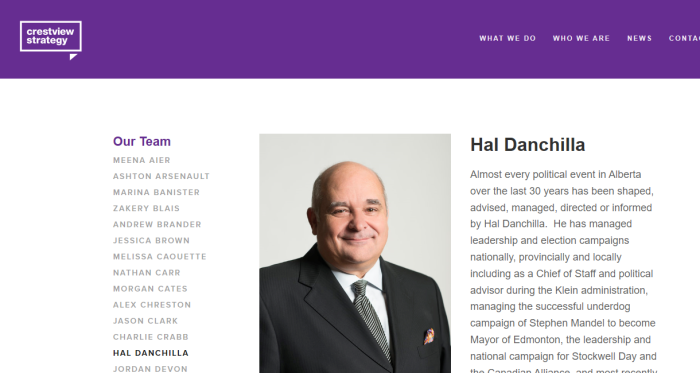 Almost every political event in Alberta over the last 30 years has been shaped, advised, managed, directed or informed by Hal Danchilla. He has managed leadership and election campaigns nationally, provincially and locally including as a Chief of Staff and political advisor during the Klein administration, managing the successful underdog campaign of Stephen Mandel to become Mayor of Edmonton, the leadership and national campaign for Stockwell Day and the Canadian Alliance, and most recently a trusted advisor and campaign strategist for Jason Kenney.
Interesting. It claims that Danchilla is involved in all political affairs in Alberta over the last 3 decades. So when he lobbies it must have considerable clout.
13. Crestview Lobbyist Jordan Devon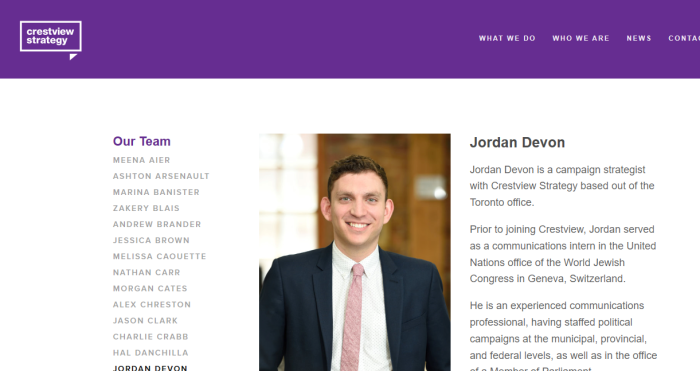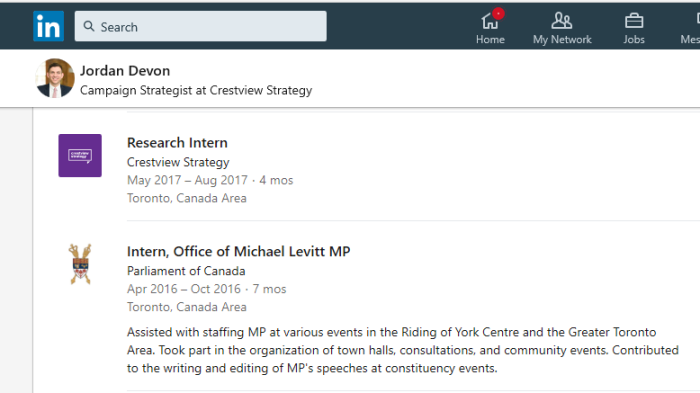 Prior to joining Crestview, Jordan served as a communications intern in the United Nations office of the World Jewish Congress in Geneva, Switzerland.
He is an experienced communications professional, having staffed political campaigns at the municipal, provincial, and federal levels, as well as in the office of a Member of Parliament.
Quite the globalist here. He served as an intern at the United Nations for the office of the World Jewish Congress. Involved in campaigns at the local, provincial and federal levels. Helped get a current MP elected.
13. Crestview Lobbyist Grant Goldberg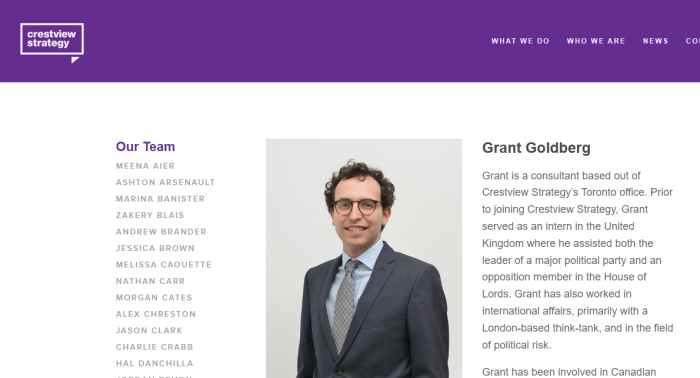 Grant is a consultant based out of Crestview Strategy's Toronto office. Prior to joining Crestview Strategy, Grant served as an intern in the United Kingdom where he assisted both the leader of a major political party and an opposition member in the House of Lords. Grant has also worked in international affairs, primarily with a London-based think-tank, and in the field of political risk.
Grant has been involved in Canadian politics and has worked on campaigns in both his local community and across Ontario.
Goldberg has been involved in politics for a long time. This is both in the UK, and across Ontario. It seems to be a portable skill.
14. Crestview Lobbyist Gabriela Gonzalez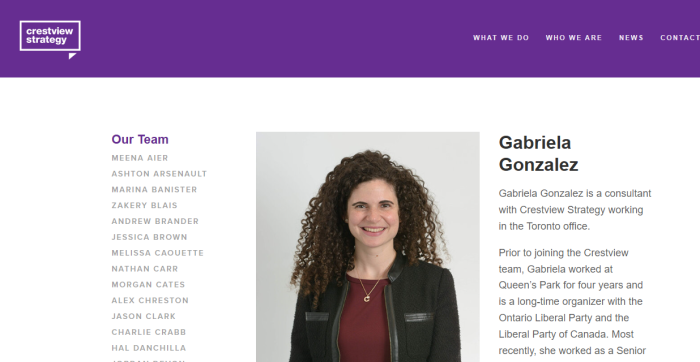 Prior to joining the Crestview team, Gabriela worked at Queen's Park for four years and is a long-time organizer with the Ontario Liberal Party and the Liberal Party of Canada. Most recently, she worked as a Senior Communications and Operations Advisor to Ontario's Minister of Economic Development and Growth. Prior to that role, she was the Toronto Regional Advisor at the Liberal Caucus Service Bureau. She also worked for Premier Kathleen Wynne in her role as Minister of Agriculture and Food and Minister Jeff Leal as the Minister of Rural Affairs.
Gonzalez has extensive connections to both the Ontario Liberals and the Federal Liberals, and has helped out in Cabinet. A true political insider with extensive connections.
15. Crestview Lobbyist Susie Heath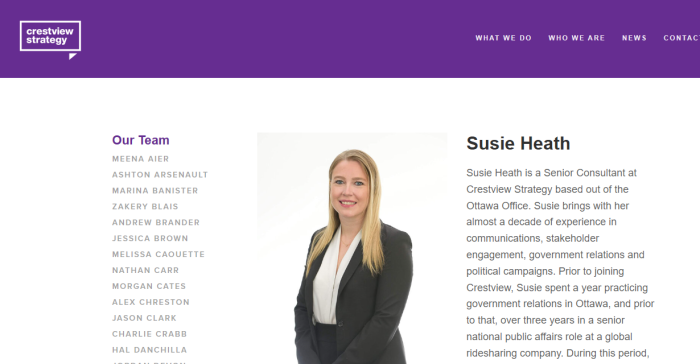 Susie Heath is a Senior Consultant at Crestview Strategy based out of the Ottawa Office. Susie brings with her almost a decade of experience in communications, stakeholder engagement, government relations and political campaigns. Prior to joining Crestview, Susie spent a year practicing government relations in Ottawa, and prior to that, over three years in a senior national public affairs role at a global ridesharing company. During this period, she led the communications strategy which resulted in the regulation of ridesharing in communities across Canada.
Previously, Susie spent over six years at Queen's Park, where she served as Senior Communications Advisor and Press Secretary to the Minister of Finance, as well as in a number of senior communications and legislative advisor roles to various Ministers.
She spent 6 years in Queen's Park, as a Press Secretary for the Minister of Finance, and for other Ministers. Has also spent time in politics in Ottawa. Yet another who goes between provincial and federal politics.
16. Crestview Lobbyist Matthew John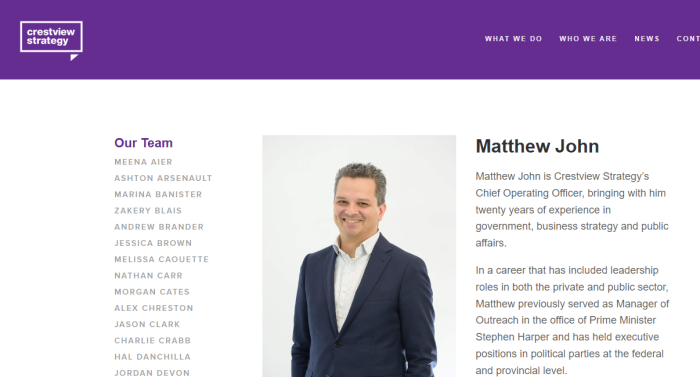 Matthew John is Crestview Strategy's Chief Operating Officer, bringing with him twenty years of experience in government, business strategy and public affairs.
In a career that has included leadership roles in both the private and public sector, Matthew previously served as Manager of Outreach in the office of Prime Minister Stephen Harper and has held executive positions in political parties at the federal and provincial level.
John was previously in the Prime Minister's Office, and has served parties at both the Provincial and Federal level.
17. Crestview Lobbyist Gail Kelly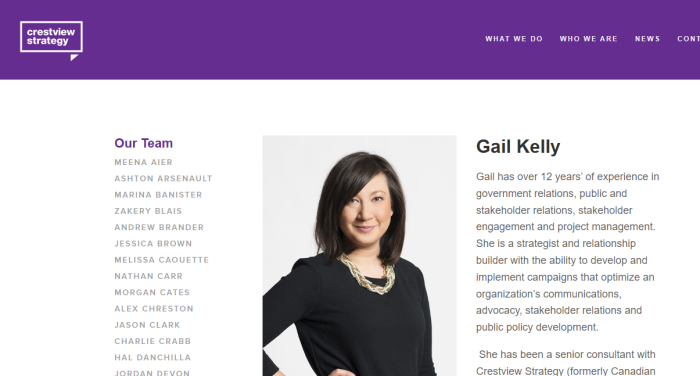 She has been a senior consultant with Crestview Strategy (formerly Canadian Strategy Group) since 2013. Prior to that she spent over six years working in provincial politics with the Progressive Conservative Association of Alberta. Her vast knowledge of the political process and understanding of provincial politics assists her in connecting the needs of clients with the opportunities presented by Government. She has worked with clients from numerous sectors, including not-for-profits, industry associations, corporations, and local businesses, achieving outcomes through strategy development, execution and messaging. Gail holds a BA from McGill University in Economics and Political Science.
Six years working with the Progress Conservative Association of Alberta. These people cross party lines and seem to be connected to everyone. Not only are a lot of these Crestview employees involved in politics, but many seem to have come from McGill University. A lot of politicians go there too.
18. Crestview Lobbyist Ella Klein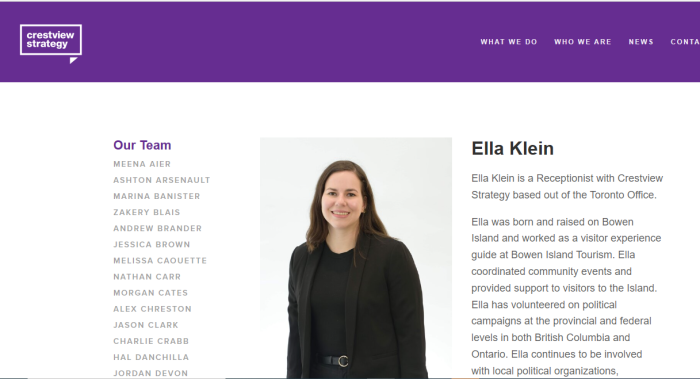 Ella was born and raised on Bowen Island and worked as a visitor experience guide at Bowen Island Tourism. Ella coordinated community events and provided support to visitors to the Island. Ella has volunteered on political campaigns at the provincial and federal levels in both British Columbia and Ontario. Ella continues to be involved with local political organizations, participating in canvassing, advocacy activities, and event planning.
Klein has political ties to both Ontario and BC. In fact, her profile indicates a prolific interest in politics, and now she is in a position to do something about it.
19. Crestview Lobbyist Joseph Lavoie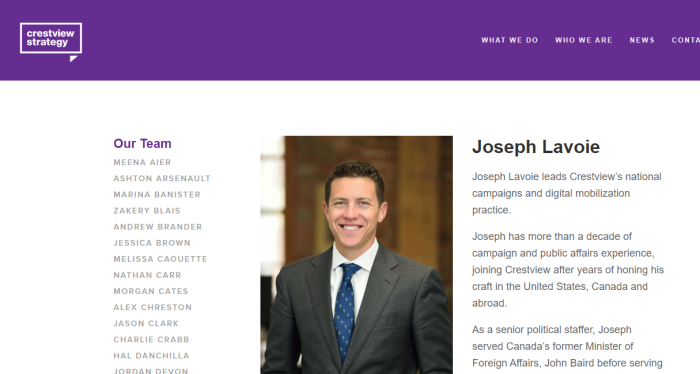 Joseph has more than a decade of campaign and public affairs experience, joining Crestview after years of honing his craft in the United States, Canada and abroad. As a senior political staffer, Joseph served Canada's former Minister of Foreign Affairs, John Baird before serving former Prime Minister Stephen Harper as his Director of Strategic Communications.
Lavoie was a staffer for then Cabinet Minister John Baird, and then a staffer for Prime Minister Stephen Harper.
20. Crestview Lobbyist Madison Leach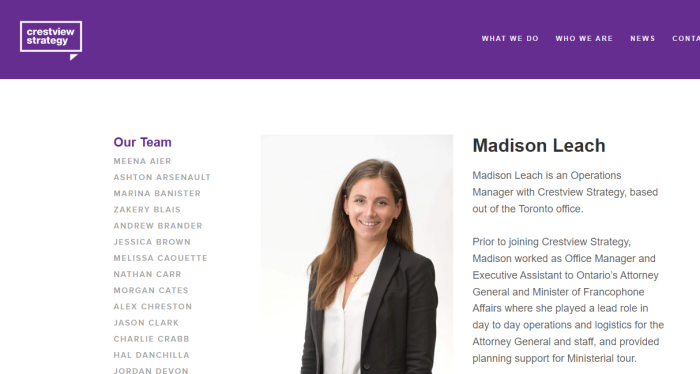 Prior to joining Crestview Strategy, Madison worked as Office Manager and Executive Assistant to Ontario's Attorney General and Minister of Francophone Affairs where she played a lead role in day to day operations and logistics for the Attorney General and staff, and provided planning support for Ministerial tour.
Madison has worked in various roles within the Ontario Public Service, including at the Ontario Ministry of Agriculture, Food, and Rural Affairs in policy, program and corporate areas. More recently, Madison provided executive support at the Ministry of the Attorney General to the Chief Administrative Officer and played a key role during the July 2018 government transition, onboarding Attorney General's office staff and acting as a liaison between the Minister's office and the Ministry. Madison has also worked for Sodexo as Manager of Operations.
Leach held various roles including support for the Ontario Attorney General's Office.
21. GAVI Lobbying Multiple Parties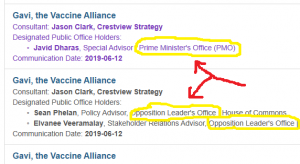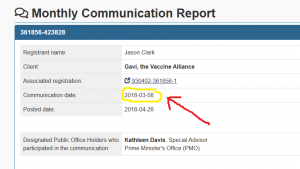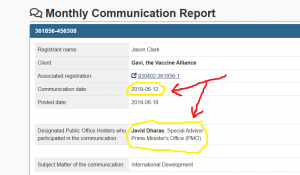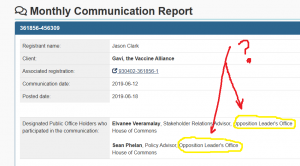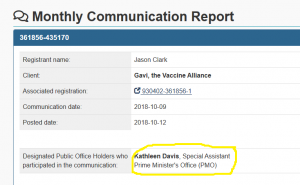 22. Rob Silver, Katie Telford's Husband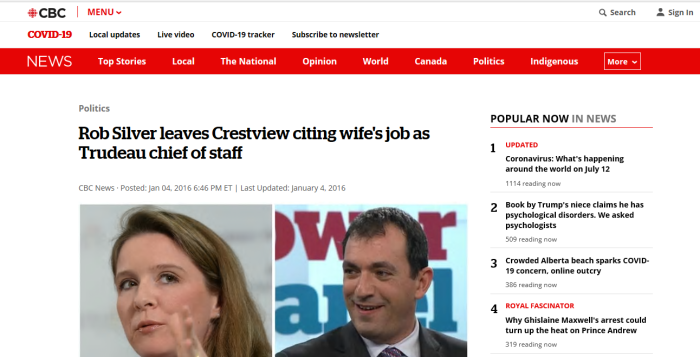 Liberal strategist and former pundit Rob Silver said Monday he has left the government relations firm he helped create, citing his wife's position as Justin Trudeau's chief of staff.
"Effective Dec. 31, 2015 I am no longer a shareholder or employee of Crestview Strategy," Silver said in an email Monday afternoon.
Silver was a partner in the Toronto- and Ottawa-based public affairs agency that, among other things, lobbies the federal government on behalf of clients.
Rob Silver, husband of Katie Telford, Trudeau's Chief-of-Staff, helped start up Crestview Strategy, the lobbying firm that GAVI hired to push the vaccine agenda.
23. Crestview Secures $800M Grant To GAVI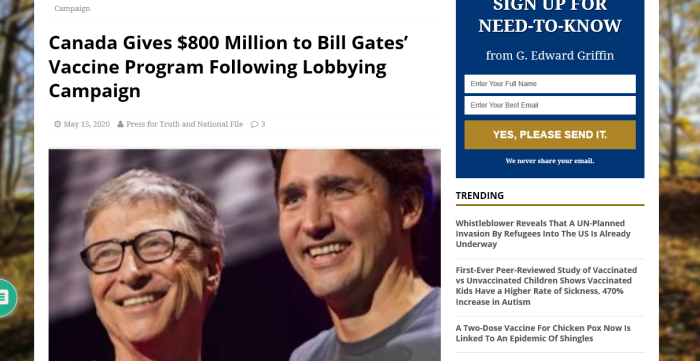 Trudeau's Government gave $800 million to GAVI, the Gates funded vaccine alliance. I don't suppose the Silver-Telford relationship and the incessant lobbying had anything to do with it.
24. Political Cronies In Lobbying
There are others, of course. However, the article will stop here, as the point has already been made.
Political staffers and party figures shouldn't be in the business of lobbying. Aside from the obvious conflict of interest, it does the public a huge disservice. These influence peddlers should be called out for what they are.
Keep in mind, the firm of Crestview Strategy has lobbied the Federal Government at least 20 times on behalf of GAVI, the Global Vaccine Alliance that is funded by the Gates Foundation. Gates is using an organization he funds to hire Liberal cronies (Zakery Blais and Jason Clark) to lobby the Liberal Party of Canada.
I suppose if the Conservatives were in power, Crestview would be using CPC cronies to do the lobbying. After all, they have enough of them on staff.