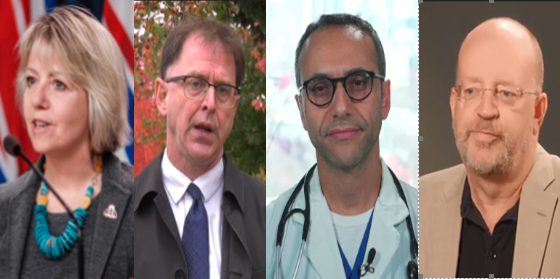 The B.C. Pharmacy Association has been lobbying the Provincial Government as of late. It's interesting to see just who some of these people are, and where the money is coming from. The public at large is completely oblivious to the bigger picture.
As for the people in the above photo, they are very much connected to the B.C.P.A. We will explain all of these players.
Bonnie Henry: B.C. Provincial Health Officer
Adrian Dix: B.C. Health Minister
Abdu Sharkawy: Paid operative on speaking circuit
Bill Tieleman: Ex-B.C. Gov't Official, current B.C.P.A. lobbyist
The B.C.P.A. describes what it does as "advocacy", or trying to educate the public on certain health matters. Here is their own explanation:
The BC Pharmacy Association is the voice of community pharmacy. Through our organization, we collaborate and advocate for the role of community pharmacists in B.C.'s health-care system.
The Association works with stakeholders like the Ministry of Health, the College of Pharmacists of BC, the University of British Columbia, private insurance payers and other groups to raise the awareness and understanding of community pharmacy in British Columbia.
We have struck working groups on such issues as the role of pharmacists in medical assistance in dying (MAiD), Medication Review Services, Clinical Services, Residential Care and Schedule 1 and 2 medications, to name a few.
Nothing is apparently off limits, as the MAiD, or medical assistance in dying market is growing. Essentially, this is assisted suicide. At least they are honest that some drugs are lethal. There's also an MLA outreach program, to get Provincial politicians on board with whatever is going on.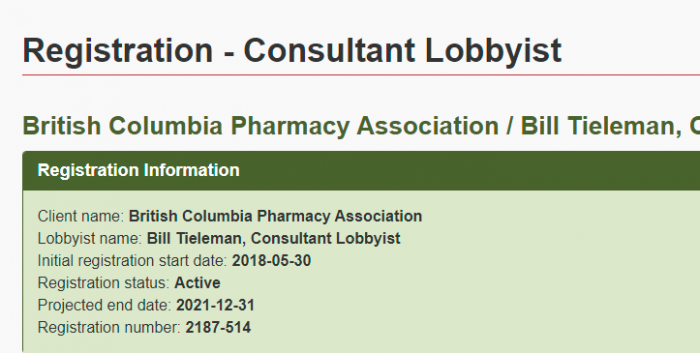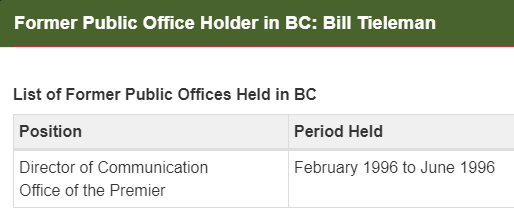 Bill Tieleman works as a lobbyist for the B.C. Pharmacy Association. His goal is getting more money for the group, and in pushing the Government to buy more of his client's products (and products of their supporters). Tieleman is, strictly speaking, a drug lobbyist. He runs a politically themed blog as well, but there is little of substance there.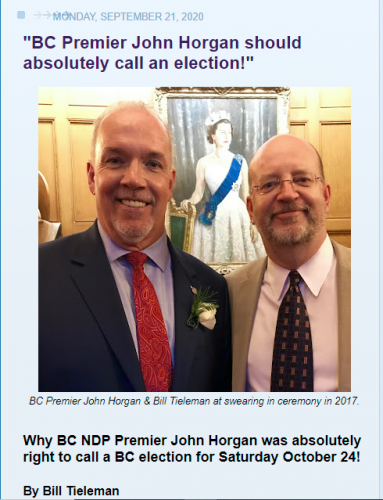 Tieleman is apparently also pretty chummy with Premier John Horgan. That's no surprise, given his other BCNDP connections.
It gets even more convoluted because he worked in the Office of the Premier in 1996, according to mandatory disclosures. Adrian Dix was at the time Chief of Staff to Premier Glen Clark, and he later became Leader of the NDP. Dix clearly has clout, even as Health Minister, and Tieleman is an old colleague of his.

As for the idea that lobbying is harmless, it's been disclosed that the Federal Government (or taxpayers) contributed $176,000 to the B.C.P.A. Tax money was handed over to a private organization that lobbies politicians for greater influence of the drug business.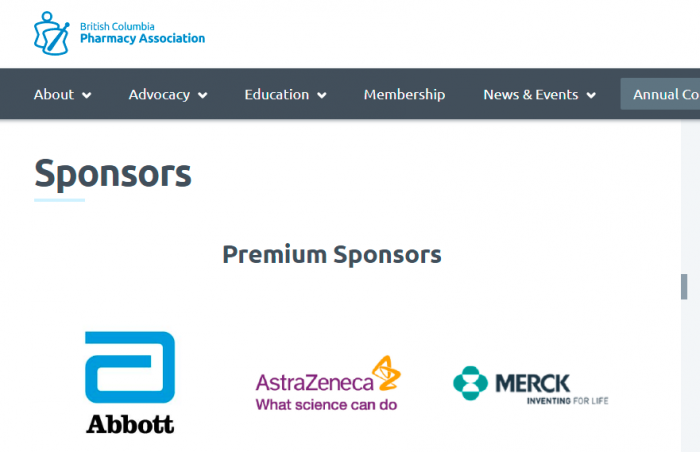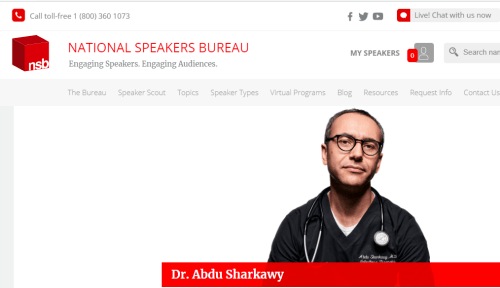 While the B.C.P.A. likes to present itself as standing up for small pharmacists, they deliberately gloss over an important detail. The bulk of the financing actually comes from pharmaceutical manufacturers. Here, AstraZeneca and Merck are listed as major sponsors.
Abdu Sharkawy, an easily recognizable TV doctor, has spoken to the B.C.P.A. on at least 2 separate occasions. Once was March 19 of this year, and the other was on May 6. The Association clearly thought that his clout was work the money to bring him there.
Sharkawy is actually a professional speaker, and can be hired out through the National Speakers Bureau, or the NSB. According to a reply from NSB, his speaking fees for a virtual appearance runs at $12,000. That said, he's hardly the only one to engage in such a side business.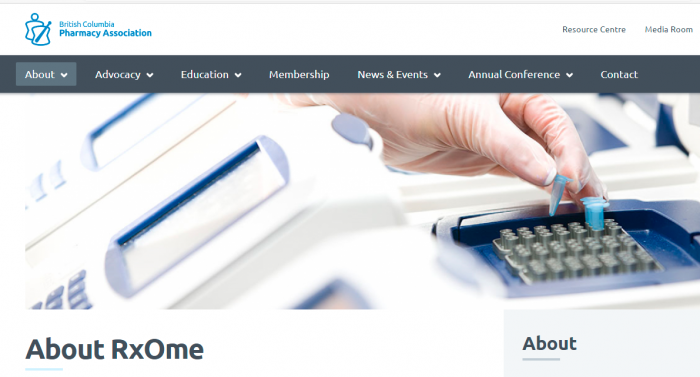 RxOme Pharmacogenomics Canada Inc., is a joint venture between the BC Pharmacy Association and myDNA, a genetic testing and interpretation service provider. Together these companies aim to make pharmacogenomic testing and interpretation services available to Canadians through community pharmacies. Empowered with this genetic information Canadians, with their pharmacist's help, will be able to make better informed decisions about their medications, health and wellness.
Imagine if before taking a medication, you could walk into your local pharmacy and take a test that could accurately predict whether the medication would work for you and the dosage best suited to you—all based on your DNA.
myDNA uses a simple cheek swab to analyze a patient's genetic profile. The test is ordered by the accredited pharmacy and then the results are sent to the patient, nominated health care professionals and accessible through a secure portal.
The B.C.P.A. is partnering with myDNA, a firm that claims to be able to determine what medications would be needed in the future, based on a person's genetic profile. It seems like there was a time not too long ago when such an idea was dismissed as baseless conspiracy theories.
Of course, this also raises serious privacy concerns like where will the data be stored, who will have access to it, and will any 3rd parties be able to purchase the data?
Also, will certain drug companies be able to get preference for certain types of disorders, or will it be shared equitably?
The B.C. Pharmacy Association promotes drugs (obviously), and doesn't seem too concerned about the long term impacts of them. Of course, when such companies, like AstraZeneca, are your primary donors, it's best not to rock the boat.
Thank you to whoever made this clips available. This information needs to be shared.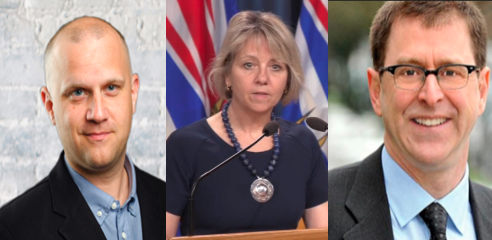 Previously: Jean-Marc Prevost used to be work in B.C. Public Health, alongside Henry and Dix. He left, and joined lobbying firm called Council Public Affairs. He then lobbied the B.C. Government — which he was recently a part of — on behalf of Emergent BioSolutions, the manufacturer of AstraZeneca. Also, take a look at the conflicts of interest Doug Ford has been involved with.
It's an open question whether of not Henry and Dix had any issue with this sudden change, however it seems unlikely.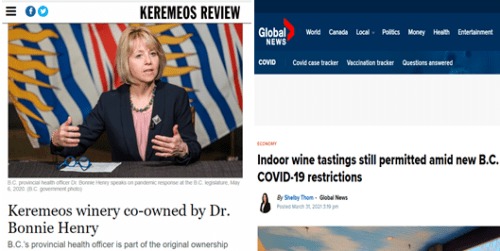 After all, Henry apparently saw no issue with putting in an exemption for indoor wine tasting, when she co-owned a winery in Keremeos.
This is just a lay opinion, but a lot of this doesn't exactly sound legitimate. At a minimum, where are the disclosures to the public? And shouldn't the side effects like mass sterilization be covered a little bit more?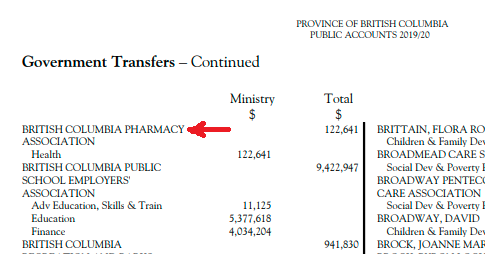 As an update, thank you to those commenting. Always more information to flesh out. See page 233 in the 2019/2020 report.
(1) https://www.lobbyistsregistrar.bc.ca/
(2) https://www.lobbyistsregistrar.bc.ca/app/secure/orl/lrs/do/vwRg?cno=514&regId=56558364&blnk=1
(3) https://www.bcpharmacy.ca/
(4) https://www.bcpharmacy.ca/advocacy
(5) https://www.bcpharmacy.ca/advocacy/mla-outreach-program
(6) https://www.bcpharmacy.ca/conference/sponsors
(7) https://www.bcpharmacy.ca/about/rxome
(8) https://www.nsb.com/speakers/abdu-sharkawy/
(9) https://www.bcpharmacy.ca/conference/agenda-speakers
(10) https://www.bcpharmacy.ca/news/bcpha-2021-conference-highlights-dr-abdu-sharkawy
(11) https://thetyee.ca/News/2011/04/20/MemoMistake/
(12) https://en.wikipedia.org/wiki/Adrian_Dix
(13) https://www.linkedin.com/in/johnbell/
(14) https://www.keremeosreview.com/news/similkameen-winery-co-owned-by-dr-bonnie-henry/
(15) https://globalnews.ca/news/7732090/indoor-wine-tastings-bc-covid-restrictions/
(16) https://www2.gov.bc.ca/assets/gov/british-columbians-our-governments/government-finances/public-accounts/2019-20/pa-2019-20-crf-detailed-schedules-of-payments.pdf
(17) BC Public Accounts 2019 to 2020