Prime Minister Justin Trudeau believes that we need to restrict free speech in order to prevent people — in this case Muslims — from becoming violent and injuring or killing people. He also thinks that such people have the right to keep their Canadian citizenship. (From Canuck Politics. Although a political ad, this one is entirely truthful, and worth a mention.)
1. Islam, Terrorism, Religious Violence
Check this series for more information on the religion of peace. Tolerance of intolerance is being forced on the unwilling public. Included are efforts to crack down on free speech, under the guise of "religious tolerance". What isn't discussed as much are the enablers, whether they are lawyers, politicians, lobbyists, of members of the media.
2. Trudeau (Sort Of) Defends Violence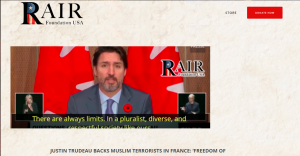 Canadian Prime Minister Justin Trudeau recently commented on the recent terrorist attacks by Muslim migrants in France. The brutal slayings Trudeau referenced included the slaughter of three Christians at a Catholic Church in Nice, as well as the decapitation of a fourth grade teacher earlier this month.
The attacks were a response by a Muslim who answered the call to jihad against Samuel Paty, a history teacher. In his class, Paty showed a cartoon of Islam's central figure, Mohammad, drawn by satirical French magazine Charlie Hebdo.
To its credit, the French state stood firm on one of its foundational principles enshrined in law – the concept of laïcité, or official secularism. France is officially a secular state within which, people may worship as they see fit, but no religion may impose restrictions on the population for religious reasons. It also contains a strong precept of freedom of speech.
As a result of President Macron's refusal to submit to sharia rules on images of Mohammad after the decapitation of the history teacher, leaders from the Islamic world condemned France, resulting in an increase of security globally at all French consulates and embassies.
Yesterday, Trudeau weighed in on the issue in his typical fashion, firmly taking both sides of the issue.
And yes, he certainly did.
There are always limits. In a pluralist, diverse, and respectful society like ours, we must be aware of the impact of our words, our gestures, on others. Especially toward those communities and populations that still live in a system that continues to discriminate extensively.
This article and interview are posted on RAIR Foundation, USA. Recent terrorism attacks in France had been condemned by most, but justified by some others.
Trudeau refused to completely denounce the latest act of violence. Instead, he partially defends it, claiming that people need to be sensitive when it comes to other people's beliefs and feelings. While true, Trudeau never really condemns the violence, and plays both sides.
Ironically, Trudeau actually has a moment of pure honesty. In pluralistic, diverse societies, free speech must be limited in order to maintain social harmony. He inadvertently makes a great argument against multiculturalism.
3. Islam Used As Weapon Against West
Some very obvious questions have to be asked.
First: Why are people of such an incompatible background brought over in such large numbers? There will never be integration, especially when many have no interest in doing so. So why is this really being done?
Second: There's a financial drain on social services, one that isn't addressed enough. Why isn't it openly talked about more in the public sphere?
Third: Is cracking down on free speech one of the goals? Do politicians support mass migration of Muslims in order to create chaos, and force the need to have more control? Beyond simple replacement, is destabilization an objective in drafting these policies?
Fourth: Who's opening the floodgates in the first place? Who's making challenges in court, lobbying politicians, and trying to influence public opinion? Who's really calling the shots? They can't be oblivious to the consequences of these open borders policies.
Unfortunately, these questions won't be answered by public officials. However, this site will try to.
Thank you to RAIR, and Sassy, for the translation.