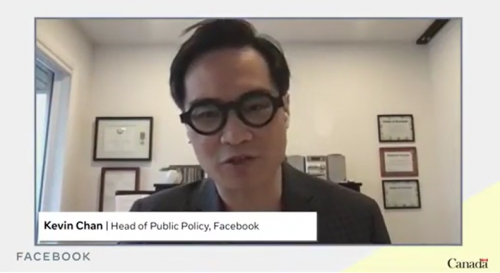 Kevin Chan, the head of Facebook Canada, had a public meeting with members of the Canadian Government on March 31, 2021. The main topic of discussion was on how Facebook can be used as a tool to help promote the pandemic psy-op. At this point, they aren't even bothering to hide the fact that they're all working together.
1. Meeting With Public Health Officials
Chan brags about how effective Facebook has been at censoring opinions and information that contradict the ever changing official narrative. He claims that 16,000,000 pieces of "misinformation" have been removed for violating these terms of service. The entire event is publicly available. They don't pretend to hide it, although they never really did.
in fact, even back in October (see 3:50), the Federal Government admitted in a very straightforward manner that it worked with social media outlets. This was to remove certain material, or at least manipulate the algorithm to such a degree it could not easily be found.
2. Important Links
facebook.com/facebookappCanada/videos/4191036604275048/
Kevin Chan, Office Of Lobbying Commissioner
Facebook Grants, Part 1
Facebook Grants, Part 2
Facebook Announces $8 Million In Spending
https://www.linkedin.com/in/kevin-chan-m-s-m-5a13b140/
https://archive.is/Ngbtb
https://www.linkedin.com/in/peter-donolo-b71244101/
Open Society "Global Member", Michael Ignatieff
https://archive.is/qpIJ1
https://archive.is/DXsbT
Ottawa Funded Projects Against Disinformation
https://archive.is/VS3Fm
CIVIX Funding From Federal Government
https://civix.ca/who-we-are/
https://archive.is/qBJtQ
https://jhr.ca/about/the-team
https://archive.is/fppXt
https://jhr.ca/our-work/canada-combatting-misinformaton
https://archive.is/Tlhsb
https://disinfowatch.org/database/
https://archive.is/wfJxb
https://www.linkedin.com/in/chadrogerscrestviewstrategy/
https://archive.is/sDwy2
https://www.linkedin.com/in/rachel-curran-a99258109/
https://archive.is/kxqBE
Erin O'Toole Promotes "War Footing" In Canada
Erin O'Toole, Facebook Lobbyist
https://archive.is/CNa4I
3. Kevin Chan & Facebook Canada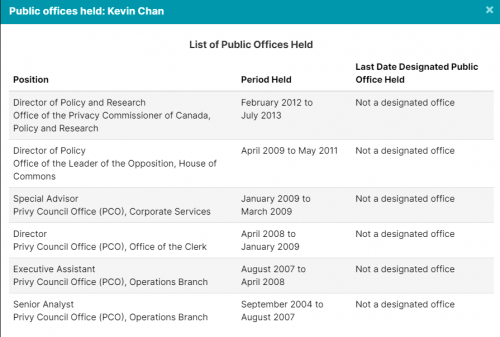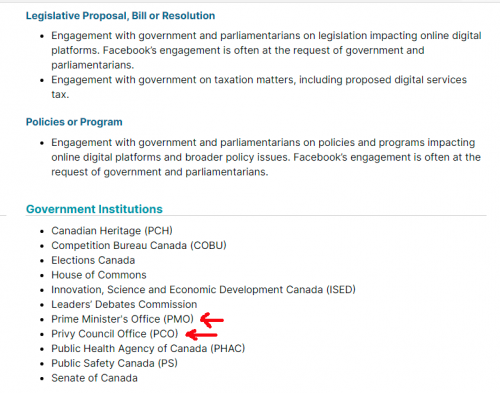 Information about Kevin Chan's time in Public Office can be obtained by searching Facebook with the Lobbying Registry of Canada. From 2004 to 2009, he worked in the Privy Council Office, going as high as becoming Director. He was also in the Office of the Official Opposition from 2009-2011, when Michael Ignatieff and the Liberals would have held that spot. He also spent more than a year in the Privacy Commissioner's Office. The following year, he joined Facebook Canada, and has been there that spot ever since.
These lobbying targets should raise red flags. Chan worked for the Privy Council for years, and went pretty far. Now he lobbies them. And while he worked for the Office of the Official Opposition from 2009 to 2011, some of those same people would now be in the Prime Minister's Office. After all, there was a change in Government, at least on paper.
The Canadian public has indirectly been subsidizing Facebook for a number of years. One way is by giving out money to other companies to purchase ad space. See here and here. And the intrigue grows still.
Facebook Inc. pledged Friday to spend $8 million to support news publishing in Canada, just days before a senior executive is to appear in Ottawa to face questions from MPs on matters including compensation of traditional media companies for news displayed on the tech giant's platform.
Kevin Chan, head of public policy for Facebook Canada, is expected to be grilled by members of the standing committee on Canadian heritage about why Facebook controversially pulled news off its platform in Australia last month as that country was putting the finishing touches on legislation to guarantee publishers would be compensated for featured news.
Last week, Chan pledged $8 million to support news publishing in Canada. Would that not create a financial dependency on Facebook.
There were also questions surrounding the Facebook in Australia pulling news off its platform altogether. Interesting, that if things become "unworkable", certain information can simply be removed.
4. Peter Donolo: LPC Political Operative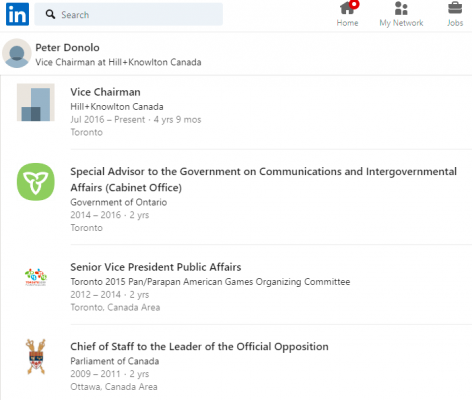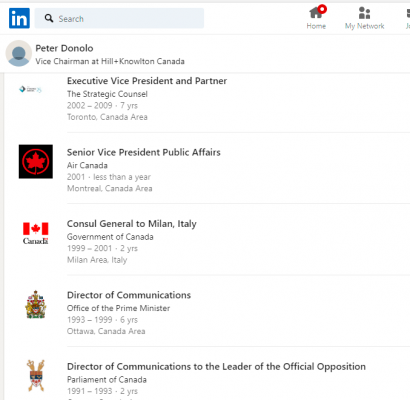 Peter Donolo has been a political operative for Liberals for a very long time. He was in the Office of the Official Opposition for Jean Chretien. When Chretien took power, Donolo went to the PMO. He was back in the Office of the Official Opposition for Michael Ignatieff, and worked Provincially with the Kathleen Wynne Liberals in Ontario. He has also as a marketer and lobbyist in the private sector.
As an aside, after losing badly in the 2011 Federal Election, Ignatieff went to work for George Soros and the Open Society. He is currently a Global Board Member.
What's disturbing is the recent proliferation of taxpayer funded groups whose stated purpose is to "combat misinformation". It creates an inherent conflict of interest, particularly when political hacks are running them. It comes across as providing cover for colleagues.
| GROUP | YEAR | AMOUNT |
| --- | --- | --- |
| Agence Science-Presse | 2019-2020 | $129,345 |
| Apathy is Boring | 2018-2019 | $100,000 |
| Apathy is Boring | 2019-2020 | $340,000 |
| Boys and Girls Clubs of Canada | 2019-2020 | $460,000 |
| Canadian News Media Association | 2019-2020 | $484,300 |
| CIVIX | 2018-2019 | $275,000 |
| CIVIX | 2019-2020 | $400,000 |
| Encounters with Canada | 2018-2019 | $100,000 |
| Quebec Professional Journalists | 2019-2020 | $202,570 |
| Global Vision | 2019-2020 | $260,000 |
| Historica Canada | 2019-2020 | $250,000 |
| Institute for Canadian Citizenship | 2019-2020 | $250,000 |
| Journalists for Human Rights | 2019-2020 | $250,691 |
| Journalists for Human Rights | July 14, 2020 | $1,479,856 |
| Magazines Canada | 2019-2020 | $63,000 |
| McGill University | 2019-2020 | $1,196,205 |
| MediaSmarts | 2019-2020 | $650,000 |
| New Canadian Media | 2019-2020 | $66,517 |
| Ryerson University | 2019-2020 | $290,250 |
| Samara Centre for Democracy | 2019-2020 | $59,200 |
| Sask Weekly Newspapers Ass'n | 2019-2020 | $70,055 |
| Simon Fraser University | 2019-2020 | $175,000 |
| Vubble Inc. Unboxed project | 2019-2020 | $299,000 |
As addressed in an earlier piece, numerous groups are getting handouts from the Federal Government — or rather, taxpayers — to act as fact-checkers. Problem is that the media and fact checkers are supposed to act as a counter balance to Government. Here, we have Government Operatives like Donolo running the show. Huge conflict of interest.
Peter Donolo is on the Board of CIVIX, as is Rachel Curran of Facebook. They are involved in pushing their version of democracy in Canada.
Donolo is also a Director at JHR, Journalists for Human Rights. Chad Rogers is as well, and he also works for Crestview Strategy, a lobbying firm hired by GAVI, and co-founded by Rob Silver. JHR's mission includes providing services to combat "misinformation" around the coronavirus.
More grants from the Federal Government can be found HERE. CIVIX has gotten funding for years.
CIVIX Board Members
Francis LeBlanc – Chair
Former Executive Director, Canadian Association of Former Parliamentarians
Chris Wilkins – Past Chair
CEO, Edge Interactive
Robert Asselin
Senior Director, Public Policy, Blackberry
Megan Beretta
Policy Analyst, Canadian Digital Service
Rachel Curran
Public Policy Manager, Canada, Facebook
Peter Donolo
Vice-Chairman, Hill + Knowlton Strategies Canada
Dr. Elizabeth Dubois
Assistant Professor of Communication, University of Ottawa
Kathleen Monk
Principal, Earnscliffe Strategies
Donolo's LinkedIn page leaves out his ties to CIVIX and Journalists for Human Rights (JHR). How strange.
Donolo indirectly runs a group called "Disinfowatch". This is another self proclaimed fact checking group, controlled by Journalists for Human Rights, and the Koch-funded MacDonald-Laurier Institute.
5. Rachel Curran: Facebook, Harper Operative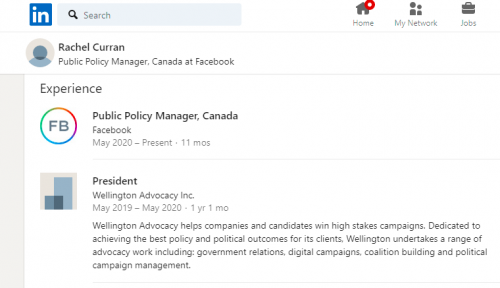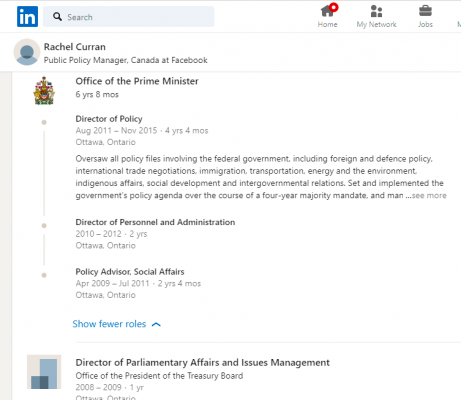 Rachel Curran worked in the Prime Minister's Office when Harper was in power. She also is a Board Member at CIVIX along with Peter Donolo. She also works for Facebook Canada. She has previously been a CBC pundit and a professional lobbyist at Wellington Advocacy. What an interesting career this has been.
While working in the PMO, Curran was frequently lobbied by many different special interest groups.
For more background on the collusion between politics, the media, and "fact-checkers", check out this other piece on the subject.
6. Erin O'Toole: CPC, Ex-Facebook Lobbyist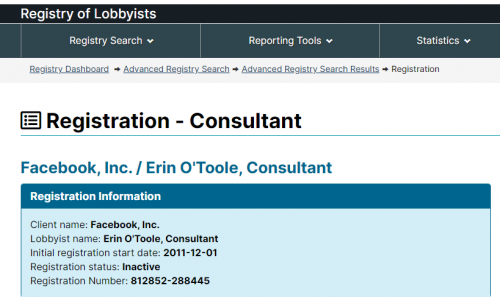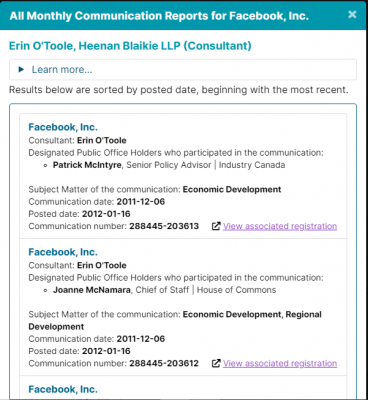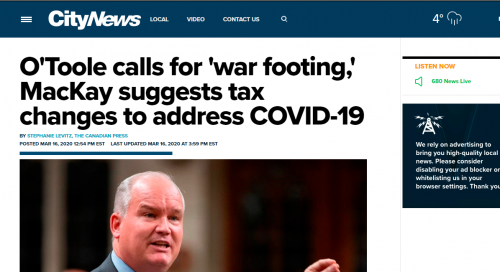 Now, Chan and Donolo have ties to the Liberal Party of Canada, but what about the Conservative Party? Will they step in and raise meaningful questions?
Prior to getting into politics, Erin O'Toole worked for the (now defunct) law firm, Heenan Blaikie. Its former partners include Pierre Trudeau and Jean Chretien. O'Toole also engaged in lobbying on behalf of Facebook, something not discussed during the recent CPC leadership campaign. And while campaigning, he openly called for a "war footing", and emergency measures.
As a side note: Roy Heenan, co-Founder of Heenan Blaikie, used to be the Head of the Trudeau Foundation.
7. Media Influence And Subsidies
(1) Unifor, Media, In Bed With Gov't, $595M
(2) Government Subsidizes Media To Ensure Positive Coverage
(3) Aberdeen Publishing Takes Handouts, Ignores Real Issues
(4) More Periodicals Taking Grants, Parroting Gov't Narrative
(5) Subsidized Fact-Check Outlets Run By Political Operatives
(6) Groups Funded By Tax Dollars To Combat "Misinformation"
(7) Even More Subsidies Canadian Outlets Are Dependent On
(8) DisinfoWatch Has Ties To Atlas Network/Koch, Liberal Party
(9) Media, Banks, CU, Getting CDA Emergency Wage Subsidies (CEWS)
(10) Advertising And Marketing In Promoting "Pandemic" Narrative
(11) NSERC/SSHRC/CIHR Grants In "Confidence"; Mandatory Vaxx
Just a thought, but perhaps the media and social media outlets in Canada aren't all that fair and unbiased. Just putting that out there. Maybe those "pandemic bucks" go a long way towards ensuring cooperation.