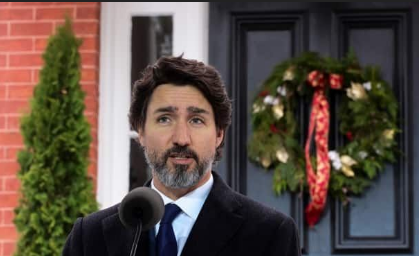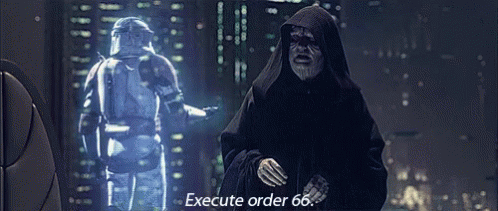 Now we see the fallout that comes from pushing rushed, untested, experimental, DNA altering substances on people. What could possibly go wrong? But hey, we're saving lives. No copyright claimed or intended with the Star Wars gif.
1. Other Articles On CV "Planned-emic"
The rest of the series is here. Many lies, lobbying, conflicts of interest, and various globalist agendas operating behind the scenes, obscuring the vile agenda called the "Great Reset". The Gates Foundation finances: the WHO, the US CDC, GAVI, ID2020, John Hopkins University, Imperial College London, the Pirbright Institute, the BBC, and individual pharmaceutical companies. Also: there is little to no science behind what our officials are doing; they promote degenerate behaviour; the Australian Department of Health admits the PCR tests don't work; the US CDC admits testing is heavily flawed; and The International Health Regulations are legally binding. See here, here, and here. The media is paid off, and our democracy compromised, shown: here, here, here, and here.
2. List Of Incidents
Tiffany Dover, Tennessee (Staged?)
Dr. João Pedro R. Feitosa, Brazil
Dr. Michael Gregory, Florida
10 dead in Germany
13 deaths in the U.S.A.
23 seniors' deaths in Norway
24 seniors died in LTC home in New York
3. Tiffany Dover, Death Covered Up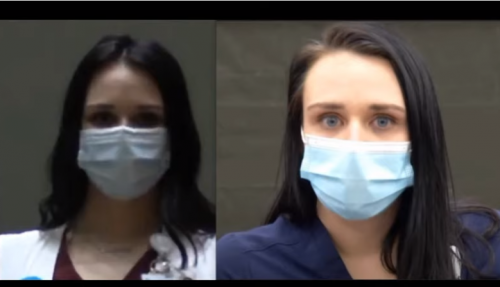 https://www.youtube.com/watch?v=TX9tswvRtxI&feature=youtu.be
Does this look like the same woman? A Catholic Health Initiatives Memorial Hospital in Chattanooga, Tennessee, Tiffany Dover, apparently collapsed and supposedly died. Now, under extremely suspicious circumstances, a woman claiming to be her says that she's fine. Is this a ruse to diffuse panic and alarm?
4. Dr. João Pedro R. Feitosa, Brazil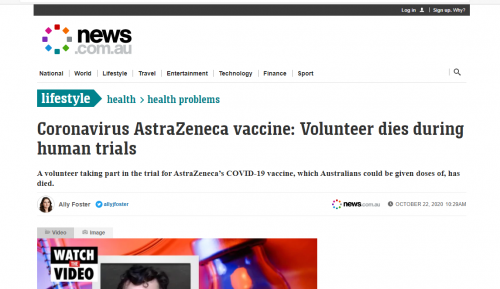 The man has been named as 28-year-old doctor João Pedro R. Feitosa from Brazil.
He was taking part in the Brazilian trials of the coronavirus vaccine candidate being developed by the university and pharmaceutical giant AstraZeneca when he died on October 15.
No official information on the cause of his death has been given, though unofficially, it has been reported he died of complications due to COVID-19.
Equally, the vaccine developers are unable to confirm whether Dr Feitosa was on the vaccine or the placebo as part of the trial, however an unnamed person close to the trial process revealed to Bloomberg that he had been given the placebo
Interesting. Officially, there is no comment whether or not it is as a result of vaccine, and it's off the record that it's declared to be the placebo
5. Dr. Michael Gregory, Miami, Florida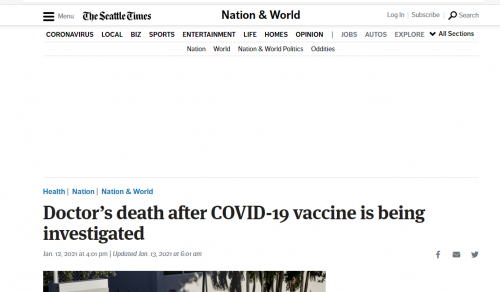 Health authorities are investigating the case of a Florida doctor who died from an unusually severe blood disorder 16 days after receiving the Pfizer coronavirus vaccine.
Dr. Gregory Michael, a 56-year-old obstetrician and gynecologist in Miami Beach, received the vaccine at Mount Sinai Medical Center on Dec. 18 and died 16 days later from a brain hemorrhage, his wife, Heidi Neckelmann, wrote in a Facebook post.
Shortly after receiving the vaccine, Michael developed an extremely serious form of a condition known as acute immune thrombocytopenia, which prevented his blood from clotting properly.
A doctor in Florida died 16 days after receiving the vaccine. Nothing to be worried about, obviously.
6. 10 Seniors Have Died In Germany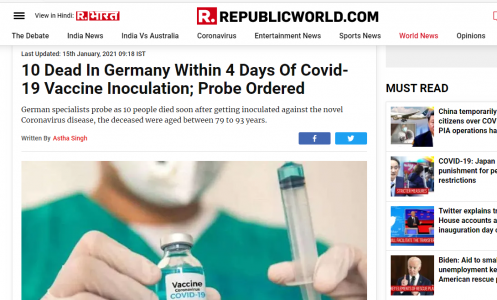 After the deaths of 10 people who passed away soon after having been inoculated against the novel coronavirus disease, Specialists from Germany's Paul Ehrlich Institute are looking into it. Brigitte Keller-Stanislawski, the head of the institute's department of the safety of medicinal products and medical devices, said on Thursday.
The deceased were aged between 79 to 93, all with antecedent diseases. The time between vaccination and death ranged from several hours to four days, according to the medical expert.
An investigation is underway, following the deaths of 10 people in Germany, all of whom were recently vaccinated. Of course, these people all were old with underlying health conditions. However, that apparently isn't an issue when it comes to classifying deaths.
7. 13 Dead In the United States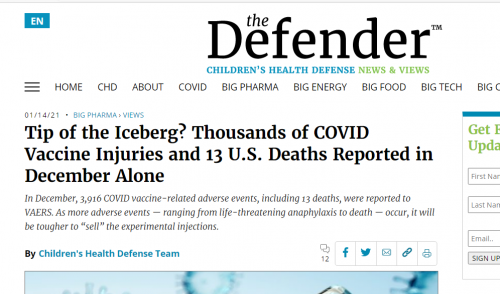 Given the abysmal track record of VAERS in capturing serious adverse events, it is noteworthy that 13 deaths — a subset of 3,916 total adverse events reported following COVID-19 vaccination — had already been recorded by the system by the end of December (as per the MedAlerts search engine).
Nine of the deaths followed the Pfizer vaccine and four followed the Moderna shot (see table below). Nearly all of the deceased were institutionalized (primarily in nursing homes), although one 63-year-old male received the injection at work.
Five (and possibly six) of the deaths occurred on the same day as vaccination, all in women and sometimes within 60 to 90 minutes of the injection — and without any "immediate adverse reaction" having been observed.
At least 13 deaths have been reported in the U.S., as of the end of December 2020.
8. 23 Seniors Dead In Norway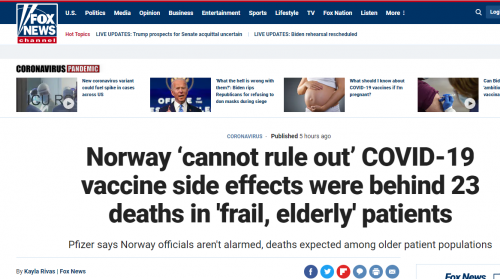 A top doctor for Norway's drug regulatory agency on Friday suggested side effects from the Pfizer/BioNTech coronavirus vaccine may have contributed to deaths in some older patients.
Dr. Sigurd Hortemo, chief physician at the Norwegian Medicines Agency, said in a statement that common side effects like fever and nausea shortly after vaccination may have led to more serious outcomes and deaths among elderly, frail patients.
According to the Norwegian Medicines Agency, as of Thursday, reports of 23 suspected deaths were sent to the Norwegian ADR health registry, including 13 reports assessed by health officials. The patients died within a week of vaccination, a spokesperson said.
In Norway, side effects from taking a Pfizer/BioNTech vaccine may have led to the deaths of some 23 seniors. At a minimum, it cannot be ruled out that it has hastened their deaths.
8. 24 Seniors Dead In Auburn, New York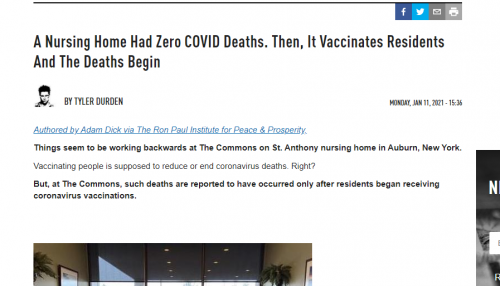 December 29, when deaths of residents with coronavirus began occurring at The Commons, is also, Mulder's article discloses, seven days days after the nursing home began giving coronavirus vaccinations to residents, with 80 percent of residents so far having been vaccinated.
.
Over a period of less than two weeks since December 29, Mulder relates that 24 coronavirus-infected residents at the 300-bed nursing home have died.
.
The nursing home began vaccinating residents Dec. 22.
.
So far 193 residents, or 80%, and 113 employees, or less than half the staff, have been vaccinated.
.
The nursing home plans to do more vaccinations Jan. 12.
.
Is the timing just a strange coincidence?
A nursing home in Auburn, New York, had no Covid-19 deaths. However, within days of vaccinating residents, some 24 people have died. Are the deaths connected to the vaccine, or some very bizarre coincidence?
9. Compilation To Be Added To
Sad, but this won't be the entire article. Many more will surely die as a result of these vaccines.