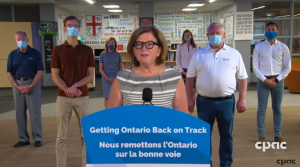 1. Other Articles On CV "Planned-emic"
For more on the coronavirus hoax, take a dive into the rest of the series. Information that you will never hear about from the mainstream media.
2. Text Of The Quote
People really think that testing is going to solve the entire problem, and it isn't. It's one component of a response. If you test someone today, you only know if they're infected today. And in fact, of you're testing in a population that doesn't have very much covid, you'll get false positives, almost half the time. That is, the person doesn't actually have covid. They have something else. They may have nothing. So, it will just complicate the picture. On the other hand, if we have evidence of a case, even a suspect case in school, all the contacts, be it a child or a teacher, would be tested.
3. Short Clip Of Confession
Admittedly, the audio isn't great. It was taken from the clip recently posted on Twitter. Check the full press conference below for the entire video.
Ontario Premier Doug Ford was asked days later about this. He attempted to talk in circles to avoid giving a direct answer. He pretends to not get what is being asked.
4. Full Press Conference

Check around 36:20 for the relevant part in the video
5. These Tests Don't Even Work
These tests don't work. Getting false positives half the time (or anywhere close to that), is an indication that the tests are completely flawed. Remember, a "positive" test will lead to you being isolated for at least 14 days. This is malpractice at best.
6. Ontario Lying About CV Deaths
Ontario Health Minister Christine Elliott admits that the they have been screwing around with the numbers. The Government has been intentionally conflating those who died from, and those who die "with" this virus. Great way to make this seem worse than it is.