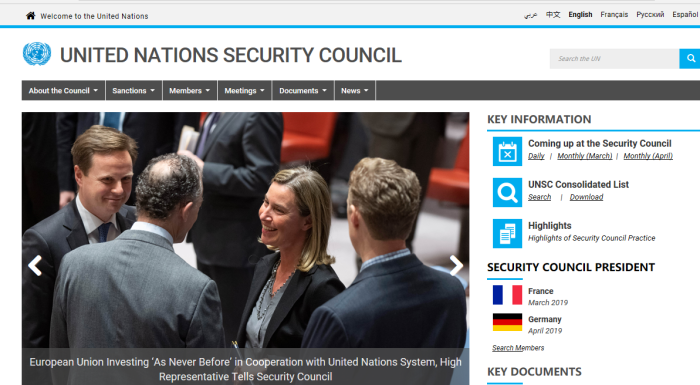 (Then President George W. Bush, arguing for an invasion of Iraq under blatantly false pretenses. The UN Security Council approved the use of force in 2002 by a 15-0 vote. War was launched on March 20, 2003).

(A critique on the problem with veto power)
1. Important Links
CLICK HERE, for UN Security Council home page.
CLICK HERE, for the page on sanctions.
CLICK HERE, the UN Charter.
CLICK HERE, for Article 41 of the UN Charter (Sanctions).
CLICK HERE, for an index of voting records.
CLICK HERE, for Wikipedia page on "Proxy Wars".
2. Stated Mission
Peace and Security

The Security Council has primary responsibility for the maintenance of international peace and security. It has 15 Members, and each Member has one vote. Under the Charter of the United Nations, all Member States are obligated to comply with Council decisions.

The Security Council takes the lead in determining the existence of a threat to the peace or act of aggression. It calls upon the parties to a dispute to settle it by peaceful means and recommends methods of adjustment or terms of settlement. In some cases, the Security Council can resort to imposing sanctions or even authorize the use of force to maintain or restore international peace and security.
That is correct. 15 nations can decide what is "in the interest of global peace and security". Hardly seems that other nations get much of a say in international matters. Would your own sovereignty be limited by what these 15 members of the "Global Community" have to say?
Even more undemocratic is the make up of the Security Council. There are 15 members, 5 of which are permanent, and 10 others which are chosen on a rotational basis.
The 5 permanent members are: 1/ the United States; 2/ Russia (formerly the Soviet Union); 3/ Britain; 4/ France; and 5/ China. These were the "winners" of World War II, when the UN was founded. Each of the 5 permanent members has "veto" power, meaning they can unilaterally block any resolution from passing.
In order to pass a Security Council resolution, a majority of members have to approve it. Additionally, none of the "Permanent 5" can veto. They each have to abstain or support.
3. Non Military Options
What if the UN doesn't opt for military force? There are less direct, but more passive-aggressive measures called "sanctions". These are essentially punishments the Security Council imposes.
(From Article 41)

"The Security Council may decide what measures not involving the use of armed force are to be employed to give effect to its decisions, and it may call upon the Members of the United Nations to apply such measures. These may include complete or partial interruption of economic relations and of rail, sea, air, postal, telegraphic, radio, and other means of communication, and the severance of diplomatic relations."
From the page on sanctions:
"Security Council sanctions have taken a number of different forms, in pursuit of a variety of goals. The measures have ranged from comprehensive economic and trade sanctions to more targeted measures such as arms embargoes, travel bans, and financial or commodity restrictions. The Security Council has applied sanctions to support peaceful transitions, deter non-constitutional changes, constrain terrorism, protect human rights and promote non-proliferation."
The UN Security Council also lists who it has imposed sanctions upon: "Since 1966, the Security Council has established 30 sanctions regimes, in Southern Rhodesia, South Africa, the former Yugoslavia (2), Haiti, Iraq (2), Angola, Rwanda, Sierra Leone, Somalia and Eritrea, Eritrea and Ethiopia, Liberia (3), DRC, Côte d'Ivoire, Sudan, Lebanon, DPRK, Iran, Libya (2), Guinea-Bissau, CAR, Yemen, South Sudan and Mali, as well as against ISIL (Da'esh) and Al-Qaida and the Taliban."
4. UN Contributing To World Peace?
Does UN Security Council Create World Peace?
Not really. This is especially true when one of the "Permanent 5" has veto power over any resolution to stop or condemn the aggression. Though the major powers may not directly be involved, they may provide aid to others and fight proxy wars.
Though not always the best site, Wikipedia is great for a quick reference.
Chinese Civil War (1944–1949)
Greek Civil War (1944–1949)
Iran crisis of 1946 (1945–1946)
First Indochina War (1946–1954)
Paraguayan Civil War (1947)
Malayan Emergency (1948–1960)
Internal conflict in Myanmar (1948– )
Balochistan conflict (1948– )
Arab–Israeli conflict (1948–present)
Korean War (1950–1953)
Mau Mau Uprising (1952–1960)
Second Indochina War (First Taiwan Strait Crisis (1953–1975))
Algerian War (1954–1962)
First Sudanese Civil War (1955–1972)
Suez Crisis (1956–1957)
Second Taiwan Strait Crisis (1958)
Lebanon crisis (1958)
Tibetan uprising (1959–1962)
Central American crisis (1960–1996)
Congo Crisis (1960–1965)
Portuguese Colonial War (1960–1974)
Xinjiang conflict (1960s–present)
First Iraqi–Kurdish War (1961–1970)
Eritrean War of Independence (1961-1991)
North Yemen Civil War (1962–1970)
Dhofar Rebellion (1962–1976)
Sarawak Communist Insurgency (1962–1990)
Sand War (1963)
Aden Emergency (1963–1967)
Insurgency in Northeast India (1963–present)
Rhodesian Bush War (1964–1979)
Dominican Civil War (1965)
Communist insurgency in Thailand (1965–1983)
Bolivian Campaign (1966–1967)
Korean DMZ Conflict (1966–1969)
South African Border War (1966–1990)
Nigerian Civil War (1967–1970)
Naxalite–Maoist insurgency (1967–present)
Communist insurgency in Malaysia (1968–1989)
Operation Condor (1968–1989)
Al-Wadiah War (1969-present)
Civil conflict in the Philippines (1969–present)
Yemenite War (1972)
Angolan Civil War (1974–2002)
Ethiopian Civil War (1974–1991)
Lebanese Civil War (1975–1990)
Western Sahara War (1975–1991)
Indonesian occupation of East Timor (1975–1999)
Cabinda War (1975–present)
Insurgency in Laos (1975–present)
Civil conflict in Turkey (1976–present)
Shaba I (1977)
Ogaden War (1977–1978)
Cambodian-Vietnamese War (1977–1991)
Mozambican Civil War (1977–1992)
Chittagong Hill Tracts conflict (1977–1997)
Shaba II (1978)
Uganda–Tanzania War (1978–1979)
NDF Rebellion (1978–1982)
Chadian–Libyan conflict (1978–1987)
Yemenite War of (1979)
Soviet–Afghan War (1979–1989)
Sino-Vietnamese War (1979
Internal conflict in Peru (1980–present)
Ethiopian–Somali Border War (1982)
Sri Lankan Civil War (1983–2009)
This isn't even a complete list. But when researching conflicts, you will find that it is most often one or more of the "Permanent 5" behind these conflicts. How can the UN actually help world peace when its own Security Council members can flaunt the principles without consequences?
Why are a nation's well being and sovereignty dependant on the will of 15 nations, 5 of whom appointed themselves as permanent members with a veto.
This is not to say that nations should not be free to enter into military alliances and pacts. However, this arrangement seems stacked against smaller and weaker nations.
5. What Does UN Say About It?
Under the United Nations Charter, the functions and powers of the Security Council are:
.
-to maintain international peace and security in accordance with the principles and purposes of the United Nations;
-to investigate any dispute or situation which might lead to international friction;
-to recommend methods of adjusting such disputes or the terms of settlement;
-to formulate plans for the establishment of a system to regulate armaments;
-to determine the existence of a threat to the peace or act of aggression and to recommend what action should be taken;
-to call on Members to apply economic sanctions and other measures not involving the use of force to prevent or stop aggression;
-to take military action against an aggressor;
-to recommend the admission of new Members;
-to exercise the trusteeship functions of the United Nations in "strategic areas";
-to recommend to the General Assembly the appointment of the Secretary-General and, together with the Assembly, to elect the Judges of the International Court of Justice.
There has been much speculation within Canada that Justin Trudeau is being so "UN compliant" because he is aiming for a seat on the Security Council. Not sure if this is true, though it's certainly possible.
Military aggression. But "democratically performed" military aggression."
6. Who's Behind US Military Aggression?
In a word: Israel.
The State of Israel has been influencing US military policy, particularly in the Middle East, for decades. Western (Christian) nations go to war against Muslim nations. This in turn creates refugees who are forced to take shelter in other countries. Of course Israel won't take them, but will help ship them off to the West.