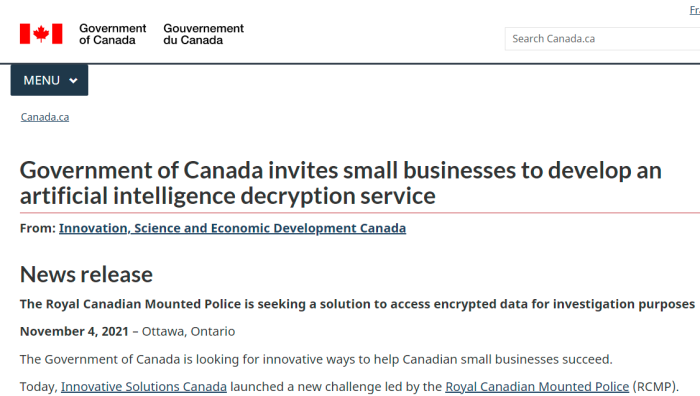 The RCMP, the Federal Police group, is leading an initiative of the Canadian Government. It's promoting a challenge for private groups to develop an AI system that would allow easier decryption of files and devices, in aiding police investigations.
November 4, 2021 – Ottawa, Ontario
The Government of Canada is looking for innovative ways to help Canadian small businesses succeed.
.
Today, Innovative Solutions Canada launched a new challenge led by the Royal Canadian Mounted Police (RCMP).
.
Along with other Canadian law enforcement agencies, the RCMP is facing challenges in accessing encrypted data seized during the course of criminal investigations. Individuals engaging in illegal behaviours have been using sophisticated encryption techniques to bypass legal prosecution. The RCMP is looking for an artificial intelligence decryption system that can process the seized data files and generate specific word lists to try and access the encrypted material.
.
QUICK FACTS
Small businesses will have until December 16 to apply to the challenge.
.
Through the Innovative Solutions Canada program, government departments are inviting small businesses to come up with a new innovative product, service or solution that answers a specific challenge they face. Winning small businesses may receive up to $150,000 to refine their research and development and, if accepted into phase 2, receive up to $1 million to develop a working prototype. The government can then act as a first customer, helping these businesses commercialize their innovations, scale up their business and create good middle-class jobs across Canada.
.
Innovative Solutions Canada is a key component of the government's Innovation and Skills Plan, a multi-year plan to make Canada a global innovation leader and prepare Canadians to succeed in tomorrow's economy.
.
There are hundreds of programs and services that offer everything from funding to expert advice in order to help businesses innovate, create jobs and grow Canada's economy. Using a simple, story-based user interface, the Innovation Canada platform can match businesses with the most fitting programs and services in about two minutes.
Of course, this will be funded with taxpayer money.
This is creepy for a number of reasons, not least of all what it might end up being used for. Also, if private companies are developing this, what's to stop backdoors from being installed in the software? Furthermore, would the police be able to have private entities use this technology to access information that they might not be able to on their own?
A lot of questions still need to be asked. This press release sounds so harmless, but then, that's the point.
(1) https://www.canada.ca/en/innovation-science-economic-development/news/2021/11/government-of-canada-invites-small-businesses-to-develop-an-artificial-intelligence-decryption-service.html
(2) https://www.ic.gc.ca/eic/site/101.nsf/eng/home
(3) https://www.budget.gc.ca/2017/docs/bb/brief-bref-en.html#section1
(4) ttps://innovation.ised-isde.canada.ca/s/?language=en_CA&lang=eng
(5) https://www.ic.gc.ca/eic/site/101.nsf/eng/00147.html
(6) https://cippic.ca/uploads/ATI-RCMP-Encryption_and_Law_Enforcement-2016.pdf
(7) https://www.cbc.ca/news/politics/lucki-briefing-binde-cybercrime-1.4831340