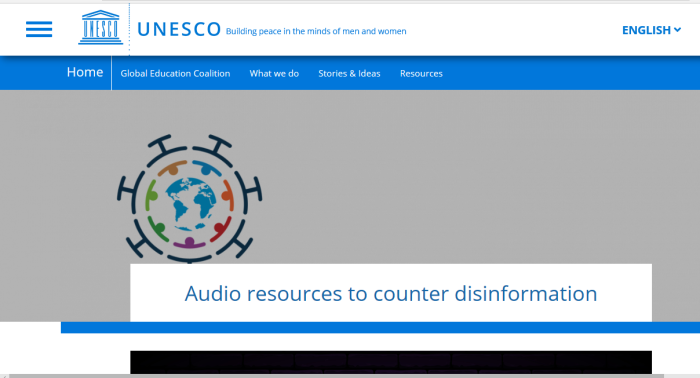 1. Other Articles On CV "Planned-emic"
So far there are 27 pieces on the coronavirus planned-emic, (it started at #0). Much of it focuses on the lobbying and corruption that is at the heart of it. Once you follow the money, it becomes quite clear how and why this happening. Very tedious, but it is a wealth of information, very little of it shared by official sources.
2. Media Bias, Lies, Omissions And Corruption
Lies and distortion by the media are nothing new. In order to convince people to undertake extreme measures, it's often necessary to get them believing the absurd. Here is the series so far on media corruption on the website, a few of them directly related to the CV planned-emic. More examples are surely on the way.
3. Remember: Only Trust The Experts
Anthony Fauci later claimed he only recommended against masks in order to prevent a buying spree which would have left no masks available for health care workers. Motives aside, he blatantly lied to the public. In the third video, he appears to take the mask off as soon as the cameras are off. But remember, trust the experts and official sources.
4. UNESCO Guidelines On Fake News
For the original source of these audio clips, check the page on the UNESCO website. It is creepy the level to which they tell others to ignore contradictory viewpoints.
(1) Only official sources and trusted media outlets are to be listened to. Assume that if it conflicts with the settled narrative, it's fake news.

(2) Teach your child that if a piece of information on CV is not from an official source, it should not be listed, let alone shared with anyone.

(3) If an "expert" is not from an approved or official agency, chances are they are a disinformation agent whose goal is deceive and mislead the public.

(4) CV information can be created and released in such a way as to be emotionally manipulative. Remember, the only ones allowed to manipulate are official sources. Don't trust any others

(5) Disinformation is a serious problem. Therefore, the only sources of information that can be trusted are official, public ones. All others are to be viewed with suspicion.

(6) Quality journalism is important, but the only journalists who can be trusted are those reporting the official narrative on CV.

(7) Remember: UNESCO tells you to not like or share any information you see on social media if you don't know where it cam from. First, you should check with the World Health Organization. If the information conflicts, feel free to post WHO talking points on the other media.

(8) Access to public information is essential. Just remember, the only sources we can trust are official ones. Freedom of the media is our strength.

(9) Apparently this planned-emic is a great opportunity to squash racism and come together as one human race. Unity through diversity apparently.

Remember folks: the only sources of information you can trust are official media outlets, certain organizations, and government officials. Everything else to be met with skepticism, if not rejected out of hand.
It's interesting that UNESCO doesn't encourage people to think critically, or try to spot conflicting or illogical claims. UNESCO doesn't ask people to apply any logic or reasoning and get to the truth themselves. Instead, it is drilled in that only official sources are to be trusted.
5. Book: Journalism, Fake News, Disinformation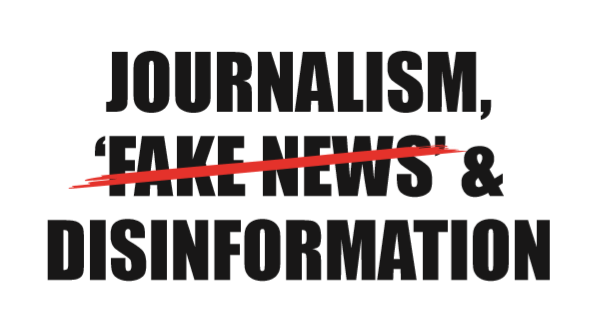 journalism_fake_news_disinformation_print_friendly_0_0
Then there are the many ways that journalism can respond directly to disinformation and misinformation. These include resisting manipulation, through to investigating and direct exposing disinformation campaigns. But these have to be accompanied by major efforts to improve journalism in general (see below).
The "major efforts" which Cherilyn Ireton and Julie Posetti list below are chilling. They are absolutely an attack on independent journalism, and against people who don't tow the line. It's interesting to note that the authors are not merely acknowledging that this happens. They openly call for it.
Societal responses to 'information disorder' and challenges thrown up by social media platforms are varied and take place on multiple levels. Solutions are evolving – some rapidly. Many originate in the U .S., where the social media companies and Google are headquartered. Some evolving tech-related initiatives to address misinformation include:
(a) A commitment to engineering out of search results and news feeds what the company (not without controversy) deems to be fraudulent news
(b) Starving disinformation providers of click-driven advertising revenue
(c) Providing tech-driven solutions for verifying digital content and images
(d) Funding of supportive journalism initiatives that are at the intersection of journalism, technology and academic research
(e) The development and use of technical standards, or trust signals, to help consumers (and algorithms) identify news emanating from credible providers.
This is from page 37 of the book. Techniques to combat what they refer to as "misinformation". It looks an awful lot like Objective 17(c) of the UN Global Migration Compact.
1. Satire and Parody
Including satire in a typology about disinformation and misinformation, is perhaps surprising. Satire and parody could be considered as a form of art. However, in a world where people increasingly receive information via their social feeds, there has been confusion when it is not understood a site is satirical. An example is from The Khabaristan Times, a satirical column and site that were part of the news site Pakistan Today. 60 In January 2017, the site was blocked in Pakistan and therefore stopped publishing.
From page 46, apparently satire qualifies as misinformation since people can't always tell when people are being satirical.
In some instances, journalists have been targeted in acts of 'astroturfing' and 'trolling' – deliberate attempts to "mislead, misinform, befuddle, or endanger journalists" with the sharing of information designed to distract and misdirect them, or their potential sources. Alternatively, journalists might be targeted to trick them into sharing inaccurate information which feeds a false interpretation of the facts or, when it is revealed as fake, diminishes the credibility of the journalist (and the news organisation with which they are affiliated). In other cases, they face digital threats designed to expose their sources, breach their privacy to expose them to risk, or access their unpublished data.
.
There is also the phenomenon of governments mobilising 'digital hate squads' to chill critical commentary and quash freedom of expression.
Cherilyn Ireton and Julie Posetti, on page 109, talk about journalists being targeted for harassment, or having unwarranted attacks on their work. They hypocrisy is obvious, as they promote having viewpoints they deem "misinformation" to be hidden from searches, or have authors bankrupted via ad revenue loss. Furthermore, they suggest bankrolling or subsidizing their competitors, or "trustworthy" media.
6. Parallel Of Coronavirus & Climate Change
(17:50) the speaker talks of how the science is always moving. Yet critics are dismissed when they question official narratives.
(20:00) How to get children to spread the right news.
(30:30) scrolling internet to determine truth is impractical.
(47:00) parallel between CV and global warming.
Of course there are other topics discussed in that video, but those were a few worth focusing on.
7. UNESCO's Twitter Feed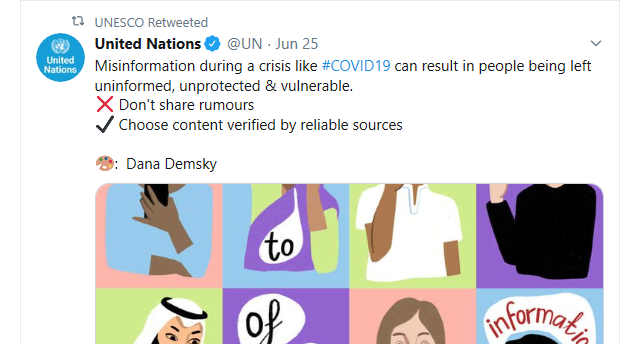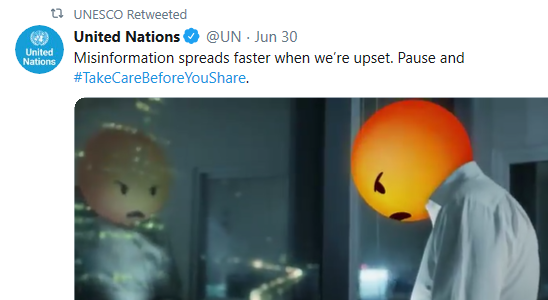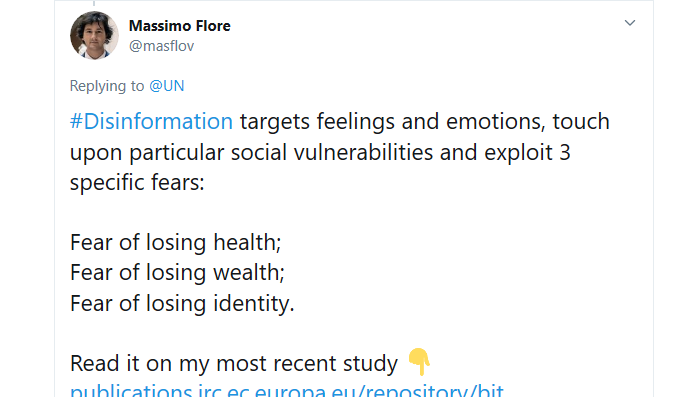 https://twitter.com/UN/status/1277859413655609349
https://twitter.com/masflov/status/1277944012054413312
UNESCO reminds us to be careful about lies and misinformation, and to only trust official sources for information on the CV pandemic. Don't share info that contradicts the ever changing narrative.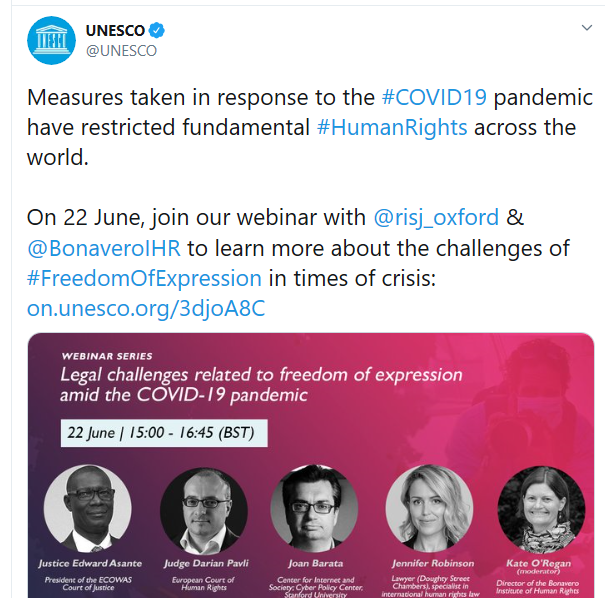 https://twitter.com/UNESCO/status/1274056209264508929
UNESCO held a webinar on June 22nd, to talk about human rights abuses that had gone on as a result of the CV-19 "pandemic". This is morbidly amusing, as UNESCO repeatedly recommends that people only listen to and trust official channels and sources. Guess who were the people calling for restrictions of human rights?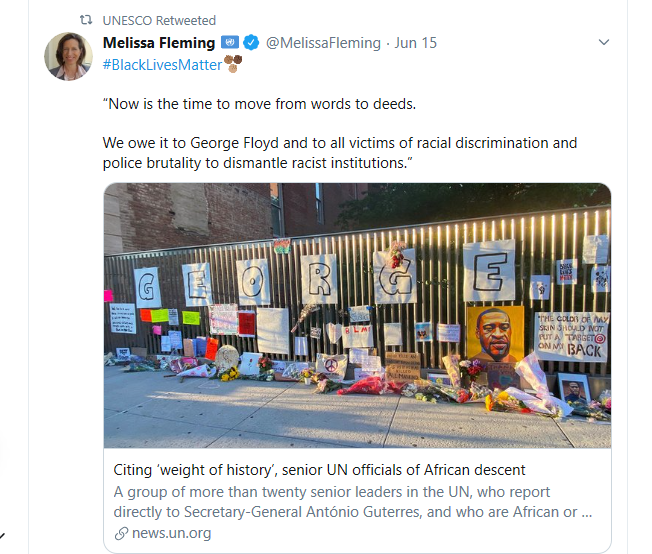 https://twitter.com/MelissaFleming/status/1272448950440771587
UNESCO seems to be 100% on board with the George Floyd psy-op. Remember, to only listen to official sources, and avoid sharing misinformation. No mention of course why people flock to the West if it's such a racist hellhole.
8. UNESCO Supports Digital Cooperation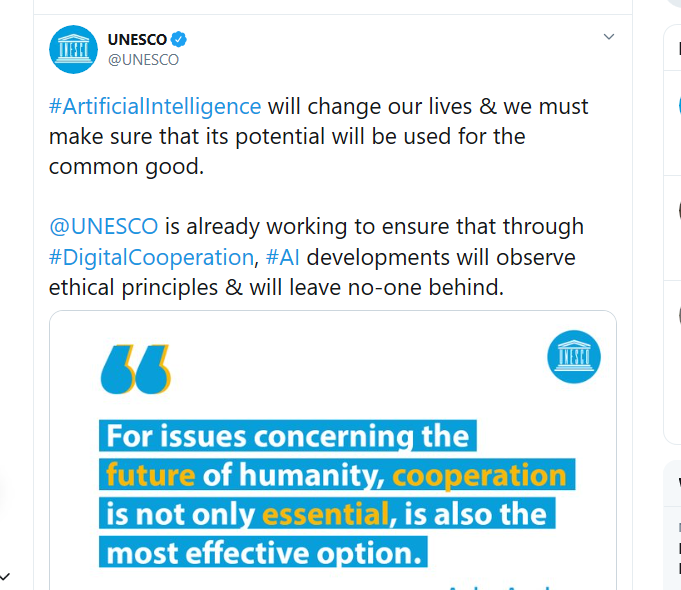 https://twitter.com/UNESCO/status/1272606427698339845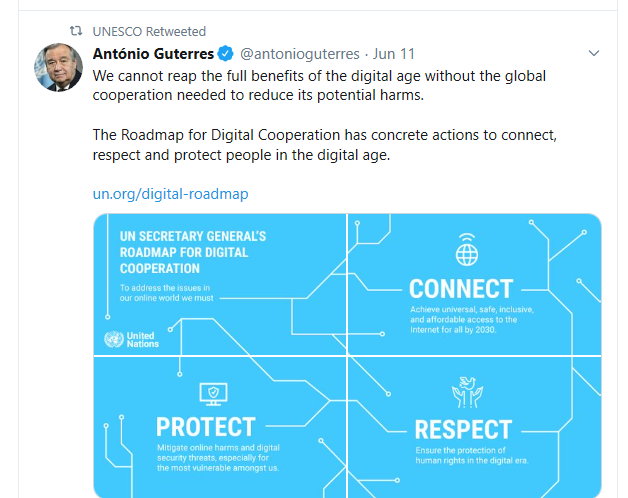 https://twitter.com/antonioguterres/status/1271089192018288641
Here is a call by UNESCO to support so-called "Digital Cooperation". What is it, and why is it so bad? UN Digital Cooperation is a program that is already underway, to attempt global internet regulation. It's a horrible idea, since it would eventually lead to global control of internet activity. Ideas and views that are deemed "inappropriate" for whatever reason could be shut down.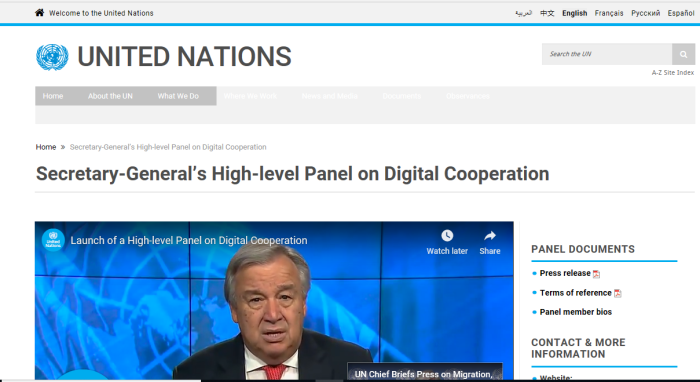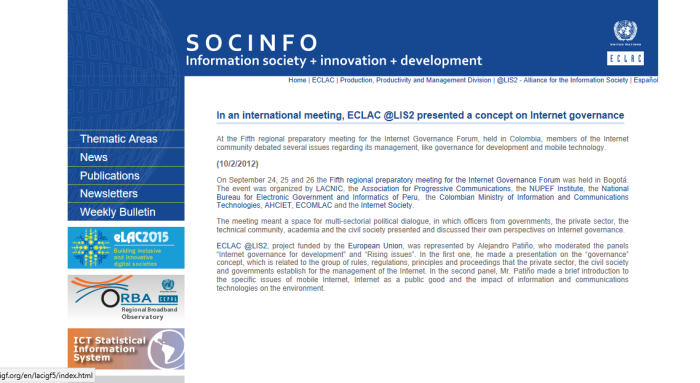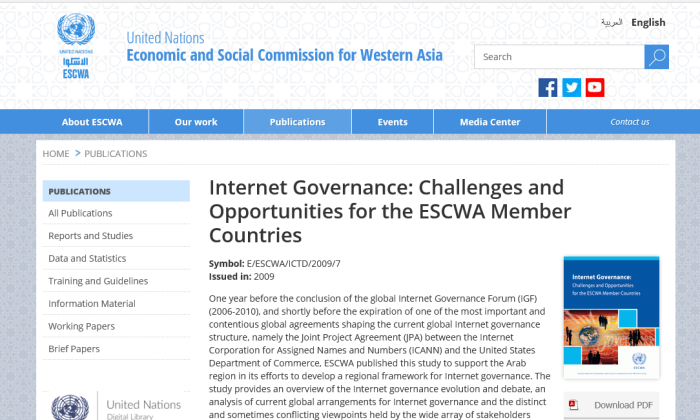 See this piece for a previous review on the topic of digital cooperation. It's worth noting that the shooting in New Zealand in 2019 has been an excuse to try to bring in a "digital charter". However, the principle of global internet control long precedes that shooting.
Notice that all attempts to shut down free speech and a free media are done under some guise of "public safety" or of "preventing emotional harm". Very rarely, of ever, is it admitted that the goal is to eliminate free speech.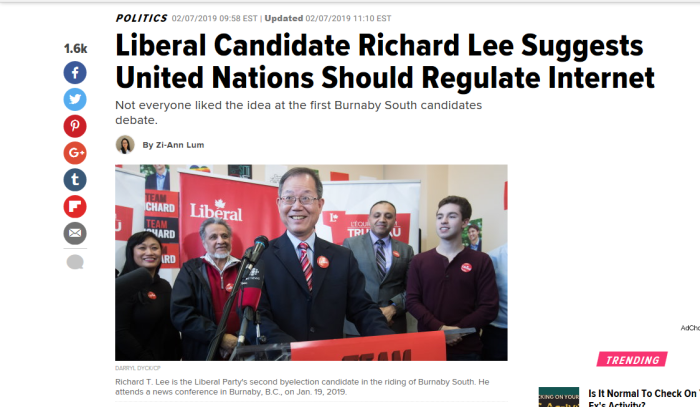 From a debate in a 2019 Burnaby South by-election, then Liberal Candidate Richard Lee openly suggested that the United Nations should have a department to regulate the internet. Perhaps he was unaware that this was already in the works.
The scale, spread and speed of change brought about by digital technology is unprecedented, and the current means and levels of international cooperation are unequal to the challenge. Digital technologies make a significant contribution to the realisation of the 2030 Agenda for Sustainable Development and cut uniquely across international boundaries, policy silos and professional domains. Cooperation across domains and across borders is therefore critical to realising the full social and economic potential of digital technologies, mitigating the risks they pose, and curtailing any unintended consequences.
The High-level Panel on Digital Cooperation was convened by the UN Secretary-General to provide recommendations on how the international community could work together to optimise the use of digital technologies and mitigate the risks. In June 2019, the Panel published their report "The Age of Digital Interdependence" and with it a series of recommendations to improve digital cooperation.
Sounds pretty Orwellian, doesn't it? Instead of nations determining their own internet policies, there will soon be a "global consensus" on how the internet should be used, and for what purposes. UNESCO presumably supports this all.
9. UNESCO Supports Mass Vaccinations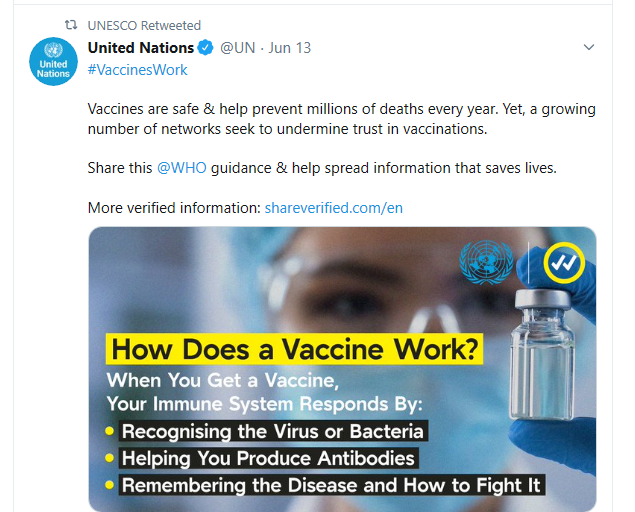 https://twitter.com/UN/status/1271805271334023174
The world can only contain the virus and its impacts if every person has access to accurate, reliable information. That's down to all of us. Verified is a United Nations initiative to encourage us all to check the advice we share. Sign up to receive content you can trust: life-saving information, fact-based advice, and stories from the best of humanity. Look out for the double tick.
Apparently this site is an agent of disinformation, considering all of the effort done to expose the lobbying and corruption behind the vaccine agenda. Remember folks, only trust verified sources of information, and assume all others are lying to you.
10. China Falsified Reporting
China had supposedly brought this to the attention of the World Health Organization in late 2019. However, that was revealed to be a lie. Still, according to UNESCO, we should only trust official sources.
11. UNESCO Is Propaganda Outlet
UNESCO promotes various Un agendas, which is not surprising given that it is part of the UN. In various outlets, the group reiterates that only official and verified sources can be trusted, and that others are to be viewed with skepticism.
The reality is the UNESCO, and the UN as a whole, are not interested in truth or research that contradicts their narratives. Better to smear contradictory sources as "misinformation" than to answer the hard questions they pose.