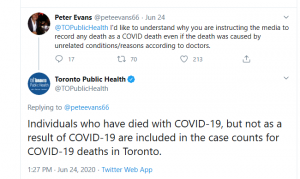 According to Toronto Public Health: "Individuals who have died with COVID-19, but not as a result of COVID-19 are included in the case counts for COVID-19 deaths in Toronto."
https://twitter.com/TOPublicHealth/status/1275888390060285967
https://archive.vn/oS0Po
1. Other Articles On CV "Planned-emic"
For the very extensive effort to expose the coronavirus hoax, see the previous two dozen articles on the subject. Much of it includes the lobbying efforts, and the money changing hands. Once you understand the money and influence peddling behind the scenes, things start to make sense.
2. Toronto Public Health "Claims" 1,100 Deaths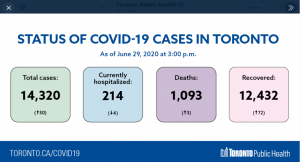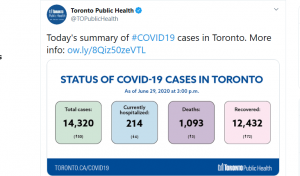 https://twitter.com/TOPublicHealth/status/1278062510717964288
In a June 30 tweet, Toronto Public Health claimed that there were 1,093 (nearly 1,100) deaths due to coronavirus. Interestingly, they neglect to mention that they consider all deaths where a person HAS this virus to be CAUSED by the virus.
These are not the same thing. If a person was run over by a drunk driver and die, the cause of death would be some sort of blood loss or blunt force trauma. Even if he or she had the virus or some other disease, that is not the cause of death. Saying otherwise is fraudulent.
3. TPH Retweets John Tory's Mask Hoax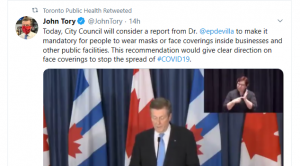 https://twitter.com/JohnTory/status/1277966131446247425
Toronto Mayor John Tory made it mandatory for residents to begin wearing masks, and Toronto Public Health obviously promoted the decision. However, the whole mask demands are about getting the citizens to submit, rather than any real health benefits. No one demonstrates the dishonesty more than Anthony Fauci, the "top doctor" in the U.S.
Anthony Fauci later claimed he only recommended against masks in order to prevent a buying spree which would have left no masks available for health care workers. Motives aside, he blatantly lied to the public. In the third video, he appears to take the mask off as soon as the cameras are off. But remember, trust the experts and official sources.
4. More Lies From Toronto Public Health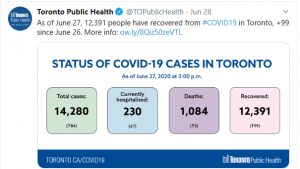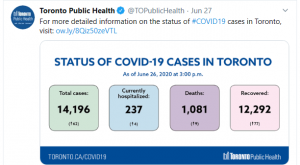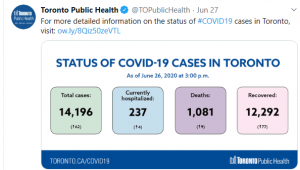 The Toronto Public Health feed is full of tweets like this, tracking total deaths. However, it is all based on deception, since Toronto (as many other surely do) treats people who HAVE the coronavirus — or any of these viruses — as if it CAUSED their deaths.
5. City Of Toronto Lies About Virus Deaths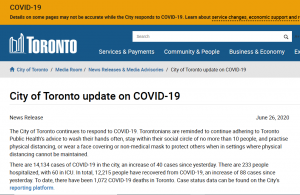 The City of Toronto continues to respond to COVID-19. Torontonians are reminded to continue adhering to Toronto Public Health's advice to wash their hands often, stay within their social circle of no more than 10 people, and practise physical distancing, or wear a face covering or non-medical mask to protect others when in settings where physical distancing cannot be maintained.
There are 14,134 cases of COVID-19 in the city, an increase of 40 cases since yesterday. There are 233 people hospitalized, with 60 in ICU. In total, 12,215 people have recovered from COVID-19, an increase of 88 cases since yesterday. To date, there have been 1,072 COVID-19 deaths in Toronto. Case status data can be found on the City's reporting platform.
Provincial Emergency Management and Civil Protection Act orders, the City bylaw on physical distancing, and laws prohibiting consumption of alcohol on City property and in unlicensed public areas remain in effect. Yesterday, the City received 103 complaints related to parks use and physical distancing. Officers have spoken to or cautioned more than 6,600 people this month. Bylaw officers issued nine tickets yesterday in City parks or squares.
The City's website is updated daily with the latest health advice and information about City services, social supports and economic recovery measures. Check toronto.ca/covid-19/ for answers to common questions before contacting the Toronto Public Health COVID-19 Hotline or 311.
Toronto is home to more than 2.9 million people whose diversity and experiences make this great city Canada's leading economic engine and one of the world's most diverse and livable cities. As the fourth largest city in North America, Toronto is a global leader in technology, finance, film, music, culture and innovation, and consistently places at the top of international rankings due to investments championed by its government, residents and businesses. For more information visit toronto.ca or follow us on Twitter at twitter.com/CityofToronto , on Instagram at instagram.com/cityofto or on Facebook at facebook.com/cityofto .
Toronto has 2.9 million residents, and has had 1,100 deaths due to this so-called virus. And there has clearly been some inflation to get it that high. Even if it were true, it would mean that 1 our of every 3,000 or so people have died from CV. It's obviously completely overblown.
Yet nowhere in this press release is it stated that people who simply have the virus and die are presumed to have died because of it. A little transparency would be nice.
6. Ontario Government Supports Falsification
In a very roundabout way, the Ontario Government admits that on at least one occasion, a person who did not die of CV-19 was classified as that being the cause of death. This woman died in a car crash, but it was still attributed to this virus.
7. CDC (U.S.) Inflating Death Totals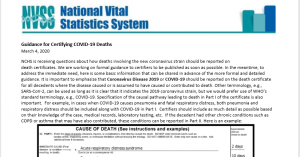 Alert-1-Guidance-for-Certifying-COVID-19-Deaths
The CDC, the Center for Disease Control (U.S.), has been making it easy to lie and FALSELY CLAIM that a person had died of Covid-19 when it is unknown. Take a look.
It is important to emphasize that Coronavirus Disease 2019 or COVID-19 should be reported on the death certificate for all decedents where the disease caused or is assumed to have caused or contributed to death. Other terminology, e.g., SARS-CoV-2, can be used as long as it is clear that it indicates the 2019 coronavirus strain, but we would prefer use of WHO's standard terminology, e.g., COVID-19. Specification of the causal pathway leading to death in Part I of the certificate is also important. For example, in cases when COVID-19 causes pneumonia and fatal respiratory distress, both pneumonia and respiratory distress should be included along with COVID-19 in Part I. Certifiers should include as much detail as possible based on their knowledge of the case, medical records, laboratory testing, etc. If the decedent had other chronic conditions such as COPD or asthma that may have also contributed, these conditions can be reported in Part II. Here is an example:
Look at how it is worded. "disease caused or is assumed to have caused or contributed to death". It doesn't say that the virus caused the death, but rather assumed to have caused or contributed to death. That is a much, much lower standard.
Why would doctors misdiagnose someone on purpose? A cynic might wonder if it has to do with the extra federal funds that are available for coronavirus patients. Supposedly $39,000 dollars (USD) if it is a covid patient.
Yes, this information has been out for quite a while. Still, it's worth a reminder about just how deceitful the system is when it's rewarded financially.
8. Death Tolls Artificially Inflated
If the only way to get the numbers up is to falsify the cause of death (or just not properly determine it), then it's clear that governments are lying to their citizens. Toronto Public Health has admitted that people who test positive for this virus after death are attributed to the virus, even if that wasn't the actual cause of death. The Ontario Government has admitted to doing it, and only because they got caught. This goes on elsewhere as well.
This pandemic is a hoax. People need to wake up.