(This is Doug Ford in April 2020 telling the public that he thinks masks are beneficial, but won't say or do anything without the approval of the Health Department. Not like he's Premier of Ontario or anything.)
(This is Doug Ford in October 2018 telling the public that respecting civil rights and religious freedoms is more important than public safety. Apparently the laws of gravity don't apply since the turban is religious.)
1. Previous Solutions Offered
A response that frequently comes up is for people to ask what to do about it. Instead of just constantly pointing out what is wrong, some constructive suggestions should be offered. This section contains a list of proposals that, if implemented, would benefit society. While the details may be difficult to implement, at least they are a starting point.
2. Other Articles On CV "Planned-emic"
As of the time of writing this, the "planned-emic" series has 23 pieces in it, including efforts to shift the culture, in order to make mask wearing the new normal. Lots of detail in the series.
3. Helmets Mentioned In Previous Article
The topic of letting motorcycle riders evade health and safety regulations was mentioned on this site nearly 2 years ago. While it seemed absurd at the time, perhaps there is a silver lining to this double standard.
Whatever faith you may belong to, it doesn't matter. But know that from this day on: your religious beliefs don't allow you to wear a mask in public. Forcing you to do so will violate your conscience and beliefs.
4. Resisting The "Culture Shift"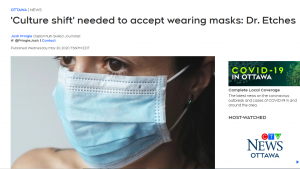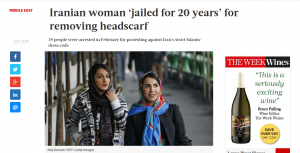 This was brought up in the last coronavirus piece but worth repeating. There is a deliberate, conscious, and planned effort to make mask wearing normalized and mandatory throughout the world. In parts of the West, this is not so much being imposed, but by attempts to "shift the culture", to make this the new way of life. It's time to fight back against it.
There aren't criminal penalties in the West for not wearing masks — yet. But that doesn't mean that it won't happen at some point in the future.
5. BC Exemption On Helmets For Sikhs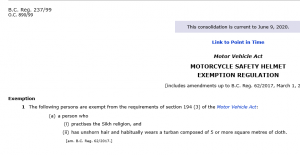 "Point in Time" Regulation Content
Motor Vehicle Act
Motorcycle Safety Helmet Exemption Regulation
B.C. Reg. 237/99
Section 1 BEFORE amended by BC Reg 62/2017, effective March 1, 2017.
Exemption
1 The following persons are exempt from the requirements of section 221 of the Motor Vehicle Act:
(a) a person who
(i) practices the Sikh religion, and
(ii) has unshorn hair and habitually wears a turban composed of 5 or more square meters of cloth.
BC has given Sikhs an exemption on wearing helmets when riding a motorcycle since 2017.
6. Alberta Exemption On Helmets For Sikhs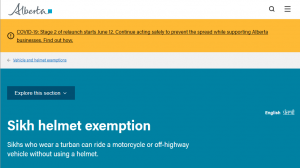 Overview
Sikhs who wear turbans are exempt from:
.
the Vehicle Equipment Regulation helmet requirement in the Traffic Safety Act
the Off-highway Vehicle Regulation helmet requirement in the Traffic Safety Act
.
This means:
drivers and passengers who are over 18 and are bona fide members of the Sikh religion who wear a turban can ride a motorcycle without using a helmet
.
drivers and passengers who are bona fide members of the Sikh religion who wear a turban can ride an off-highway vehicle without using a helmet
.
Turbans are an integral part of the Sikh identity. This decision allows them to ride without having to remove their turban.
Alberta is the third jurisdiction in Canada to allow this exemption, alongside British Columbia and Manitoba.
In March 2018, Alberta gave Sikhs and exemption on helmets.
7. Manitoba Exemption On Helmets For Sikhs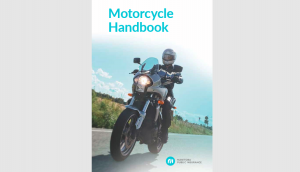 Motorcycle-handbook.manitoba
The following persons are exempt from wearing a helmet:
• persons riding motorcycles in a legally-authorized parade
• bona fide members of the Sikh religion
On page 8 of the handbook, it clearly states that Sikhs are exempt from wearing helmets, as are people taking part in a parade.
8. Ontario Exemption On Helmets For Sikhs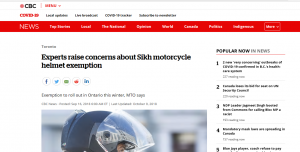 Despite obvious safety concerns with letting some people ride motorcycles without helmet, Ford seems to think that religious freedom is a much more important virtue.
9. Quebec Hypocrisy On Face Coverings
(This is Quebec Premier Francois Legault in 2019 saying that he will use the "Notwithstanding Clause" if needed to ban religious symbols — which include face coverings — from people in government positions. Many countries have banned the Muslim face veil as a security risk.)
(This is Francois Legault in 2020 saying that he strongly recommends everyone wearing face masks in public. Apparently it's in order to help protect public health.)
10. CHRC – Duty To Accommodate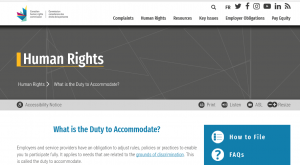 Employers and service providers have an obligation to adjust rules, policies or practices to enable you to participate fully. It applies to needs that are related to the grounds of discrimination. This is called the duty to accommodate.
The duty to accommodate means that sometimes it is necessary to treat someone differently in order to prevent or reduce discrimination. For examples, asking all job applicants to pass a written test may not be fair to a person with a visual disability. In such cases, the duty to accommodate may require that alternative arrangements be made to ensure that a person or group can fully participate.
What is Undue Hardship?
It is also important to consider that there is a reasonable limit to how far your employer or service provider has to go to accommodate your needs. Sometimes accommodation is not possible because it would cost too much, or create health or safety risks. This is known as undue hardship. Your employer or service provider can claim undue hardship as the reason why certain policies or practices need to stay in place, even though they may have a negative effect on you. They will need to provide sufficient evidence.
Would a service provider be required to make an exception for this planned-emic? Difficult to say how it would play out in court, or at a human rights tribunal. That said, this tactic can definitely be a "boot on the neck" to getting around any requirements in most cases.
11. Mask Objections: Specific Religions
If you are a Muslim (or just "identifying" as one) remind the person that in the Middle East, the headscarf and face coverings are used to subjugate and enslave women. It's not a sign of religious freedom, but one of being a prisoner. If the service provider doesn't take a hint, you can always can them a sexist and Islamophobe.
If you are Jewish (or just "identifying" as such) remind the person that attempts to erase your people have been made throughout history. If the service provider doesn't take the hint, remind him/her that 6 million people died in the Holocaust. If the person still doesn't get it, feel free to start dropping the term anti-Semite.
There are other religions of course. Feel free to find a scripture that helps your case, no matter how weak or flimsy, to justify your refusal. Reminder, passages can always be quoted out of context, and store clerks probably won't know the difference. Should that fail, just gaslight the person as a bigot.
12. Alternative: Get A Medical Note
An alternative to this is going to a walk in clinic to get a medical note to attest to the fact that you have a medical condition (such as asthma) that will make wearing a mask unhealthy. There will probably be a fee to pay, but it may be worth it to you.
A further alternative is to just create your own doctor's note. With Photoshop, and many similar applications, the average computer user can generate a realistic looking note in minutes. No need to prove anything, since doctor-patient confidentiality is grounded in law.
13. Reject Masks, Vote With Your Wallet
If you have a variety of places to shop from, one option is to stop patronizing places which require masks. This avoids the confrontation aspect, but in numbers it sends the message that people won't shop at such a place.
14. Masks Are About Asserting Control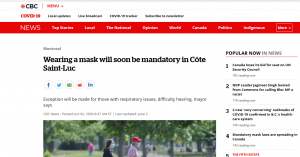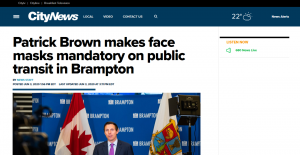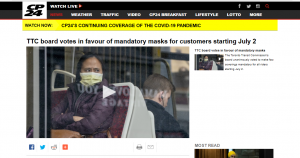 Does it make sense that a Quebec town would change the law to require masks be worn in public, but not have it kick in for another month? How about Brampton announcing they will be mandatory on transit, in another month? Or Toronto requiring them for transit riders — in another 2 weeks? Make no mistake. This is all about asserting control and domination over you.
But there is a solution. Remember, your religious beliefs do not allow you to wear face coverings. Governments, employers and service providers have a duty to accommodate. While a few may push back and claim it is an undue burden, most will not. This is especially true if you happen to be filming them and suggest it will be posted online.
Never forget: your well being, and the well being of your family members come first. If it means putting a "foot on the neck" of someone just following orders, then so be it. That excuse didn't work for the Nazis either.