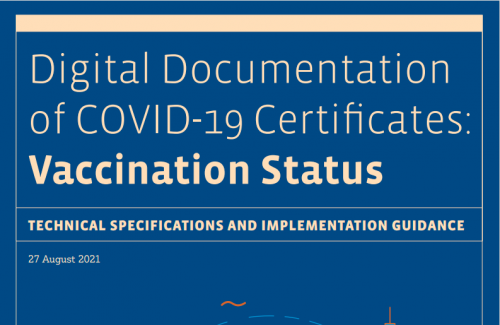 Despite the claim of "VACCINE PASSPORTS" being dismissed as a lunatic conspiracy theory in 2020, the World Health Organization has put out its own guidelines for establishing such a system. This issue isn't just being discussed, but has been studied and written about. Here is the paper they just released. It covers technical specifications and implementation guidance.
Then again, WHO published a paper on MANDATORY VACCINATION back in April 2021, despite repeatedly saying that such predictions were conspiracy theories. Absurdly, WHO admits these so-called vaccines only have emergency use authorization, but were still open to the idea of making them compulsory.
Reading through this paper, disturbing, yet unsurprising things emerge.
Page v: Contributors to this paper are named. These include: Beth Newcombe (Immigration, Refugees and Citizenship Canada); Maxwell J Smith (University of Toronto); Stephen Wilson (Lockstep Group); Beverly Knight (ISO TC215 Health Informatics Canadian Mirror Committee); all members and observers of the Smart Vaccination Certificate
Working Group.
Lockstep Group is an interesting name, considering that this "pandemic" is heavily based on the Lockstep Narrative that was laid out a decade ago. Of course, that document came from none other than the Rockefeller Foundation.
And a WHO operative working at the University of Toronto? Who would ever have seen that one coming? It's not like Rockefeller was a major donor to that school, or was heavily involved in starting up the public health industry.
Page vi: For starters, the funders of this project are listed very briefly. "This work was funded by the Bill and Melinda Gates Foundation, the Government of Estonia, Fondation Botnar, the State of Kuwait, and the Rockefeller Foundation. The views of the funding bodies have not influenced the content of this document."
This work was funded by the Bill and Melinda Gates Foundation, the Government of Estonia, Fondation Botnar, the State of Kuwait, and the Rockefeller Foundation. The views of the funding bodies have not influenced the content of this document.
Then again, GAVI (which Gates finances), Microsoft (which Gates used to run), and the Rockefeller Foundation all contributed to the launch of ID2020, a global digital identification initiative. This was started back in 2016. But connecting the obvious dots is probably a conspiracy theory.
Microsoft is also a partner (along with the Ontario Ministry of Health), of the Vaccine Credential Initiative. But again, nothing to see here.
As for Fondation Botnar: it claims to: "champion the use of AI and digital technology to improve the health and wellbeing of children and young people in growing urban environments around the world. We do this by supporting research, catalysing diverse partners, and investing in scalable solutions." Not that there would be a business angle here, or anything.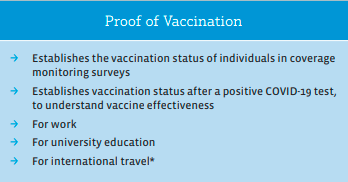 Page xiv: Not too long ago, there was heavy criticism when it was predicted that vaccination would become a requirement for work, education, or international travel? Instead, those uses, are explicitly suggested by WHO as places to implement them.
The primary target audience of this document is national authorities tasked with creating or overseeing the development of a digital vaccination certificate solution for COVID-19. The document may also be useful to government partners such as local businesses, international organizations, non-governmental organizations and trade associations, that may be required to support Member States in developing or deploying a DDCC:VS solution.
Page 2, Section 1.2: This isn't just some academic piece or philosophical musings. The authors of this paper fully intend for this to be used by Governments. Furthermore, businesses and trade organizations will be expected to help out in the support of this. We would have a few of those, right? See here and here for some examples.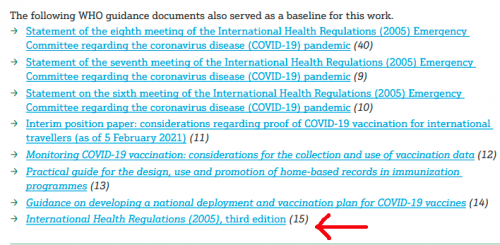 Page 5, Section 1.5: Remember those International Health Regulations, which Governments insist are not legally binding? Turns out they actually are, and formed part of the basis for this guidance document. Also, the 2005 Quarantine Act was in fact based on anticipated rules of the 3rd Edition WHO-IHR, which came out that year.
Also, those papers which comes as a result of those emergency meetings (8 so far) are binding on countries as well. They are instructions — or at least guidelines — for how to run internal affairs.
As with any digital solution, there are ethical considerations, such as potential impacts on equity and on equitable access, and data protection principles that need to inform the design of the technical specifications, as well as provide guidance on how resulting solutions can be ethically implemented. The following sections discuss some key ethical considerations and data protection principles that Member States are encouraged to – and, where they have legal obligations, must – include in their respective deployments of any DDCC:VS. These ethical considerations and data protection principles have also informed the design criteria for a DDCC:VS outlined in the following section
Page 6, Chapter 2: We start getting into the ethical issues at this point. Strangely, there doesn't seem to be any mention that these "vaccines" are only authorized by a continued emergency status. Also, there is apparently no moral dilemma over policies that amount to coercion.
While COVID-19 vaccines may eventually be widely accessible, current global distribution is inequitable and there are populations that vaccination programmes may struggle to reach due to, for example, geography, terrain, transient or nomadic movement, war and conflict, or illegal or insecure residency status. These hard-to-reach populations (e.g. refugees, asylum seekers, internally displaced persons) are disproportionately less likely to have an opportunity to be vaccinated and obtain a DDCC:VS.
Page 8, Section 2.1.1: Although there seems to be no concern with coercion of unproven injections onto the general public, they are concerned about people being in the country illegally. Now, this is not because this is morally wrong, but since it will make such people harder to reach.
Chapter 2 goes on and on about privacy of information, but intentionally omits mentioning how wrong it is to pressure people into taking these concoctions in the first place. WHO seems to be very partial and selective about what issues are worth considering. And no, this topic hasn't been "settled" or anything of the sort.
Chapters 3 through 6 go into considerable detail about technical requirements for how to implement such a system, and how to ensure everyone getting injected has a record of it. The particulars are beyond the scope of this review, but yes, they are building national (and most likely international) databases of vaccinations.
Chapter 7 goes into national considerations, and how countries can implement systems that each other can trust. Apparently, a central authority is to be trusted to maintain and update these records. It also addresses the revocation of vaccination status, not that it will ever be abused.
Chapter 8 gets into short and long term goals. Score another one for the conspiracy nuts, but WHO talks about how this system, once fully implemented, could be used for OTHER health records and databases. It's almost as if this was meant as some sort of bait-and-switch.
SHORT-TERM DDCC:VS SOLUTION: Deploy a short-term DDCC:VS solution to address the immediate need of the pandemic that includes a clearly established end date and a roadmap towards discontinuing the DDCC:VS solution once COVID-19 is no longer considered a Public Health Emergency of International Concern under the IHR.
LONG-TERM DDCC:VS SOLUTION: Deploy a DDCC:VS solution to address the immediate needs of the pandemic but also to build digital health infrastructure that can be a foundation for digital vaccination certificates beyond COVID-19 (e.g. digital home-based records for childhood immunizations) and support other digital health initiatives.
Page 60: The references used are listed. It's worth mentioning that the first few have to do with people making counterfeit records. This seems designed to push the narrative that such things are unreliable, and that only a digital system can be run.
Page 60: Reference #13 stands out. It is actually a paper published in 2015, concerning home-based vaccination records as a way to advance immunizations, particularly for children. Now, this was mainly manual (not digital) at the time, but now we are in the next generation.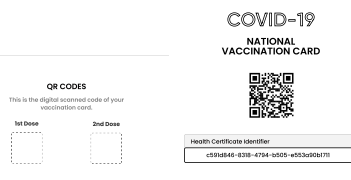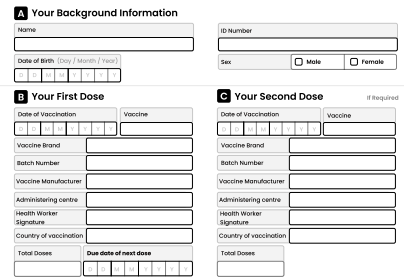 Page 63: the paper outlines an example of what a digital pass would look like. A QR code would be visible, but inside, there would be the personal information about what shots the person had. Interesting that it's referred to as a National Vaccine Card. That was something else previously dismissed as a tin-foil hat ranting.
Back in December 2020, the WHO put out a call for nominations for "experts" for the Smart Vaccination Certificate technical specifications and standards of an incoming vaccine passport system. In an Orwellian twist, these passports (or digital passes, or whatever name one wants) are framed as a sort of human rights issue. Even as the WHO and their puppets are reassuring people that these "movement licenses" are a fantasy, they are recruiting people to look at the feasibility.
At what point can it no longer be denied that all of this is very well planned and coordinated?
(1) https://apps.who.int/iris/handle/10665/343361
(2) WHO Vaccine Passport Specifications Guidelines
(3) https://www.who.int/news-room/articles-detail/world-health-organization-open-call-for-nomination-of-experts-to-contribute-to-the-smart-vaccination-certificate-technical-specifications-and-standards-application-deadline-14-december-2020
(4) https://id2020.org/
(5) https://www.who.int/about/ethics/declarations-of-interest
(6) https://www.who.int/news/item/04-06-2021-revised-scope-and-direction-for-the-smart-vaccination-certificate-and-who-s-role-in-the-global-health-trust-framework
(7) WHO Paper On MANDATORY Vaccination April 13, 2021 (Original)
(8) WHO Paper On MANDATORY Vaccination April 13, 2021 (Copy)
(9) https://www.who.int/news/item/23-01-2020-statement-on-the-meeting-of-the-international-health-regulations-(2005)-emergency-committee-regarding-the-outbreak-of-novel-coronavirus-(2019-ncov)
(10) https://www.who.int/news/item/30-01-2020-statement-on-the-second-meeting-of-the-international-health-regulations-(2005)-emergency-committee-regarding-the-outbreak-of-novel-coronavirus-(2019-ncov)
(11) https://www.who.int/news/item/01-05-2020-statement-on-the-third-meeting-of-the-international-health-regulations-(2005)-emergency-committee-regarding-the-outbreak-of-coronavirus-disease-(covid-19)
(12) https://www.who.int/news/item/01-08-2020-statement-on-the-fourth-meeting-of-the-international-health-regulations-(2005)-emergency-committee-regarding-the-outbreak-of-coronavirus-disease-(covid-19)
(13) https://www.who.int/news/item/30-10-2020-statement-on-the-fifth-meeting-of-the-international-health-regulations-(2005)-emergency-committee-regarding-the-coronavirus-disease-(covid-19)-pandemic
(14) https://www.who.int/news/item/15-01-2021-statement-on-the-sixth-meeting-of-the-international-health-regulations-(2005)-emergency-committee-regarding-the-coronavirus-disease-(covid-19)-pandemic
(15) https://www.who.int/news/item/19-04-2021-statement-on-the-seventh-meeting-of-the-international-health-regulations-(2005)-emergency-committee-regarding-the-coronavirus-disease-(covid-19)-pandemic
(16) https://www.who.int/news/item/15-07-2021-statement-on-the-eighth-meeting-of-the-international-health-regulations-(2005)-emergency-committee-regarding-the-coronavirus-disease-(covid-19)-pandemic