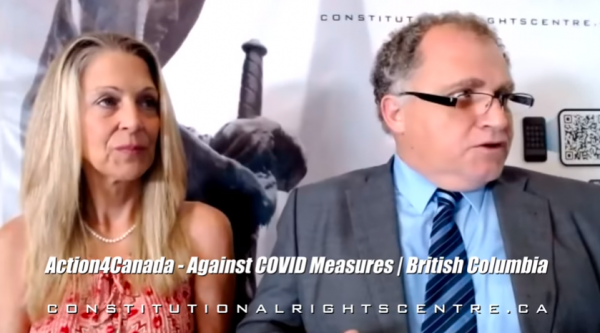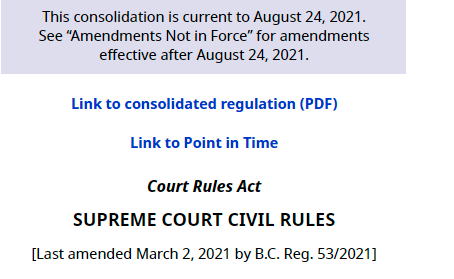 Action4Canada and several others recently filed a Notice of Civil Claim (or NOCC), which is the equivalent to a Statement of Claim. This was filed against the B.C. Government, BCPHO Bonnie Henry, Premier John Horgan, Health Minister Adrian Dix, Solicitor General and Public Safety Minister Mike Farnworth, and several others. The Plaintiffs are being represented by Rocco Galati and Lawrence Wong.
While this should be cause for excitement, that is not the case here. The NOCC is filled with obvious defects which will lead to it getting thrown out, if the Government ever decides to challenge it.
Just looking at Rules 3-1 and 3-7 of the British Columbia Supreme Court Civil Rules, it already becomes clear that there will be issues with the pleading. These aren't minor problems, but ones that seriously and repeatedly violate basic rules of the B.C. Supreme Court.
And no, this isn't "infighting". It's difficult to believe that "Canada's top constitutional lawyer" could draft such garbage unless it was done intentionally. People are being asked to donate to a case that doesn't stand a chance in hell of going ahead. And maybe that was the point all along.
To begin the critique, let's first look at a few parts of the Rules Of Civil Procedure for B.C. Although not identical to Ontario, they are quite similar, and set up much the same way. And Lawrence Wong is a lawyer in B.C., so presumably he's familiar with how things are done in that Province.
For reference, B.C. provides a template for such documents. This is done for all forms, in all Courts across Canada. Just fill out the appropriate sections.
Part 1: Statement of Facts
Part 2: Relief Sought
Part 3: Legal Basis
Rule 3-1 — Notice of Civil Claim
Notice of civil claim
(1) To start a proceeding under this Part, a person must file a notice of civil claim in Form 1.
.
Contents of notice of civil claim
(2) A notice of civil claim must do the following:
.
(a) set out a concise statement of the material facts giving rise to the claim;
(b) set out the relief sought by the plaintiff against each named defendant;
(c) set out a concise summary of the legal basis for the relief sought;
(d) set out the proposed place of trial;
(e) if the plaintiff sues or a defendant is sued in a representative capacity, show in what capacity the plaintiff sues or the defendant is sued;
(f) provide the data collection information required in the appendix to the form;
(g) otherwise comply with Rule 3-7.
Rule 3-7 is quite long, but here are some of the more relevant portions which apply to this Notice of Civil Claim. The reasons will soon become obvious.
Rule 3-7 — Pleadings Generally
Content of Pleadings
.
Pleading must not contain evidence
(1) A pleading must not contain the evidence by which the facts alleged in it are to be proved.
.
Documents and conversations
(2) The effect of any document or the purport of any conversation referred to in a pleading, if material, must be stated briefly and the precise words of the documents or conversation must not be stated, except insofar as those words are themselves material.
.
When presumed facts need not be pleaded
(3) A party need not plead a fact if
(a) the fact is presumed by law to be true, or
(b) the burden of disproving the fact lies on the other party.
Assuming that this NOCC doesn't just sit indefinitely, like both with Vaccine Choice Canada are, it's most likely to be struck when challenged. Rule 9-5 lays out how and why Pleadings are thrown out. Going through the NOCC, it becomes clear it could happen for many reasons.
Rule 9-5 — Striking Pleadings
.
Scandalous, frivolous or vexatious matters
(1) At any stage of a proceeding, the court may order to be struck out or amended the whole or any part of a pleading, petition or other document on the ground that
.
(a) it discloses no reasonable claim or defence, as the case may be,
(b) it is unnecessary, scandalous, frivolous or vexatious,
(c) it may prejudice, embarrass or delay the fair trial or hearing of the proceeding, or
(d) it is otherwise an abuse of the process of the court,
.
and the court may pronounce judgment or order the proceeding to be stayed or dismissed and may order the costs of the application to be paid as special costs.
.
[am. B.C. Reg. 119/2010, Sch. A, s. 22.]
.
Admissibility of evidence
(2) No evidence is admissible on an application under subrule (1) (a).
Now, let's address specific criticisms of the SoC.
1. No Concise Set Of Material Facts Provided In Statement Of Claim
Rule 3-1(2)(a) says that a Claim should have a concise set of material facts. This does not. Instead, this is a rambling, redundant, horribly repetitive monster that should have been gutted a long time ago. 391 pages was not needed, as this could have been done in a fraction of that. The NOCC — if ever challenged — is likely to be struck because of the exceptionally poor writing alone.
Paragraphs in NOCC are typically supposed to contain 1 main idea or fact. This makes it easy for the other side to simply "admit" or "deny". But throughout this, many are crammed full of other information, which complicates things.
Moreover, many of the allegations are things that each Defendant could claim they had no knowledge of. And there are plenty of bald assertions, without underlying facts being pleaded.
2. Section On Relief Sought Is A Complete Mess
Rule 3-1(2)(b) states that a Claim shall "set out the relief sought by the plaintiff against each named defendant". In this filing, that section starts at page 312, and ends at 356. Yes, it takes 44 pages to outline what is being asked for in the Claim. It's incredibly redundant and repetitive.
At page 341, we finally get to monetary damages.
-$1,000,000: Action4Canada
-$2,000,000: Kimberly Woolman
-$2,000,000: Estate of Jaqueline Woolman
-$200,000: Brian Edgar
-$200,000: Amy Muranetz
-$2,000,000: Jane Doe #2
-$2,000,000: Valerie Ann Foley
-$250,000: Linda Morken
-$250,000: Gary Morken
-$500,000: Pastor Randy Beatty
-$500,000: Ilona Zink
-$750,000: Federico Fuoco
-$750,000: Fire Productions Limited, and F2 productions Incorporated
-$250,000: Michael Martinz
-$250,000: Makhan S. Parhar
-$750,000: North Delta Real Yoga Real Hot Yoga Limited
-$250,000: Melissa Anne Neubauer
-$750,000: Jane Doe #3
$14.65 million (if this is added up correctly), is the amount being sought by individuals and organizations. But there is more to this. Although some private parties are named, it's unclear who exactly is supposed to be paying these people the Charter damages they seek. A number of Government Officials are named. It seems that the Judge would just be expected to figure it out for himself.
On page 355, it is stated that $20 million is sought against CBC. However, it's not clear who would get it. Would the Plaintiffs share it, or is that the lawyer fees?
$14.65 million for the Plaintiffs, and $20 million for who exactly?
3. No Concise Summary Of The Legal Basis For Claim
Rule 3-1(2)(c) requires that the NOCC "set out a concise summary of the legal basis for the relief sought". The legal basis starts on page 356, and ends at page 384. Obviously, this is far from being concise. But beyond that, the NOCC isn't really stating a legal basis. Instead, it mostly rehashes the declaratory relief sought in Part 2 of the NOCC. It looks like it was just a cut-and-paste job, done without anyone checking to see if it made sense.
What SHOULD have been include was a list of the various laws and statues that would be relied on at Trial. If necessary, the relevant parts can be quoted. Instead of that, Part 3 just goes through the same demands made earlier.
At times, it also appears that conclusions are being drawn, when it should just be stating the law.
4. Evidence Being Pleaded In Statement Of Claim
Rule 3-7(1) explains that an NOCC should not plead evidence. Nonetheless, this document spends a lot of time pleading just that This isn't supposed to happen at this stage. The NOCC should outline the facts that the Plaintiff(s) are trying to establish.
Additionally, the bulk of the evidence cited wouldn't be allowed in even if it were okay to include here. Going through the NOCC, a good chunk of the citations are media articles. That may be fine for research, or for other publication, but Courts do have a higher standard.
5. Long Quotes Listed In Statement Of Claim
Rule 3-7(2) tell us that: "The effect of any document or the purport of any conversation referred to in a pleading, if material, must be stated briefly and the precise words of the documents or conversation must not be stated, except insofar as those words are themselves material." Throughout the NOCC there are very long quotes of conversations and documents. Sure, references are fine, and short bits of text, but entire paragraphs are devoted to this purpose.
6. Content That Is Unnecessary, Vexatious, Delay Proceedings
Rule 9-5(1) allows for Pleadings to be struck if they contain any of the following elements:
(b) it is unnecessary, scandalous, frivolous or vexatious,
(c) it may prejudice, embarrass or delay the fair trial or hearing of the proceeding, or
(d) it is otherwise an abuse of the process of the court,
Starting at page 188, the NOCC goes on and on about Bill Gates, GAVI, the World Economic Forum, Alan Dershowitz, and media collusion. Granted, the bulk of this is completely true. However, unless these people and organizations are either being sued, or called as witnesses, their presence doesn't help. Moreover, it's not just a brief mention, but entire pages.
Are these lawyers unaware that the Defendants are entitled to challenge every statement and allegation made? This is just asking for such a Motion.
7. Proofreading Not Exactly Up To Par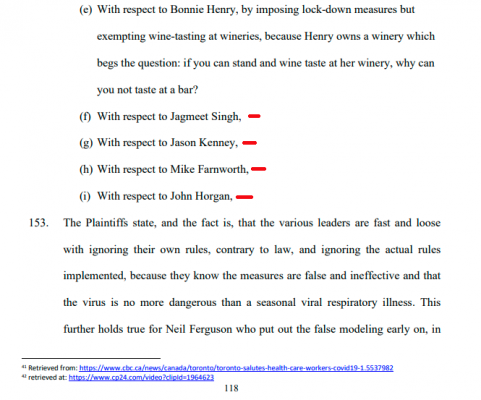 This is from page 118. Sure, it's very minor in the scheme of things, but shouldn't lawyer fees come with an expectation of proofreading? Jagmeet Singh and Jason Kenney aren't being sued, so why are they even in here? Singh is the head of a 3rd Party Federally, and Kenney is Premier of Alberta.
This last error is more a nuisance than anything. However, the other ones could (by themselves) get the SoC struck if anyone ever challenged it. These are not minor errors or oversights, and are not something that could be cured by Amendment, or a revised Statement.
Also, starting on page 122, Denis Rancourt is listed and discussed as an expert. Considering that he "is" an expert witness is the police case and the schools case, and also a Plaintiff in the July 6, 2020 case, there may be some conflict of interest here. Beginning on page 128, there is the pleading of expert opinion. If they are, or ever became witnesses, this would be more pleading of evidence, in violation of Rule 3-7(1).
And this is nitpicking, but Bonnie Henry co-owns a winery in Keremeos, not Keremios. See page 121.
But hey, at least the service addresses were included this time, so take that as a small victory.
Now, this is a (non expert) look at things, but R. v. Imperial Tobacco Canada Ltd., 2011 SCC 42 (CanLII), [2011] 3 SCR 45 seems to be the standard for Motions striking out Pleadings. It uses the "plain and obvious" test for making that determination. The SoC violates the Rules in glaringly obvious ways, and there isn't any real fix possible.
Why draft a Claim this badly? One possible explanation is that this is never intended to go to Trial. See here for background information.
Consider, for example, the July 6, 2020 Claim from Vaccine Choice Canada. It contained the same defects as this. Despite those problems, it has never been challenged by Trudeau, Ford, Tory or anyone else. No default judgement was ever sought either, despite having no response in over a year. The only plausible explanation is collusion, where the parties agreed to leave it in limbo, for whatever reason.
However, donors pump money into these cases, unaware that there is no urgency in bringing them forward. In fact, it doesn't seem they (the lawyers) ever planned to take any of them to Trial, despite the hype. This diverts money, energy, hope and time into Court challenges designed to go nowhere. By taking on all these cases — and letting them sit — the Great Reset moves ahead relatively unopposed. Not that the people in the comments would notice.
Vladimir Lenin is famously quoted as saying: "The best way to control the opposition is to lead it ourselves". And that's exactly what this looks like.
(1) https://www.bclaws.gov.bc.ca/civix/document/id/complete/statreg/168_2009_00
(2) https://www2.gov.bc.ca/assets/gov/law-crime-and-justice/courthouse-services/court-files-records/court-forms/supreme-civil/1-notice-of-civil-claim.pdf
(3) https://www2.gov.bc.ca/assets/gov/law-crime-and-justice/courthouse-services/court-files-records/court-forms/civil_numerically.pdf
(4) https://www.constitutionalrightscentre.ca/20CRC16/wp-content/uploads/2021/08/21.08.17-FILED-Notice-of-Civil-Claim-Action4Canada.pdf
(5) Action4Canada Statement Of Claim
(6) https://www.canlii.org/en/ca/scc/doc/2011/2011scc42/2011scc42.html
(7) https://canucklaw.ca/vaccine-choice-canada-action4canada-want-more-money-for-cases-still-not-happening/
(8) https://www.youtube.com/watch?v=keWV-xD5sfA&