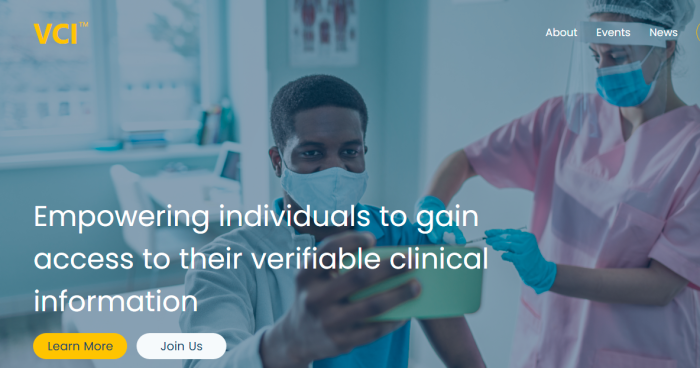 Don't worry, global vaccine passports are just a crazy conspiracy theory. That's what they tell us. In reality, hundreds of organizations are partnering to get digital health passes and vaccine records going.

Microsoft is a familiar name.
Why is that?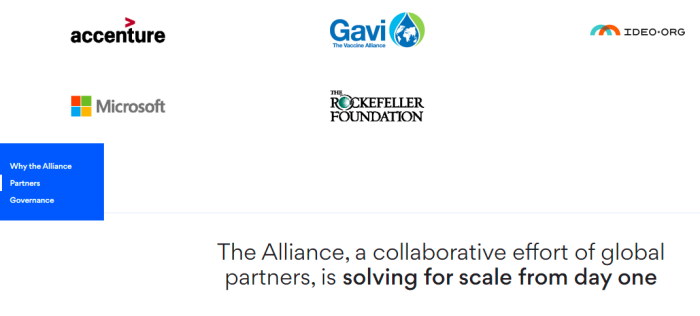 The presence of Microsoft as a partner in VCI should surprise no one. After all, this organization helped started up ID2020 in 2016, along with GAVI and the Rockefeller Foundation.
The Commons Project (TCP) is also listed as promoting Vaccine Credential Initiative. TCP is also prominently featured by the World Economic Forum, and gets funding from Rockefeller.
From VCI's YouTube channel, they describe themselves and their work in the following way:
Description
VCI is working to enable individuals vaccinated for COVID-19 to access their vaccination records in a secure, verifiable and privacy-preserving way. The Coalition is developing a standard model for organizations administering COVID-19 vaccines to make credentials available in an accessible, interoperable, digital format. empower consumers to conveniently access, store, and share digital COVID-19 vaccination records.
The webinars are publicly available, and the next one is scheduled for June 16. Should be quite enlightening.
April speakers include: Gainwell, Common Trust Network, World Economic Forum, Mayo Clinic. Smart Health Pass details being shared.
Louisiana has apparently already had "digital driver's licenses" for a few years now. Also, instead of using the term "vaccine passport", we should call them "vaccine verification" in order to make it less obvious. Smart health cards are coming. Only "approved" issuers list will be coming.
The VCI™ Charter
VCI™ is a voluntary coalition of public and private organizations committed to empowering individuals with access to verifiable clinical information, including a trustworthy and verifiable copy of their vaccination records in digital or paper form using open, interoperable standards.
.
The scope of VCI™ is to harmonize the standards and support development of implementation guides needed to issue, share, and validate vaccination records bound to an individual identity.
.
Individuals can then use those verifiable credentials for medical purposes and to demonstrate their vaccination status to safely return to work, school and travel.
.
A SMART Health Card stores healthcare information and other vital medical data. SMART Health Cards provide a platform to:
-Improve privacy and security of patient information
-Make medical records portable
-Reduce healthcare fraud
196 LLC
1Core Solution
88th Gate Co. Ltd.
Access America
Aceso Health Limited
Acoer
Adara
AdventHealth
Afya Technologies LLC
aio Digital
Airside
Akinox Solutions Inc.
Allscripts
American Logistics Association
Amida Technology Solutions, Inc.
apisatscale.com A subsidiary of Sysman.com Inc.
Appian
Asan Medical Center
Ascom
Associated Planners of Georgia
Athena Health
Atter Pathology Services
Auna
Aviva Pharmacy
Ayodo Foundation
Azuba Corporation
b.well Connected Health
Barcodes Inc.
Beth Israel Lahey Health
Billon
Bindle Systems
BLOK Solutions Ltd.
Bluefield Health
Boston Children's Hospital
Brivo
Care Package Direct LLC
CareSpace
CARIN Alliance
Cassidy & Associates, LLC
Cedars-Sinai Health System
Cerner
CERTIFY Global
Change Healthcare
Cherokee Regional Medical Center
CIO Strategy Council
Clarity Diagnostics
ClarityPark LLC
CLEAR
Cleared4
ClearHealth
CloudConstable Incorporated
CodeREADr Inc.
Cohort.ID
CommonSpirit Health
Composite Apps
ConfirmD By BuddyCheque
Convergence Tech
Coropass
CourMed
COVID Immunity Project
Covidpedia Labs
CPSI
Critical Blue – Approov
CuraPatient, Inc.
Daon
Digital ID Collaborative @ University of South Florida
Dimagi
Docket Health, Inc.
Doconchain
Dragonfly Data, Inc
DrChrono EHR
Duke University Health System
EagleForce Health
ECP
EHE Health
Electronic Health Record Association
eLOOP SA
EMR Direct
Entrust
Envoc
EPIC
ESAC Inc.
everis
Everist Health
Evernorth
Evernym
Execution L.L.C.
Fidelity Life and Health
FIS
Flat Spell Technologies
FOLKS – Imunosafe
Franciscan Alliance
Gainwell Technologies
Garnet Healthcare
GenuChk
Get Real Health
Gnomon Informatics SA
GoInvo
Google
Graphcomp
GreenCarePlus+
Halza Pte Ltd
Health Level Seven International (HL7)
Health Roads
Healthcare IT Leaders
Healthshare Exchange
Healthstream (Pty) Limited
Hearthstone Care
Hedera Hashgraph
HID Global
HIMSS (Healthcare Information and Management Systems Society, Inc.)
HLN Consulting
Hubbub World
Humana
Humetrix
Hummingbird Health Inc.
HyperOffice
ibLaunch Company
IBM
iBonus Limited
iCrypto, Inc.
Ideando Inc
IdRamp
iHealth Paragon dba Healthy Mee
Imprivata
Ink Aviation
Intelligent Medical Objects
International Business Machines
Internet of People – IoP Srl
IOTA Foundation
IPRD Solutions
IriTech, Inc.
Iron Bridge
iShare Medical
Keyed Systems
Lehigh Valley Health Network
MaineHealth
Manceps
MaxMD
Mayo Clinic
mdCAREclik
MEDITECH
Megical
mHealthCoach
Microsoft
MITRE
My Work Badge
myElth
MyMeds
MyVaxPass
NeurSciences LLC
NeXplain
NextGen Healthcare
Northeast Georgia Health
Northwest Solutions LLC
NowSecure
OneRecord
OneSpan, Inc.
Onyx Technology, LLC
Optum
Orbita, Inc.
Othena
OwlTing
Pagemark Technology, Inc.
Panoramic Health Innovations, Inc.
Papirys Inc.
Partners
PathCheck Foundation
Patient Centric Solutions, Inc
PatientLink
Pharmapod Ltd.
Physician 360
Plan8
pocketcred.com
Point-of-Care Partners
PopcornApps
Portum
Primary Health
Proof Market
Prove
Province of Ontario – Ministry of Health
Proxy Inc
Quikr, Inc
RMM CADD Service,llc
Rx.Health
Safe Haus Group
SAFE HEALTH
SAFE Identity
SafeWorld™️
Saggio Consulting, LLC
Sama
SBTS Group LLC
Scicom (MSC) Bhd
ShareMy.Health
Shoptaki
Shufti Pro
SICPA
SITA
Skyflow
Sorsix
STChealth
Strategio Consultant
Tamarin Health
Taylor Corporation
TECH5 SA
Technical Writers of India (TWIN)
tested.me
The Commons Project Foundation
The Gekko Group
The George Washington University
The Sequoia Project
Threedot
TOIN, LLC
TPT Med Tech
TranSendX
Transmute
Truepill
Twilio
UC San Diego Health
UCHealth
Unhackable
Unisys
Universal Healthcare Group
University of Alabama at Birmingham (UAB)
University of California Davis Health
University of Chicago Medicine
V-Health Passport
V12 Health LLC
VaccineCheck
Valid Entry
VAX PASS
VaxAtlas, Inc.
VAXCheck
VAXSYS Technologies, Inc.
Veri Doc Global Pty Ltd
Verif-y
Virus Geeks Inc.
vlinder
VSA-Health, Inc.
WebShield Inc.
WellUp
Wymsical INC
XAFE.io
Xperterra
Yoti
Zamna Technologies Ltd.
Zebra Technologies Corporation
Zocdoc
The Province of Ontario, specifically the Ministry of Health, is also listed as a partner. Strange, there wasn't any public announcement of this. This may have something to do with the recent announcement that Ontario would be launching a digital ID. (Archive)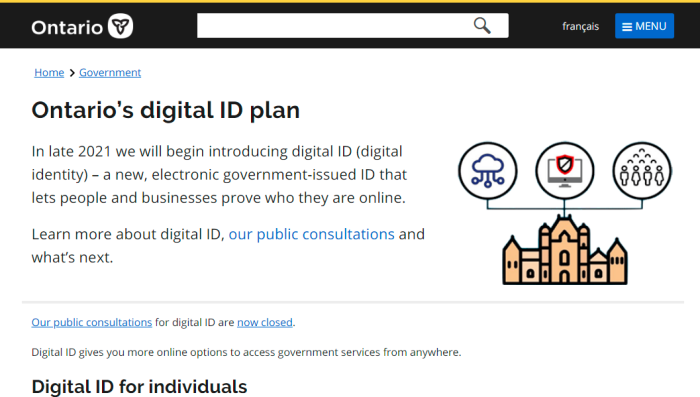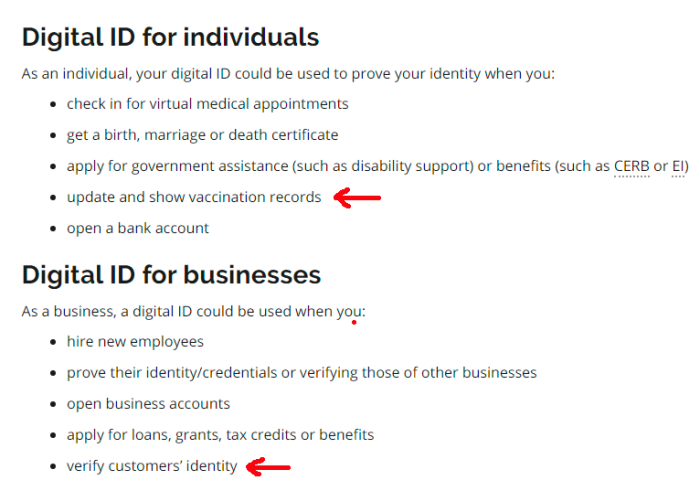 Something to note here: the webpage explicitly states that vaccination records are an application for this digital ID. On the "businesses" portion, it states that this can be used to verify customer identity.
So combine the 2 ideas: customers can verify their vaccination status digitally, and businesses can use these IDs to verify who their customers are. This isn't a stretch to see that this invites so-called vaccine passports as a condition to enter certain places, or work at some of them.
Wouldn't it have been nice if this partnership had been publicly disclosed? There doesn't seem to be any media or government announcement of it.
Although not listed, Walmart is also apparently a supporter of this project. Coincidently, Walmart heavily lobbied Ford into letting the company remain open, while small businesses were forced to close.
Ford and the Ontario parties are also too close to pharma lobbyists, as shown here, here, here, here, and here. Not that the Federal Conservatives, or others are any better.
Ford defers endlessly to the Ontario Science Table, abdicating his responsibility to govern. Quite the rabbit hole. However, the OST is riddled with conflicts of interest, both ideologically, and financially. It's possible he's completely unaware of all of this. But it seems more likely that he doesn't care.
"For The People" was just an empty slogan.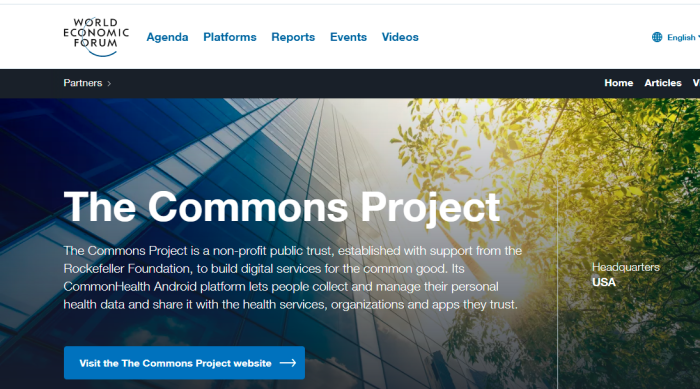 The Commons Project is featured prominently on the World Economic Forum's site. Both TCP and WEF receive substantial funding from the Rockefeller Foundation. In October 2020, Paul Meyer, the CEO, wrote an article about how to restore trust in air travel.
As an aside, ETFO is also tied to World Economic Forum. Both teacher and health care worker pensions are tied to advancing the GREAT RESET. They own the right stocks.
TCP and WEF also are partnered to run the Common Trust Network to push for vaccine certificates everywhere. Of course, instead of being preplanned and calculated, they spin it as "empowering individuals". Mastercard also supports this, and is a partner at ID2020. IBM, Oracle and Salesforce are involved (and also part of VCI). These are just a few of the connections.
Don't you get it? When they say "we're all this together", they really mean they have all been colluding.
(1) https://vci.org
(2) https://id2020.org/
(3) https://vci.org/about#smart-health
(4) https://smarthealth.cards/
(5) http://build.fhir.org/ig/dvci/vaccine-credential-ig/branches/main/
(6) https://www.youtube.com/channel/UC8nEEqUBFO_RFP_NNdppVcg/videos
(7) https://www.youtube.com/watch?v=l-sYZEN0XPI
(8) https://www.youtube.com/watch?v=CIp82MA03dk
(9) https://www.youtube.com/watch?v=203MkH6wooQ
(10) https://www.ontario.ca/page/ontarios-digital-id-plan
(11) https://corporate.walmart.com/newsroom/2021/03/17/walmart-empowering-individuals-with-access-to-digital-health-records-in-partnership-with-the-commons-project-foundation-and-clear
(12) https://www.weforum.org/organizations/commons-project
(13) https://www.weforum.org/agenda/2020/10/rebuild-trust-international-travel/
(14) https://www.commontrustnetwork.org/
(15) https://www.commontrustnetwork.org/partners#partner-link-1
(16) http://lobbyist.oico.on.ca/Pages/Public/PublicSearch/Default.aspx