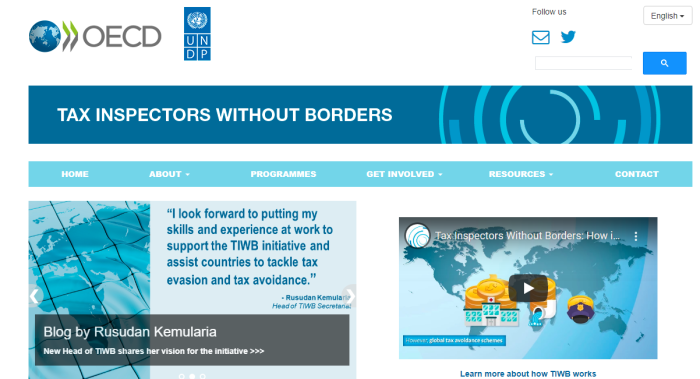 Get ready for increased efforts to enforce taxation rules globally. While this is promoted as a means of stopping tax cheats, it's unlikely stop there. Once the infrastructure is fully up and operational, what's to stop organizations like the UN from simply imposing global taxes?
1. The United Nations' Many Tentacles
The United Nations pushes an almost endless amount of agendas, nearly all with the goal of obtaining greater control. See some of their other documents, taxation efforts, and pandering to Islam. While a lot of this will seem harmless, and consist of minor issues, the loss of sovereignty creeps in incrementally.
2. More On The International Banking Cartel
Check this page. for more. The Canadian Government, like so many others, has sold out the independence and sovereignty of its monetary system to foreign interests. BIS, like its central banks, exceed their agenda and try to influence other social agendas. See who is really controlling things, and the common lies that politicians and media figures tell. Now, the bankers work with the climate mafia and pandemic pushers to promote their mutual goals of control and debt slavery.
3. Important Links
Tax Inspectors Without Borders Mainpage
TIWB Partners With Both OECD/UNDP
OECD Announces Launch Of TIWB Programme
Tax Inspectors Without Borders Annual Report 2017
Tax Inspectors Without Borders Annual Report 2018
Tax Inspectors Without Borders Annual Report 2019
Tax Inspectors Without Borders Annual Report 2020
Tax Inspectors Without Borders Twitter (@TIWB_News)
Tax Inspectors Without Borders YouTube Channel
UN Development Programme YouTube Channel
World Bank Global Tax Program (Mainpage)
World Bank Global Tax Programme, 2020 Report
World Bank Global Tax Program, 2020 Report
World Bank, Taxation, Sustainable Development
International Monetary Fund On Tax Evasion
Yahoo: TIWB Started In 2015
Reuters On Covering The Launch Of TIWB
4. TIWB Partners With OECD/UNDP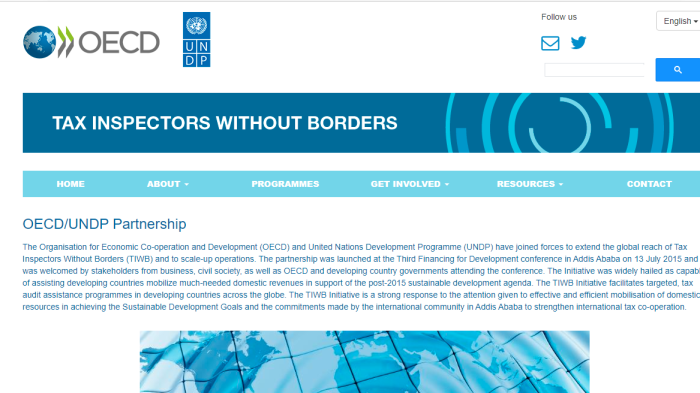 OECD/UNDP Partnership
The Organisation for Economic Co-operation and Development (OECD) and United Nations Development Programme (UNDP) have joined forces to extend the global reach of Tax Inspectors Without Borders (TIWB) and to scale-up operations. The partnership was launched at the Third Financing for Development conference in Addis Ababa on 13 July 2015 and was welcomed by stakeholders from business, civil society, as well as OECD and developing country governments attending the conference. The Initiative was widely hailed as capable of assisting developing countries mobilize much-needed domestic revenues in support of the post-2015 sustainable development agenda. The TIWB Initiative facilitates targeted, tax audit assistance programmes in developing countries across the globe. The TIWB Initiative is a strong response to the attention given to effective and efficient mobilisation of domestic resources in achieving the Sustainable Development Goals and the commitments made by the international community in Addis Ababa to strengthen international tax co-operation
UNDP contributes in the following ways:
.
-Through its country offices, supports development and completion of TIWB programmes in developing, countries;
-Promotes lessons learned and the sharing of good practices of TIWB country programmes with the international development community;
-Manages a roster of tax audit experts;
-Manages designated donor financial resources for TIWB activities;
-Handles contracts for retired experts (or former tax officials) participating in TIWB programmes.
The OECD contributes in the following ways:
.
-Hosts the TIWB Secretariat at the OECD offices in Paris;
-Identifies and provides support to host tax administrations on technical taxation issues and assists host and partner tax administrations in the set-up of TIWB programmes;
-Provides technical support to UNDP on selection and quality assurance of the roster of tax audit experts;
-Develops manuals, tools and research on best administrative practices in tax administrations and for TIWB Programmes.
-Monitors, assesses and reports on results of TIWB programmes.
So it isn't just about helping certain countries get their tax money. It's also about achieving the UN Sustainable Development Agenda goals laid out in 2015. The OECD also made their announcement about the partnership.
In reality, this is the equivalent, (or soon to be the equivalent), of a global tax administration. Think of the Canada Revenue Agency, just on a worldwide scale. While there seems to be nothing wrong on the surface with stoppin tax cheats, it reeks of growing intrusion into national affairs.
5. TIWB Conference September 28, 2020
This high-level event provided an opportunity to engage with government ministers and senior officials and look at the TIWB approach of bringing countries together to tackle tax avoidance, evasion and Illicit Financial Flows. The panel reflected on how the experiences from the initiative can be utilised to recover from COVID-19 and re-imagining a new future, specifically in the context of the Financing for Development in the Era of COVID-19 and Beyond process.
.
The TIWB Annual Report 2020 was launched during the event.
.
This event took place in the margins of the 75th United Nations' General Assembly on 28 September 2020.
The Panel talks about efforts that TIWB is undertaking, and about how they can help advance the UNSDA in light of the coronavirus pandemic. How convenient it is for them.
6. Tax Inspectors Without Borders' Donors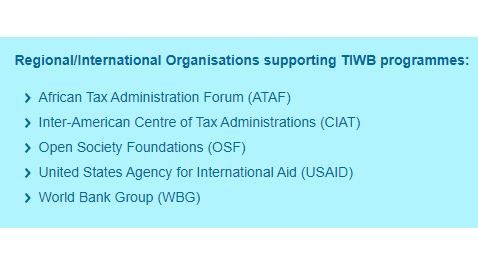 Seems rather strange that the World Bank and the Open Society, (George Soros), would be contributing to such a program. Or perhaps it isn't. There are several donor nations in Europe, and Japan, also contributing.
7. World Bank Global Tax Umbrella Program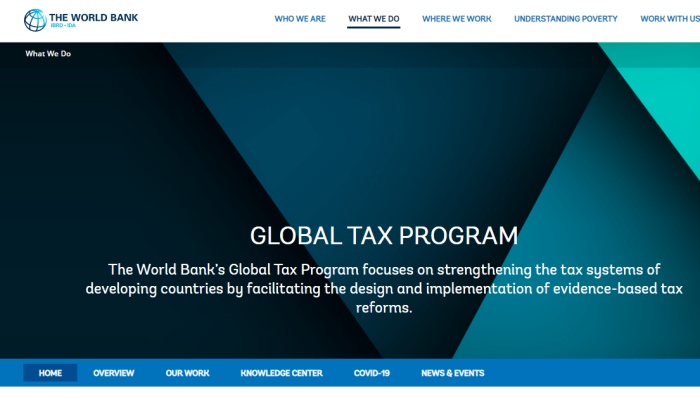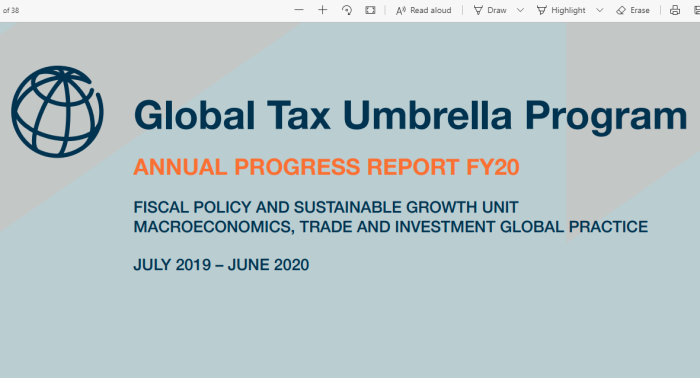 The Global Tax Program (GTP) provides an umbrella framework for tax support and leads an ongoing program of activities at both international tax and country levels focused on strengthening tax institutions and mobilizing revenues at the international and domestic levels. The GTP Program is one of the Umbrella 2.0 pilots for Trust Fund Reforms recently undertaken by the WBG.
The international community has set ambitious goals to end extreme poverty and boost inclusive and sustainable growth by 2030. Achieving the Sustainable Development Goals requires massive investment in physical and human capital. Focus is needed on the quality, fairness, and equity of domestic tax collection.
To be clear, this isn't simply about tax collection. It's also about seeing that those taxes are used according to the goals set out by TIWB/OECD/UNDP. There are certainly strings attached.
8. Int'l Monetary Fund On Tax Avoidance
The IMF, or International Monetary Fund, has taken an interest in tax collecting, estimating that $12 billion is in corporate shells, and another $7 billion is hidden by people overseas.
Information from the Organisation for Economic Co-operation and Development (OECD), and the Bank for International Settlements (BIS), have allowed more research and study to take place.
9. Reported By Yahoo News In 2015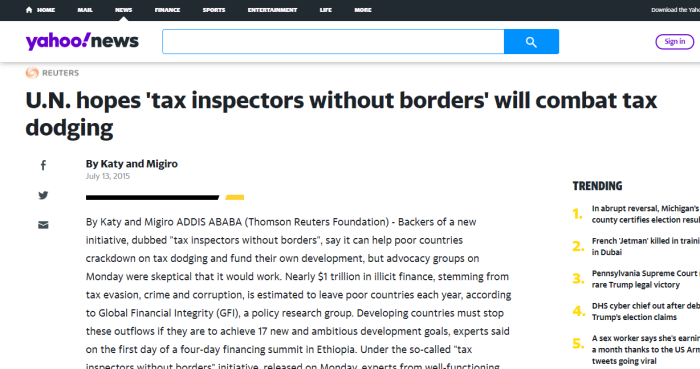 Yahoo reported the launch of Tax Inspectors Without Borders back in 2015. Short article, but it covered a lot of important points. Reuters and TaxConnections addressed it as well.
10. TIWB Ultimately Pushing Policy Change
Tax Inspectors Without Borders talks about how they are helping in the 3rd World with regard to tax evasion, but they minimize a very important issue. TIWB is interested in pushing policy changes in taxation, and they are trying to get more money spent on Agenda 2030. This isn't altruism on their part, but is ideologically motivated.
With all of this in mind, one very serious question has to be asked: will TIWB (at some point), begin calling for global taxation schemes?