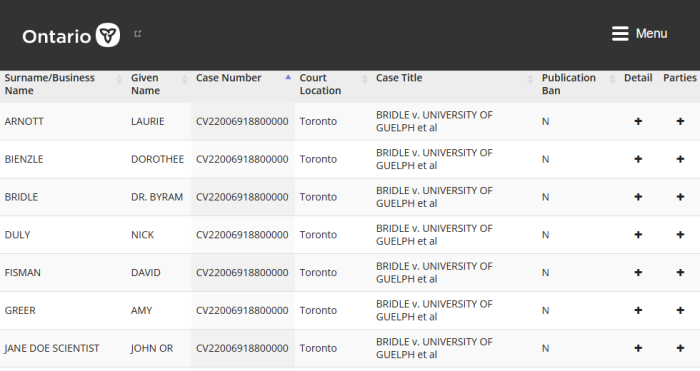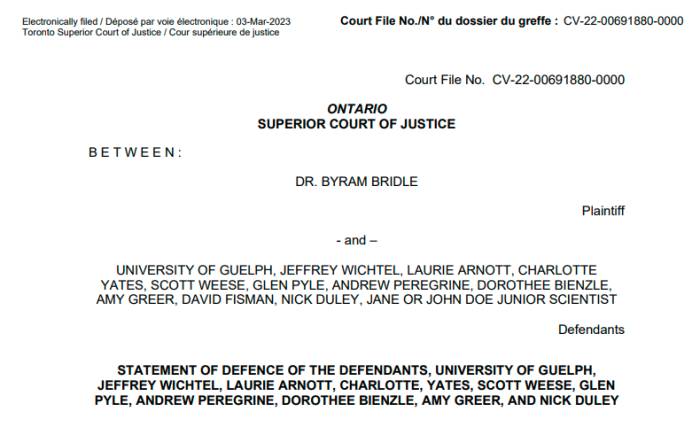 Just before Christmas last year, a 73 page Statement of Claim was filed in Toronto, involving Byram Bridle and the University of Guelph. News of this development lit up the alternative media in Canada. It alleged a grand conspiracy to harass the Plaintiff and destroy his career. While an interesting read, it came across as being very difficult to prove.
It seemed very odd that Bridle was presented both as an expert developing Covid vaccines, and a conscientious objector fighting against Covid vaccine mandates. There's also no virus, but that's a discussion for another time.
And since then?
The Defendants responded with an 8 page Statement of Defence. It doesn't really address the specific allegations, other than to issue a blanket denial. As an aside, it doesn't appear that David Fisman is covered by this Statement.
To sum up the document in as few words as possible: "Oh yeah? Prove it."
Several other defences are also raised:
The University of Guelph claims that the issues between Bridle, the school, and the various staff members are to be considered an employment dispute. As such, the Court would lack jurisdiction to hear the case, as it would likely be subjected to the collective bargaining rules, which mandate arbitration.
On a procedural note, the Defence points out that: (a) there isn't a concise set of material facts provided; and (b) the Claim attempts to plead evidence.
It's claimed that portions of the lawsuit would be barred by the Limitations Act. This sets time limits as to how long potential litigants have to file.
Section 137.1 of the Courts of Justice Act (anti-SLAPP), is raised concerning the online postings. While this would only apply to a portion of the case, everything would be put on hold until that's resolved. That will take a year or 2.
Even if the Claim were struck because it's poorly written — which is possible — that's not a permanent solution. It can likely be redone.
The other defences, such as the Statute of Limitations and collective bargaining, can pose a much bigger problem. Those have the potential to get large portions of the Claim gutted.
Guelph and the other Defendants seem content to dig in, and force Bridle to actually prove his claims at Trial.
Now for the $3 million question: will anything happen to this case? Or will it remain in limbo for years, like so many dead-end lawsuits? We'll have to see.
(1) https://www.ontario.ca/page/search-court-cases-online
(2) https://canucklaw.ca/wp-content/uploads/Byram-Bridle-Statement-Of-Claim.pdf
(3) https://canucklaw.ca/wp-content/uploads/Byram-Bridle-Statement-Of-Defence.pdf
(4) https://canucklaw.ca/byram-bridle-lawsuit-unlikely-to-ever-get-anywhere/