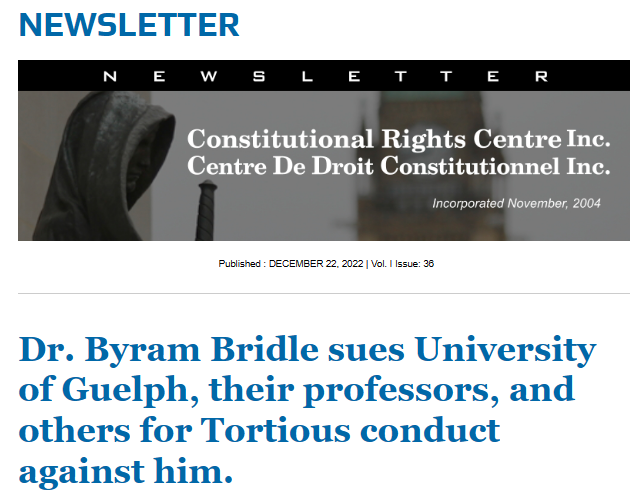 Several people recently forwarded this lawsuit from Byram Bridle, filed just before Christmas. He's a Professor at the University of Guelph, and has had an eventful last few years. The Claim is 73 pages long, demands $3 million, and is interesting…. to say the least.
It's difficult to know what's true and exaggerated, simply because it reads like a comedy skit. The Statement of Claim alleges grand conspiracies between the University of Guelph, various employees and administrators, and some "experts" online.
Also, one of the people Bridle sued is a lawyer in that Province. It appears doubtful this will go over well with the Law Society of Ontario, especially given Galati's $500,000 suit against them and their former intake officer. That one was filed July 2022, and is facing a Rule 21 Motion to Strike.
Allegedly, they're all working together to financially and professionally destroy Bridle, because…. reasons, or something. It's never made clear.
On December 19th, 2022, Dr. Byram Bridle issued a Statement of Claim in Ontario Superior Court. The expert vaccinologist, and viral immunologist, states that he has been viciously and falsely attacked by some of his colleagues, with the complicity of the University administration. Some of the Defendants include the President of University of Guelph, Dean Wichtel, Administrator Arnott, Professor Pyle, Professor Weese, and Dr. David Fisman at the University of Toronto.
Also, it's a bit unclear how to describe Bridle himself. He's portrayed as an expert in vaccines and immunology, and was developing vaccines against Covid-19. Granted, that doesn't exist, but that's another issue. In the same document, he's a vocal advocate against people getting these shots.
In this scenario, Bridle is about the only rational one. Others are trying to harass, bully, intimidate and crush him. Again, it's hard to know what's real, what's exaggerated, and what's flat out untrue.
One disturbing trend within the "freedom movement" is that many see nothing wrong with using the Courts to silence people they disagree with. Kulvinder Gill and the Canadian Frontline Nurses are recent examples.
Does Bridle have a valid case? Maybe, but as it's written, it's pretty hard to read without laughing. Guess we'll have to see.
---
Why Bridle lawsuit will never go anywhere
---
Aside from the issues noted above, there's a bigger problem. The Statement of Claim came from the Constitutional Rights Centre, which has a history of filing: (a) very poorly drafted suits; and (b) letting lawsuits sit for months or years without activity.
Here are some recent ones:
Vaccine Choice Canada (VCC), et. Al. (and others) v. Her Majesty the Queen, et.al. (and others) Ontario Superior Court #CV-00629810-0000. Filed October 2019. No movement since pleadings closed in March 2020.
Vaccine Choice Canada (VCC), et. Al. (and others) v. Justin Trudeau, et.al. (and others) Ontario Superior Court #CV-20-00643451-0000. Filed July 2020. Single Statement of Defense in August 2022.
Gill & Lamba v. MacIver et al. Ontario Superior Court #CV-20-00652918-0000. Filed November 2020. Dismissed as a SLAPP, or strategic lawsuit against public participation. Appealed, but status unknown.
Gill v. Attaran & University of Ottawa, Ontario Superior Court #CV-21-00658784-0000. Filed March 2021. A Notice of Intent to Defend (not an actual Statement of Defense) was filed in July 2021. No movement since then.
Sgt. Julie Evans, et al v. AG of Ontario, et al Ontario Superior Court #CV-21-00661200-000. Filed April 2021. No movement since Notice of Application filed.
M.A. and L.A., et al vs. Eileen De Villa, et al Ontario Superior Court #CV-21-00661284-0000. Filed April 2021. No movement since Notice of Application filed.
Action4Canada, et al vs. Dr. Bonnie Henry, Justin Trudeau, Premier Horgan, et al British Columbia Superior Court # VLC-S-S-217586. Filed August 2021. Struck in its entirety.
Adelberg et al. v. Attorney General et al. Federal Court #T-1089-22. Filed May 2022. Motion to Strike commenced November 2022.
Kulvinder Gill and Ashvinder Lamba are out at least $1.1 million for a failed $12.75 million defamation suit against 23 individuals and organizations. Their case was predictably dismissed as a SLAPP.
Gill and Lamba bizarrely decided to appeal that dismissal. Given how baseless the original defamation suit was, this will just lead to much larger cost awards when it's finally thrown out. There had been talk of a second Appeal, one specific to the cost Order.
Gill has another $7 million suit pending against the University of Ottawa, and one of its professors, Amir Attaran. This is even weaker, and vulnerable to another SLAPP Motion.
Action4Canada is currently appealing an August decision to strike the 391 page Notice of Civil Claim in its entirety. Instead of simply drafting it properly, this will waste time and money.
Federal Vaxx Pass challenge is facing a Motion to Strike. Among other defects, the Attorney General notes that it's largely a cut and paste of the Action4Canada suit.
Vaccine Choice Canada's high profile suit from July 2020 has sat idle since the filing. It's nearly 200 pages, and contains plenty of irrelevant information that would lead to it getting struck. It's unclear at this point who has even been served. Note: see below.
Vaccine Choice Canada has an earlier lawsuit from October 2019. The last activity was March 2020, when the pleadings closed. That was over 3 years ago.
Police On Guard arranged for an Application, which was filed on April 20, 2021, nearly 2 years ago. It sits dormant, with no activity whatsoever. It's disjointed and nearly impossible to understand.
Children's Health Defense (Canada), also has an Application from April 20, 2021. It's essentially a cut and paste of the Police of Guard version. It too has sat dormant for almost 2 years.
This is not the work of people who are truly committed to seeing their cases through. These seem much more like placeholders. There's no reason to assume Bridle's case will be treated with any urgency.
---
Finally movement with Vaccine Choice Canada case?
---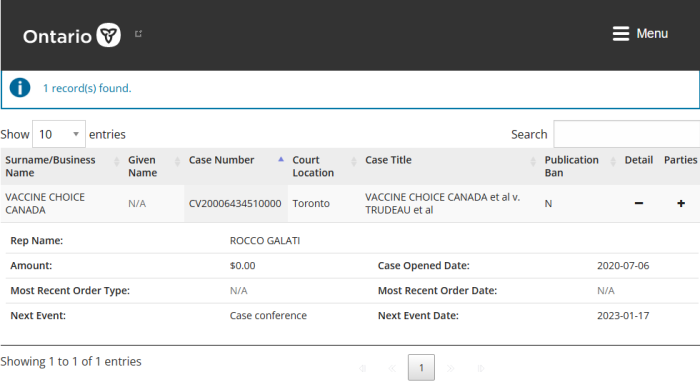 When perusing the Ontario Superior Court SEARCH, this was recently updated for Vaccine Choice. Apparently, there is a case conference set for January 17, 2023, which just a few weeks away.
This was a bit of a surprise, considering that the case was 2 1/2 years old, with no activity. Most likely, this conference is to set down a hearing date for a Motion to Strike. After all, the case is still in its infancy, and is nowhere near ready for a trial. The Parties haven't yet appeared even a single time.
The 191 page document doesn't comply with the Rules of Civil Procedure, so this outcome shouldn't be a surprise to anyone. Also see here, and see here.
If the Ontario Attorney General is going to attempt to have this suit thrown out, the above reviews will outline what to expect.
As for the Bridle lawsuit, don't expect it to go anywhere, anytime soon. It wouldn't be a shock if it just remained idle for the next 3-5 years.
BRIDLE LAWSUIT
(1) Byram Bridle Statement Of Claim
FEDERAL VAXX PASS CHALLENGE
(1) https://policeonguard.ca/wp-content/uploads/2022/06/Filed-SOC.pdf
(2) Federal Court Vaccine Mandate Challenge
(3) Federal Court Vaccine Mandate Challenge Motion To Strike
(4) Federal Court Vaccine Mandate Challenge Affidavit Of Service
(5) Federal Court Vaccine Mandate Challenge Responding Motion Record
ACTION4CANADA COURT DOCUMENTS:
(1) A4C Notice of Civil Claim
(2) A4C Response October 14
(3) A4C Legal Action Update, October 14th 2021 Action4Canada
(4) A4C Notice of Application January 12
(5) A4C Notice of Application January 17
(6) A4C Affidavit Of Rebecca Hill
(7) A4C Response VIH-Providence January 17
(8) A4C Response to Application BC Ferries January 19
(9) https://action4canada.com/wp-content/uploads/Application-Record-VLC-S-S217586.pdf
(10) https://drive.google.com/file/d/1BfS_MyxA9J11WeYZmk8256G7GsWEFZ62/view
(11) Notice_of_Discontinuance_Federico_Fuoco_Fire_Productions
(12) Notice_of_Discontinuance__Amy_Muranetz_
(13) A4C Notice Of Appeal September 28 2022
(14) A4C Dismissal Order As Entered By BCSC
VACCINE CHOICE CANADA COURT DOCUMENTS:
(1) VCC – Statement Of Claim Unredacted
(2) VCC – Discontinuance Against CBC
(3) VCC – Mercer Statement Of Defense
(4) VCC – Mercer Affidavit Of Service
VACCINE CHOICE CANADA LAWSUIT (2019):
(1) VCC – Statement Of Claim, October 2019 Lawsuit
KULVINDER GILL/ASHVINDER LAMBA CASE:
(1) Gill/Lamba Defamation Lawsuit December 2020
(2) Gill/Lamba Case Dismissed As A SLAPP
(3) Gill/Lamba Notice of Appeal and Appellants' Certificate
(4) Gill/Lamba Appeal – Notice of Intention to Dismiss Appeal for Delay, May 12, 2022
(5) Gill/Lamba July 15 Letter To Obtain New Counsel
(6) Gill/Lamba Case Conference Brief July 29, 2022
(7) Gill/Lamba Endorsement New Counsel Cost Submissions August 3, 2022
(8) Gill/Lamba Case $1.1 Million In Costs Ordered October 31, 2022
KULVINDER GILL/ATTARAN/UOTTAWA CASE
(1) Gill-Attaran Statement Of Claim
(2) Gill Attaran Affidavit Of Service
(3) Gill-Attaran Notice Of Intent
POLICE ON GUARD/OFFICERS:
(1) Notice Of Application — April 20, 2021
ONTARIO STUDENTS/CHDC:
(1) Notice Of Application — April 20, 2021, Masks On Students
(2) Schools – Rule 2.1.01 Decision
(3) Schools — Notice Of Appearance Robert Kyle
(4) Schools — Notice Of Appearance Halton Durham
CHD CANADA CORPORATE DOCUMENTS:
(1) Childrens Health Defense Canada Registered Office
(2) Childrens Health Defense Canada Incorporation
(3) Childrens Health Defense Registered office & Directors
(4) Childrens Health Defense Canada Annual Return