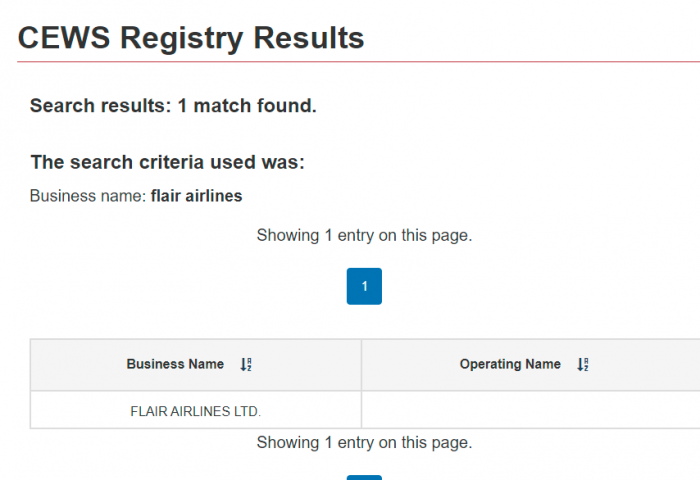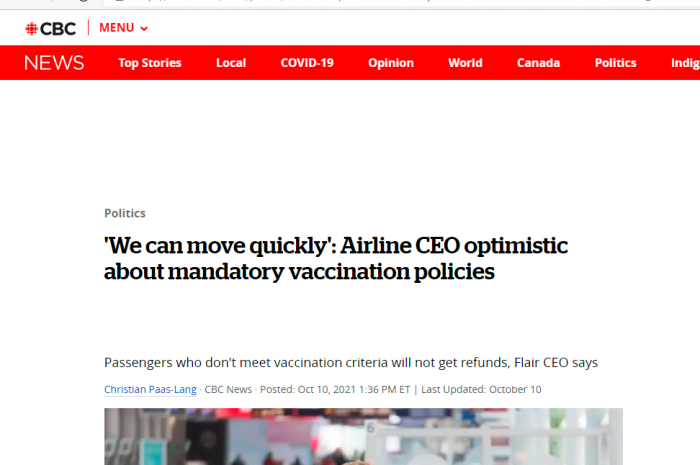 It seems a bit counter-intuitive that a discount airline would be so enthusiastic about the policy of mandatory vaccines for travelers. Flair Airlines is one such company. Then again, looking a bit deeper, there may be other reasons for doing this.
Specifically, it appears the Flair Airlines LTD. has been getting CEWS, the Canada Emergency Wage Subsidy. Of course, they are likely getting other subsidies as well.
After all, this company went from serious financial hurt, to being able to expand its operations across Canada. Such a sudden shift requires a lot of money.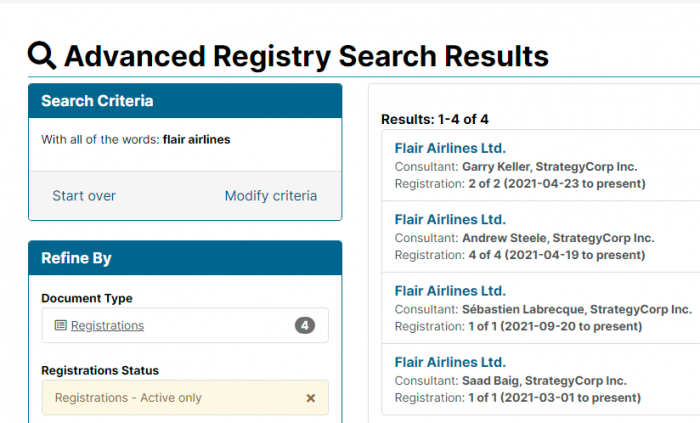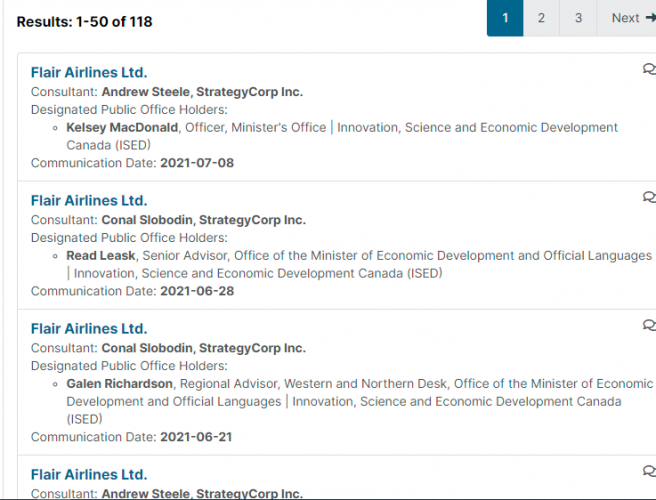 A quick look through the Federal Lobbying Registry shows that Flair has been quite busy getting the attention of public office holders. The middlemen they send are also worthy of a closer look.
1. Saad Baig, StrategyCorp Inc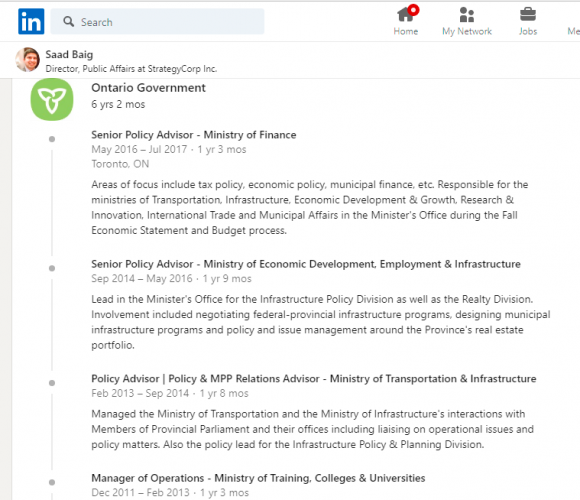 Saad Baig is a Director in StrategyCorp's Public Affairs group and brings six years of experience advising senior cabinet ministers in the Government of Ontario.
.
Most recently, Saad was Senior Policy Advisor to the Minister of Finance where he was a pivotal part of the team that tabled Ontario's first balanced budget in ten years. He served as the lead advisor to the Minister on matters relating to tax policy, economic policy and municipal finance. Saad led the development of the 2016 Fall Economic Statement and 2017 Ontario Budget in key areas including transportation, infrastructure, economic development and international trade.
.
Prior to joining the Ministry of Finance, Saad spent over three years as the lead advisor for infrastructure policy to several ministers where he participated in key negotiations on federal-provincial infrastructure matters, designed municipal funding programs, developed infrastructure planning legislation and coordinated policy and issues for two crown agencies.
.
Saad has been involved in numerous political campaigns at the municipal, provincial and federal levels including the 2014 central campaign for the Ontario Liberal Party.
This lobbyist for the discount airline spent 6 years in the Ontario Government, in a variety of roles, working for Kathleen Wynne and Dalton McGuinty.
2. Garry Keller, StrategyCorp Inc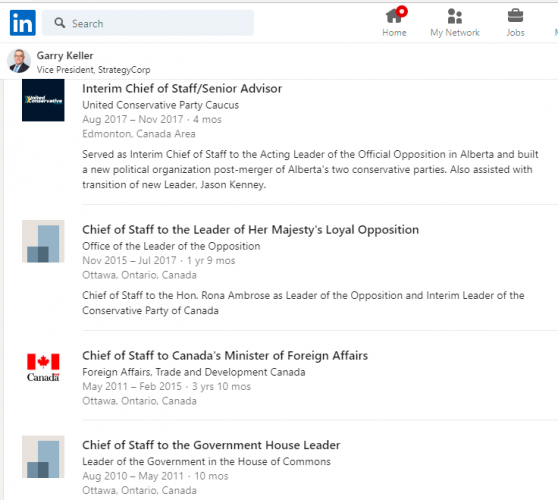 Garry has served in several key leadership roles in Canadian politics, including as Chief of Staff to Canada's Foreign Minister, John Baird; Chief of Staff to the Leader of the Opposition Rona Ambrose, and chief Parliamentary advisor to Prime Minister Stephen Harper. He also served as a Chief of Staff to the Government House Leader and the Chief Government Whip, Director of Communications to the Minister of the Environment and Director of Parliamentary Affairs to the President of the Treasury Board. He also served as Acting Chief of Staff to the United Conservative Party Caucus in Alberta in 2017.
.
As the Chief of Staff to the Foreign Minister, Garry was required to deliver strategic, communication and political advice on both international and domestic matters. He has experience in dealing with regulatory and legal matters, national security matters, trade negotiations, as well as the promotion of Canadian interests and Canadian values on the world stage. He is also an experienced practitioner of the Access to Information Act.
.
Garry regularly provides commentary on domestic and international politics for CTV News Channel, TVO's The Agenda and a variety of talk radio shows across Canada. His commentary has also appeared in the National Post and the Globe and Mail, and he has appeared on a number of panels for associations and other organizations on Canadian politics.
Keller spent many years as a Conservative Party of Canada operative, and handler for various politicians. He also moved on to Alberta politics.
3. Sébastien Labrecque, StrategyCorp Inc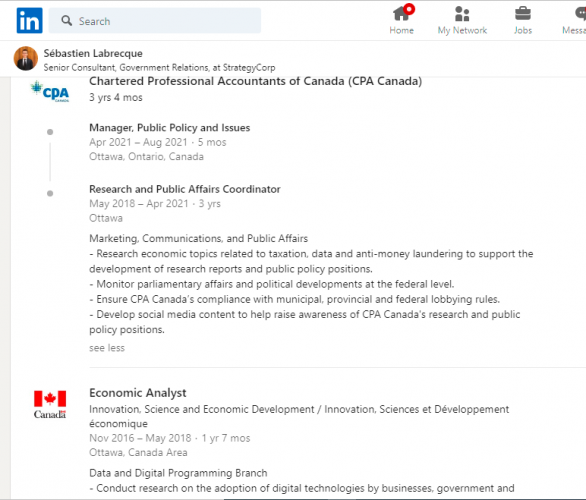 Before pivoting to government relations, Sébastien worked in the federal government, which led him to develop a thorough understanding of the inner workings of policy and research development in the public service. Thanks to his experience at Canada Mortgage and Housing Corporation and Innovation, Science and Economic Development Canada, Sébastien possesses an extensive knowledge of the policy and stakeholder ecosystems in the areas of housing finance and the digital economy.
Labrecque spent over a year and a half working for the Federal Government before he switched over and became a lobbyist.
4. Kristina Martin, Loyalist Public Affairs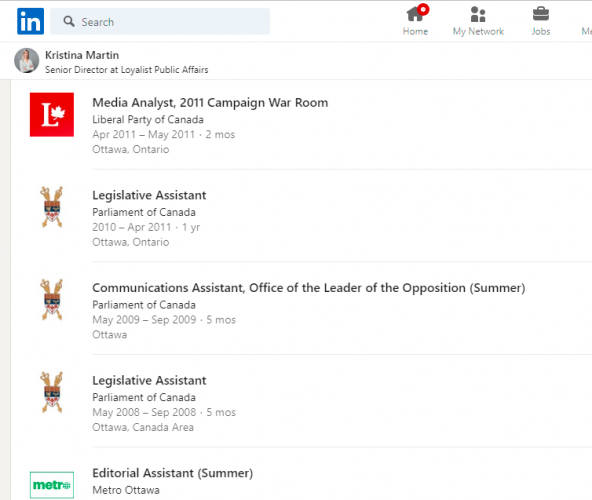 Kristina is a seasoned strategic communications and government relations expert with over a decade of experience working in politics, government relations and the non-profit sector. Based in Ottawa, she knows the inner workings of Parliament Hill and is recognized as a connector and go-to advisor for corporate and nonprofit leaders to advance complex policy agendas.
.
Before joining Loyalist Kristina worked as Director of Communications and Public Affairs at Canada's largest science and technology outreach organization, Actua. Prior to that she worked at a national government relations and strategic communication firm.
.
Kristina has also served as a communications and political advisor to federal elected officials.
Kristina Martin spent many years with the Federal Liberals when they were in opposition. Now that they are back in power, she's in a position to wield some real influence.
5. Conal Slobodin, StrategyCorp Inc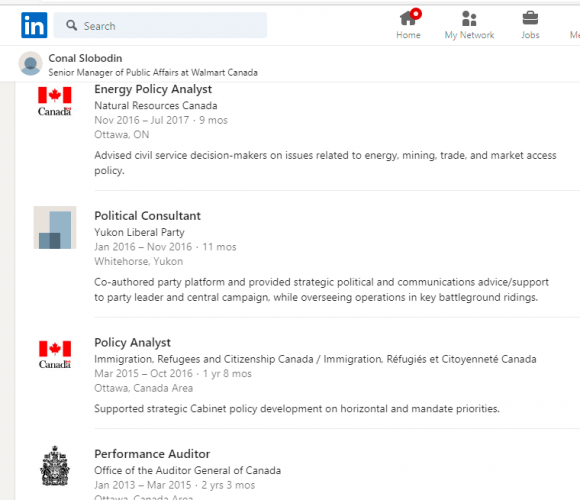 Slobodin has since left StrategyCorp and gone to Walmart. However, he has held roles in the Federal Government, and is a former consultant for the Yukon Liberal Party. Small world.
6. Andrew Steele, StrategyCorp Inc
As a Vice President at StrategyCorp, Andrew emphasizes client service, creative solutions and professionalism. He provides counsel on management consulting projects, communications challenges and government relations files at the federal, provincial and municipal level.
.
Previously, Andrew served as Senior Advisor to the Premier of Ontario, as well as Chief of Staff in several Ministries. He has held senior campaign roles for the Liberal Party of Canada and the Ontario Liberal Party.
.
Andrew was the founding CEO of the Pecaut Centre, a non-profit management consulting firm housed at the Boston Consulting Group. More recently, Andrew was essential to implementing the strategic transformation of public broadcaster TVO into the province's partner for digital learning inside the classroom.
.
A director of the board of the Michael Garron Hospital, Andrew graduated with distinction from the MBA program at Ivey. He writes regularly on public policy as an opinion columnist for the Globe and Mail and others.
Steele, by his own admission, has held senior campaign roles for both the Ontario Liberals, and the Federal Liberals. The connection to Michael Garron Hospital is an interesting one. That's where Michael Warner, the pro-lockdown doctor, Michael Warner works. Melissa Lantsman, MP-elect for Thornhill, is also a Director.
As for Kenzie McKeegan, Dan Mader and Chris Froggatt, check out this piece on their recent work as Pfizer lobbyists. Have to wonder what all of these political hacks arranged in order for Flair to get onboard with these passports.
There doesn't seem to be an obvious mention of a bailout, but it's the most likely thing to search for. And they are definitely getting CEWS from the taxpayers.
(1) https://www.cbc.ca/news/politics/airline-transportation-mandatory-vaccination-1.6206844?fbclid=IwAR38cd6IDeB-_TKKGxfRWnyNe9dg2VUons6nOc0Yp8_xKtll5xvazN9L8kM
(2) https://apps.cra-arc.gc.ca/ebci/hacc/cews/srch/pub/bscSrch
(3) https://lobbycanada.gc.ca/app/secure/ocl/lrs/do/advSrch?V_SEARCH.command=refineCategory&V_TOKEN=1234567890&V_SEARCH.scopeCategory=solr.facetName.registrationStatus%3D1
(4) https://lobbycanada.gc.ca/app/secure/ocl/lrs/do/advSrch?V_SEARCH.command=navigate&time=1633983200675
(5) https://www.linkedin.com/in/saadbaig/
(6) https://strategycorp.com/people/baig-saad/
(7) https://archive.is/sgF3b
(8) https://www.linkedin.com/in/garry-keller-73130b79/
(9) https://strategycorp.com/people/keller-garry/
(10) https://archive.is/aFUE1
(11) https://www.linkedin.com/in/s%C3%A9bastien-labrecque-4497915b/
(12) https://strategycorp.com/people/labrecque-sebastien/
(13) https://archive.is/usIo6
(14) https://www.linkedin.com/in/kristina-martin-3b1b6741/
(15) https://loyalistpublicaffairs.ca/kristina-martin/
(16) https://archive.is/IFW5a
(17) https://www.linkedin.com/in/conal-slobodin/
(18) https://www.linkedin.com/in/andrewmsteele/?originalSubdomain=ca
(19) https://strategycorp.com/people/steele-andrew/
(20) https://canucklaw.ca/melissa-lantsmans-real-record-as-a-lobbyist-after-installing-doug-ford/