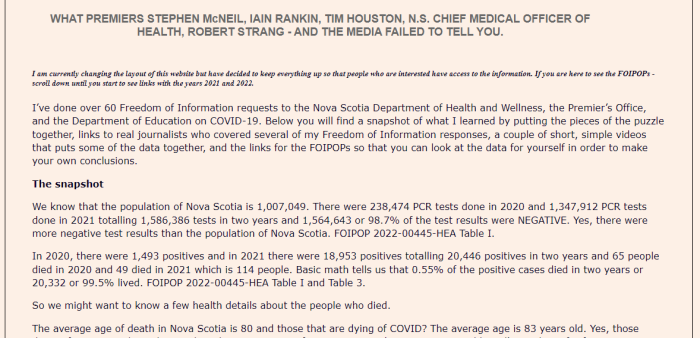 Several articles have gone up on Canuck Law over the last year based on the work of Shelly Hipson. She's a Nova Scotia resident who's spent a fair amount of time attempting to get answers from the regime of Robert Strang, Tim Houston, and Iain Rankin. It's appreciated to see people taking the initiative.
Shelly has gone even further than making the results public. She now has a website, where the originals are posted. They are worth a read, in order to know what's been going on.
Now, this isn't to say that the information is all accurate. It is the government, after all. However, it's what has been provided, so take everything with a grain of salt.
At the time of this being published, there are over 60 FOI available, with varying degrees of information handed out. The results vary from full disclosure, to "no records", to deliberate withholding.
There's a pretty significant document dump posted for curious eyes.
https://shellyhipson.ca/documents/CANS-vs-STRANG/
The 2 videos shown above are also her compilations, and are on the site. With permission, they have been rebroadcast on Bitchute, Odysee, and Rumble. Given YouTube's heavy censorship, that would not be a good place to post.
ARTICLES BASED ON SHELLY'S WORK:
(1) https://canucklaw.ca/nova-scotia-foi-response-tacitly-admits-there-is-no-wave-of-hospitalizations/
(2) https://canucklaw.ca/nova-scotia-foi-result-province-refuses-to-turn-over-data-studies-justifying-masks-in-schools/
(3) https://canucklaw.ca/more-foi-requests-from-nova-scotia-trying-to-get-answers-on-this-pandemic/
(4) https://canucklaw.ca/nova-scotia-foi-request-shows-province-reduced-icu-capacity-in-recent-years/
(5) https://canucklaw.ca/nova-scotia-foi-shows-province-has-no-evidence-asymptomatic-spreading-even-exists/
(6) https://canucklaw.ca/nova-scotia-foi-province-refuses-to-turn-over-contract/
(7) https://canucklaw.ca/nova-scotia-foi-19-1-million-spent-on/
(8) https://canucklaw.ca/nova-scotia-foi-no-real-increase-in-deaths-due-to-pandemic/
(9) https://canucklaw.ca/nova-scotia-foi-more-deaths-as-vaccination-numbers-climb/
(10) https://canucklaw.ca/nova-scotia-foi-govt-data-on-deaths-by-age-vaxx-status/
(11) https://canucklaw.ca/nova-scotia-foi-another-data-dump-on-cases-vaxx-rates/
(12) https://canucklaw.ca/nova-scotia-fois-miscellaneous-findings-on/
(13) https://canucklaw.ca/nova-scotia-foi-cant-be-bothered-with-pfizer-docs/
(14) https://canucklaw.ca/nova-scotia-foi-pfizer-docs-aefi-deaths-weather-modification/