Palantir is a crystal ball from the (fictional) Lord of the Rings, which allows people to see events elsewhere, past or present. Perhaps a coincidence, or maybe an open admission about the company Palantir.
Rubicon is also a strange — or maybe fitting — name. Crossing the Rubicon refers to taking steps which can't be undone. This is similar to the point of no return.
1. Other Articles On CV "Planned-emic"
The rest of the series is here. Many lies, lobbying, conflicts of interest, and various globalist agendas operating behind the scenes, obscuring the vile agenda called the "Great Reset". The Gates Foundation finances: the WHO, the US CDC, GAVI, ID2020, John Hopkins University, Imperial College London, the Pirbright Institute, the BBC, and individual pharmaceutical companies. Also: there is little to no science behind what our officials are doing; they promote degenerate behaviour; the Australian Department of Health admits the PCR tests don't work; the US CDC admits testing is heavily flawed; and The International Health Regulations are legally binding. See here, here, and here. The media is paid off, and our democracy compromised, shown: here, here, here, and here.
2. Important Links
https://www.linkedin.com/in/david-macnaughton-553b3624/
https://archive.is/pe8aK
https://www.linkedin.com/company/palantir-technologies/
https://archive.is/4nTWS
http://www.lobbycanada.gc.ca
https://www.dhs.gov/action-plan
https://www.cbc.ca/news/politics/palantir-macnaughton-ethics
MacNaughton: Broke Ethics Regulations
https://www.palantir.com/palantir-gotham/
https://www.palantir.com/palantir-foundry/
https://www.palantir.com/palantir-apollo/
https://www.teamrubicon.ca/staff-board/
https://www.clintonfoundation.org/clinton-global-initiative/commitments/team-rubicon-transition
3. More By Civilian Intelligence Network
For an interesting piece and a lot of background information of Palantir and Rubicon, check out this article by Anji at Civilian Intelligence Network. Well worth a read.
4. MacNaughton's LinkedIn Profile Details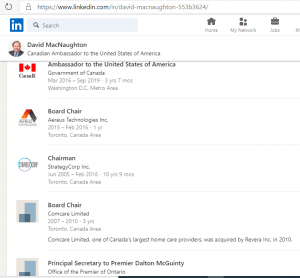 MacNaughton has been involved in politics (at least from behind the scenes), for many years. He was a Secretary for (then) Ontario Dalton McGuinty. He had also been a campaign chair for the Ontario Liberals years earlier. From March 2016 until September 2019, he was Ambassador to the United States. He also held several corporate jobs.
5. Who Lobbied MacNaughton As Ambassador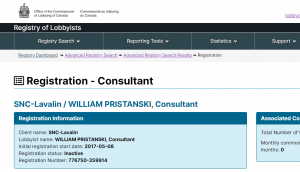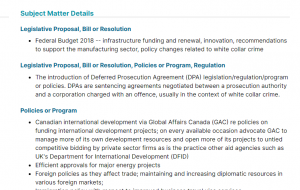 David MacNaughton was one of many public officials to be lobbied by SNC Lavalin in their quest to obtain a deferred prosecution agreement for the company.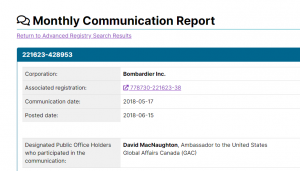 Bombardier frequently lobbies the Federal Government, and often is handed millions of taxpayer dollars in the form of bailouts. MacNaughton has also been on the receiving end of some of this lobbying.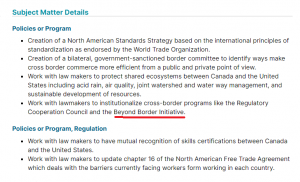 The Canadian American Business Council lobbies on many different issues, much of it to do with trade. One interesting topic is the "beyond border initiative", which pictures closer harmonization with the U.S. These groups are just a few of those who lobbied MacNaughton when he was the U.S. Ambassador.
6. Canada/U.S. Beyond The Border Initiative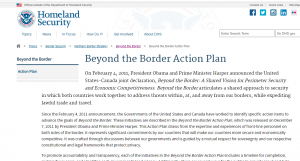 On February 4, 2011, President Obama and Prime Minister Harper announced the United States-Canada joint declaration, Beyond the Border: A Shared Vision for Perimeter Security and Economic Competitiveness. Beyond the Border articulates a shared approach to security in which both countries work together to address threats within, at, and away from our borders, while expediting lawful trade and travel.
Since the February 4, 2011 announcement, the Governments of the United States and Canada have worked to identify specific action items to advance the goals of Beyond the Border. These initiatives are described in the Beyond the Border Action Plan, which was released on December 7, 2011 by President Obama and Prime Minister Harper. This Action Plan draws from the expertise and experiences of front-line personnel on both sides of the border. It represents significant commitments by our countries that will make our countries more secure and economically competitive. It was crafted through discussions between our governments and is guided by a mutual respect for sovereignty and our respective constitutional and legal frameworks that protect privacy.
Under the guise of "increased cooperation", Canadian and American officials have for a decade talked about ways to manage the continent in a more coordinated manner. Of course, having a more "managed" border will make it easier to say, get millions of vaccines out very quickly.
7. MacNaughton Found Guilty On Ethics Breach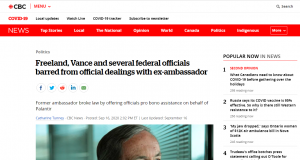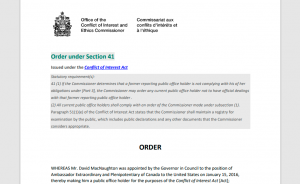 WHEREAS Mr. David MacNaughton was appointed by the Governor in Council to the position of Ambassador Extraordinary and Plenipotentiary of Canada to the United States on January 15, 2016, thereby making him a public office holder for the purposes of the Conflict of Interest Act [Act];
AND WHEREAS Mr. MacNaughton had direct and significant official dealings with numerous public office holders during his last year in public office;
AND WHEREAS following Mr. MacNaughton's last day in public office on August 22, 2019, he became a former reporting public office holder and subject to the Act's post-employment rules;
AND WHEREAS Mr. MacNaughton, following consultations with the Office of the Conflict of Interest and Ethics Commissioner, was named President of Palantir Technologies Canada [Palantir] effective September 4, 2019;
AND WHEREAS, pursuant to section 37 of the Act, a former reporting public office holder who, in the year following their last day in office, has any communication referred to in paragraph 5(1)(a) of the Lobbying Act or arranges a meeting referred to in paragraph 5(1)(b) of that Act shall report that communication or meeting to the Commissioner;
AND WHEREAS Mr. MacNaughton reported, in accordance with section 37 of the Act, that between March 2 and May 1, 2020, he had communicated with or arranged multiple meetings with several public office holders for the purpose of offering pro bono assistance on behalf of Palantir in respect of the Government of Canada's response to the COVID-19 pandemic, as described in Annex A attached hereto; AND WHEREAS section 33 of the Act prohibits former public office holders from acting in such a manner as to take improper advantage of their previous public office;
David MacNaughton was named President of Palantir Technologies almost immediately after leaving his post as Ambassador to the U.S. That didn't stop him from using his old position to push for favourable treatment for his new company. This of course, is completely illegal.
8. Palantir Stock Skyrockets After IPO
US tech firm Palantir, known for supplying controversial data-sifting software to government agencies, has fetched a market value of nearly $22bn (£17bn) in its debut on the New York Stock Exchange.
It's a lofty figure for a firm that has never turned a profit, been hit by privacy concerns and relies on public agencies for nearly half of its business.
But the company, which takes its name from the "seeing stones" known for their power and potential to corrupt in Lord of the Rings, says the need for the kind of software it sells "has never been greater".
The firm, which launched in 2003 with backing from right-wing libertarian tech investor Peter Thiel and America's Central Intelligence Agency (CIA), builds programs that integrate massive data sets and spit out connections and patterns in user-friendly formats.
Some valid concerns. Palantir's price is now soaring, despite very serious privacy concerns, and the fact it's never actually been profitable.
9. Palantir Gotham Program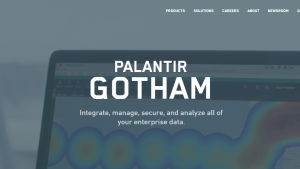 GOTHAM IN ACTION
POWERING RAPID RESPONSE AFTER HURRICANE FLORENCE
In September 2018, Hurricane Florence devastated North and South Carolina in the United States. The storm was responsible for thousands of displacements, over a million power outages, and an estimated $17 billion in damage. To help victims remove felled trees from their properties, muck out flooded houses, and tarp damaged roofs, military veteran volunteer corps Team Rubicon deployed 1,000 volunteers—and Palantir Gotham.
Team Rubicon used Palantir Gotham's Operations Module so the National Operations Center and Field Teams could collaborate on planning and executing six consecutive operations. They combined publicly available flood data with weather information and social vulnerability census data to find the communities in greatest need. In the field, Team Rubicon Incident Command and volunteers used data to manage operations: from triaging incoming help requests, to dispatching assessment and work teams, and producing sharable daily metrics and reports. With Palantir Gotham, Team Rubicon used data to marshal resources faster, to those most in need.
Palantir Gotham is presented as data collection with real world military application. They site floods and hurricanes as scenarios where this would be needed. And of course, David MacNaughton is head of the Canadian Branch of Palantir. This is an unusual situation to be in.
10. Palantir Foundry Program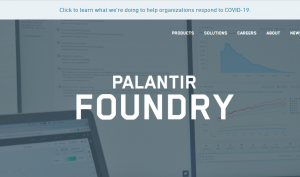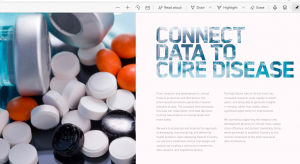 From research and development to clinical trials to production and distribution, the pharmaceutical industry generates massive amounts of data. The company that harnesses this data can make better-informed decisions to bring new products to market faster and more safely.
We work to accelerate and improve the approach to developing, manufacturing, and delivering health products. Upon deploying Palantir Foundry, our partners modernize clinical trial design and analysis by creating a central environment for data, analysis, and hypothesis testing.
The high failure rate of clinical trials has increased research costs rapidly in recent years, and being able to generate insights in minutes rather than weeks offers significant opportunity for improvement.
We started by supporting the research and development process for clinical trials, supply chain efficiency, and product marketing. Since, we've partnered to establish Foundry as the central component of the pharmaceutical data architecture.
One of the states purposes of Palantir Foundry is in medical (or pharmaceutical research). The claim is that this technology will be able to advance it faster and safer than before.
11. Palantir Apollo Program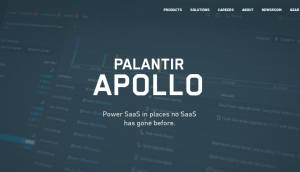 Palantir Apollo is the continuous delivery software that powers our SaaS platforms, Foundry and Gotham, in the public cloud and beyond. Apollo works around the clock to put our latest features in the hands of customers. It eliminates the tradeoff between stability and speed by delivering continuous, automated updates without disrupting operations. It's why our platforms power mission-critical operations for the world's most important institutions.
Palantir Apollo is the software that powers its systems. So this is a peculiar triad of products: (a) data collection with military application; (b) software that can potentially be the new branch of medical research; and (c) a new delivery system to get the others out.
12. Rick Hillier, Team Rubicon Director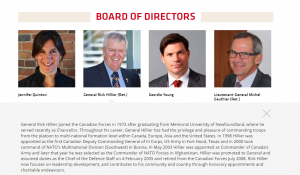 Rick Hillier was announced to head the vaccine task force in Ontario. Aside from how unhinged Christine Elliott comes across as, obvious questions have to be asked. If this "virus" is so bad, then why would we need to encourage people to take a vaccine? Why the "military precision" needed, unless it was to get everyone all at once — and before side effects became known? Why push untested vaccines when there is already a 99% recovery rate anyway?
13. Rubicon Gets Funding From Clinton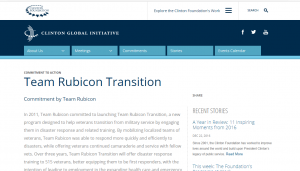 Rubicon has also gotten substantial funding from the Clinton Foundation, (Clinton Global Initiative). The organization sells itself as a sort of disaster relief, just on a global scale. However, rushing to drug the entire planet is not anywhere near the same things as pulling survivors from a natural disaster.
Serious questions have to be asked about all of this. If it were really about getting vaccines out, then why is this global push needed? Why are the death rates exaggerated? Why use faulty PCR tests? Why gaslight and try to silence critics? What's really in these vaccines?