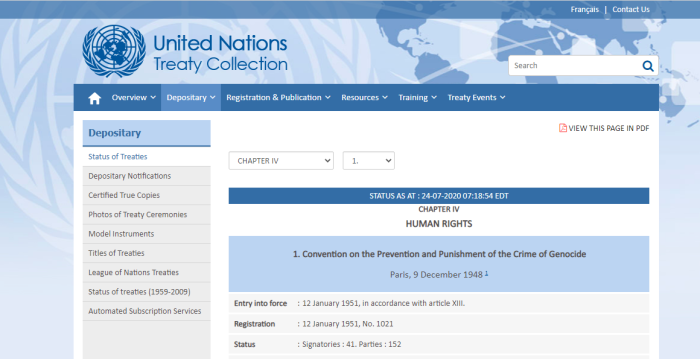 152 countries are part of the United Nations Convention on Preventing and Punishing Genocide. Canada signed the treaty in 1949, and it became effective in 1952.
https://www.un.org/en/genocideprevention/genocide-convention.shtml
1. Other Articles On CV "Planned-emic"
As always, there is more to the story than most think. For other listings in the coronavirus hoax, check out this series. Know what is really going on v.s. what the media is telling you. Rest assured, you aren't getting the whole story from mainstream news sources.
2. Context For This Piece
Governments across the Western world have been very perplexing choices in deciding what stays open, and what gets closed during this so-called pandemic. The British Columbia Government, for example, promotes and allows all sorts of degeneracy, but claims it can be done safely. In the meantime, gatherings, including religious gatherings are limited to 50 people. Elsewhere, it is even less.
But what if these weren't just random, nonsensical choices? What if there really was an agenda, and it was to wage war on the idea of religious institutions. Keep in mind, after the "second wave" hits, (as we are told is coming), how do we know there won't be more closures?
Is it hyperbolic to compare this to deliberate killings and violence towards a group? Perhaps, but keep in mind, that genocide usually starts off in increments.
3. Text Of 1948 UN Convention On Genocide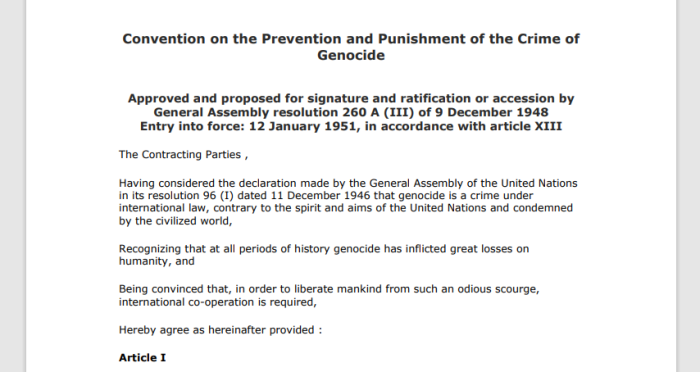 Convention on the Prevention and Punishment of the Crime of Genocide
Article I
The Contracting Parties confirm that genocide, whether committed in time of peace or in time of war, is a crime under international law which they undertake to prevent and to punish.
Article II
In the present Convention, genocide means any of the following acts committed with intent to destroy, in whole or in part, a national, ethnical, racial or religious group, as such:
(a) Killing members of the group;
(b) Causing serious bodily or mental harm to members of the group;
(c) Deliberately inflicting on the group conditions of life calculated to bring about its physical destruction in whole or in part;
(d) Imposing measures intended to prevent births within the group;
(e) Forcibly transferring children of the group to another group.
Article III
The following acts shall be punishable:
(a) Genocide;
(b) Conspiracy to commit genocide;
(c) Direct and public incitement to commit genocide;
(d) Attempt to commit genocide;
(e) Complicity in genocide.
Article IV
Persons committing genocide or any of the other acts enumerated in article III shall be
punished, whether they are constitutionally responsible rulers, public officials or private
individuals.
Allow depraved and degenerate acts to continue, while mandating that religious institutions to only operate in a limited and controlled fashion is a hypocritical double standard. It's not as if Western Governments are treating "everyone" in the same manner. Instead, there is picking and choosing as to which groups are allowed to operate as normal.
Let's not get the idea that this is almost over. Governments are hyping up the "second wave" in an act of predictive programming, to get people used to future restrictions.
Sure, we're not killing people for their religious affiliations — at least for now. At the moment it is reduced to limiting, (or banning outright), how they may practice and worship.
4. Religious Freedom Guaranteed In Charter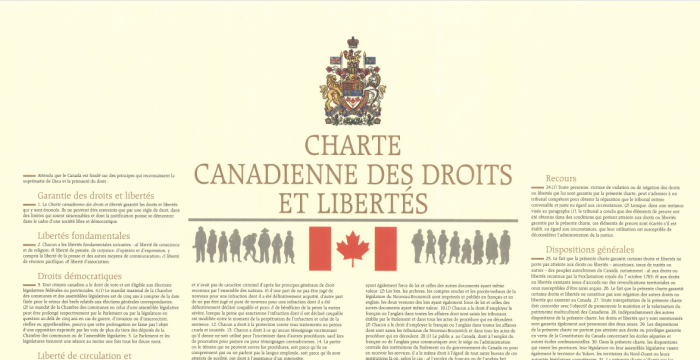 Canadian.Charter.Of.Rights.Freedoms
Fundamental freedoms – section 2
2. Everyone has the following fundamental freedoms:
.
(a) freedom of conscience and religion;
(b) freedom of thought, belief, opinion and expression, including freedom of the press and other media of communication;
(c) freedom of peaceful assembly; and
(d) freedom of association.
Freedom of religion is spelled out quite clearly in the Canadian Charter of Rights and Freedoms. Yet, gatherings are limited, while governments bend over backwards (pardon the pun) to allow and facilitate all kinds of degeneracy and risky behaviour.
However, there is probably a good reason for this double standard. Certainly, our officials have a solid basis for acting the ways that they do. Right?
5. BC Government Admits No Science Involved
BC Provincial Health Officer Bonnie Henry repeatedly admits there is no science behind the decision to limit gatherings — including religious gatherings — to just 50 people. See 1:00 in the video. Far from being a breath of transparency, Henry admits (and justifies) being entirely arbitrary about how rules are made.
6. SCOTUS Allows This In Nevada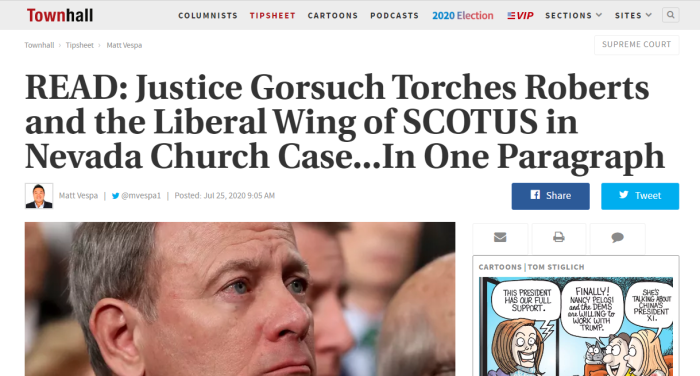 Calvary Chapel Emergency Application for Injunction
scotus.allows.nevada.to.discriminate
CALVARY CHAPEL DAYTON VALLEY v. STEVE
SISOLAK, GOVERNOR OF NEVADA, ET AL.
ON APPLICATION FOR INJUNCTIVE RELIEF
[July 24, 2020]
JUSTICE GORSUCH, dissenting from denial of application for injunctive relief. This is a simple case. Under the Governor's edict, a 10-screen "multiplex" may host 500 moviegoers at any time. A casino, too, may cater to hundreds at once, with perhaps six people huddled at each craps table here and a similar number gathered around every roulette wheel there. Large numbers and close quarters are fine in such places. But churches, synagogues, and mosques are banned from admitting more than 50 worshippers—no matter how large the building, how distant the individuals, how many wear face masks, no matter the precautions at all. In Nevada, it seems, it is better to be in entertainment than religion. Maybe that is nothing new. But the First Amendment prohibits such obvious discrimination against the exercise of religion. The world we inhabit today, with a pandemic upon us, poses unusual challenges. But there is no world in which the Constitution permits Nevada to favor Caesars Palace over Calvary Chapel.
The Supreme Court of the United States (SCOTUS), recently declined intervene in appeal from Nevada. The Applicants challenged the double standard of allowing gambling to open up (almost regardless of size), but religious institutions were limited. Justice Gorsuch's dissent was short but sweet.
One has to wonder about Chief Justice John Roberts, a Bush appointee, who cast the deciding vote. One also has to wonder about his recent black eye and potential deep state ties.
7. A Formal Complaint To The Hague?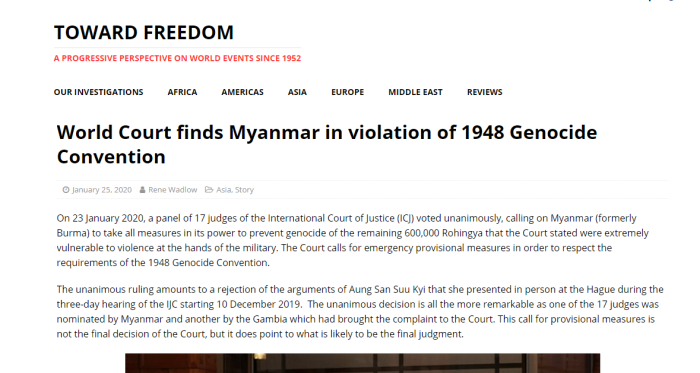 Again, it may be viewed as hyperbolic to compare restrictions on religious gatherings to outright mass murder. However, it is clear that governments do target this group, while giving much more risky and immoral behaviour a pass.
In fairness, however, the UN would likely do little, if anything. The World Health Organization seems to back this hoax fully.
This needs to be fought back against, one way or another.