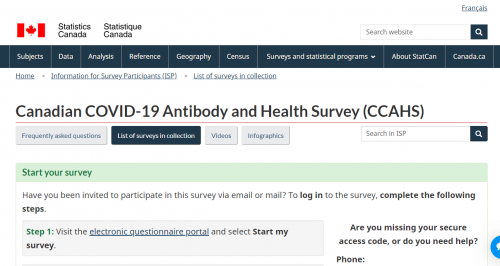 Statistics Canada is now mailing out DNA collection kits to random households. While this is "supposed" to be a public health measure, they clearly state that the DNA may be used for alternative purposes.
1. Other Articles On CV "Planned-emic"
The rest of the series is here. Many lies, lobbying, conflicts of interest, and various globalist agendas operating behind the scenes, obscuring the "Great Reset". The Gates Foundation finances: the WHO, the US CDC, GAVI, ID2020, John Hopkins University, Imperial College London, the Pirbright Institute, the BBC, and individual pharmaceutical companies. Also: there is little to no science behind what our officials are doing; they promote degenerate behaviour; the Australian Department of Health admits the PCR tests don't work; the US CDC admits testing is heavily flawed; and The International Health Regulations are legally binding. See here, here, and here. The media is paid off, and our democracy is thoroughly compromised, as shown: here, here, here, and here.
2. Important Links
https://www.statcan.gc.ca/eng/survey/household/5339
https://archive.is/6q5pT
WayBack Machine Archive
https://boards.4chan.org/pol/thread/289529513
https://archive.is/mwdsh
WayBack Machine Archive
4Chan Posting Of Kit Mailed In Canada
Facebook Posting Of Home-Test Kits
Documentary On Theranos, Elizabeth Holmes
FEDERAL — LOCATIONS OF DEATH REPORTS
Covid In Canada August 16 to 22
Covid In Canada August 23 to 29
Covid In Canada August 30 to Sept 6
Covid In Canada September 7 to September 13
Covid In Canada October 4 to October 10
Covid In Canada October 11 to October 17
Covid In Canada October 25 to October 31
PCR TESTS
https://www.youtube.com/watch?v=jVkkqjnTlWc
https://www.youtube.com/watch?v=uKeMiAZ8Zu4
https://www.youtube.com/watch?v=Je3xO8e-MvQ
3. Reminder: StatsCan Raided Credit Data
In late 2018, there was a scandal because Statistics Canada had been accessing people's credit reports. They also wanted to look into the private bank accounts of Canadians. While StatsCan frequently touts the defense that "we don't share it with anyone", that completely misses the point. People don't want their bank records broken into at all.
And now, StatsCan is rolling out a major DNA sampling.
4. StatsCan Explains The DNA Kits Sent Out
As COVID-19 continues to disrupt daily life, we must manage the impacts of the pandemic, while preparing for future waves. This includes taking steps to ensure Canadians can access future treatment and vaccines. To do this, it is important that we learn as much as possible about the virus, how it affects overall health, how it spreads, and whether we are developing antibodies against it.
This unique survey will collect information in two parts. The first part is an electronic questionnaire about general health and exposure to COVID-19. The second part is an at-home finger-prick blood test, which is sent to a lab to determine the presence of COVID-19 antibodies.
Even if you do not think you have been exposed to COVID-19, your information will provide valuable answers about the virus. You will also receive a copy of your lab report, providing you with valuable information about your own health.
Your information may also be used by Statistics Canada for other statistical and research purposes.
Pretty strange how the Government will be able to tell what antibodies the body has, and if they are the correct ones, when the PCR test itself it bogus and completely inaccurate. Remember Barbara Yaffe, and her admission of 50% false positives?
How exactly will your genetic information help if there has been no exposure to the virus? What else is going on behind the scenes?
5. StatsCan Data Sharing Agreements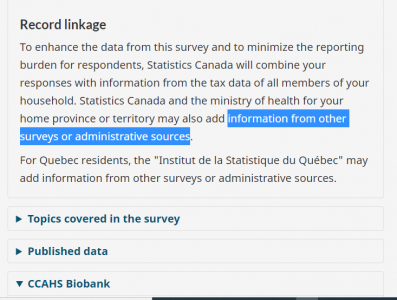 Data sharing agreements
For all respondents:
.
To avoid duplication of surveys, Statistics Canada may enter into agreements to share the data from this survey, including name, address, telephone number and health card number, with provincial and territorial ministries of health, Health Canada and the Public Health Agency of Canada. For Quebec residents, Statistics Canada may also enter into an agreement with the "Institut de la Statistique du Québec" to share the same information.
.
The "Institut de la Statistique du Québec" and provincial ministries of health may make this data available to local health authorities. Local health authorities will not receive any identifiers, only the postal code.
.
For respondents aged 15 years and older:
.
To reduce the number of questions in this questionnaire, Statistics Canada will use information from your tax forms submitted to the Canada Revenue Agency. With your consent Statistics Canada will share this information from your tax forms with your provincial and territorial ministries of health, Health Canada and the Public Health Agency of Canada.
.
Quebec residents will also have their tax form information shared with the "Institut de la statistique du Québec".
.
These organizations have agreed to keep the information confidential and to use it only for statistical and research purposes.
.
Record linkage
To enhance the data from this survey and to minimize the reporting burden for respondents, Statistics Canada will combine your responses with information from the tax data of all members of your household. Statistics Canada and the ministry of health for your home province or territory may also add information from other surveys or administrative sources.
.
For Quebec residents, the "Institut de la Statistique du Québec" may add information from other surveys or administrative sources.
What all this means, is that information from your taxes may be shared with the Ministries of Health (Provincial and Federal), and the Public Health Agency of Canada. It also says that information from other surveys or administrative sources may be added, but doesn't specify which ones.
In short, this is combining data sets to form universal profiles on people. These will include: tax information, DNA, health information, and data collected elsewhere. That doesn't sound Orwellian in the slightest.
6. Information Sent To Advocacy Groups?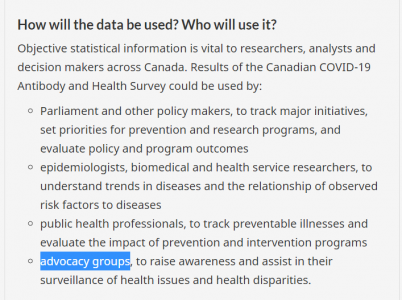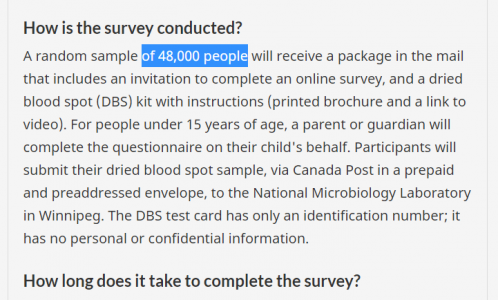 How will the data be used? Who will use it?
Objective statistical information is vital to researchers, analysts and decision makers across Canada. Results of the Canadian COVID-19 Antibody and Health Survey could be used by:
.
-Parliament and other policy makers, to track major initiatives, set priorities for prevention and research programs, and evaluate policy and program outcomes
-epidemiologists, biomedical and health service researchers, to understand trends in diseases and the relationship of observed risk factors to diseases
-public health professionals, to track preventable illnesses and evaluate the impact of prevention and intervention programs
–advocacy groups, to raise awareness and assist in their surveillance of health issues and health disparities.
The information will shared with advocacy groups in complaining of disparities in health? Why does this seem like a way to funnel money under the guise of "equity"?
It's also rather confusing. Supposedly 48,000 people are just assigned a number, and no personal information will be connected to it. How then will it be connected to tax information, and other sources?
7. Tests Are Already Being Distributed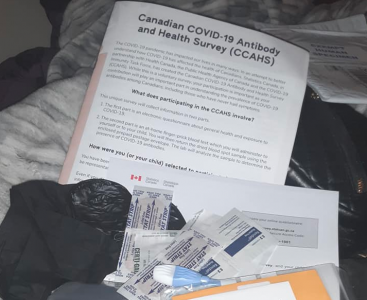 https://boards.4chan.org/pol/thread/289529513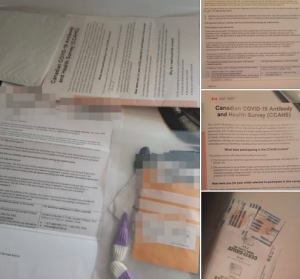 https://www.facebook.com/100032513712949/posts/357421085351679/
8. Truth About Death Statistics In Canada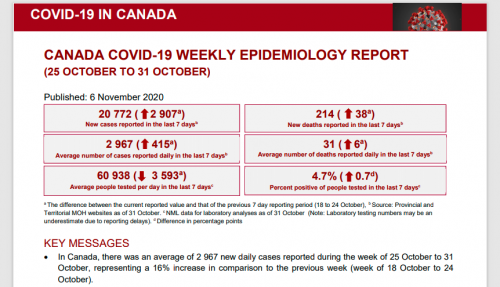 What's most infuriating is that the truth is known that this "pandemic" is a hoax, but leaders and the media intentionally deceive us. The most recent report available, or see the archived version.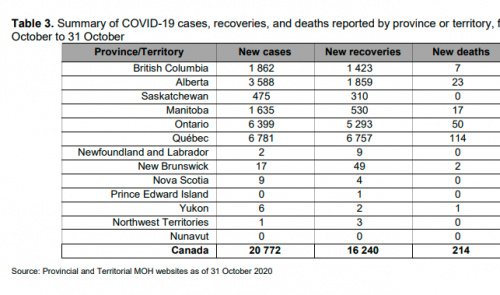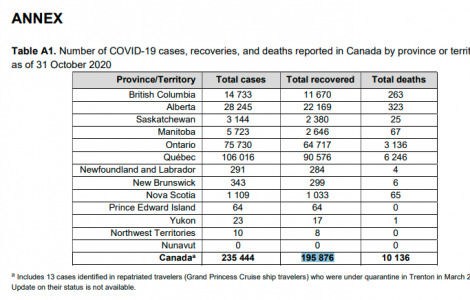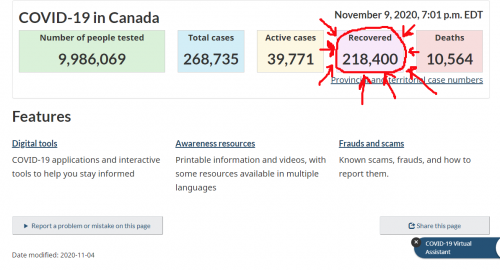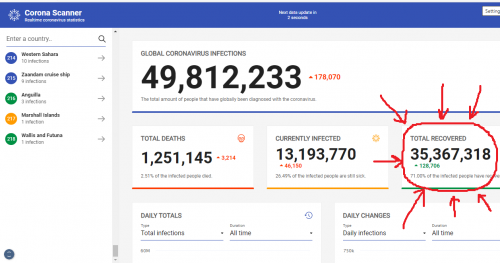 Even by the Government's methods of screwing around with the numbers, the vast majority of people will recover on their own. At the time of writing this, Health Canada reports 218,000 recoveries nationwide. The site https://corona-scanner.com/ reports over 35 million recoveries globally. Why is any sort of vaccine needed then? What will be in it?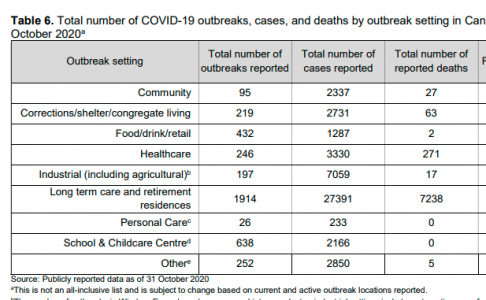 On Table 6, it's reported that, as of October 31, 2020, a total 7,238 out of 7,623 deaths has been in long term care and retirement residences. That is 94.9%, or 19 out of every 20. Of course, this raises the obvious questions such as the underlying health issues many or most would have had, or the average age.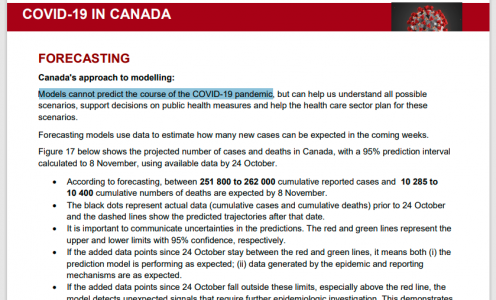 FORECASTING
Canada's approach to modelling:
Models cannot predict the course of the COVID-19 pandemic, but can help us understand all possible scenarios, support decisions on public health measures and help the health care sector plan for these scenarios.
.
Forecasting models use data to estimate how many new cases can be expected in the coming weeks. Figure 17 below shows the projected number of cases and deaths in Canada, with a 95% prediction interval calculated to 8 November, using available data by 24 October.
The Government explicitly states that modelling cannot be used to predict the course. Then it immediately contradicts itself by saying models are used to estimate cases. Fact is: models are just guesses. They are not proof of anything.
9. PCR Tests Long Used For DNA Amplification
For some background, consider that PCR tests (polymerase chain reaction tests), have long been used for DNA amplification. This makes testing easier even when there are very small samples. Videos with extensive detail are freely available. These are just a few of them.
Note: Canuck Law owns none of these videos. Please post positive feedback on their respective YouTube accounts. They explain quite well how this process works.
10. Other Info On Silicon Valley/Theranos
Elizabeth Holmes was famous for several years as the result of her startup "Theranos". The company was developing technology that would allow for hundreds (or even thousands) of tests to be done from a single drop of blood.
Problem is: the technology didn't work, and never got any better. Holmes had been outright lying to investors and prospective clients for many years. The company is now dissolved. Strangely, its Twitter account is still up.
But sure, the Government is going to be able to get all kinds of results from a single drop of blood Well, they can get a DNA profile from that. And on the topic of Silicon Valley: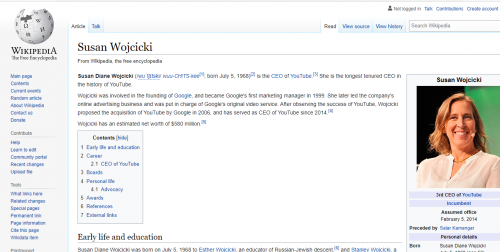 Anne Wojcicki is the CEO and co-founder of 23andMe. It uses home kits for DNA testing for genetic mapping. Her sister, Susan Wojcicki is the CEO of YouTube, co-founded Google, and is head of DuckDuckGo.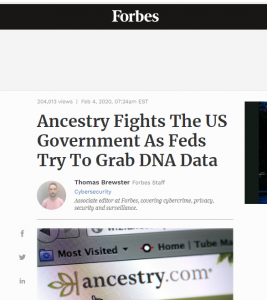 Also, Ancestry.com will hand over your DNA to law enforcement if they are ordered to.
Yes, this topic is a bit of a tangent, but it's worth at least mentioning where this may go. Privacy of genetic information seems to be almost non-existent.
Statistics Canada is now mailing DNA kits to individual households. One can only guess where your data will eventually end up. Use at your own risk.