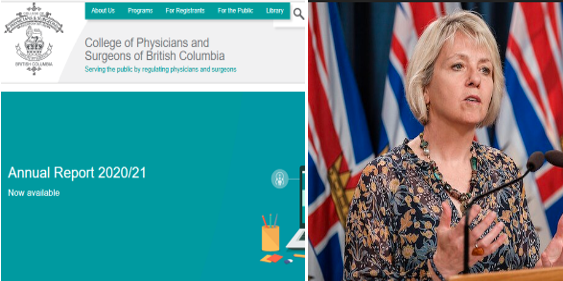 In a response that should surprise no one, the CPSBC, the College of Physicians and Surgeons of British Columbia, has said that it has no jurisdiction to handle complaints lodged against any of its members, as long as they are acting in a "public health" capacity.
For some context, the typical doctor can be fined, suspended, or even lose their licenses altogether, depending on the circumstances. But doctors working as public health officials — and whose decisions impact everyone — cannot be held liable.
Of course, given that these people are appointed by politicians, there is an inherent conflict of interest. They aren't going to be too critical of political decisions. In fact, these "top doctors" provide a level of cover for their bosses.
Then again, the CPSBC doesn't seem to take complaints against its members too seriously, as shown in some of their recent decisions.
For more on what's really going on in Canada, check out the CV series, and the one on health in Canada.
(1) https://www.cpsbc.ca/
(2) https://www.cpsbc.ca/about-us/annual-report
(3) https://www.cpsbc.ca/files/pdf/2020-21-AR-Disciplinary-Outcomes.pdf