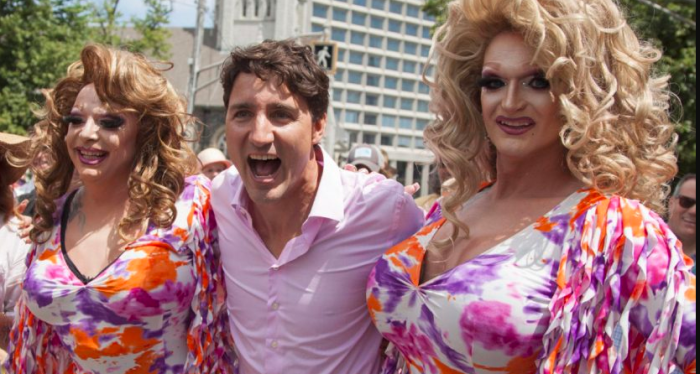 We are supposedly in the middle of a "global pandemic", but why should that get in the way of open degeneracy, funded by public money? There are supposed to be limits on public gatherings, but perhaps pride marches will be exempt. Just wear a mask, and pretty much anything else goes, it seems.(Stock photo found online)
https://search.open.canada.ca/ (FEDERAL)
1. Federal Grants To Pride Groups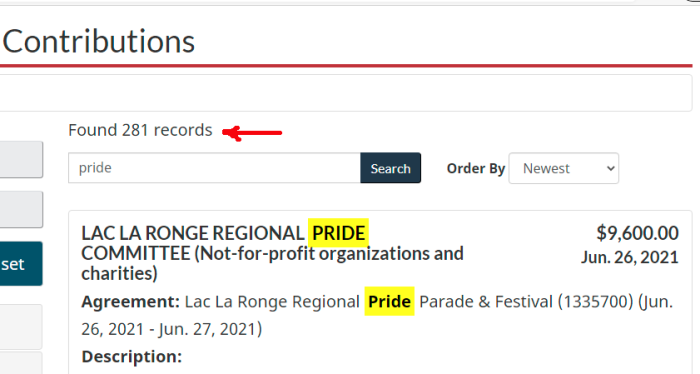 | NAME | DATE | AMOUNT |
| --- | --- | --- |
| Buddies In Bad Times Theatre | Apr. 15, 2021 | $11,800 |
| Calgary Pride Planning Comm. | Aug. 28, 2020 | $25,600 |
| Calgary Pride Planning Comm. | Aug. 28, 2020 | $102,500 |
| Calgary Pride Planning Comm. | Dec. 1, 2020 | $100,000 |
| Fernie Pride Society | Sep. 5, 2020 | $8,400 |
| Fernie Pride Society | Nov. 30, 2020 | $57,139 |
| Fierté Canada Pride | Jun. 1, 2020 | $50,000 |
| Fierté Fredericton Pride Inc. | Oct. 1, 2020 | $161,604 |
| Fierté Timmins Pride | Nov. 20, 2020 | $125,000 |
| Jasper Pride Festival Society | Oct. 1, 2020 | $65,400 |
| Kemptville Pride | Nov. 25, 2020 | $93,471 |
| Lac La Ronge Regional Pride Comm. | Jun. 26, 2021 | $9,600 |
| Moosejaw Pride Inc. | Apr. 1, 2021 | $11,000 |
| Nanaimo Pride Society | Apr. 1, 2021 | $24,500 |
| Niagara Senior Pride Network | Nov. 23, 2020 | $24,400 |
| PEI Pride Inc. | Jul. 28, 2020 | $20,000 |
| Peterborough Pride Committee | Apr. 1, 2021 | $5,300 |
| Pride In Art Society | Apr. 1, 2021 | $63,300 |
| Regina Pride Inc. | Apr. 1, 2021 | $19,400 |
| Saskatoon Diversity Network | Apr. 1, 2021 | $14,700 |
| Taber Equality Alliance | Apr. 1, 2021 | $5,000 |
| Thunder Pride Association | Nov. 9, 2020 | $20,265 |
| Toronto Pride | Jun. 1, 2020 | $25,600 |
| Toronto Pride | Jun. 1, 2020 | $102,500 |
| Toronto Pride | Jun. 1, 2021 | $63,500 |
| Truro Pride Society | Nov. 4, 2020 | $17,204 |
| UR Pride Centre for SGD Inc. | Aug. 25, 2020 | $25,000 |
| Vancouver Pride Society | Jul. 1, 2020 | $25,600 |
| Vancouver Pride Society | Jul. 1, 2020 | $102,500 |
| Victoria Pride Society | May 1, 2021 | $18,100 |
| Windsor Pride Community | Nov. 30, 2020 | $28,800 |
| Winnipeg Gay & Lesbian Film | Oct. 13, 2020 | $5,000 |
| Winnipeg Gay & Lesbian Film | Oct. 13, 2020 | $15,200 |
| Winnipeg Pride Festival | Apr. 1, 2021 | $25,500 |
| York Pride Fest | May 1, 2021 | $15,500 |
| Yorkton Pride | Apr. 1, 2021 | $6,900 |
| Yukon Queer Society | Apr. 1, 2021 | $19,700 |
Even as there are bans on people gathering, and meeting with others outside your "safety bubble", grants for pride events keep being issued. Churches are ordered closed, but open degeneracy is allowed. Ever get the sense these people aren't on your side?
Businesses are being shut down, and many more forced into bankruptcy. People's livelihoods are wrecked, as they are forced onto CERB, CRB or EI. But the Government still has money for this. Nor has there been any indication that the globohomo mafia will get hit.
Keep in mind, this doesn't include Provincial or Municipal grants. Nor does it reflect private donations. A lot of money is poured into this industry.
https://search.open.canada.ca/
2. Pride Now Just Another Corporate Event
Does Calgary Pride (or any pride) look like it's the opposition for anything? When it has the open backing of the media, corporations, and politicians who march in it, it's just a mainstream event. Whatever happened to just moving on with your lives?
3. Will Pride Events Be Continuing This Year?
A serious question: Will Ontario's Tyrant-In-Chief, Doug Ford, allow the pride parades and other events to go on in June? Will they get a pass, even as he threatens to detain people for simply being outside? Will the globohomo industry also feel the pain? June is just 6 weeks away.
It's worth asking, since there has never been any logic or consistency to what is going on. Maybe the martial law will end (temporarily), so people can flash their privates publicly, and demand to be accepted into society.
BC doesn't seem to be any better. Someone in the government actually thought this was a good idea.