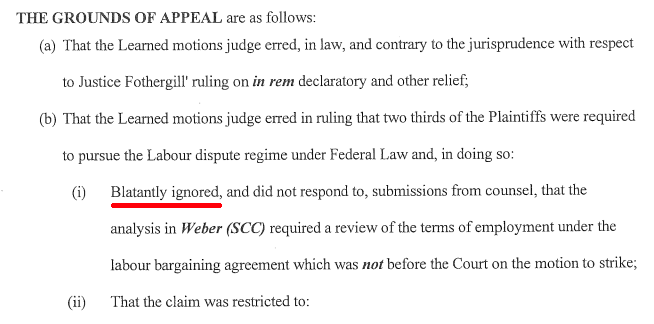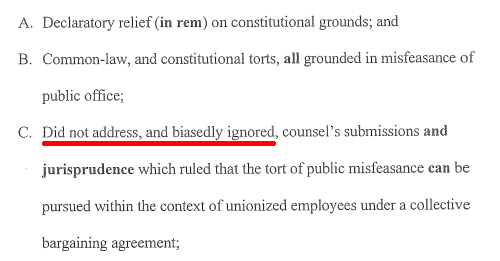 It's probably not a good idea to throw the term "bias" around like this.
Readers of this site will likely remember the February 21, 2023 Ruling in the Federal Court that was covered here. This was a challenge to the Fall 2021 dictate for vaccine passports at the Federal level, launched by Toronto lawyer Rocco Galati. A case involving some 600 Plaintiffs was struck in its entirety as being "bad beyond argument", among other issues. Justice Simon Fothergill was extremely critical of the case.
That February Decision is now being appealed.
To understand the Appeal, here is a brief review of what happened:
Approximately 2/3 of the Plaintiffs were permanently barred from using the Court as a remedy. As members of the Federal Government, Section 236 of the FPSLRA, or Federal Public Sector Labour Relations Act, requires that they seek alternate remedies for employment matters.
The other 1/3 of the Plaintiffs were allowed to file an amended lawsuit, but with other restrictions. These were either members of Crown Corporations, or employees of Federally regulated industries.
There was also the problem that the wrong paperwork had been filed. When challenging a Decision from a Federal Board, Commission or Tribunal, Sections 18(1) and (3) of the Federal Courts Act require that a Notice of Application be filed, and not a Statement of Claim.
Extraordinary remedies, federal tribunals
18 (1) Subject to section 28, the Federal Court has exclusive original jurisdiction
(a) to issue an injunction, writ of certiorari, writ of prohibition, writ of mandamus or writ of quo warranto, or grant declaratory relief, against any federal board, commission or other tribunal; and
(b) to hear and determine any application or other proceeding for relief in the nature of relief contemplated by paragraph (a), including any proceeding brought against the Attorney General of Canada, to obtain relief against a federal board, commission or other tribunal.
Remedies to be obtained on application
(3) The remedies provided for in subsections (1) and (2) may be obtained only on an application for judicial review made under section 18.1.
As was mentioned during the January 2023 hearing, if all that the Plaintiffs were seeking was damages, then a Statement of Claim was fine.
The Decision referenced the specific portions of the Federal Court Rules that were not followed. The Rules outline the basics of how pleadings are supposed to be drafted. These were the most notable errors here as well.
173 (1) Pleadings shall be divided into consecutively numbered paragraphs.
Allegations set out separately
(2) Every allegation in a pleading shall, as far as is practicable, be set out in a separate paragraph.
Material facts
174 Every pleading shall contain a concise statement of the material facts on which the party relies, but shall not include evidence by which those facts are to be proved.
Particulars
181 (1) A pleading shall contain particulars of every allegation contained therein, including
(a) particulars of any alleged misrepresentation, fraud, breach of trust, willful default or undue influence; and
(b) particulars of any alleged state of mind of a person, including any alleged mental disorder or disability, malice or fraudulent intention.
By "particulars", this really means "specifics". When pleading a document, the person must give enough specific and detailed information so that the other side is able to address the allegations.
This is very common with Galati: he makes plenty of accusations, but doesn't plead any factual basis. Consequently, the Defendants are often left with so little information that they can't respond meaningfully. This is partly why so many of his cases get thrown out.
Simply stating: "and the fact is" doesn't make something a fact.
As outlined in the original critique, this suit failed to meet even the bare minimum standards of drafting as set out by the Federal Courts Rules. Justice Fothergill apparently didn't find it worthwhile to go through it point by point to outline the deficiencies. This has been extensively detailed by Justice Ross in Vancouver, for the Action4Canada case, and the parallels are striking.
Pleadings in the Courts of British Columbia and Ontario were plagued by the same deficiencies. Regardless of jurisdiction, there are minimum levels of organization and quality that have to be followed.
Anyhow, the Federal Decision has been appealed, and is it ever interesting. The Notice of Appeal makes a number of statements that appear to accuse (or at least imply) that Justice Fothergill sabotaged the case intentionally.
This is not a wise thing to do without evidence.
(a) It's alleged that Justice Fothergill "blatantly ignored" Plaintiffs' submissions regarding the standards which employment terms could be reviewed by a Court.
(b) It's alleged that he "biasedly ignored" and "refused to address" submissions regarding the tort of public malfeasance, with respect to collective bargaining.
(c) It's alleged that the finding of "deficient" and "bad beyond argument" was blindly applied from an unrelated case, and was completely inappropriate.
(d) It's alleged that there was "clear (reasonable apprehension of) bias". Really, it's a repeat of the bias accusation, but is worded in a way to water it down.
It's unclear who actually wrote the Notice of Appeal, but it's already off to a bad start. Accusing a Federal Judge of bias and ignoring his responsibilities is not going to sit well. There has to be something pretty damning for this to hold water.
Granted, the Action4Canada Appeal of September 2022 is baseless, and doomed to fail, but at least BCSC Justice Alan Ross never received that kind of backlash.
The Notice of Appeal doesn't specify what Justice Fothergill's bias supposedly is. Is this to imply that he has certain personal views that are not appropriate? Should we interpret this to mean that he threw the case intentionally, and that the outcome was rigged?
This suggestion has been made before.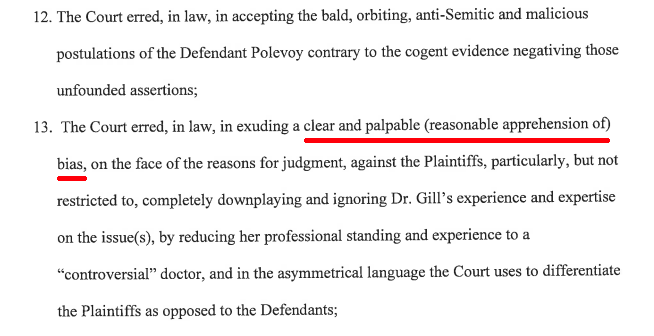 This also isn't the only time Galati has recently claimed (or at least implied) that a Judge ruling in one of his cases was biased. Supposedly, Justice Elizabeth Stewart appeared biased when she dismissed Kulvinder Gill's and Ashvinder Lamba's defamation case as a SLAPP. This of course is a strategic lawsuit against public participation.
Clearly, we'll have to wait and see what other documents are coming for the Federal Appeal. However, this is a dangerous path to take, and can have professional consequences.
A source told this site claimed that Galati and his staff are already soliciting more money for this "unexpected" trip to the Federal Court of Appeals. Apparently, they are at least mentally preparing to attempt to get into the Supreme Court of Canada.
It's estimated that $400 to $700 more will be sought from each of the 600+ Plaintiffs. In total, that could bring in close to half a million more. The stated reason is that the $1,000 retainer was set aside for Trial.
This seems plausible, especially in light of the fact that Action4Canada is also asking for money, despite their case being "fully funded".
Could the Federal ruling be successfully appealed? It seems doubtful. While a competent attorney might be able to make the case that malfeasance is grounds to bypass Section 236 FPSLRA, the entire Claim needs to be rewritten.
And this copy/pasting of pleadings from case to case deprives clients of the services that they're paying for.
FEDERAL VAXX PASS CHALLENGE (APPEAL)
(1) FCA Adelberg V. HMTK A-67-23 Notice Of Appeal
(2) FCA Adelberg V. HMTK A-67-23 Appeal Book (UPDATED)
(3) FCA Adelberg V. HMTK A-67-23 Appellants MFL (UPDATED)
(4) FCA Adelberg V. HMTK A-67-23 Respondents MFL (UPDATED)
FEDERAL VAXX PASS CHALLENGE
(1) https://policeonguard.ca/wp-content/uploads/2022/06/Filed-SOC.pdf
(2) Federal Court Vaccine Mandate Challenge
(3) Federal Vaccine Passport Challenge Retainer Agreement
(4) Federal Court Vaccine Mandate Challenge Motion To Strike
(5) Federal Court Vaccine Mandate Challenge Affidavit Of Service
(6) Federal Court Vaccine Mandate Challenge Responding Motion Record
(7) Federal Court Of Canada Rules
(8) https://www.laws-lois.justice.gc.ca/eng/acts/F-7/page-3.html#docCont
(9) https://www.laws-lois.justice.gc.ca/eng/acts/P-33.3/page-13.html#h-406405
(10) https://decisions.fct-cf.gc.ca/fc-cf/decisions/en/item/522970/index.do
(11) T-1089-22 Federal Court Decision On Motion To Strike
(12) https://www.canlii.org/en/ca/fct/doc/2023/2023fc252/2023fc252.html
(13) https://canucklaw.ca/wp-content/uploads/Federal-Vaccine-Passport-Challenge-Retainer.pdf
ACTION4CANADA COURT DOCUMENTS:
(1) A4C Notice of Civil Claim
(2) A4C Response October 14
(3) A4C Legal Action Update, October 14th 2021 Action4Canada
(4) A4C Notice of Application January 12
(5) A4C Notice of Application January 17
(6) A4C Affidavit Of Rebecca Hill
(7) A4C Response VIH-Providence January 17
(8) A4C Response to Application BC Ferries January 19
(9) https://action4canada.com/wp-content/uploads/Application-Record-VLC-S-S217586.pdf
(10) https://drive.google.com/file/d/1BfS_MyxA9J11WeYZmk8256G7GsWEFZ62/view
(11) https://www.canlii.org/en/bc/bcsc/doc/2022/2022bcsc1507/2022bcsc1507.html
(12) A4C Notice of Discontinuance Federico Fuoco Fire Productions
(13) A4C Notice of Discontinuance Amy Muranetz
(14) A4C Notice Of Appeal September 28 2022