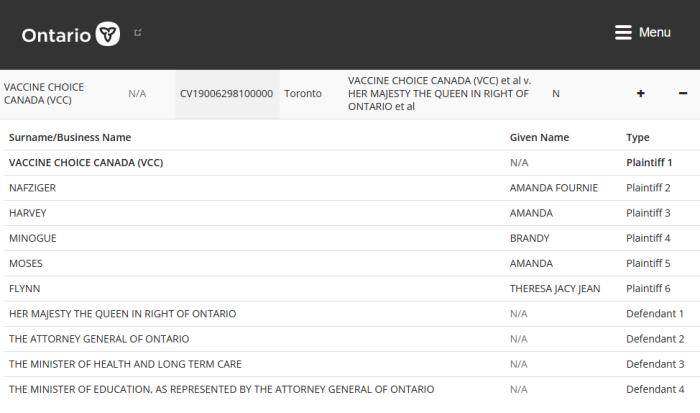 Often in court cases, the information being eventually drops off. As a result, many lose track of interesting claims that they were otherwise interested in. An October 2019 suit with Vaccine Choice Canada is one such case. This is case #CV-19-00629810-0000, filed in Ontario Superior Court, in Toronto.
This isn't to be confused with the high profile suit of July 2020. This was filed to challenge lockdown measures imposed (primarily) by the Ford Regime in Ontario. These are quite different. The 2019 suit covered vaccination policies in schools.
While there are 2 different cases, they have something in common: both have sat idly for years, without any activity to show for it.
Thankfully, we're in an age where case status can be SEARCHED online, and documents can often be obtained for free. As there had been no announcements since 2019, an update is long overdue. And as it turns out, there's nothing to report. Nothing has happened since the pleadings in later 2019/early 2020.
Nor does it seem like the 2019 case has had a single hearing.
So, what happened with all the donations?
And that's interesting, considering some of the problems with the drafting.
1. Should Have Been An Application, Not A Statement Of Claim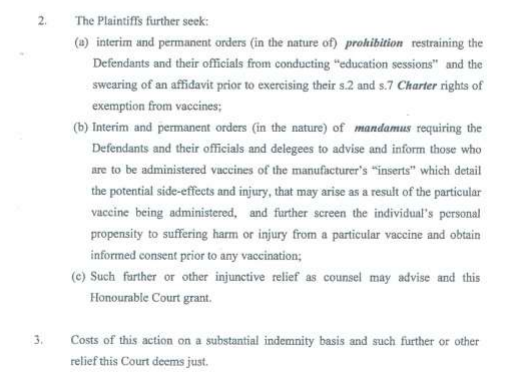 Applications for judicial review
2 (1) On an application by way of originating notice, which may be styled "Notice of Application for Judicial Review", the court may, despite any right of appeal, by order grant any relief that the applicant would be entitled to in any one or more of the following:
.
1. Proceedings by way of application for an order in the nature of mandamus, prohibition or certiorari.
2. Proceedings by way of an action for a declaration or for an injunction, or both, in relation to the exercise, refusal to exercise or proposed or purported exercise of a statutory power.
Section 2 of the Judicial Review Procedure Act lays out some circumstances which cases need to be brought as an Application for Judicial Review, as opposed to having more discretion to file a Statement of Claim.
Page 6 of the Statement of Claim makes it clear that both a Mandamus (requirement to perform a duty) and a Prohibition (a restriction) are being sought. As a result, it looks like the wrong paperwork was filed to get this going.
2. Suit Should Probably Have Been Filed In Divisional Court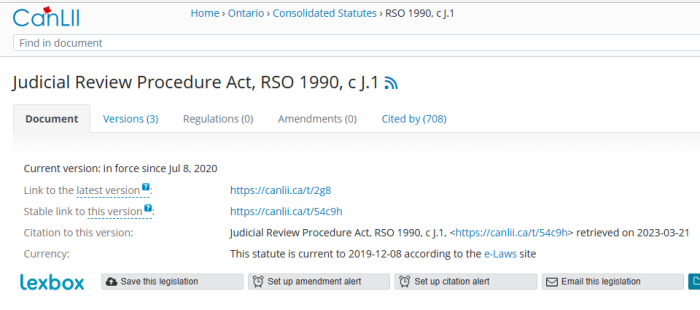 Application to Divisional Court
6 (1) Subject to subsection (2), an application for judicial review shall be made to the Divisional Court.
Application to judge of Superior Court of Justice
(2) An application for judicial review may be made to the Superior Court of Justice with leave of a judge thereof, which may be granted at the hearing of the application, where it is made to appear to the judge that the case is one of urgency and that the delay required for an application to the Divisional Court is likely to involve a failure of justice.
Section 6 of the Judicial Review Procedure Act states that an Application for Judicial Review must be brought in Divisional Court. Now, it's possible to get permission to file in Superior Court, but it doesn't look like that ever happened. Nor does it appear that it was attempted.
3. Rules Of Civil Procedure Not Followed In Drafting Claim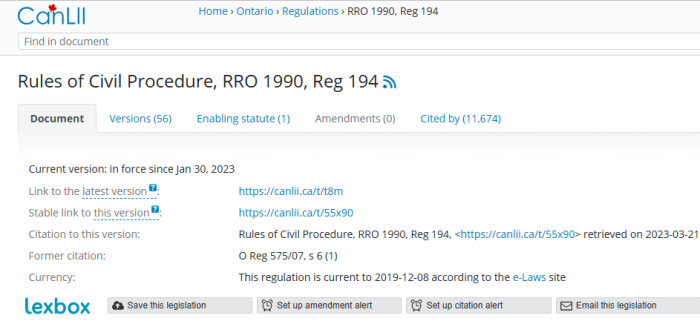 To Any Party on a Question of Law
21.01(1) A party may move before a judge,
(a) for the determination, before trial, of a question of law raised by a pleading in an action where the determination of the question may dispose of all or part of the action, substantially shorten the trial or result in a substantial saving of costs; or
(b) to strike out a pleading on the ground that it discloses no reasonable cause of action or defence,
Rules of Pleading — Applicable to all Pleadings
Material Facts
25.06(1) Every pleading shall contain a concise statement of the material facts on which the party relies for the claim or defence, but not the evidence by which those facts are to be proved.
Pleading Law
25.06(2) A party may raise any point of law in a pleading, but conclusions of law may be pleaded only if the material facts supporting them are pleaded.
Documents or Conversations
25.06(7) The effect of a document or the purport of a conversation, if material, shall be pleaded as briefly as possible, but the precise words of the document or conversation need not be pleaded unless those words are themselves material.
Nature of Act or Condition of Mind
25.06(8) Where fraud, misrepresentation, breach of trust, malice or intent is alleged, the pleading shall contain full particulars, but knowledge may be alleged as a fact without pleading the circumstances from which it is to be inferred.
This is a common criticism. The Rules of Civil Procedure need to be followed when drafting lawsuits. The people being sued need to have enough specific information to understand the allegations against them. It also has to be written in a way that's understandable.
The Ontario Government also claims that the Sections 2 and 7 Charter challenges are so vague and non-specific that they are impossible to respond to.
4. VCC Has To Plead For Public Interest Standing
Starting on page 10, the Statement of Defence argues that there is no standing here, as the organization is not a person, and not directly impacted. This is funny.
There is a way for organizations to do this, and they have to convince the Court that they meet a 3 part test. That's how standing is granted.
(1) Does the Application raise a serious justiciable issue?
(2) Do the Organizations have a real stake or genuine interest in that issue?
(3) Is the participation of the Organizations a reasonable and effective way to litigate?
Granted, a well written document could probably have gotten them standing, but it still needs to be covered.
Then again, if the case was never intended to go forward, then maybe it's not necessary to write a Claim or Application properly.
5. Why No Attempt To Get Claim Thrown Out?
Why keep covering these grifts? Because the truth matters.
This isn't to suggest that there weren't real issues to bring to Court. Obviously, there were, and they deserve considerable media attention. However, the case has just sat idly for years now.
A question worth asking is why the Ford Government has made no attempt to get this case thrown out (struck) since it was filed in October 2019. No action has been taken to bring it forward either. Was there collusion to keep everything in limbo?
It appears that the wrong paperwork was filed, and submitted to the wrong Court. The quality of the Statement of Claim is very poor as well. So, why just let it sit?
Keep in mind, Ford also let the July 6, 2020 Claim sit unchallenged for the first 2 1/2 years as well. Vaccine Choice didn't have their first Court appearance until January 17, 2023. And that was just to set down Motion dates.
Are these just "placeholders"? Is the goal to keep them on the books as long as possible, in order to give the appearance that something is being done? Is this a way to enrich the Directors?
Remember to donate, suckers!
(1) https://www.ontario.ca/page/search-court-cases-online
(2) https://www.canlii.org/en/on/laws/stat/rso-1990-c-j1/latest/rso-1990-c-j1.html
(3) https://www.canlii.org/en/on/laws/regu/rro-1990-reg-194/latest
(4) https://www.canlii.org/en/ca/scc/doc/2012/2012scc45/2012scc45.html
VACCINE CHOICE CANADA DOCUMENTS (2019 CLAIM):
(1) VCC – Statement Of Claim, October 2019 Lawsuit
(2) VCC – Statement Of Defence, October 2019 Lawsuit
VACCINE CHOICE CANADA COURT DOCUMENTS (2020 CLAIM):
(1) VCC – Statement Of Claim Unredacted
(2) VCC – Discontinuance Against CBC
(3) VCC – Mercer Statement Of Defense
(4) VCC – Mercer Affidavit Of Service
(5) VCC – Requisition For CPC Motion To Strike