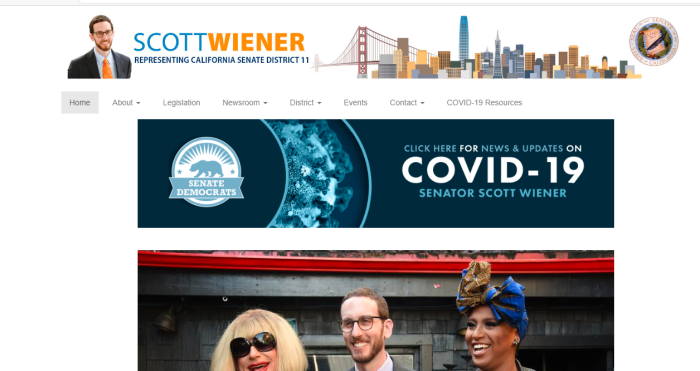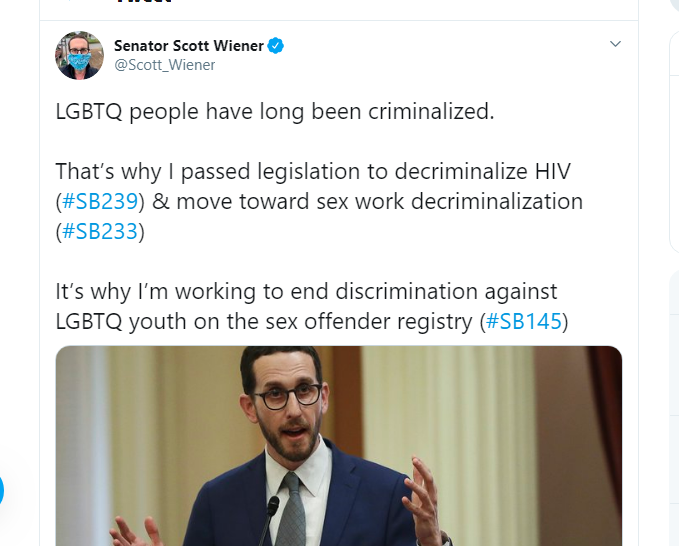 This site doesn't often cover U.S. politics and legislation, but this one is worth making an exception for. Scott Wiener is a California State Senator in the 11th District.
https://sd11.senate.ca.gov/
https://twitter.com/Scott_Wiener/status/1292489212751536129
1. Trafficking, Smuggling, Child Exploitation
There is a lot already covered in the TSCE series. Many of the laws politicians pass absolutely ensure this obscenity will continue. This piece will focus on the various legislation advanced by California State Senator, Scott Wiener, who has been very active. Also, for more general background information, take a look at Open Borders movement, and the NGOs who are supporting it.
2. Important Links
CLICK HERE, for Scott Wiener's Wikipedia page.
CLICK HERE, for SB-132: trans-inmate rights.
scott.wiener.male.inmates.in.womens.prisons
CLICK HERE, for SB-145: sex offender designation.
scott.wiener.keep.gay.pedos.off.SO.registry
CLICK HERE, for SB-201: intersex surgery ban (children)
scott.wiener.intersex.child.surgeries
CLICK HERE, for SB-233: decriminalizing sex work.
scott.wiener.immunity.from.arrest.sex.workers
CLICK HERE, for SB-239: reduce penalties for spreading HIV.
scott.wiener.decriminalize.spreading.hiv
CLICK HERE, for SB-888: cash/vouchers to prevent drug use.
scott.wiener.cash.or.vouchers.for.addicts
CLICK HERE, for SB-932: LGBTQ reporting requirements.
scott.wiener.lgbtq.status.in.all.data.collection
3. Gaslighting Critics As Intolerant Bigots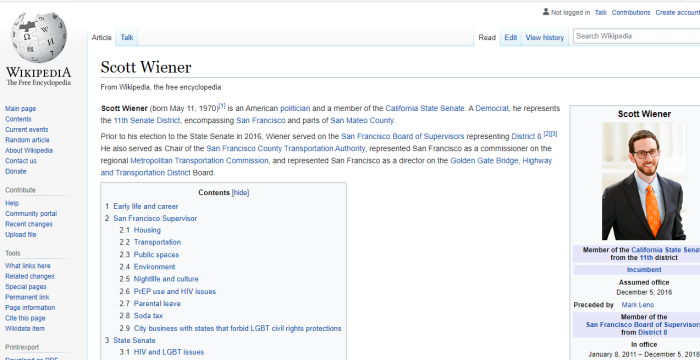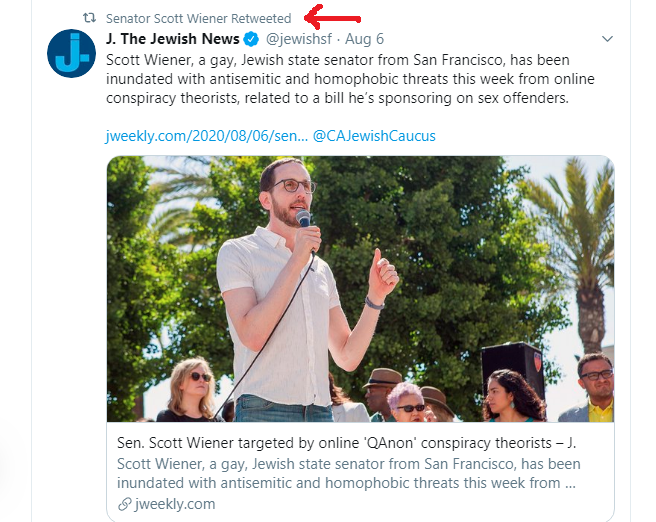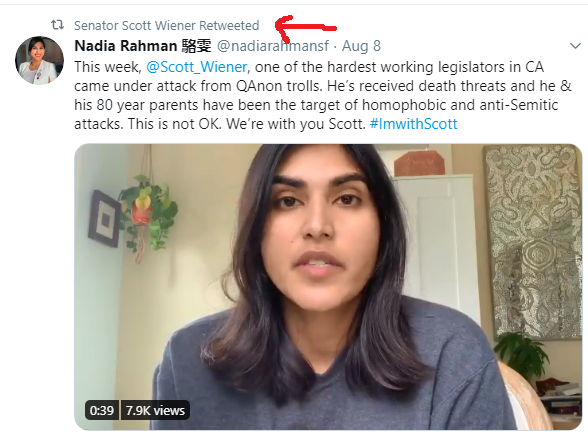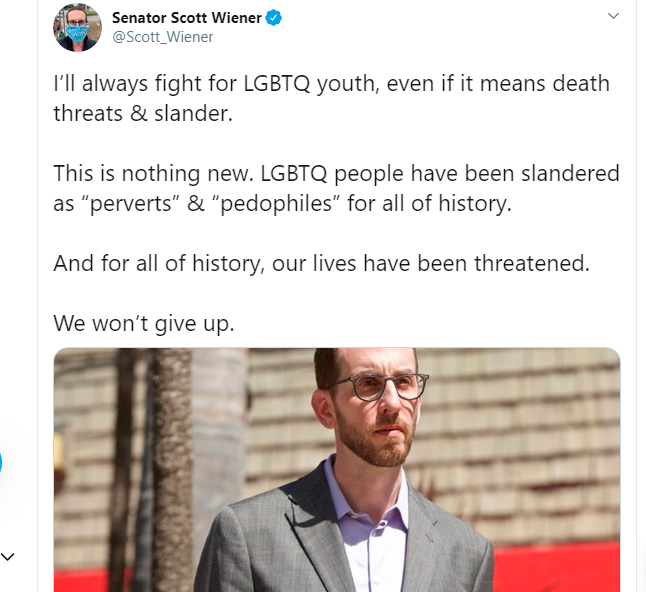 Wiener has lashed out at critics to his various legislation, calling them homophobes and anti-Semites. Wiener is gay and Jewish, according to his background information, but that is not where the bulk of the hate comes from. His Bills "do" give a legitimate cause for concern, and this appears to be a way of deflecting from that.
4. SB-132: Male Inmates In Female Prisons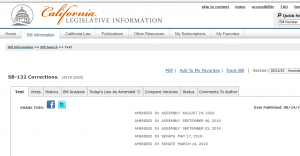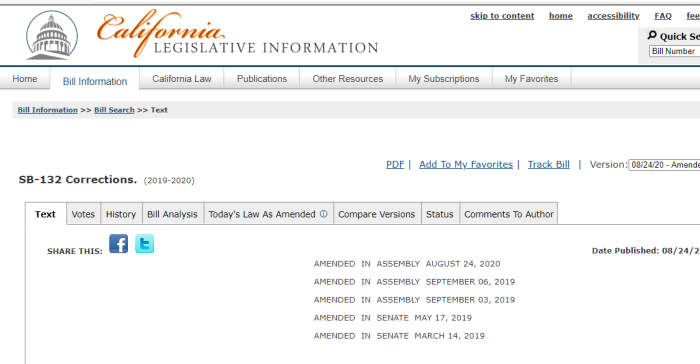 SB 132, as amended, Wiener. Corrections.
Existing law establishes the state prisons under the jurisdiction of the Department of Corrections and Rehabilitation. Existing law authorizes a person sentenced to imprisonment in the state prison or a county jail
for a felony to be, during the period of confinement, deprived of those rights, and only those rights, as is reasonably related to legitimate penological interests.
This bill would, commencing January 1, 2021, would require the Department of Corrections and Rehabilitation to, during initial intake and classification, and in a private setting, ask each individual entering into the custody of the department to specify the individual's gender identity and sex assigned at birth, and, if the individual's gender identity is different from their sex assigned at birth, whether the individual identifies as transgender, nonbinary, or intersex, and their gender pronoun and honorific. The bill would prohibit the department from disciplining a person for refusing to answer or not disclosing complete information in response to these questions. The bill would authorize a person under the jurisdiction of the department to update this information. The bill would prohibit staff and contractors staff, contractors, and volunteers of the department from failing to consistently use the gender pronoun and honorific an individual has specified in verbal and written communications with or regarding that individual that involve the use of a pronoun or honorific.
SB-132 would allow putting prison inmates in whichever prison they want, according to what they claim to be. Disturbingly, this would presumably cover male rapists and sex offenders being allowed into prisons with women. And yes, it also requires prison staff to use preferred pronouns.
5. SB-145: Sex Offender Registry, Gay Pedos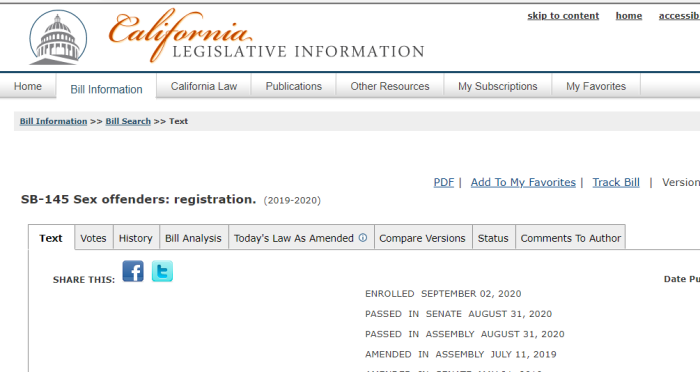 SB 145, Wiener. Sex offenders: registration.
Existing law, the Sex Offender Registration Act, requires a person convicted of one of certain crimes, as specified, to register with law enforcement as a sex offender while residing in California or while attending school or working in California, as specified. A willful failure to register, as required by the act, is a misdemeanor or felony, depending on the underlying offense. This bill would exempt from mandatory registration under the act a person convicted of certain offenses involving minors if the person is not more than 10 years older than the minor and if that offense is the only one requiring the person to register.
Scott Wiener claims there is a loophole, which mandates registry as a sex offender for certain acts, ones that straight couples would presumably not engage in. This Bill would remove the requirement for a Judge to designate the person as a sex offender if there is less than a 10 year age gap. In short, lower the age of the victim this would apply to. Instead of an exemption if the person is 18 years old, 15 to 17 year olds would now be included.
While Wiener may have a valid point, a far better option would be to RAISE the minimum age of the victim overall, not lower it.
Regular readers on this site will likely remember Part 17, and Part 18 of the series. This included lowering the age of consent for anal, and reducing the penalties for sex crimes against children in Canada.
Spoiler: it's not homophobic to oppose letting adults have sex with children. It's called being a decent person with some morals.
6. SB-201: Surgeries For Intersexed Children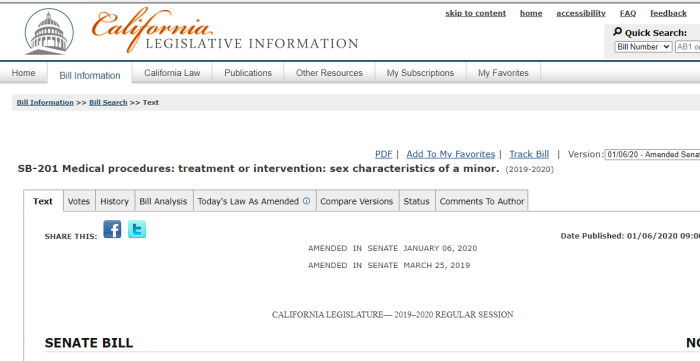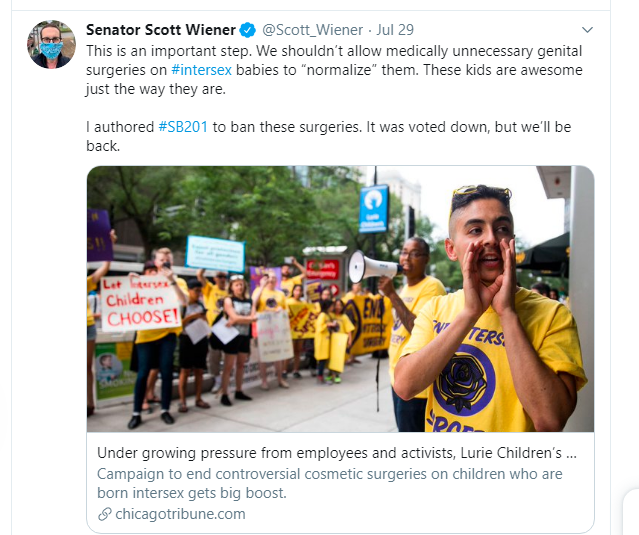 SB 201, as amended, Wiener. Medical procedures: treatment or intervention: sex characteristics of a minor.
Under existing law, the Medical Practice Act, it is unprofessional conduct for a physician and surgeon to fail to comply with prescribed informed consent requirements relating to various medical procedures, including sterilization procedures, the removal of sperm or ova from a patient under specified circumstances, and the treatment of breast cancer. Any violation of the law relating to enforcement of the Medical Practice Act is a misdemeanor, as specified.
a person born with variations in their physical sex characteristics who is under 6 years of age unless the treatment or intervention is medically necessary. The bill, on or before December 1, 2021, would require the Medical Board of California, in consultation with specified persons and entities, to adopt regulations to determine which treatments and interventions on the sex characteristics of a person born with variations in their physical sex characteristics who is under 6 years of age are medically necessary, as specified. Any violation of these provisions would be subject to disciplinary action by the board, but not criminal prosecution.
SB-201 would make it much harder, if not impossible, for parents of intersex children to get them surgeries so as to better conform with 1 of the 2 genders. Interestingly, Wiener supports the rights of trans-children to do what they want to their bodies. However, parents apparently can't be trusted to act in their best interests.
7. SB-233: Decriminalizing Sex Work (Hooking)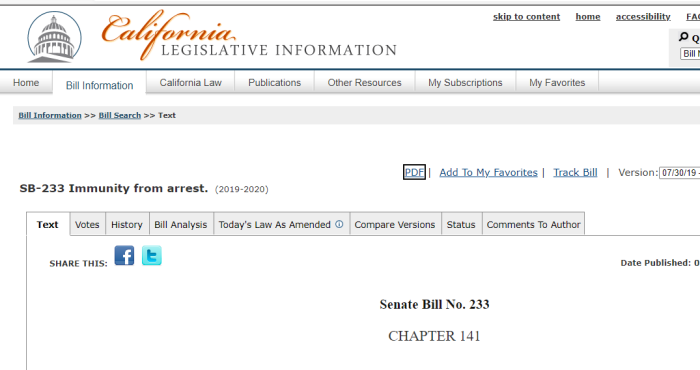 SB 233, Wiener. Immunity from arrest.
Existing law criminalizes various aspects of sex work, including soliciting anyone to engage in, or engaging in, lewd or dissolute conduct in a public place, loitering in a public place with the intent to commit prostitution, or maintaining a public nuisance. Existing law, the California Uniform Controlled Substances Act (CUCSA), also criminalizes various offenses relating to the possession, transportation, and sale of specified controlled substances.
This bill would prohibit the arrest of a person for a misdemeanor violation of the CUCSA or specified sex work crimes, if that person is reporting that they are a victim of, or a witness to, specified crimes. The bill would also state that possession of condoms in any amount does not provide a basis for probable cause for arrest for specified sex work crimes.
This Bill would decriminalize many minor aspects of sex work, and give immunity to prostitutes for more serious matters if they are reporting crimes to the police.
8. SB-239: No Longer A Felony To Spread HIV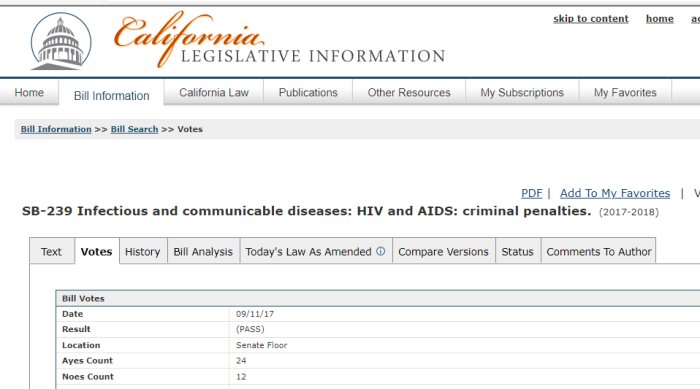 (1) Existing law makes it a felony punishable by imprisonment for 3, 5,or 8 years in the state prison to expose another person to the human immunodeficiency virus (HIV) by engaging in unprotected sexual activity when the infected person knows at the time of the unprotected sex that he or she is infected with HIV, has not disclosed his or her HIV-positive status, and acts with the specific intent to infect the other person with HIV. Existing law makes it a felony punishable by imprisonment for 2, 4, or 6 years for any person to donate blood, tissue, or, under specified circumstances, semen or breast milk, if the person knows that he or she has acquired immunodeficiency syndrome (AIDS), or that he or she has tested reactive to HIV. Existing law provides that a person who is afflicted with a contagious, infectious, or communicable disease who willfully exposes himself or herself to another person, or any person who willfully exposes another person afflicted with the disease to someone else, is guilty of a misdemeanor
This bill would repeal those provisions. The bill would instead make the intentional transmission of an infectious or communicable disease, as defined, a misdemeanor punishable by imprisonment in a county jail for not more than 6 months if certain circumstances apply, including that the defendant knows he or she or a 3rd party is afflicted with the disease, that the defendant acts with the specific intent to transmit or cause an afflicted 3rd party to transmit the disease to another person, that the defendant or the afflicted 3rd party engages in conduct that poses a substantial risk of transmission, as defined, that the defendant or the afflicted 3rd party transmits the disease to the other person, and if the exposure occurs through interaction with the defendant and not a 3rd party, that the person exposed to the disease during voluntary interaction with the defendant did not know that the defendant was afflicted with the disease. The bill would also make it a misdemeanor to attempt to intentionally transmit an infectious and communicable disease, as specified, punishable by imprisonment in a county jail for not more than 90 days. This bill would make willful exposure to an infectious or communicable disease, as defined, a misdemeanor punishable by imprisonment in a county jail for not more than 6 months, and would prohibit a health officer, or a health officer's designee, from issuing a maximum of 2 instructions to a defendant that would result in a violation of this provision. The bill would impose various requirements upon the court in order to prevent the public disclosure of the identifying characteristics, as defined, of the complaining witness and the defendant. By creating new crimes, the bill would impose a state-mandated local program.
In the notes provided, it shows that this bill would reduce the penalties from knowingly infecting someone with HIV from a 3, 5, or 8 year sentence (and a felony conviction), to a 6 month maximum (tried as a misdemeanor). It also prevents the publication of that offender. This effectively protects such predators, by ensuring that there aren't real penalties. Check out the full text of the bill.
9. SB-888: Cash Or Vouchers For Meth Users
SB 888, as amended, Wiener. Birth certificates. Substance use disorder services: contingency management services.
Existing law provides for the Medi-Cal program, which is administered by the State Department of Health Care Services, and under which qualified low-income individuals receive health care services, including substance use disorder services that are delivered through the Drug Medi-Cal Treatment Program and the Drug Medi-Cal organized delivery system. The Medi-Cal program is, in part, governed and funded by federal Medicaid program provisions.
This bill would, to the extent funds are made available in the annual Budget Act, expand substance use disorder services to include contingency management services, subject to utilization controls. The bill would require the department to issue guidance and training to providers on their use of contingency management services for Medi-Cal beneficiaries who access substance use disorder services under any Medi-Cal delivery system, including the Drug Medi-Cal Treatment Program and the Drug Medi-Cal organized delivery system. The bill would provide that contingency management services are not a rebate, refund, commission preference, patronage dividend, discount, or any other gratuitous consideration. The bill would authorize the department to implement these provisions by various means, including provider bulletin, without taking regulatory action, and would condition the implementation of these provisions to the extent permitted by federal law, the availability of federal financial participation, and the department securing federal approval.
There was originally provisions to issue new birth certificates indicating whatever gender the person wanted, but that seems to have been removed. As the Bill stands, it would build into the budget, sums of money to help meth users, in the hopes they will get clean.
10. SB-932: Collecting LGBTQ Data Everywhere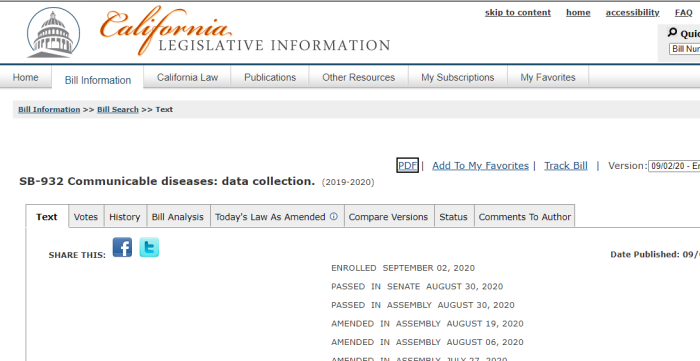 SB 932, Wiener. Communicable diseases: data collection.
(1) Existing law requires the State Department of Public Health to establish a list of reportable communicable and
noncommunicable diseases and conditions and to specify the requirements for a health officer, as defined, to report each listed disease and condition. Existing law requires a health officer to report the listed diseases and conditions and to take other specified measures to prevent the spread of disease. A violation of these requirements imposed on a health officer is a crime. This bill would require any electronic tool used by a health officer, as defined, for the purpose of reporting cases of communicable diseases to the department, as specified, to include the capacity to collect and report data relating to sexual orientation and gender identity, thereby imposing a state-mandated local program. The bill would also require a health care provider, as defined, that knows of or is in attendance on a case or suspected case of specified communicable diseases to report to the health officer for the jurisdiction in which the patient resides the patient's sexual orientation and gender identity, if known. Because a violation of these requirements by a health care provider or a health officer would be a crime, this bill would impose a state-mandated-local program.
(2) The California Constitution requires the state to reimburse local agencies and school districts for certain costs mandated by the state. Statutory provisions establish procedures for making that reimbursement. This bill would provide that with regard to certain mandates no reimbursement is required by this act for a specified reason. With regard to any other mandates, this bill would provide that, if the Commission on State Mandates determines that the bill contains costs so mandated by the state, reimbursement for those costs shall be made pursuant to the statutory provisions noted above.
(3) This bill would declare that it is to take effect immediately
as an urgency statute
It's not entirely clear why there would be this need to ask and record everyone's gender, and who they sleep with. Perhaps it's to play the victim, and get extra funding at some point.
11. California Has Bigger Problems
There are other Bills that Wiener has been involved with, of course. However, the above sample should demonstrate his priorities as a California State Senator.
Surely, California has far more important issues to deal with than the topics that Scott Wiener has drafted legislation for. The State is bankrupt, and flooded with illegal aliens, a crashed economy, and the social services are near collapse, but he doesn't seem to care.
It's not hard to see Wiener's legislation is deliberate efforts to uproot social norms and to create chaos. There seems to be little to no concern for the long term consequences.
Wiener may not be a pedophile himself, but he certainly seems sympathetic to those who are.
12. Remember The Trudeau Liberals
The content of Scott Wiener's Bills is shockingly similar to some of the efforts of the Trudeau Government. See here, here, and here.
Never forget, these are some of the crimes which Bill C-75 amended. They are now eligible to be tried summarily (misdemeanor), as opposed to it being mandatory to proceed by indictment (felony).
Section 58: Fraudulent use of citizenship
Section 159: Age of consent for anal sex
Section 172(1): Corrupting children
Section 173(1): Indecent acts
Section 180(1): Common nuisance
Section 182: Indecent interference or indignity to body
Section 210: Keeping common bawdy house
Section 211: Transporting to bawdy house
Section 242: Not getting help for childbirth
Section 243: Concealing the death of a child
Section 279.02(1): Material benefit – trafficking
Section 279.03(1): Withholding/destroying docs — trafficking
Section 279(2): Forcible confinement
Section 280(1): Abduction of child under age 16
Section 281: Abduction of child under age 14
Section 291(1): Bigamy
Section 293: Polygamy
Section 293.1: Forced marriage
Section 293.2: Child marriage
Section 295: Solemnizing marriage contrary to law
Section 435: Arson, for fraudulent purposes
Section 467.11(1): Participating in organized crime