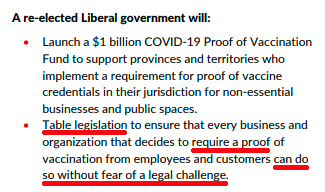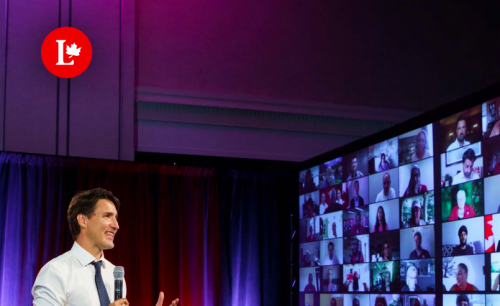 Included in the Liberal Party of Canada election platform on page 2 is a promise to indemnify businesses that exclude people based on not taking those experimental "vaccines". That's right, not only are the businesses being offered the subsidies they need, but Government will also run interference to keep these requirements from becoming a liability.
But don't worry. It's not about tyranny and eliminating your basic human rights. This is done all in the name of safety and security. What could possibly go wrong?
[Page 2] Proof of Vaccination
Canadians want to finish the fight against COVID-19. Millions of Canadians have rolled up their sleeves and gotten their vaccine shots, doing so to protect themselves, and their community. Across the country, thousands of business owners have demonstrated leadership to support vaccine rollout, and now many want to go further. Whether they are managing a multinational or a small coffee shop, business owners should have no doubt that putting the safety of workers, customers, or clients first is the right thing to do.
.
Proof of vaccination systems give people the confidence of knowing that others around them are fully vaccinated. They also help drive increased vaccination rates and give Canadians confidence that it's safe to go to restaurants,
shops, and out into their communities.
.
A re-elected Liberal government will:
• Launch a $1 billion COVID-19 Proof of Vaccination Fund to support provinces and territories who implement a requirement for proof of vaccine credentials in their jurisdiction for non-essential businesses and public spaces.
• Table legislation to ensure that every business and organization that decides to require a proof of vaccination from employees and customers can do so without fear of a legal challenge.
Not only would the Government be economically subsidizing these "passports", but they'd be running interference to make sure there was no legal remedy for people concerned with basic liberties. Before going any further, it is time to distinguish between 2 completely different ways medical devices and substances can be advanced.
(a) Approved: Health Canada has fully reviewed all the testing, and steps have been done, with the final determination that it can be used for the general population. At least in theory, there would be adequate long term testing to know what effects will happen years later.
(b) Interim Authorization: deemed to be "worth the risk" under the circumstances, doesn't have to be fully tested. Allowed under Section 30.1 of the Canada Food & Drug Act. Commonly referred to as an emergency use authorization.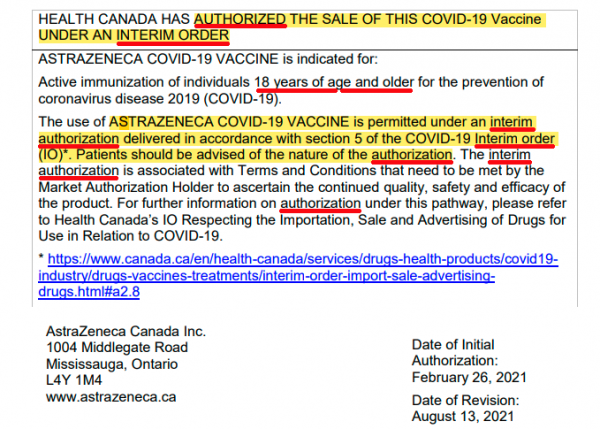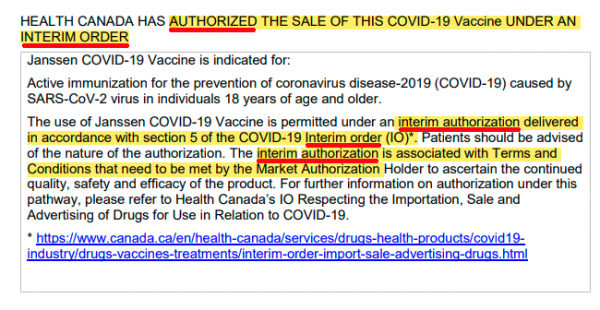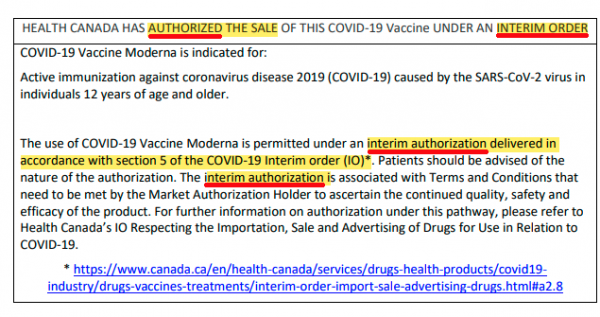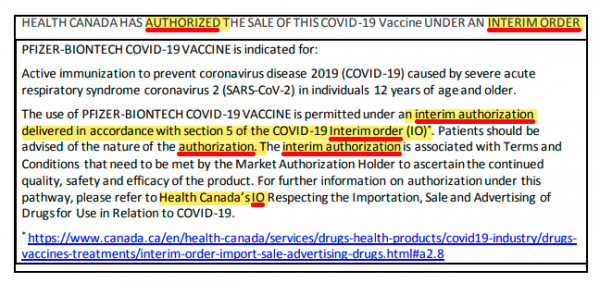 If implemented, there would be no recourse for people who are denied entry (it doesn't specify exemptions). Also, the indemnified manufacturers don't seem to be an issue. Great way to implement medical segregation. The pressure to do this makes informed consent — REAL consent — a thing of the past. It seems that "my body, my choice" doesn't extend to medical autonomy, unless it involves killing children.
One would think that there would be some real opposition to all of this Provincially and Municipally, but there isn't. Even those who refuse vaccine passports only do so very tepidly.
Doug Ford is doing what he does best: stab the residents of Ontario in the back, again and again. He's on board with all of this, as are these "conservative" Premiers.
Where are all the constitutional lawyers? Other than holding constant fundraisers, they don't seem to actually be doing much.
Beyond physical and economic coercion, what else is in there? Since we are looking through the Liberal platform, this is hardly the only objectionable topic. A few points worth noting:
[Page 65] Protecting Canadians from Online Harms
Too many people in Canada are victims of hate speech, which is often amplified and spread on social media. Canadians want action and they want leadership that will put a stop to harmful online content and hold platforms
accountable.
A re-elected Liberal Government will:
• Introduce legislation within its first 100 days to combat serious forms of harmful online content, specifically hate speech, terrorist content, content that incites violence, child sexual abuse material and the non-consensual distribution of intimate images. This would make sure that social media platforms and other online services are held accountable for the content that they host. Our legislation will recognize the importance of freedom of expression for all Canadians and will take a balanced and targeted approach to tackle extreme and harmful speech.
• Strengthen the Canada Human Rights Act and the Criminal Code to more effectively combat online hate.
[Page 66] Black Canadians Justice Strategy
Anti-Black racism and discrimination are a reality in Canada, and they are acutely felt in Canada's policing and
criminal justice system. Black Canadians are significantly overrepresented in the federal prison system, accounting for 7.3% of the prison population when they represent only 3.5% of the greater population. The work of grassroots organizations like Black Lives Matters have raised their voices to bring global attention to this issue. Systemic racism, discrimination, and violence against Black Canadians will persist as long as inequality is not called out and addressed.
.
A re-elected Liberal government will:
• Develop a Black Canadians Justice Strategy to address anti-black racism and discrimination in the criminal justice system.
[Page 70] Combatting Authoritarianism and Foreign Interference
With authoritarianism, geopolitical competition, and foreign interference on the rise, safeguarding Canada's national and economic security requires strong action both at home and abroad. We will continue to implement domestic measures to protect Canadians and work closely with our friends, allies, and partners to respond to illegal and unacceptable behaviour by authoritarian states, including China, Russia, and Iran.
.
Specifically, a re-elected Liberal government will:
• Work with G7, NATO, and likeminded partners to develop and expand collective responses to arbitrary detention, economic coercion, cyber threats, foreign interference in democratic processes, and egregious violations of human rights, including through the use of sanctions, support for international institutions, and coordinated action to reinforce the rules of international trade.
• Review and modernize the Investment Canada Act and provide additional resources to support national security agencies in tracking, assessing, and mitigating economic security threats from foreign investment.
• Expand collaboration and information sharing with Canadian partners and across all levels of government with respect to addressing security risks in foreign research and investment partnerships.
• Introduce legislation to safeguard Canada's critical infrastructure, including our 5G networks, to preserve the integrity and security of our telecommunications systems.
• Continue to work with international partners to hold Iran accountable for the illegal shootdown of PS752 and continue to provide support to the families and loved ones of the victims as they fight for justice and reparations. We will also continue to advance Canada's Safer Skies Initiative, to prevent such tragic events in the future.
• Increase resources available to our national security agencies to counter foreign interference and to the RCMP to protect Canadians from unacceptable surveillance, harassment, and intimidation by foreign actors.
[Page 75] • Significantly increase the resources of the Canada Revenue Agency to combat aggressive tax planning
and tax avoidance that allows the wealthiest to avoid paying the taxes they owe. This will increase CRA's resources by up to $1 billion per year in order to close Canada's tax gap.
• Modernize the general anti-avoidance rule regime in order to focus on economic substance and restrict the ability of federally regulated entities, including financial institutions such as banks and insurance companies, to use tiered structures as a form of corporate tax planning that flows Canadian-derived profit through entities in low-tax jurisdictions in order to reduce taxes back in Canada.
• Work with our international partners to implement a global minimum tax so that the biggest companies in the world are not able to escape the taxes they owe here in Canada.
As with most things, the devil's in the details. It would be interesting to know what exactly counts as "hate". It's likely to be written in such a broad and vague way as to be applied however the politics demands it.
Regarding the overrepresentation in Canadian jails, that could easily be explained by the crime rates, or is that racist to discuss? And who exactly is committing those high rates of violence against blacks?
It's rather sickening to claim to oppose authoritarianism and human rights abroad, while turning a blind eye to the same sort of thing happening locally.
There's also large sections on climate change, and the rainbow lobby. Beyond that, gender is woven into pretty much everything. However, that's to be expected from Trudeau these days.
Of course, this is just a tiny portion of what's in the platform. Granted, politicians lie all the time, but a lot of these they would actually implement.
(1) https://liberal.ca/wp-content/uploads/sites/292/2021/09/Platform-Forward-For-Everyone.pdf
(2) Liberal Election Campaign Platform
(3) Section 30.1 Canada Food & Drug Act
(4) September 2020 Interim Order From Patty Hajdu
(5) https://covid-vaccine.canada.ca/info/pdf/astrazeneca-covid-19-vaccine-pm-en.pdf
(6) https://covid-vaccine.canada.ca/info/pdf/janssen-covid-19-vaccine-pm-en.pdf
(7) https://covid-vaccine.canada.ca/info/pdf/covid-19-vaccine-moderna-pm-en.pdf
(8) https://covid-vaccine.canada.ca/info/pdf/pfizer-biontech-covid-19-vaccine-pm1-en.pdf
(9) https://twitter.com/fordnation/status/1433172901101019137
(10) Testing Product Insert AstraZeneca Interim Authorization
(11) Testing Product Insert Janssen Interim Authorization
(12) Testing Product Insert Moderna Interim Authorization
(13) Testing Product Insert Pfizer Interim Authorization