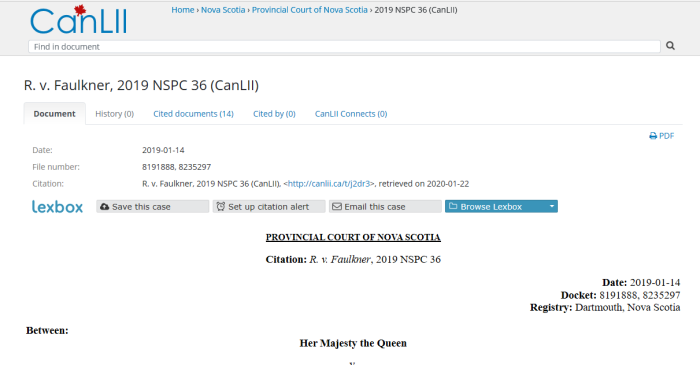 1. Important Links
(1) https://canucklaw.ca/race-based-discounts-in-criminal-courts/
(2) https://canucklaw.ca/child-killer-gets-transfer-to-healing-lodge-because-of-her-race/
(3) https://canucklaw.ca/public-policy-7-abolish-gladue-fix-underlying-problems/
(4) https://laws-lois.justice.gc.ca/eng/Const/page-15.html
Aboriginal Specific Cases
(A) R. v. Gladue, 1997 CanLII 3015 (BC CA)
http://archive.is/QKazg
(B) R. v. Gladue, 1999 CanLII 679 (SCC), [1999] 1 SCR 688
http://archive.is/vSWlo
(C) R. v. Ipeelee, 2012 SCC 13 (CanLII), [2012] 1 SCR 433
http://archive.is/Ol7tw
2. Context For This Article
Much of the Canadian public knows about "Gladue Rights", which is essentially a race-based discount given to Aboriginal defendants in criminal proceedings. In short, judges must consider systemic racism and other discrimination, and search for ways to reduce their sentences.
However, this does not extend only to Aboriginals. Blacks can also use many of the same excuses in pleading for reduced punishment for crimes they commit.
Everyone, regardless of their race, should be against this. The only way a society works is when everyone is treated the same way for their actions. One group should not benefit, or be hindered by unequal laws.
3. Court Cases For Blacks
Here are some recent court cases in which "racial discrimination" or "system racism" was taken into account by judges sentencing black felons. This is not the complete list.
(A) R. v. Borde, 2003 CanLII 4187 (ON CA)
http://archive.is/xfD1s
(B) R v Reid, 2016 ONSC 954 (CanLII)
http://archive.is/QgCtC
(C) R. v. Diabikulu, 2016 BCPC 390 (CanLII)
http://archive.is/PNiAG
(D) R. v. Deng, 2017 BCPC 225 (CanLII)
http://archive.is/MwPKY
(E) R. v. Jackson, 2018 ONSC 2527 (CanLII)
http://archive.is/GGEDy
(F) R. v. Shallow, 2019 ONSC 403 (CanLII)
http://archive.is/Koklf
(G) R. v. Faulkner, 2019 NSPC 36 (CanLII)
http://archive.is/fW8hj
(H) R. v. Kabanga-Muanza, 2019 ONSC 1161 (CanLII)
http://archive.is/m36ac
Again, this is not nearly all of them, but a snapshot into what the legal system (it's not really a justice system) has become in Canada.
4. Looking At A Cultural Assessment
[17] Cultural Assessment – Completed by Mr. R. Wright, MSW, RSW. It is extensive, well-informed and well-researched.
The Nature of an Impact of Race and Culture Assessment
Though much has been written about the intersection of race and the criminal justice system, and in particular the experience of North Americans of African descent, until the development of IRCA's (sic) there had been no recognized form for the presentation of such a report. That people of African descent have been overrepresented among incarcerated persons in Canada has been studied by academics, justice system leaders, and activist persons. The Office of the Correctional Investigator took special notice of the conditions of inmates of African descent in federal correctional institutions in its year end report in 2013. It concluded:
"Black inmates are one of the fastest growing sub-populations in federal corrections. Over the last 10 years, the number of federal incarcerated Black inmates has increased by 80% from 778 to 1,403. Black inmates now account for 9.5% of the total prison population (up from 6.3% in 2003/04) while representing just 2.9% of the general Canadian population." (p.8)
Now, 4 years after the advent of these reports in the well publicized YCJA matter described as R v. X, IRCAs have been widely accepted in Nova Scotia courts and have also been conducted in Ontario. Though I fully respect that the experience of aboriginal Canadians is quite unique, and I have no wish to expropriate or exploit their struggle and leadership, I nevertheless need to acknowledge that my development of IRCAs has been influenced by my familiarity with Gladue reports. Like Gladue reports, the goal of IRCAs is to provide courts with more background information about an offender's race and cultural background to assist the court at arriving at a just sentence: A sentence that considers the circumstances of the offender, alternatives to incarceration, and does not further contribute to the systemic problems of overrepresentation of persons within correctional populations. This principle is generally stated in the Criminal Code of Canada with particular attention given to Aboriginal offenders:
718.2 A court that imposes a sentence shall also taken into consideration the following principles:
(e) all available sanctions, other than imprisonment, that are reasonable in the circumstances and consistent with the harm done to victims or to the community should be considered for all offenders, with particular attention to the circumstances of Aboriginal offenders.
In keeping with these principles, it is a founding premise of IRCAs that a person's race and cultural heritage should be considered as a significant factor in considering their sentence n a criminal matter. Not just because of cultural responses to normal stressors, but also because of the forces of racism that person experience and our growing understanding of how this affects outcomes when one encounters the justice and other government systems. In Nova Scotia we have significant reason to understand these effects. We are the province of the Royal Commission on the Donald Marshall, Jr., Prosecution (1989), which opening paragraph is very telling:
The criminal justice system failed Donald Marshall, Jr. at virtually every turn from his arrest and wrongful conviction for murder in 1971 up to, and even beyond, his acquittal by the Court of Appeal in 1983. The tragedy of the failure is compounded by evidence that this miscarriage of justice could – and should – have been prevented, or at least corrected quickly, if those involved in the system had carried out their duties in a professional and/or competent manner. That they did not is due, in part at least, to the fact that Donald Marshall, Jr. is a Native. (p.1)
We are also the province of the Black Learners Advisory Committee Report on Education: Redressing Inequity – Empowering Black Learners (1994). This report was produced as part of a comprehensive study of the education inequities that exist for African Nova Scotians (ANS). It produced 3 volumes of materials and 30 recommendations for education reform. That systemic racism exists in the Nova Scotia education system was well described by this report:
"Black Nova Scotians, like other Black Canadians, are victimized by a racist ideology and a racist social structure. Racism permeates the entire social, economic, political and cultural environment of Nova Scotian and Canadian….
During the BLAC research, we encountered widespread condemnation of the education system as biased, insensitive and racist. Systemic racism was seen as manifested in student assessment and placement; in labelling of large numbers of Black students as slow learners or having behaviour problems; in steraming (sic); in low teacher expectation; in denigration by and exclusion of Blacks from the curriculum; and in the total lack of responsiveness to the needs of Black learners and concerns of the Black community." (pp. 34, 35)
Similarly, the differential and disadvantageous experience of African Canadians in the federal corrections system has been documented by the Office of the Correctional Investigator in it year end report in 2013. Nova Scotia's review of the Mental Health and Addictions system produced the Together We Can Strategy (2012) found that African Nova Scotians were among a number of diverse communities whose mental health and addictions treatment needs had not yet been served sufficiently. This Nova Scotian finding was identified earlier in a national study completed by a subcommittee of the Mental Health Commission of Canada. The document they produced: Improving Mental Health Services for Immigrant, Refugee, Ethno-Cultural and Racialized Groups: Issues and Options for Service Improvement (2009). It is interesting to note, that I served on the MHCC subcommittee and was a contributor to that report. Ms. Lana MacLean, my colleague and friend who is also a person who conducts IRCAs served on the committee that produced the Nova Scotia review document.
Knowing all of this, an IRCA then seeks to understand how an individual's ANS heritage and interaction with formal and informal systems has affected their involvement in criminal behaviour, will be a factor in their treatment while incarcerated, and will be a factor in their rehabilitation and reintegration in the community. These issues are consistent with the expectations of the report described in Judge Curran's order requesting: "preparation of a cultural assessment report regarding his African Nova Scotian background and any cultural factors and racial factors which are suggested to be systemic in nature, but may also have individual impacts on him," Examination of "the role played by Derek Demitrius Faulkner's cultural and racial background with respect to the criminal offence herein."
Preparation of this Report
In preparing this report I have participated in the following activities:
• Interview in person of Mr. Faulkner at Northeast Nova Scotia Correctional Facility
• Review of JEIN report, Crown Brief and other Disclosure material
• Interview by phone of Mr. Michael Dull, counsel for Mr. Faulkner in the civil matter
• I attempted contact with other collaterals but were not able to reach them in time for the drafting of this report. I will continue to reach out to collaterals in the event that I am called to testify on this report.
According to the cultural report, Nova Scotians engage in system racism. This is the case of R. v. Faulkner, 2019 NSPC 36 (CanLII).
It had nothing to do with any of the AGGRAVATING FACTORS that were cited in Paragraph 5 of the sentencing report
II AGGRAVATING FACTORS
(1) Robbery is inherently violent and there were implied threats of violence to clerk #1 and specific to #2
(2) Lengthy record including two robberies, 2005/2009
(3) Accused released from custody; breached release
(4) Prolonged nature of the offence – accused was in store for over an hour
(5) Clerk asked member of public to call police
Nothing to do with committing a robbery and making threats.
Nothing to do with a robbery in 2005.
Nothing to do with a robbery in 2009.
Nothing to do with other criminal convictions.
Nothing to do with being in the store over an hour.
Nothing to do with breaching conditions of release.
The court needs to consider the "systemic racism" that blacks face.
Yeah, it's all about those racist Nova Scotians. Turned him into a career criminal.
5. Section 15 Of Canadian Charter
Equality Rights
Marginal note:
Equality before and under law and equal protection and benefit of law
15. (1) Every individual is equal before and under the law and has the right to the equal protection and equal benefit of the law without discrimination and, in particular, without discrimination based on race, national or ethnic origin, colour, religion, sex, age or mental or physical disability.
Marginal note:
Affirmative action programs
(2) Subsection (1) does not preclude any law, program or activity that has as its object the amelioration of conditions of disadvantaged individuals or groups including those that are disadvantaged because of race, national or ethnic origin, colour, religion, sex, age or mental or physical disability.
Serious question: under the Canadian Charter, would this count as a law that ameliorates conditions of disadvantaged individuals? Guess we aren't so equal after all.
6. Follow-up To Old Story
This topic was covered in a previous article in June last year. It was reported that this may become the law of the land. Admittedly I should have checked deeper into it at the time.
However, it seems that these cases have been going on for many years. The National Post just missed that detail. It just has not been codified into law — yet.
How exactly do we live in any sort of just society, when there are different rules and standards for people based on their skin colour? This completely flies in the face of equality under the law, which SHOULD apply to everyone.
7. 3 Levels Of Justice Now?
Under the Gladue ruling, judges are REQUIRED to take an Aboriginal person's background into account when handing down sentencing. There is no discretion in the matter.
However, for blacks, judges MAY take race and circumstances into account, but this is not mandatory.
Everyone else, though, must take responsibility for their own actions. They don't have the race card to play.