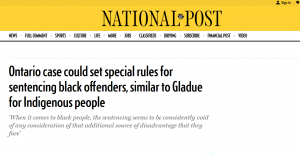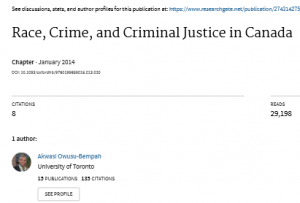 1. Important Links
CLICK HERE, for the case R. v. Morris, [2018] O.J. No. 4631.
CLICK HERE, for the Canadian Criminal Code, robbery section.
CLICK HERE, for the Canadian Criminal Code, firearms section.
CLICK HERE, for a National Post article covering a case where an Ontario criminal court judge wants to expand "Gladue" to include blacks.
CLICK HERE, for a similar article.
CLICK HERE, for a University of Toronto research paper on race, crime and incarceration.
CLICK HERE, for FBI Uniform Crime Reporting, Table 21
CLICK HERE, for UK demographic crime data.
Background From Gladue
R. v. Gladue, 1997 CanLII 3015 (BC CA)
R. v. Gladue, [1999] 1 SCR 688, 1999 CanLII 679 (SCC)
R. v. Ipeelee, [2012] 1 SCR 433, 2012 SCC 13 (CanLII)
CLICK HERE, for race-based discounts in criminal court.
CLICK HERE, for child-killer Terri McClintic going to a "healing lodge".
CLICK HERE, for incarceration rates among Aboriginals.
2. Quotes From Ruling
In a way this is not surprising at all. The 1997/1999 Gladue rulings created essentially a "discount" for Aboriginal offenders specifically on the basis of "historical oppression".
Now, there is a case that is pending before the Ontario Court of Appeals, which could see the same provisions apply to blacks as well. This is a (potential) expansion of a horrible idea: race-based-discounts in the criminal justice system.
People should be outraged by this. Your crime, seriousness, and past (if any) criminal record should impact your sentence. Not your race, ethnicity, or skin colour. It is the anti-thesis of equality under the law.
[2] A jury found you guilty of a number of offences. I convicted you of possession of an unauthorized firearm, possession of a prohibited firearm with ammunition, and carrying a concealed weapon. The jury acquitted you of assaulting a peace officer with intent to resist arrest.
[3] The basic facts of your crime are straightforward. On December 13, 2014, the police received a call about a home invasion in Scarborough. As the police officers sent to investigate drove to the scene, they came upon four Black males walking in the parking lot. The officers were in plainclothes and drove unmarked police cars. One officer stopped the young men. You were one of them. You ran. As you ran, D.C. Moorcroft, who was not the officer who stopped you but was also driving into the lot, accelerated to stop you.
Police were responding to a home invasion. When they arrived, there just happened to be 4 black men in the area, and the defendant took off.
Of course, it is just a coincidence that he had a gun on him. Now it is apparently a charter violation that a police car was used to stop him.
[6] I must now sentence you for your offences. Let me go over what the Crown and your defence lawyers said should be the sentence. These positions were pretty far apart. The Crown asked for 4 to 4.5 years in jail. Your lawyers argued that the sentence should be 1 year before credit was given for the Charter breaches.
There is something here we are not being told. The Crown (supposedly) wants 4 to 4.5 years for gun possession for a first time offender? What else went on that is not included?
[9] Let me briefly explain to you what I did in Jackson. I began my judgment in that case by saying sentencing is a very individual process. The criminal law has recognized that there are cases where, in order to determine a fit and proportionate sentence, consideration must be given to an individual's systemic and social circumstances. These circumstances may extend beyond a person who is being sentenced to include factors such a systemic discrimination and historical injustice. This has been recognized by the criminal courts, particularly in the case of Indigenous offenders. While the distinct history of colonial violence endured by Indigenous peoples cannot simply be analogized to Black Canadians, I found that the ability to consider social context in a sentencing decision is extended to all under section 718.2(e) of the Criminal Code. This allowed me to consider the unique social history of Black Canadians in sentencing Mr. Jackson. Mr. Jackson was a Black male offender not too much older than you, who pleaded guilty to a charge of possession of a prohibited gun. His lawyers presented a great deal of evidence to me on systemic anti-Black racism and its role in Mr. Jackson's life. I took note of this evidence. I also took judicial notice, independently of these materials, of the history of colonialism, slavery, policies and practices of segregation, intergenerational trauma, and both overt and systemic racism that continue to affect Black Canadians today. With an understanding of these social factors I was able to better appreciate the circumstances that led Mr. Jackson to come before me. I sentenced him accordingly.
Gladue was horrible for exactly this reason. Instead of holding people accountable to as similar a standard as possible, some get to play the "oppression card" and get much lighter sentences. It stands the idea of equality before the law completely on its head.
The ruling would then go on to quote some social worker at length about the struggles that blacks face, and how its circumstances must be considered.
[66] Giving your acts a contextual analysis in light of the wealth of evidence provided to me on this sentencing, I do not find this to be a weighty aggravating factor in your case. I appreciate that accused people should not flee from police. Especially carrying a loaded firearm. But it is understandable to me that you ran. It was not a coldly calculated act to escape but one based upon emotion and a state of mind that has been shaped both generally and specifically by the historical racism suffered by Blacks and by you. In other words, not every flight from the police should be treated the same. Here there is a connection in the evidence between your act of flight and the systemic factors. I find it would be wrong to punish you more severely for this. When I view how anti-Black racism and historical injustices have contributed to your actions, the needs of general deterrence and denunciation normally raised by this act of flight is tempered. Given that the choice you made to do so was affected by these factors, the moral blameworthiness of your actions is also lessened.
[67] In addition, in assessing the seriousness of the offences, when I look at potential aggravating factors that often exist in the case law, here, there is no evidence that your possession of the gun is connected with other crimes such as crimes of violence or drug trafficking.
[68] There are also some very traditional mitigating factors. You are a first offender. You were young when you committed these crimes. You were 22 years old. You have supportive family and friends. There is a side of you that speaks well to your rehabilitation. I have mentioned them before. Your warmth, kindness, and respectfulness.
Being a young, first time offender is a legitimate reason to cut someone a break. No argument on that point.
But that is where the agreement ends. All this nonsense about historical racism and systemic factors (repeated throughout the ruling), was nauseating to read.
[81] Sentencing must always be an individual process. In these cases judges gave sentences of 1 year, 15 months, 18 months, just under 2 years. Some of these sentences were permitted to be served in the community rather than in jail. The cases are: R. v. Ishmael, 2014 ONCJ 136; R. v. Garton, 2018 ONSC 544; R. v. Rutledge, 2015 ONSC 6625; R. v. Shunmuganathan, 2016 ONCJ 519;
R. v. Nuttley, 2013 ONCJ 727;
R. v. Kelsy, [2008] O.J. No. 3879;
R. v. Cadienhead, [2015] O.J. No. 3125;
R. v. Williams, [2011] O.J. No. 3352 (S.C.J.);
R. v. Brown, [2006] O.J. No. 4681 (S.C.J.);
R. v. Carranza, [2004] O.J. No. 6041 (S.C.J.)
Fair enough. The Judge was looking for a little consistency.
[82]82 Now I want to talk about that elephant in the room. I know you are in custody on other charges. What those charges are were not explained to me by either the Crown or your lawyers. However, I do know from some of the materials filed what the charges are said to be. Of course, there is a charge of breaching your bail. There are also some other offences. But they are not gun offences. Your surety surrendered your bail so you are in custody on the charges I am sentencing you for. To someone hearing this, I am sure they will say you have not behaved well while on bail. They may be right. But you are presumed innocent of these alleged new offences. I am sentencing you as a first offender. Someone without a criminal record. The new charges do not change that. The presumption of innocence is the foundation of our criminal justice system. While it may be hard for many to understand, I cannot let that foundation be eroded or chipped away by taking into account the new charges.
So, "first-timer" comes with a few caveats: Morris breached his bail, and is facing additional charges. However, the Judge has decided to ignore this in sentencing him as a first-timer.
It would be nice to know how exactly bail was breached, and what exactly the other charges are. But they are not mentioned.
[92] I also find that the anti-Black racism evidence presented on the sentencing is relevant in assessing the weight I should give this. Racism can operate very subtly. It can be there lurking in the background of people's minds, unconsciously influencing their judgment and making them act in certain ways towards certain people.
[93] I want to be clear that I am not painting the police with the brush of overt racism in this case. I do not have the evidence to support that. But I am troubled. If I asked myself: If it was someone other than a young Black man running away from the police that night, would D.C. Moorcroft have driven in the aggressive way that he did? Would Mr. Morris and the car have collided? I am troubled because in all honesty, I cannot conclude it would have happened in the same way.
So, racism happens, but I have no evidence that there was any in this case. Therefore, I will still bring it up as a mitigating factor.
This Judge talks in circles about how there is all this systemic racism, and how it can be very subtle. Yet he notes that there is no proof that there was racism in this case. So what is the point then?
E. CONCLUSION
[97] After mitigation for the Charter violations, I have sentenced you to a jail sentence of 12 months. You have done a lot of dead time. The sentence will be based upon the credit you will receive for that dead time. I will credit you 1.5 to 1 for that pre-trial custody. The evidence shows that you received no real programming, had a difficult time in jail, and at times experienced physical discomfort in jail due to your medical conditions. You also did not receive consideration for parole or remission while in pre-trial custody. I find it right to give this enhanced credit. Therefore, 243 days of pre-trial custody will be used up. You will be sentenced to a further 1 day in jail on each charge concurrently. I also made a DNA order, s. 109 weapons prohibition, and the forfeiture order.
So not even a year. Just 8 months.
3. University of Toronto Article On Race & Crime
Although not specific to this case, this article by Akwasi Owusu-Bempah is an interesting read. If nothing else, it shows the extent that this academic will go to avoid the obvious conclusion:
SOME GROUPS JUST COMMIT MORE CRIME
Yes, that's it. Groups are not equal when it comes to committing crime. That is the hard truth that lawyers, judges, politicians, academics and social workers refuse to address.
On the topic of "disparity", it's worth noting that males make up over 90% of prison inmates. However, there is no push claiming discrimination against them. Oh, the double standards.
Instead, he will talk in circles. Owusu-Bempah will blame mistrust, victimization in black and Aboriginal neighbourhoods, racial bias (without proving it), and Court discrimination (again, without proving it). Although the author touches the topic of crime rates, he avoids making any definitive statements. It's like he is deliberately avoiding the obvious answer.
Abstract and Keywords
Canada effectively bans systematic collection and dissemination of racially disaggregated criminal justice statistics. A significant proportion of Canada's racial minority populations perceive bias in the criminal justice system, especially on the part of police. Aboriginal and black Canadians are grossly overrepresented in Canada's correctional institutions. Some evidence suggests that both Aboriginal and black populations are overrepresented with respect to violent offending and victimization. Social conditions in which Aboriginal and black Canadians live are at least partially to blame for their possibly elevated rates of violent offending. Evidence indicates that racial bias exists in the administration of Canadian criminal justice. At times, this discrimination has been supported by court decisions. Discrimination and disparity are at times acknowledged by government, but they are seldom wholeheartedly addressed. There is a lack of political will to address issues of racial minority overrepresentation in relation to manifestations of racial discrimination or to the societal conditions that lead to criminal offending.
Oh, the mental gymnastics of the author are blatant:
Minorities "perceive" bias against them
There is overrepresentation
Bias in administration
Government acknowledges disparity
No political will to address overrepresentation
Societal conditions lead to offending
However:
The author mentions overrepresentation regarding offending, but immediately lumps it in with "victimization", as if to muddy the waters
Lack of available objective data, yet we are able to make conclusions based on much more subjective things, such as perceived bias
Right, not elevated rates, but "possibly" elevated rates
Connections among race, crime, and criminal justice are often portrayed in Canadian media images and are captured in the popular imagination. Yet, in comparison to the United States and Great Britain, these phenomena receive relatively little attention from Canadian academics and policy makers. A lack of readily available criminal justice data disaggregated by race makes it particularly difficult for researchers to examine the nature of these racial differences. Thus, we are unable to determine the extent to which higher rates of offending among certain racial groups and discrimination in the administration of criminal justice contribute to the apparent overrepresentation
There's a lack of data, but this author will still make claims about bias and discrimination, without actually proving it. He will also tap-dance around the obvious: If a group commits crime at a much higher rate, doesn't that justify higher incarceration rates?
Nonetheless, available evidence indicates that a significant proportion of Canada's racial minority populations and a sizable proportion of the white population perceive bias in the criminal justice system. These public perceptions are supported by data that show that certain racial minority groups, particularly Aboriginal and black Canadians, are grossly overrepresented in Canada's correctional institutions. Further evidence indicates that racial bias does exist in the administration of Canadian criminal justice, and, at times, this discrimination has been supported by court decisions. We cannot discount, however, the probability that increased rates of offending among certain racialized groups contributes to their overrepresentation in correctional statistics. As we show in this essay, research suggests that Aboriginal and black Canadians are overrepresented with respect to violent offending and victimization. The Canadian federal government itself has pointed out that the social conditions in which Aboriginals live is at least partially to blame for their rates of violent offending (Department of Justice 2009). We have previously made the same connection with respect to black Canadians (Wortley and Owusu-Bempah2011a).
Owusu-Bempah contradicts himself here. He claims there is "perceived" bias from many people. Not "actual" bias, but perceived bias. He then goes on to say that there is overrepresentation among certain groups.
He then offers a perfectly reasonable explanation for the higher incarceration rate: increased offending.
Just a thought. If a certain group commits crime at a higher rate, then it is not bias or discrimination that there would be more of them involved with the courts.
Unfortunately, there is an apparent lack of political will to address issues of racial minority overrepresentation in the Canadian criminal justice system. Ambivalence to address these issues relates both to the manifestations of racial discrimination in the system, as well as to the societal conditions that lead to criminal offending. Discrimination and disparity may be at times acknowledged, but they are seldom wholeheartedly addressed. When addressed, the means are seldom thoroughly evaluated for effectiveness, and, when evaluated, the results are rarely made public.
Difficult to believe, but this is just the next paragraph. Owusu-Bempah claims there is no political will to address racial minority overrepresentation. Yet, he previously commented that there was a higher rate of offending.
This seems like a solution in search of a problem.
Many have argued that relatively high rates of homicide and gun crime among African Canadians and Aboriginals in Canada are reflective of their overrepresentation in street gangs. Unfortunately, official police statistics on Canadian gangs are almost nonexistent
Yeah, good job.
Canada's reluctance to acknowledge and document race is most evident in the operation of its criminal justice system and in its criminal justice policies. Unlike in the United States and the United Kingdom, where race-based criminal justice statistics are readily available to the public and researchers alike, the Canadian criminal justice system does not systematically collect or publish statistics on the race of individuals processed through the system. The debate over the collection of racial data from the criminal justice sector in Canada can be traced back as far as 1929 (Roberts 1992). Discussions about the collection, or more accurately, the public release of these data have emerged more recently in the context of broader debates about race, crime, and the administration of criminal justice—particularly related to the circumstances of Aboriginal and black Canadians (Hatt 1994; Johnston 1994; Gabor 1994; Roberts 1994; Wortley 1999; Owusu-Bempah and Millar 2010). On the one hand, allegations of racial discrimination have been leveled against the justice system to explain the overrepresentation of certain racial minority groups in the few available sources of police and correctional data. On the other hand, it has been suggested that racial minorities are disproportionately involved in criminal activity, which accounts for their disproportionate involvement with the criminal justice system as reflected in the data. Unfortunately, our ability to test either of these claims is limited by the absence of available data, despite numerous calls for its collection. Several major attempts have been made in Canada to collect racial and ethnic data, particularly in the policing sector (Fine 1990; Wortley and Marshall 2005; Leclair InfoCom 2009); these attempts, however, have not paved the way for systematic data collection
The author addresses crime rates, but gives a wishy washy answer. There's not enough data to tell one way or another whether it is: (a) discrimination; or (b) actual crime, that results in the disparities. Yet, feelings about perceived bias and virtue signalling bureaucrats apologizing are apparently good evidence.
There is an interesting point to be taken from this: if there was concrete data on race and crime rates, then the debate could be put to bed once and for all.
The article keeps repeating the same idea and muddying the waters: we don't have data, so we can't be sure what causes discrepancies in the representation.
If the author wanted a reference point, why not check the data from the US and UK? After all, he knows it is there.
4. Crime Data From Britain
CLICK HERE, for UK demographic crime data.
There were 698,737 arrests in 2017/18, a fall of 8% on the previous year – both years' figures exclude Lancashire Police (see 'Things you need to know')
-Black people were over 3 times as likely to be arrested as White people – there were 35 arrests for every 1,000 —Black people, and 11 arrests for every 1,000 White people
-overall, men were over 5 times as likely to be arrested as women – there were 22 arrests for every 1,000 men, and -4 arrests for every 1,000 women
-Black women were more than twice as likely to be arrested as White women – there were 7 arrests for every 1,000 —Black women, and 3 arrests for every 1,000 White women
And a few pages later,
there were 698,737 arrests in England and Wales in 2017/18 (excluding the Lancashire police force area), at a rate of 13 arrests per 1,000 people
there were 62,501 fewer arrests in 2017/18 compared with the previous year, a fall of 8% (excluding Lancashire Police from both years)
Black people were over 3 times as likely to be arrested as White people – there were 35 arrests for every 1,000 Black people, and 11 arrests for every 1,000 White people
people with Mixed ethnicity were over twice as likely to be arrested as White people – there were 25 arrests for every 1,000 people with Mixed ethnicity, and 11 arrests for every 1,000 White people
So the UK Government is willing to be quite open and blunt about the disparities in race and offending. And what about the US.
5. Crime Data From US FBI
CLICK HERE, for FBI Uniform Crime Reporting, Table 21. This is compiled from 2016, though the stats over the years don't change much.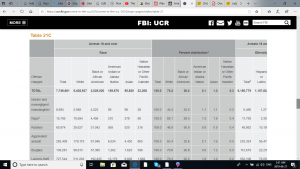 Looking at Table 21C (people aged 18 or over)
Worth noting the US black population is about 13% commits:
52% of homicides
28% of rapes
51% of robberies
32% of aggravated assault
36% of violent crime
41% of weapons carrying
30% buying stolen property
…. and so on.
Are blacks greatly overrepresented in US prisons? Absolutely. And for a very good reason — disproportionate amount of violent and serious crime.
Are US sentences in general too harsh? A fair point, but a topic for another day. This post concerns treating people equally.
6. Gladue 2.0 Addresses Wrong Problem
With this proposed change, the scope of Gladue will be broadened. This means that it will not be restricted to Aboriginals.
The claim is that this will reduce overrepresentation in the courts and prison system. Problem is: it focuses on making prisons look like a random sample of society, rather than a reflection of who is actually committing the most serious crime.
It's what liberals do not want to acknowledge:
SOME GROUPS JUST COMMIT MORE CRIME
It is not necessarily due to "oppression" or "systemic bias", or any other such nonsense. It is caused by these groups, on average, behaving differently. While it is obviously desirable for society to reduce crime and their prison populations, this is a backwards approach.
Should the Ontario Court of Appeals (and possibly the Supreme Court of Canada) confirm this nonsense, racial equality dies. Your skin colour will determine your punishment, not your crime. Though arguably that was the case with Gladue.
Keep in mind, it is the Supreme Court of Canada that upheld Gladue in the first place (appealed from BC). There is nothing to indicated they wouldn't extend their ruling to this.