(Post Media, which owns most "conservative" media outlets in Canada)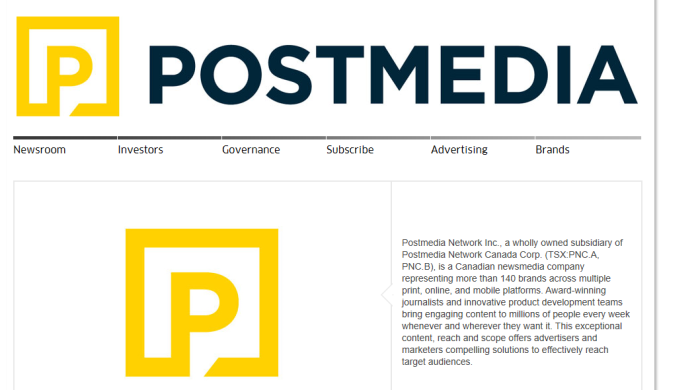 (Atlas Network, which funds 12 (was 13) groups in Canada, 140 in U.S.)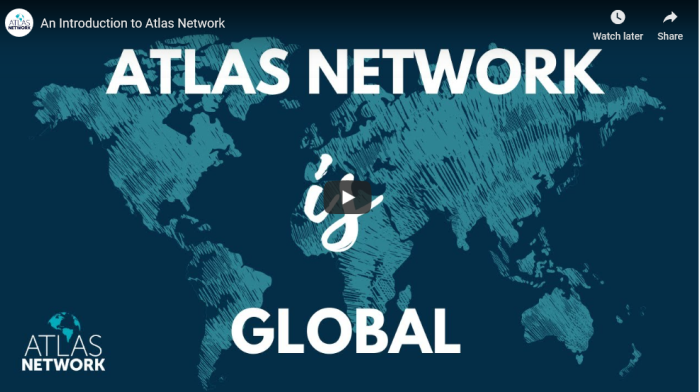 1. Media Bias, Lies, Omissions And Corruption
(1) https://canucklaw.ca/unifor-denies-crawling-into-bed-with-government
(2) https://canucklaw.ca/full-scale-of-inadmissibles-getting-residency-permits-what-global-news-leaves-out/
2. Important Links
(1) http://www.postmedia.com/
(2) http://www.postmedia.com/brands/
(3) http://archive.is/3XVkQ
(4) http://www.postmedia.com/brands/communities/
(5) http://archive.is/vnQHe
(6) http://www.postmedia.com/brands/specialty-publications/
(7) http://archive.is/na2pj
(8) http://www.postmedia.com/governance-2/governance/
(9) http://archive.is/kCJ2Q (current)
(10) http://archive.is/FcCBZ (3 years ago)
(11) http://www.postmedia.com/governance-2/senior-management/
(12) http://archive.is/dLjPY
(13) https://www.atlasnetwork.org/partners/global-directory/canada
(14) http://archive.is/3ytVX
(15) https://www.atlasnetwork.org/partners/global-directory/united-states/5
(16) http://archive.is/faeRd
(17) https://www.atlasnetwork.org/partners/global-directory/europe-and-central-asia/4
(18) http://archive.is/jn4ik
(19) https://www.atlasnetwork.org/partners/global-directory/east-asia-and-pacific/2
(20) http://archive.is/WhgMl
(21) https://www.atlasnetwork.org/partners/global-directory/latin-america-and-caribbean/3
(22) http://archive.is/OtI6o
(23) https://www.atlasnetwork.org/partners/global-directory/middle-east-and-north-africa
(24) http://archive.is/nwWR0
(25) https://www.atlasnetwork.org/partners/global-directory/africa
(26) http://archive.is/Rto7L
(27) https://www.atlasnetwork.org/partners/global-directory/south-asia
(28) http://archive.is/shhAo
(29) https://www.atlasnetwork.org/partners/global-directory/australia-and-new-zealand
(30) http://archive.is/fTPfH
(31) https://www.atlasnetwork.org/assets/uploads/misc/LFFD14_Social_Media_One-Pager.pdf
(32) http://archive.is/C0Yjx/image
(33) https://www.vancouverobserver.com/politics/2012/04/28/us-republican-koch-oil-billionaires-help-fund-fraser-institute-why-fraser
(34) http://archive.is/ewj9H
(35) https://www.fraserinstitute.org/profile/tom-flanagan
(36) http://archive.is/pfjM8
(37) https://daniellesmith.ca/bio/
(38) http://archive.is/MBEY8
(39) https://www.fraserinstitute.org/sites/default/files/CanadianStudentReview_Spring2005.pdf
(40) http://archive.is/y1im1
(41) Canadian Student Review Spring 2005
(42) https://www.taxpayer.com/blog/tax-talk–45–alison-redford-s-legacy-w–derek-fildebrandt
(43) http://archive.is/HtiM6
(44) http://www.nationalcitizens.ca/spencer_fernando_joins_ncc_election_2019
(45) http://archive.is/4n5zg
3. Context For This Piece
It doesn't really need much of an explanation. People should know who is really behind their media and how independent these organizations really are. Yes, it's a bit hypocritical to run this site anonymously.
Taking Canada as an example: a lot of the "conservative" or right-leaning outfits are owned and controlled by Post Media. Yes, it is a virtual monopoly.
Also worth noting: many of the "right-leaning" think tanks are controlled by one organization, Atlas Network. The same people just resurface under different names. These groups help influence globalist policies such as mass migration and globalized trade.
And in going through the names, one ethnic group seemed to appear an awful lot, much more than its percentage of the population would suggest.
4. Post Media Owns A Lot
Here's a quick rundown of some of the more mainstream media outlets in Canada. Most of these names should be familiar to people.
Calgary Herald
Calgary Sun
Canada.com
Canoe.com
Celebrating.com
Driving
Edmonton Journal
Growth Op
Healthing.ca
London Free Press
Montreal Gazette
National Post
Ottawa Citizen
Regina-Leader Post
Remembering.ca
Saskatoon StarPhoenix
The Province
Toronto Sun
Vancouver Sun
Windsor Star
Winnipeg Sun
Of course, this doesn't cover countless smaller publications that this media giant owns. Scary, just how many "voices" are controlled by one source. Now, let's show the Postmedia "communities". A much longer list, and many have their websites included.
Alberta Outlets
Airdrie Echo
http://www.airdrieecho.com
Bow Valley Crag & Canyon (Banff)
http://www.banffcragandcanyon.com
Cochrane Times
http://www.cochranetimes.com
The Cold Lake Sun
http://www.coldlakesun.com
Devon Dispatch
https://www.devondispatch.ca
The Drayton Valley Western Review
http://www.draytonvalleywesternreview.com
Edmonton Examiner
http://www.edmontonexaminer.com
The Fairview Post
http://www.fairviewpost.com
Fort McMurray Today
http://www.fortmcmurraytoday.com
The Grove Examiner (Spruce Grove)
http://www.sprucegroveexaminer.com
The Hanna Herald
http://www.hannaherald.com
The High River Times
http://www.highrivertimes.com/
La Nouvelle Beaumont News (Beaumont)
http://www.thebeaumontnews.ca/
Leduc Rep
http://www.leducrep.com/
The Leduc-Wetaskiwin County Market
http://www.countymarket.ca/
The Mayerthorpe Freelancer
http://www.mayerthorpefreelancer.com
The Nanton News
http://www.nantonnews.com
The Peace Country Sun (Grande Prairie)
http://www.peacecountrysun.com
Peace River Record-Gazette
http://www.prrecordgazette.com
Pincher Creek Echo
http://www.pinchercreekecho.com
The Record (Fort Saskatchewan)
http://www.fortsaskatchewanrecord.com
The Sherwood Park News
http://www.sherwoodparknews.com
The Stony Plain Reporter
http://stonyplainreporter.com/
The Vulcan Advocate
http://www.vulcanadvocate.com
Wetaskiwin Times
http://www.wetaskiwintimes.com/
The Whitecourt Star
http://www.whitecourtstar.com
Vermilion Standard
http://www.vermilionstandard.com
Saskatchewan Outlets
Bridges (Saskatoon)
http://thestarphoenix.com/category/life/bridges
Melfort Journal
http://www.melfortjournal.com
Nipawin Journal
http://www.nipawinjournal.com
Northeast Sun (Melfort)
http://www.melfortjournal.com
QC (Regina)
http://leaderpost.com/category/life/qc
Manitoba Outlets
The Graphic (Portage la Prairie)
http://www.portagedailygraphic.com
Herald Leader (Portage la Prairie)
http://www.cpheraldleader.com
The Interlake Spectator (Gimli)
http://www.interlakespectator.com
The Morden Times
http://www.mordentimes.com
The Red River Valley Echo (Altona)
http://www.altonaecho.com
The Selkirk Journal
http://www.selkirkjournal.com
The Stonewall Argus & Teulon Times
http://www.stonewallargusteulontimes.com
The Valley Leader (Carman)
http://www.carmanvalleyleader.com
Winkler Times
http://www.winklertimes.com
Ontario Outlets
Brockville & Prescott This Week
Chatham-Kent This Week
http://www.chathamthisweek.com
Clinton News-Record
http://www.clintonnewsrecord.com
Cochrane Times-Post
http://www.cochranetimespost.com
The Complimentary (Cornwall)
Community Press (Belleville)
http://www.communitypress.ca/
The County Weekly News (Picton)
http://www.countyweeklynews.ca/
The Courier Press (Wallaceburg)
http://www.wallaceburgcourierpress.com
The Delhi News-Record
http://www.delhinewsrecord.com
The Elgin County Market (St. Thomas)
http://www.elgincountymarket.com
Exeter Lakeshore Times-Advance
http://www.lakeshoreadvance.com
Frontenac This Week
Gananoque Reporter
http://www.gananoquereporter.com/
Goderich Signal-Star
http://www.goderichsignalstar.com
Goderich Super Saver
Grey Bruce This Week (Owen Sound)
http://www.greybrucethisweek.ca/
Kenora Miner & News
http://www.kenoradailyminerandnews.com
The Kincardine News
http://www.kincardinenews.com
Kingston This Week
http://www.kingstonthisweek.com/
Kingsville Extra
Kingsville Reporter
Lakeshore News
Lakeshore Shopper (Simcoe-Tillsonburg)
LaSalle Post
The Londoner
http://www.thelondoner.ca
Lucknow Sentinel
http://www.lucknowsentinel.com
The Mid-North Monitor (Espanola)
http://www.midnorthmonitor.com/
Mitchell Advocate
http://www.mitchelladvocate.com
Napanee Guide
http://www.napaneeguide.com/
The Nugget Extra
Northern News (Kirkland Lake)
http://www.northernnews.ca/
Northern News This Week(Kirkland Lake)
Oxford Review (Woodstock)
http://www.oxfordreview.com
Paris Star
http://www.parisstaronline.com
The Post (Hanover)
http://www.thepost.on.ca/
Press (Stirling)
http://www.communitypress.ca/
Sarnia & Lambton County This Week
http://www.sarniathisweek.com
Sault This Week (Sault Ste. Marie)
http://www.saultthisweek.com/
Seaforth Huron Expositor
http://www.seaforthhuronexpositor.com
Shoreline Beacon (Port Elgin)
http://www.shorelinebeacon.com
Shoreline Week
Simcoe Reformer (TMC)
http://www.simcoereformer.ca
The Standard (Elliot Lake)
http://www.elliotlakestandard.ca/
Stratford Marketplace
http://www.stratfordbeaconherald.com/marketplace
Strathroy Age Dispatch
http://www.strathroyagedispatch.com
Tecumseh Shoreline Week
The Standard Extra
The Tillsonburg News
http://www.tillsonburgnews.com
Tilsbury Times
The Timmins Times
http://www.timminstimes.com
The Trentonian (Trenton)
http://www.trentonian.ca/
Weekender Times-Advance (Exeter)
West Elgin Chronicle
http://www.thechronicle-online.com
Wiarton Echo
http://www.wiartonecho.com
Windsor Star Review
Again, all of this is just what Post Media lists as owning. Not only the major news outlets, but many smaller "community" organizations as well. All of it is owned by one conglomerate. Speaks volumes for the independence and choice that exists in Canada.
5. Post Media Board Of Directors
Paul Godfrey (Executive Chair)
Mr. Godfrey is the Executive Chair of Postmedia. Previously Mr. Godfrey has served as President and Chief Executive Officer of Postmedia, President and Chief Executive Officer of National Post Inc., President and Chief Executive Officer of the Toronto Blue Jays Baseball Club, and spent 16 years with Sun Media Corporation, eventually taking the role of President and Chief Executive Officer. Mr. Godfrey has a proud record of public service including a record four terms (11 years) as the Chairman of the Municipality of Metropolitan Toronto. He served as the Chairman of the Ontario Lottery and Gaming Corporation from 2010 until 2013. He is Chairman of the board of RioCan Real Estate Investment Trust. He also serves on the board of Cargojet Inc. and serves as Vice Chairman of Baycrest Centre for Geriatric Care.
Peter Sharpe (Lead Director)
Mr. Sharpe retired as President and Chief Executive Officer of Cadillac Fairview Corporation in 2010, having served with the company for over 25 years. Mr. Sharpe is currently a director of Morguard Corporation, First Industrial REIT (US), and Allied Property REIT. Mr. Sharpe is also a past Chairman and current Trustee of the International Council of Shopping Centers.
Andrew MacLeod (Director)
Mr. MacLeod is the President and Chief Executive Officer of Postmedia Network Inc. He joined Postmedia in 2014 as EVP and Chief Commercial Officer and served as President and Chief Operating Officer in 2017. Prior to joining Postmedia, Mr. MacLeod held a number of senior executive positions in the technology sector, including serving as the Senior Vice President & Regional Managing Director of North America at BlackBerry. Mr. MacLeod also currently serves as a Director on the board for Waterfront Toronto and Communitech. Mr. MacLeod is a graduate of Western University (BA).
John Bode (Director)
Mr. Bode is currently Chief Operating Officer at ReaderLink Distribution Services. Previously, Mr. Bode owned and operated a strategic consultancy practice focused on working with companies, primarily legacy print media companies, undertaking major transformation initiatives and transactions. Prior to his consultancy practice, Mr. Bode was Chief Financial Officer at Tribune Publishing.
Janet Ecker (Director)
Janet Ecker recently retired from the role of President and CEO of Toronto Financial Services Alliance, having served in the role for nearly 13 years. Ms. Ecker served as a member of provincial parliament in Ontario from 1995 to 2003 and held the portfolios of Minister of Finance, Minister of Education, Minister of Community and Social Services and Government House Leader. In 2002 she was the first woman to deliver a budget in Ontario.
In November 2016, Ms. Ecker was named a Member of the Order of Canada for being a leader in the financial industry.
Wendy Henkelman (Director)
Ms. Henkelman is a corporate director with extensive experience in all aspects of the finance function including accounting, treasury, taxation, information systems, internal controls and risk management. She has held executive positions in major oil and gas companies including the VP, Treasury and Compliance with Penn West Exploration and Country Tax Manager at Shell Canada Limited. She began her career with KPMG LLP, progressing from the audit function to manager in the income tax group. Ms. Henkelman is a member of the board and is Treasurer for the Cochrane and Area Humane Society and has chaired major pension trusts of public corporations. She is the past President of the Canadian Petroleum Tax Society and is a former member of the Tax Executives Institute and the Canadian Tax Foundation. Ms. Henkelman currently sits on the Board of ATB Financial, where she sits on both the Audit and Human Resources committees.
Mary Junck (Director)
Ms. Junck is Chairman of Lee Enterprises, Incorporated, a leading provider of local news, information and advertising in 49 primarily midsize markets in the United States. Ms. Junck began her career at the Charlotte Observer in 1972 as marketing research manager. She later held senior executive positions at the former Times Mirror Company, as executive vice president of Times Mirror and president of Times Mirror Eastern Newspapers. Ms. Junck is the retired Chairman of the board of directors of The Associated Press, the world's oldest and largest newsgathering organization and serves on the board of Augustana College in Rock Island, Illinois, a private liberal arts college.
Daniel Rotstein (Director)
Mr. Rotstein serves as the Director of Human Resources/Risk Management for the City of Pembroke Pines, Florida and provides human resources, risk management, and administrative consulting services to companies in various industries, including American Media, Inc. Prior to that, Mr. Rotstein was the Executive Vice President, Human Resources and Administration, for American Media, Inc. Mr. Rotstein has over 25 years of experience holding human resources management positions in the manufacturing, financial services and retail services industries and has successfully assisted organizations in all facets of human resources, risk management and administration.
Graham Savage (Director)
Mr. Savage is a corporate director, and from 1997 to 2007 he was Chairman and Founding Partner of Callisto Capital, a private equity firm. Prior to that, Mr. Savage spent 21 years as a senior officer at Rogers Communications Inc. Mr. Savage is currently the Chairman of Sears Canada Inc. and a director of Cott Corporation. Mr. Savage previously served as a director of Canadian Tire Corp., Rogers Communications Inc., Sun Media Corp., Royal Group Technologies Ltd., Hollinger International Inc., among others.
6. Atlas Network's Canadian Partners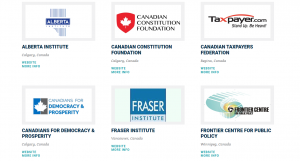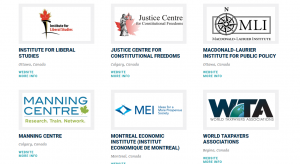 Alberta Institute
Canadian Constitution Foundation
Canadian Taxpayers Federation
Canadians For Democracy And Transparency
Fraser Institute
Frontier Center For Public Policy
Institute For Liberal Studies
Justice Center For Constitutional Freedoms
MacDonald-Laurier Institute For Public Policy
Manning Center
Montreal Economic Institute
World Taxpayers Federation
Why address Atlas Network? Because many of its operatives pretend to be objective and non-partisan in what they write and speak about.
While Atlas certainly does not have a monopoly on the paid shills in the media, there seem to be an awful lot of them who are connected. So let's take a look into it. Note: Not all will be conservative, but a lot of them are. Just shows they're all globalists.
7. Tom Flanagan: Author, Campaign Manager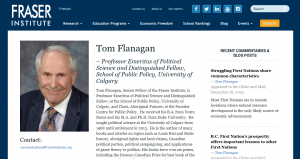 In the political realm, he managed Stephen Harper's campaigns for leadership of the Canadian Alliance and the Conservative Party of Canada, the 2004 Conservative national campaign, and the 2012 Wildrose Alberta provincial campaign.
When not involved in politics, Flanagan writes articles and books. Very prolific writer.
8. Danielle Smith: NewsTalk 770 Host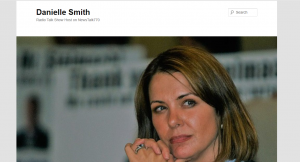 Smith interned for the Fraser Institute in 1996/1997. She also hosted Global Sunday and wrote for the Calgary Herald. After a stint in Alberta politics, she hosts an afternoon radio show.
9. Ezra Levant: Current "Rebel Commander"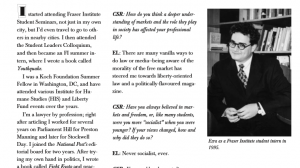 I started attending Fraser Institute Student Seminars, not just in my own city, but I'd even travel to go to others in nearby cities. I then attended the Student Leaders Colloquium, and then became an FI summer intern, where I wrote a book called Youthquake. I was a Koch Foundation Summer Fellow in Washington, DC, and have attended various Institute for Humane Studies (HIS) and Liberty Fund events over the years. I'm a lawyer by profession; right after articling I worked for several years on Parliament Hill for Preston Manning and later for Stockwell Day. I joined the National Post's editorial board for two years. After trying my own hand in politics, I wrote a book called Fight Kyoto and practiced law. Last January, with several other Fraser Institute alumni, I founded the Western Standard magazine, which publishes every two weeks in a classical liberal vein.
That's right. Ezra Levant cut his teethfor the Koch Foundation and the Fraser Institute. He then got involved in conservative politics and media outlets. One such venture was founding the Western Standard.
10. Derek Fildebrant: Western Standard Editor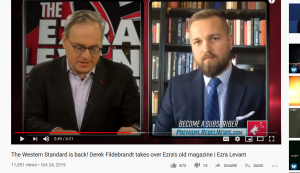 Fildebrandt used to be head of the Alberta Branch of the Canadian Taxpayer's Federation. However, people weren't happy when he used his training to privately sublet a publicly funded apartment. Now out of politics, he revived Ezra Levant's old publication, the Western Standard.
Interesting situation: Both Levant and Fildebrandt have ties to Atlas Network and Koch. Levant worked at Fraser Institute, Fildebrandt at the Canadian Taxpayer's Federation. One big happy family.
11. Candice Malcolm: Koch, Fraser Institute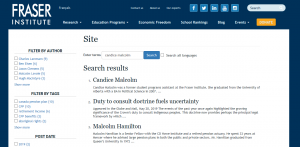 Candice worked for Koch and the Fraser Institute, before getting into journalism. She now runs True North Canada, which "identifies" as a non-profit group. Wonder who funds that.
12. Manny Montenegrino: Think Sharp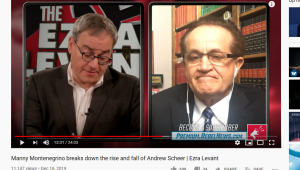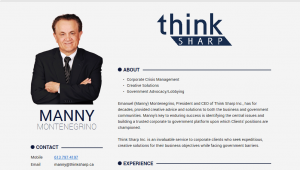 Manny works as a lobbyist, but comes on shows such as Rebel Media and promotes himself as a commentator. He is also an advisor for the Conservative Party of Canada.
13. Spencer Fernando: Nat'l Citizens Coalition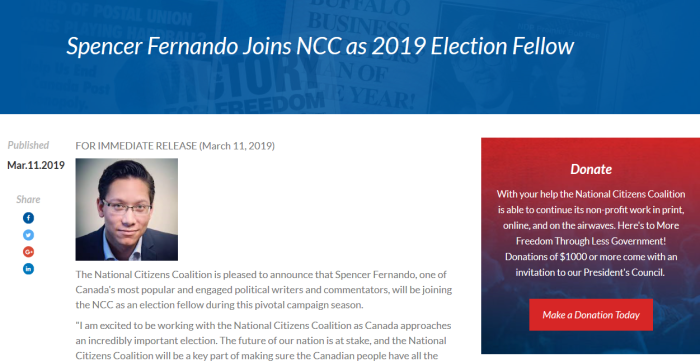 Fernando joined the National Citizen's Coalition, which is the organization Stephen Harper used to run. While at one time an independent writer and journalist, he is reduced to a mouthpiece and shill.
14: Chantel Hebert: Trudeau Foundation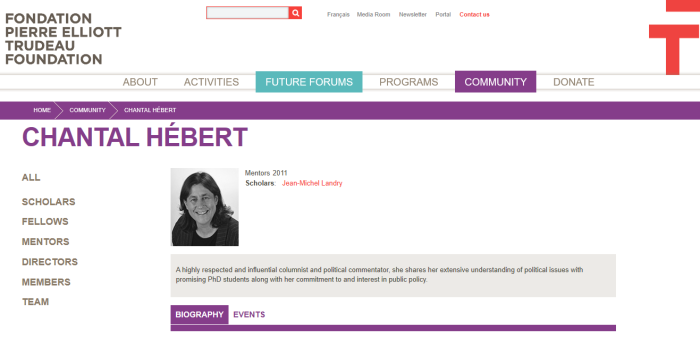 Quebec media figure Chantel Hebert is also a member of the Trudeau Foundation.
Chantal Hébert is a national affairs writer with the Toronto Star and a guest columnist for Le Devoir and L'Actualité. She is a weekly participant on the political panel At Issue on the CBC's The National as well as Radio-Canada's Les Coulisses du pouvoir.
Ms Hébert began her career in Toronto as a reporter for the regional newsroom of Radio-Canada in 1975 before moving on to Parliament Hill for Radio-Canada radio. She has served as parliamentary bureau chief for Le Devoir and La Presse.
Hébert is a graduate of Glendon College, York University. She is a Senior Fellow of Massey College at the University of Toronto and hold an honorary doctorate from Bishop's University. She is a recipient of two Asia-Pacific media fellowship (Malaysia and Japan). She is the 2005 recipient of the APEX Public Service Award. In 2006, she received the Hy Solomon award for excellence in journalism and public policy as well as York University's Pinnacle Achievement Bryden Alumni award. She is the author of a 2007 book titled French Kiss: Stephen Harper's Blind Date with Quebec.
Hébert is an Officer of the Order of Canada.
15. Alexandre Trudeau: Trudeau Foundation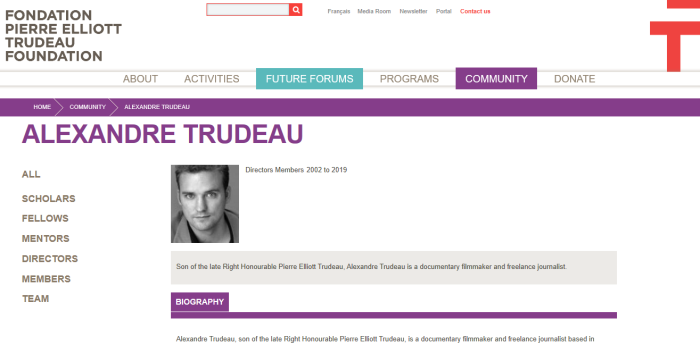 If making Islamic propaganda films counts as "independent journalism", then I guess this guy counts. Late brother of current Prime Minister, and son of former Prime Minister.
16. Canadian Media Is Controlled
Obviously, the list of media personalities with globalist ties is not exhaustive. There are more, but this article is getting long already. A few points to take away:
(A) Canada's media is essentially controlled by 1 organization — Post Media. It owns not only the major outlet, but many smaller ones as well. It's basically a monopoly.
(B) Even within so-called "conservative" and alt/indy media, there are many with globalist ties (such as with Koch, Atlas Network, or the Trudeau Foundation). As such, nothing they say can be taken at face value without doing research on the reporter.
(C) Looking at the names, a certain ethnic group appears a lot in the media, far more than it should. And no, it's not white people. Whatever happened to promoting diversity?