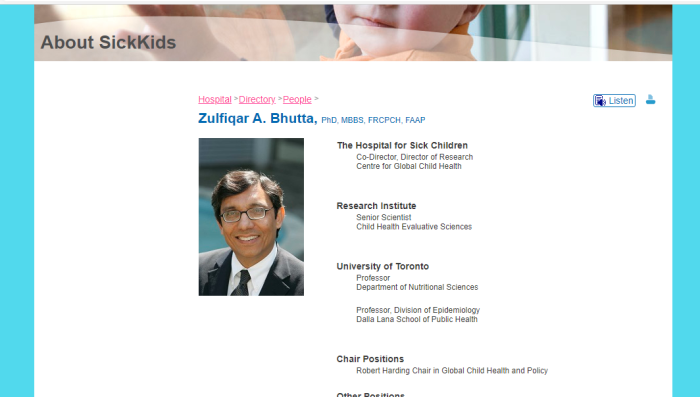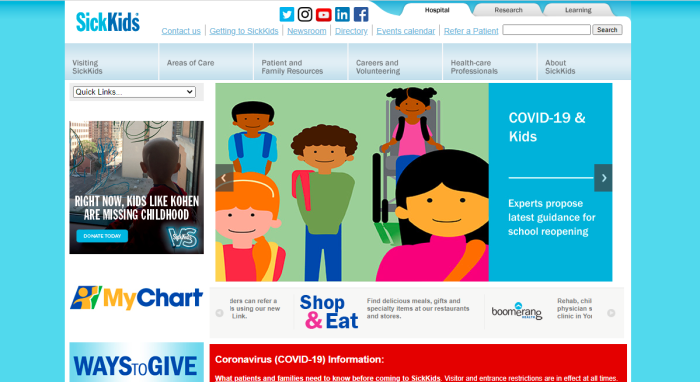 Zulfiqar A. Bhutta is the Co-Director, and Director of Research at Sick Kids Hospital. He has also held positions with: Aga Khan University, as the Founding Director of the Center of Excellence in Women and Child Health; GAVI, as a Global Academic Research Member; Bill & Melinda Gates Foundation Scientific Advisory Board; and more.
Time to explore another uncomfortable topic in the vaccine industry: the ties between Sick Kids Hospital in Toronto, and the Bill & Melinda Gates Foundation.
1. Other Articles On CV "Planned-emic"
The rest of the series is here. Many lies, lobbying, conflicts of interest, and various globalist agendas operating behind the scenes. The Gates Foundation finances many things, including, the World Health Organization, the Center for Disease Control, GAVI, ID2020, John Hopkins University, Imperial College London, the Pirbright Institute, the British Broadcasting Corporation, and individual pharmaceutical companies. Worth mentioning: there is little to no science behind what our officials are doing; they promote degenerate behaviour; the Australian Department of Health admits the PCR tests don't work; the US CDC admits testing is heavily flawed; and The International Health Regulations (IHR), that the WHO imposes are legally binding on all members.
2. Zulfiqar A. Bhutta, His Many Roles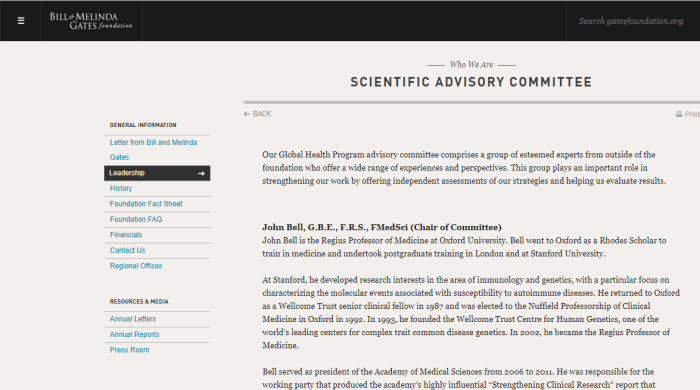 Zulfiqar A. Bhutta, M.B.B.S., D.C.H., F.R.C.P., F.R.C.P.C.H., F.C.P.S., F.A.A.P., Ph.D.
Zulfiqar A. Bhutta is the Robert Harding Inaugural Chair in Global Child Health at Toronto's Hospital for Sick Children, co-director of the SickKids Centre for Global Child Health, and the founding director of the Centre of Excellence in Women and Child Health at the Aga Khan University. He also holds adjunct professorships at several leading universities, including the School of Public Health at Johns Hopkins University, Tufts University, Boston University School of Public Health, University of Alberta, and the London School of Hygiene and Tropical Medicine. He is Distinguished National Professor of the Government of Pakistan and was the founding chair of Pakistan's National Research Ethics Committee from 2003 to 2014.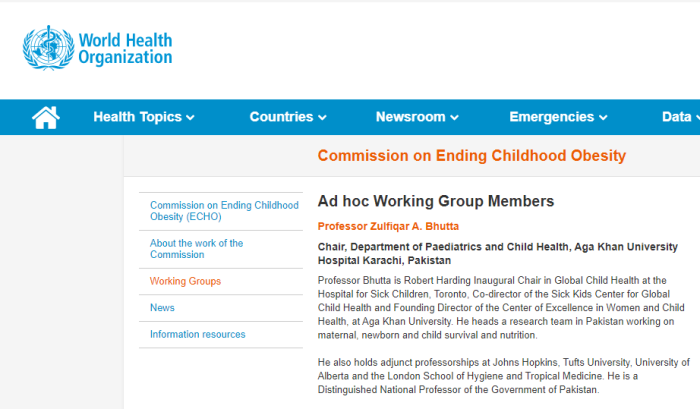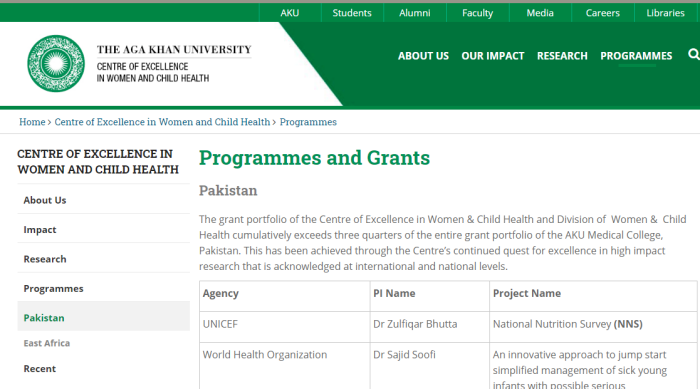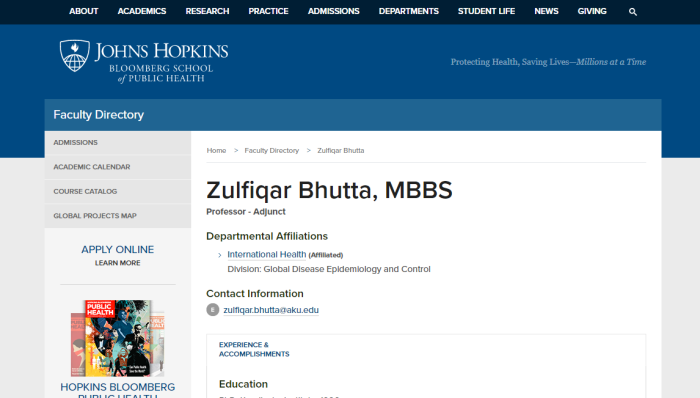 [1] Sick Kids Hospital Directory
[2] Gates Foundation Scientific Advisory Committee
[3] World Health Organization
[4] Aga Khan University
[5] John Hopkins Bloomberg School of Public Health
Quite the busy man. An interesting side note: Anthony Fauci used to be on the Gates Foundation Scientific Advisory Committee as well.
3. O'Toole Campaign Chief A Sick Kids Director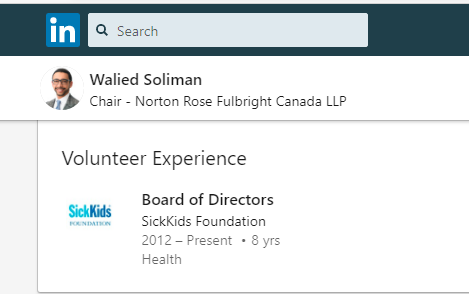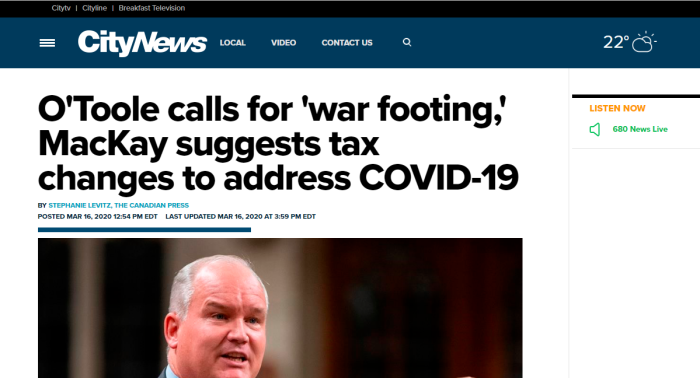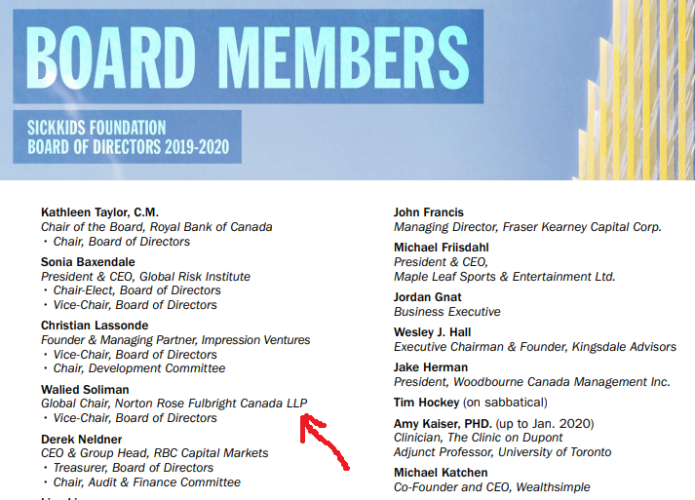 OTTAWA — Conservative leadership candidate Erin O'Toole called Monday for the country to be placed on "war footing" to combat the spread of COVID-19, the latest escalation of rhetoric in the race now thrown into flux by the rapidly evolving crisis.
O'Toole said the federal government should invoke the Emergencies Act so the federal government can prohibit travel, enforce self-isolation and control assemblies, while also mobilizing the military to back up the health system.
"Now is the time to put our government and our economy on a war footing, with leadership from the top," he said in an email to supporters.
Erin O'Toole is now leader of the CPC. At the time, he was campaigning for the position and criticized Trudeau for not being authoritarian enough. What a strange way to act as an opposition leader.
Interesting this connection: his chief of staff, Walied Soliman, is a Director of Sick Kids Hospital. Sick Kids gets large donations from the Bill & Melinda Gates Foundation, promoting and conducting vaccine research. Could this be why O'Toole offers no real opposition to the draconian measures? Because his Chief of Staff is involved in it?
After all, Trudeau's Chief of Staff, Katie Telford, is married to Rob Silver. Silver co-founded Crestview Strategy, which GAVI hired to lobby public officials over the last few years. One of those lobbyists is Zakery Blais, former assistant to current Attorney General, David Lametti. See Part 4 and Part 5.
4. Daniel Roth, $15M Bangladesh Research Grant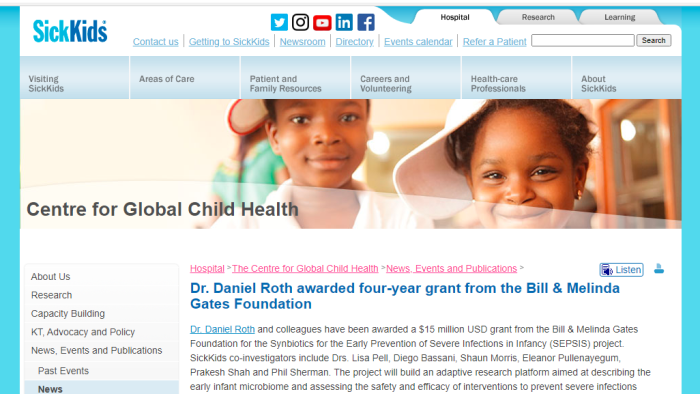 Congratulations to Dr. Daniel Roth, Clinician-Scientist at SickKids, and his team on being awarded a $15 million USD grant from the Bill & Melinda Gates Foundation for the Synbiotics for the Early Prevention of Severe Infections in Infancy (SEPSIS) project. The project will build an adaptive research platform aimed at describing the early infant microbiome and assessing the safety and efficacy of interventions to prevent severe infections and promote growth during early infancy (0-60 days of age) in Dhaka, Bangladesh. The platform will include a large phase III randomized controlled trial to test the efficacy of a specific synbiotic (probiotic-prebiotic combination) formulation to prevent newborn sepsis. The research will be conducted in collaboration with numerous partners including the International Centre for Diarrheal Disease Research, Bangladesh (icddr,b) and Child Health Research Foundation (CHRF), both based in Dhaka, Bangladesh.
This grant is listed as a 4 year project posted on the Sick Kids website, and is to cover research in Bangladesh.
5. Epidemiology, Vaccine Grant, $250,000 In 2019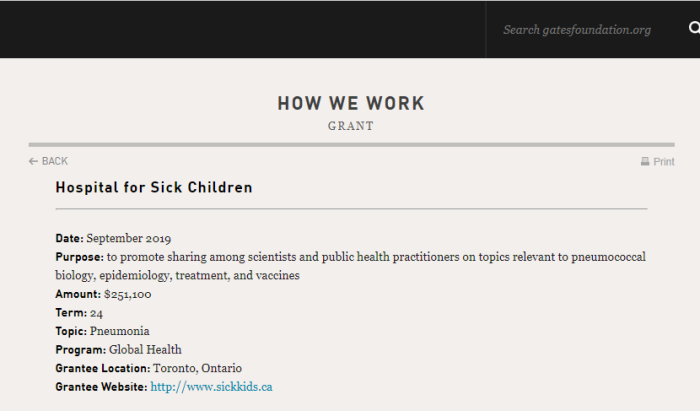 Date: September 2019
Purpose: to promote sharing among scientists and public health practitioners on topics relevant to pneumococcal biology, epidemiology, treatment, and vaccines
Amount: $251,100
Term: 24
Topic: Pneumonia
Program: Global Health
Grantee Location: Toronto, Ontario
Grantee Website: http://www.sickkids.ca
Sick Kids Hospital in Toronto received a quarter million dollar grant a year ago, in September 2019.
6. Kenya Project: Aga Khan, Gates Support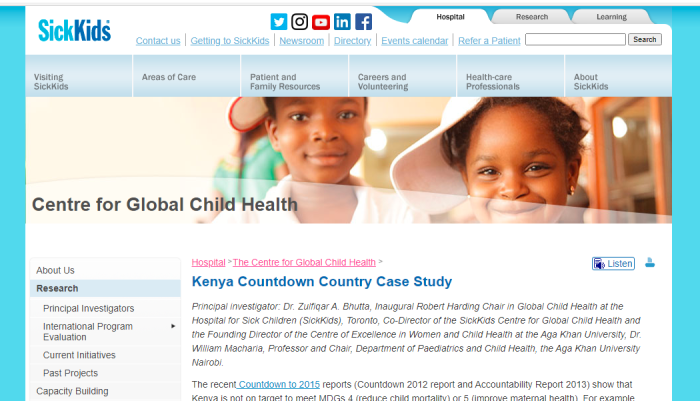 The aim of the Kenya case study was to undertake a robust national and sub-national analysis (at county level) in order to evaluate progress over the last two decades on key Countdown coverage indicators as well as improvement in health financing to achieve MDGs 4 and 5. Outputs to inform both central and county governments will be invaluable in informing multi-level planning, especially considering the significant management, policy, financing, and accountability challenges associated with the recent decentralization ('devolution') of health services as per the new constitution. On the basis of this analysis, we will develop a model of what interventions can be effectively implemented to accelerate improvement in reproductive, maternal, newborn, child and adolescent health and reduction in mortality over the next 10 years.
Project collaborators include Aga Khan University, Nairobi, Aga Khan University, Karachi, University of Nairobi, Family Care International, Africa Population & Health Research Center, Ministry of Health, Kenya.
Supported by: US Fund for UNICEF under the Countdown to 2015 for Maternal, Newborn, and Child Survival grant from the Bill & Melinda Gates Foundation. The Hospital for Sick Children (SickKids), Aga Khan University (Nairobi) and the Aga Khan University (Karachi) provided additional in-kind support.
Sick Kids hospital undertook a research project for maternal health in Kenya, with the reduction of infant mortality as a major goal. The major donors include Aga Khan and the Gates Foundation.
7. Gates Funding Maternal Health, SKH Toronto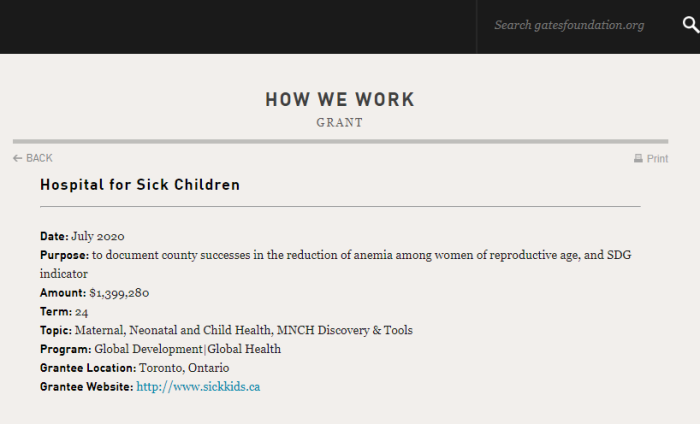 Hospital for Sick Children
Date: July 2020
Purpose: to document county successes in the reduction of anemia among women of reproductive age, and SDG indicator
Amount: $1,399,280
Term: 24
Topic: Maternal, Neonatal and Child Health, MNCH Discovery & Tools
Program: Global Development|Global Health
Grantee Location: Toronto, Ontario
Grantee Website: http://www.sickkids.ca
Another $1.4 million grant from the Bill & Melinda Gates Foundation to Sick Kids Hospital. This was in July 2020, so very recent. The two organizations seem to align ideologically, as we will see a bit later.
8. Gates Donates $5.9M Last Year To SKH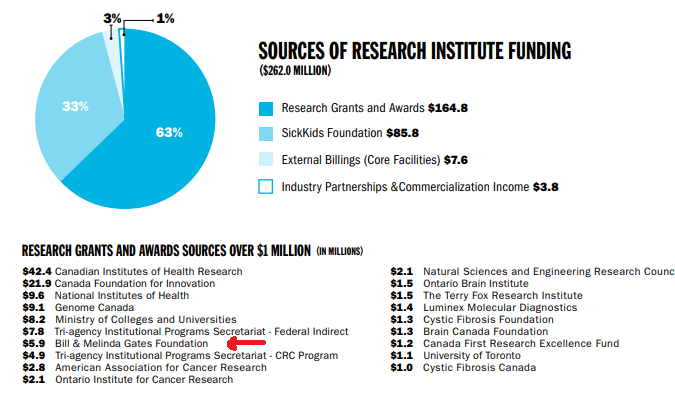 http://www.sickkids.ca/AboutSickKids/annual-report/81509-2019-2020_SickKids-Annual-Report.pdf
2019-2020_SickKids-Annual-Report
In the last year, the Bill & Melinda Gates Foundation donated some $5.9 million to Sick Kids Hospital.
9. Sick Kids, Gates Allied On Vaxx Rates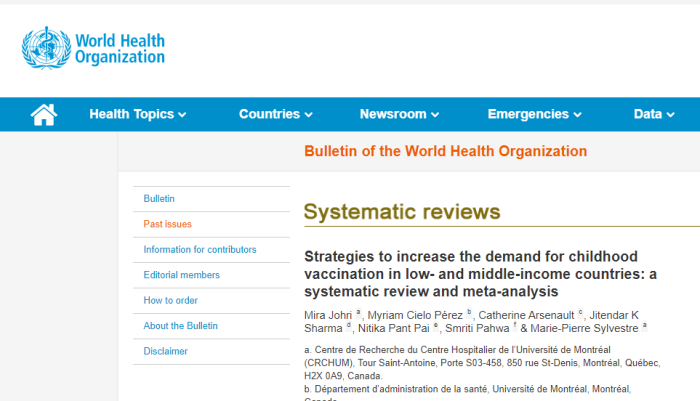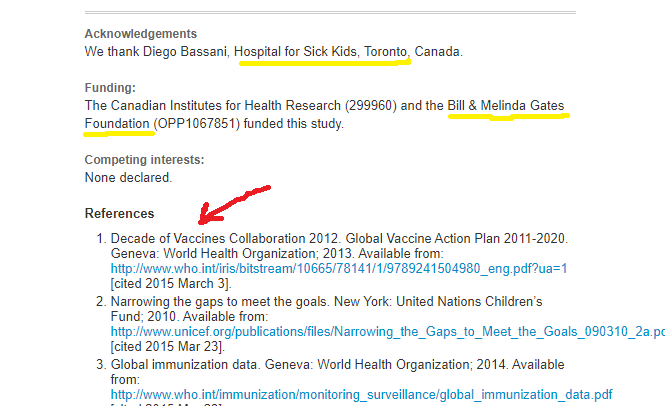 Acknowledgements
We thank Diego Bassani, Hospital for Sick Kids, Toronto, Canada.
.
Funding:
The Canadian Institutes for Health Research (299960) and the Bill & Melinda Gates Foundation (OPP1067851) funded this study.
.
Competing interests:
None declared.
In 2015, Sick Kids Hospital and the Bill & Melinda Gates Foundation teamed up in order to conduct research into raising the vaccination rate in children.
10. More Than What Meets The Eye
To many, Sick Kids Hospital comes across as being above the politically driven agendas that plague Canadian health care. However, things are not as they seem. Those grants from the Gates Foundation can't be ignored, especially given the vaccination agenda.
Are there other links? Yes, but this should give a good idea as to what is really going on.
It also can't be brushed aside that Walied Soliman, is both the Chief of Staff for Conservative Party Leader, Erin O'Toole, and a long time Director at Sick Kids. No wonder O'Toole supports heavy handed measures.