https://www.youtube.com/watch?v=VtSgG6-96×0&feature=youtu.be
Start clip at 56:50. It will give you chills.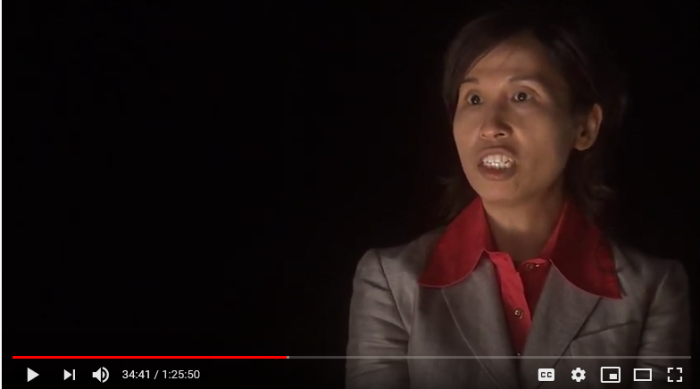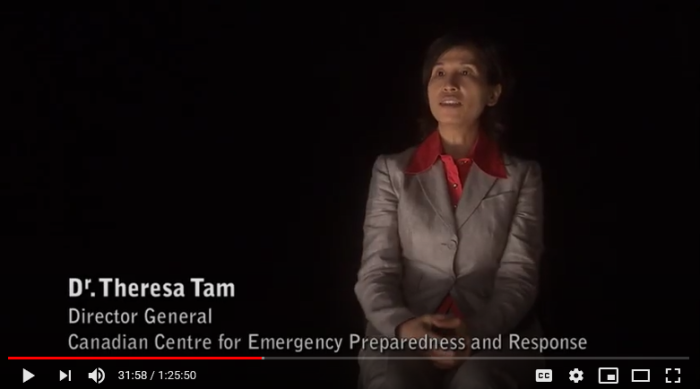 Thank you to Civilian Intelligence Network for digging up the film. In what can only be described as predictive programming, or a trial run, Theresa Tam "Canada's top Doctor" takes part in a 2010 film about a fictional epidemic in Canada. Doesn't get much more premeditated than shooting a film a decade in advance.
In the film (56:50 to 57:50) Tam talks approvingly (seeming almost giddy) about being able to enforce mandatory quarantines, using tracking bracelets, and only "worry later" about questions of an overreach. It's difficult to make the clip look worse than it actually is. Seems that life is now imitating art.
And on a more petty note: there is something not quite human about those eyes.
1. Other Articles On CV "Planned-emic"
The rest of the series is here. Many lies, lobbying, conflicts of interest, and various globalist agendas operating behind the scenes, obscuring the "Great Reset". The Gates Foundation finances: the WHO, the US CDC, GAVI, ID2020, John Hopkins University, Imperial College London, the Pirbright Institute, the BBC, and individual pharmaceutical companies. Also: there is little to no science behind what our officials are doing; they promote degenerate behaviour; the Australian Department of Health admits the PCR tests don't work; the US CDC admits testing is heavily flawed; and The International Health Regulations are legally binding. See here, here, and here. The media is paid off, and our democracy is thoroughly compromised, as shown: here, here, here, and here.
2. Other Important Links
(1) https://www.publicsafety.gc.ca/cnt/rsrcs/lbrr/ctlg/dtls-en.aspx?d=PS&i=27125339
(2) http://archive.is/WF84K
(3) https://www.who.int/about/who_reform/emergency-capacities/oversight-committee/theresa-tam/en/
(4) http://archive.is/BFM3k
(5) https://www.canada.ca/en/public-health/corporate/organizational-structure/canada-chief-public-health-officer.html
(6)http://archive.is/dkXMK
(7) https://magamedia.org/2020/04/21/breaking-it-is-being-reported-that-the-gates-foundation-world-health-organization-and-wuhan-institute-of-virology-have-all-been-hacked-and-thousands-of-emails-passwords-and-documents-have-been-l/
(8) http://archive.is/m1Gm9
(9) CLICK HERE, for GAVI's deleted site, archives.
https://twitter.com/SomeBitchIKnow
https://civilianintelligencenetwork.ca/
3. Lobbying Needs To Be Addressed
Several articles in this series cover the lobbying by Bill Gates and other pharmaceutical companies in general. This is rampant at the Provincial and Federal levels, and goes on outside of Canada as well.
The reason for this focus is to give context. One can't understand why politicians are pushing the vaccine agenda without realizing how much influence peddling goes on behind the scenes. Big pharma, to a large degree, is pulling the strings of our public officials. Hence the obsession with getting everyone vaccinated.
It must also be addressed that Bill Gates (among others), is promoting a depopulation agenda. While developing and pushing vaccines under the guise of promoting global health, Gates has spoken many times about how the world has too many people in it. Take that into consideration before getting the needle.
Beyond big pharma, there are many players using the opportunity as a chance to obtain power, or to wield more power. Many selfish actors are willing to perpetuate the lie for these reasons.
4. "Outbreak" On File With CDN Gov't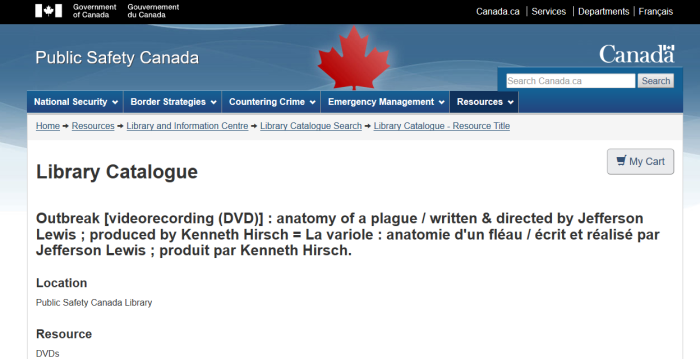 This fictional film (or predictive programming) was done a decade ago and Public Safety Canada makes them available for the public to watch. Interesting side note: this was on 2010, and wasn't Stephen Harper the Prime Minister at the time?
Outbreak [videorecording (DVD)] : anatomy of a plague / written & directed by Jefferson Lewis ; produced by Kenneth Hirsch
Location
Public Safety Canada Library
Resource
DVDs
Call Number
RA 644 .S6 O97 2010d
Authors
Lewis, Jefferson, 1951-
Hirsch, Kenneth.
National Film Board of Canada.
Mongrel Media.
Office national du film du Canada.
Publishers
[Toronto] : Mongrel, 2010.
Description
1 videodisc (87 min) : sd., col. ; 12 cm. (DVD)
5. Tam's Conflict Of Interest With WHO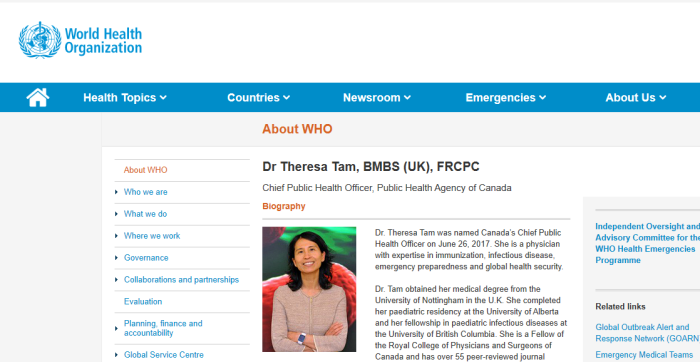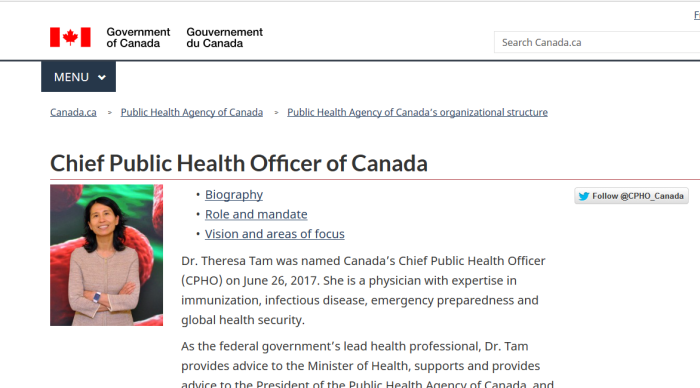 They even used the same picture for both profiles.
Dr. Tam has served as an international expert on a number of World Health Organization committees and has participated in multiple international missions related to SARS, pandemic influenza and polio eradication.
This may be stretching it, but Tam's profile as Chief Public Health Officer of Canada is misleading. It refers to her roles in a past tense, suggesting she no longer has any involvement in the World Health Organization. But that is simply not true. AS for the assigned role by the Federal Government:
The Chief Public Health Officer (CPHO) is the federal government's lead public health professional. The CPHO is responsible for:

Providing advice to the Minister of Health and President of the Public Health Agency of Canada on health issues;
Working with other governments, jurisdictions, agencies, organizations, and countries on health matters;
Providing an annual report to the Minister on the state of public health in Canada for tabling in Parliament; and
Speaking to Canadians, health professionals, stakeholders, and the public about issues affecting the population's health.

The CPHO is also accountable for or has delegated responsibilities for public health-related provisions of the Public Health Agency of Canada Act, the Quarantine Act, the Human Pathogens and Toxins Act and the Department of Health Act.

In an Emergency
In a public health emergency, such as an outbreak or natural disaster, the Chief Public Health Officer is responsible for:

Briefing and advising Canada's Minister of Health, the President of the Public Health Agency and others as appropriate;
Working with counterparts in other departments, jurisdictions, and countries, as well as with experts and elected officials, to communicate with Canadians about how to protect themselves and their families;
Personally delivering public health information to Canadians via media appearances, public statements, updates to the Public Health Agency web site, and columns and public advertisements in daily and community newspapers;
Providing direction to Public Health Agency staff, including medical professionals, scientists, and epidemiologists, as they plan and respond to the emergency;
Leading daily national teleconferences as appropriate with federal government scientists and experts to share information and plan outbreak responses; and
Coordinating with jurisdictions through regular teleconferences with Canada's provincial and territorial Chief Medical Officers of Health and others.
This all is fine and good, except holding a position with the World Health Organization at the same time is not in the public interest. In times where WHO offers poor advice, Tam would have to choose between rejecting that advice, or adopting it and running interference.
Although the details are enough to be an article by themselves, Tam has shown repeatedly that this conflict-of-interest is to the detriment of Canadians.
6. GAVI Archives Available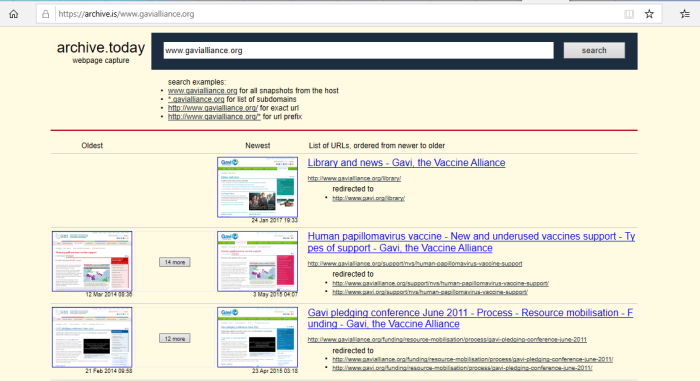 A shout out to @SomeBitchIKnow (that's her handle, not me being rude), for sharing this gold mine of information from GAVI, the Global Alliance for Vaccines and Immunizations.
Library and News
https://archive.is/TBVgg
Human Papillomavirus Vaccine Support
https://archive.is/KBH9E
Low Prices Agreed For Human Papillomavirus Vaccine
https://archive.is/7oxDl
GAVI Pledging Conference 2011
https://archive.is/xsJC7
Pentavalent Vaccine — New and Underused
https://archive.is/K9uQt
Myanmar Children, Pentavlent & Measles
https://archive.is/8Hver
GAVI Gives LDS Church $1.5 Million
https://archive.is/fAyX2
2014 – US President Proposes $200M For GAVI
https://archive.is/U1zjk
2013 GAVI Archived Main Page
https://archive.is/gcfyH
GAVI – Funding and Finance Mechanisms
https://archive.is/EMUXm
Support For New & Underused Vaccines
https://archive.is/rYfKG
GAVI's Partnership Model, Information
https://archive.is/w1a0N
Liberia, Country Hub For Vaccines
https://archive.is/vIzjx
Evaluation Advisory Committee
https://archive.is/1yCU4
Pneumococcal AMC Innovative Financing Model
https://archive.is/kCTsz
Donors Commit To Funding Milestone
https://archive.is/V2LIH
GAVI Board Members, Term Expiry
https://archive.is/UgfRu
Board Members, New Page
https://archive.is/VpNW
GAVI: A To E Glossary
https://archive.is/K3Ouo
GAVI: 2012 Partners' Forum
https://archive.is/kDt7
Seth Berkley: CEO, Ex-Rockefeller
https://archive.is/pgzM
More On Seth Berkley: Ex Int'l AIDS Vaccine Initiative
https://archive.is/t6vg
2011 GAVI Announcements (German)
https://archive.is/Pid8
2012/2013 Countries Approved For Support
https://archive.is/Af1F
Mission Statement From GAVI
https://archive.is/yP4p
Country Co-Financing Commitments
https://archive.is/mO27
GAVI Pledging Conference, June 2011
https://archive.is/ouZg
Governing GAVI
https://archive.is/fTLs
Zimbabwe Launches Pneumococcal Vaccine
https://archive.is/FLqL
GAVI Welcomes Lower Drug Prices
https://archive.is/tGuX
GAVI Factsheets, Publications
https://archive.is/dWVE
GAVI, Vaccines, Return On Investment
https://archive.is/4z4E
When GAVI took down their site, they likely thought that the information they didn't want saved would be lost. Not the case, as nothing is ever really erased.
7. The Coronavirus Rabbit-Hole
In a sense this is a prequel to the CV series coming out, though it's a newer piece. Actually, Part 11 of the series (Ontario lobbying) is already up.
There isn't just one person, one organization, or one fact to know. This planned-emic is a well coordinated and thought out attack on our livelihood. Know who is behind it, know who is being lobbied. There is so much that politicians and the media are not saying.
In fact, several pieces focus exclusively on the lobbying. If government officials are promoting mass vaccination, we should be asking why. Since they won't answer truthfully, then check out who they have been talking to.
Much more still needs to be done.