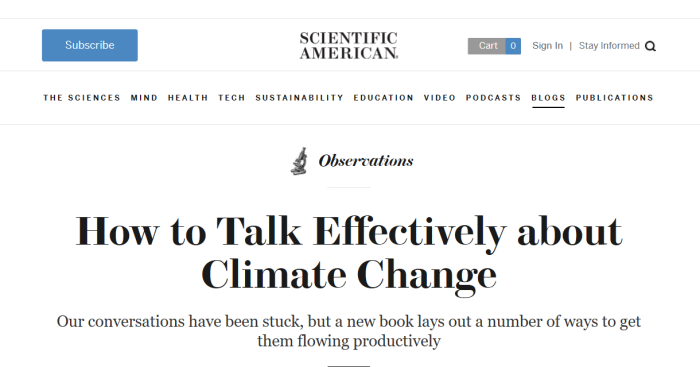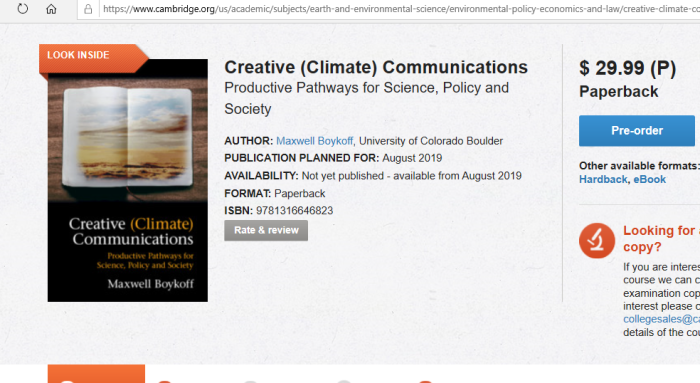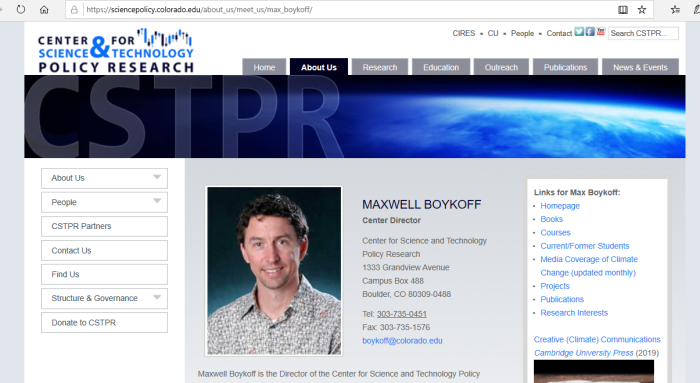 No joke. There actually is a book out on how to "effectively communicate" on climate change. Loads of logical fallacies and emotional manipulation.
1. Important Links

(Other articles on climate change scam)
https://canucklaw.ca/the-climate-change-scam-part-1/
CLICK HERE, for the article in the ironically named "Scientific American" journal, authored by Max Boykoff, to promote his book.
CLICK HERE, for link to book sale.
2. Site Promoting Book
Conversations about climate change at the science-policy interface and in our lives have been stuck for some time. This handbook integrates lessons from the social sciences and humanities to more effectively make connections through issues, people, and things that everyday citizens care about. Readers will come away with an enhanced understanding that there is no 'silver bullet' to communications about climate change; instead, a 'silver buckshot' approach is needed, where strategies effectively reach different audiences in different contexts. This tactic can then significantly improve efforts that seek meaningful, substantive, and sustained responses to contemporary climate challenges. It can also help to effectively recapture a common or middle ground on climate change in the public arena. Readers will come away with ideas on how to harness creativity to better understand what kinds of communications work where, when, why, and under what conditions in the twenty-first century.
Includes strategies that help people have productive conversations about climate change that involve listening and adapting rather than just trying to win an argument
-Bridges sectors and audiences, bringing together important material for undergraduate and graduate courses
-Shows the importance of being creative in communications about climate change in the twenty-first century – many businesses, institutions, and collectives can benefit from this, not just students and academics
Reading through this, you will notice that the topic of additional reading and research never comes up. There is no push to understand other perspectives or review scientific findings.
Instead, the focus is on using sociological and psychological techniques to convert normies to your position, without actually providing evidence. This is all about language and emotional manipulation.
Ironically, there is science involved here. But instead of science relating to researching "climate change", the research focuses on how to change people's minds. Seems that the priorities are all backwards.
Item #1: Strategies that help people have productive conversations. Presumably this is ways to insert climate change topics into otherwise normal talks.
Item #2: Cram more of the propaganda into university classes.
Item #3: Be innovative about #1 and #2.
3. The Scientific American Article
From synthesizing this work, I distill these lessons into some important "rules of the road."
-Be authentic.
-Be aware.
-Be accurate.
-Be imaginative.
-Be bold.
From there, additional features on the road map help to navigate toward resonant and effective communications.
-Find common ground on climate change.
–Emphasize how climate change affects us here and now, in our everyday lives.
-strong>Focus on benefits of climate change engagement.
–Creatively empower people to take meaningful and purposeful action.
–"Smarten up" communications about climate change to match the demands of a 21st-century communications environment.
The first items on this list would only make sense if truth was actually a goal. Be aware and be accurate are good principles.
However, climate change advocates tend to be extremely dismissive of different ideas, opinions, facts and research. A commitment to being accurate would undermine the sense of superiority that many possess.
Find common ground and emphasizing the effects are attempts to emotionally manipulate people by inserting the topic in places where it really doesn't belong. Indeed, the goal seems to be to make "everything" about climate change. Make it an omnipresent issue.
Lately, climate change has imposed itself on the public sphere. Through extreme events linked to changes in the climate, new scientific reports and studies, and rejuvenated youth movements (along with many other political, economic, scientific, ecological, meteorological and cultural events and issues) climate change has been increasingly difficult to ignore.
.
But you wouldn't really have picked up on that in the first round of the U.S. Democratic party primary debates that took place in Miami, Florida. As 20 candidates made their case to the American people, it was striking how minimally and shallowly they discussed climate change.
To be fair, in a debate (10 people each over 2 days), there isn't much chance to give long answers.
However, the author, Max Boykoff, makes the point — and will repeatedly make this point — that everything is connected to climate change. He takes the Anita Sarkessian approach, though not with gender.
Sadly, this illustrates a contradiction we have been living with for some time. That is this: amid extensive research into the causes and consequences of climate change, climate communications—and thus, conversations about climate change in our lives—have remained stuck.
There are many reasons. Among them:
-Climate change is still regularly treated as a single issue. This was clearly on display in the debates, and even during the paltry time devoted to surface-level discussions of climate change.
-There has continued to be inadequate funding provided to support sustained and coordinated social science and humanities research into what constitutes more effective climate communications.
-We have all been short on creativity, and we generally have stuck to ineffective climate communications approaches (e.g. merely scientific ways of knowing) as we muddle along.
Interesting take on the problem. Max Boykoff goes on about how the science is sound, but that we just aren't making any headway in communicating the solutions.
Yes, climate change is still treated as a single issue (that part is true). The author's goal is to make it an issue of everything. Again, the Anita Sarkeesian technique.
All the money that we pay in various carbon tax schemes apparently aren't needed for climate change research. Rather, they are needed to SHARE THE RESULTS of the climate change research.
Boykoff seems to believe that it is the "strictly scientific" approach to sharing research that keeps people from seeing what is before their eyes. Seems condescending.
<
p style="padding:2px 6px 4px 6px; color: #555555; background-color: #eeeeee; border: #dddddd 2px solid">Yet climate change is a collective action problem that intersects with just about every other area of life. It traverses critical issues such as public health, jobs, education, inequality, poverty, violence, trade, infrastructure, energy, foreign policy and geopolitics. While everyday people clearly have the capacity to care, they reasonably often focus on immediate concerns, such as issues of job security, local school quality, crime and the economy. In recent years, however, it has become more and more clear that these issues are interlinked with climate change.
So, in making these connections, we can more effectively get to the heart of how we live, work, play, find happiness and relax in modern life, shaping our everyday lives, lifestyles, relationships and livelihoods.
Apparently we are too naïve to see the forest for the trees. Ordinary people have lives to live. We don't spend every waking moment trying to connect aspects of our lives with climate change.
Again the author assumes, with no evidence, that every major aspect of your life is connected to climate change. It must all be pointed out.
Of course, Boykoff will never get into the conflict-if-interest that plagues climate change research. Most of it is funded with a certain outcome expected. Remember, if you aren't concluding that climate change is a threat to humanity, then you likely won't be funded anymore. Why keep financing climate research if it isn't an emergency?
There has been an urgent need to improve communications about climate change at the intersections of science, policy and society. With that in mind, I wrote Creative (Climate) Communications. It is essentially a handbook that bridges sectors and audiences to meet people where they are on this critical 21st-century challenge. In the book I integrate research from the social sciences and humanities that has provided insights into better understanding what communications work, where, when, why and under what conditions.
I also examine how to harness creativity for more effective engagement. I integrate these lessons by assembling what I call features on a "road map" along with "rules of the road." The guide is then meant to help as researchers and practitioners proceed with both ambition and caution into struggles to effectively address the many issues associated with climate change.
Although Boykoff doesn't come right out an say it, book is about marketing techniques. What tactics are most persuasive and under what circumstances? People can't straight up accept "facts and truth", it needs to be pointed out again and again.
In short, most people are too stupid to see the big picture. Boykoff implies it, but doesn't not actually state it.
Through this guidance, I seek to help maximize effectiveness and opportunities and minimize mistakes and dead ends in a resource-, energy- and time-constrained environment. In putting this together, I also emphasize that successful and creative climate communications strategies must be tailored to perceived and intended audiences and can be most effective when pursued through relations of trust. And I underscore that context is critical; cultural, political, social, environmental, economic, ideological and psychological conditions matter.
Move away from hard data and facts. Use "soft techniques" to sell it. To once more point out the obvious, everything is connected to climate change.
I also argue that an expanded approach involves processes of listening and adapting rather than winning and argument or talking people into something. Authentically considering other points of view fosters meaningful exchanges and enhances possibilities for finding common ground. Facts established through scientific ways of knowing about climate change are important, but they are not enough. We therefore need to enlarge considerations of how knowledge influences actions, through experiential, emotional, visceral, tactile, tangible, affective and aesthetic ways of learning and knowing about climate change.
Facts aren't enough. Tell people again and again, that climate change impacts everything. Look for more subtle ways to get your message across.
4. Reflection On This Article

To address the elephant in the room: it is darkly amusing to post in "Scientific American" about scientific methods to convince people to accept pseudo-science about climate change.
Boykoff mentions several times about considering other peoples' perspectives. But this is hypocritical considering the amount of times "skeptics" or "deniers" are ridiculed or scorned for trying to find out the truth.
Boykoff also neglects any mention or idea that any of the "climate change" findings might be exaggerated or flat out wrong.
It seems the climate-change industry has given up on science, and instead focuses its efforts on trying to market their agenda.
Might be worth buying the book just to do a thorough debunking of it. Understand your enemy after all.