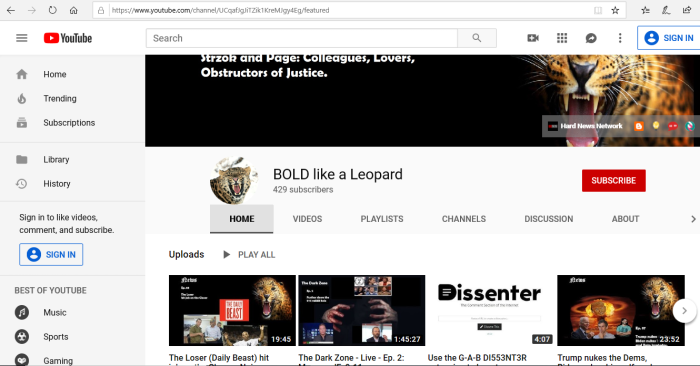 1. Guest Posting Here
This article is not mine, but the creation of a YouTuber and writer who goes by the handle "BOLD Like a Leopard". Feel free to check out the channel, there is some interesting content on it.
2. Important Links
CLICK HERE, for message from Mark Ruffalo and Bill McKibbons.
CLICK HERE, for Bill Nye suggests jailing climate deniers.
CLICK HERE, for Alexandria Ocasio-Cortez and Bernie Sanders wanting to declare "climate emergency".
CLICK HERE, for the climate emergency declaration.
CLICK HERE, for manifesto "Lead Public Into Emergency Mode".
CLICK HERE, for AOC's June 2018 primary.
CLICK HERE, for tweet claiming we can't afford an economy that is based on use of fossil fuels.
CLICK HERE, for Sunrise Philadelphia calling for a demonstration.
CLICK HERE, for a live tweet.
CLICK HERE, for Malcolm Nance.
CLICK HERE, for Louise Mensch.
CLICK HERE, for Momentum Core Team.
CLICK HERE, for the Momentum trainers.
CLICK HERE, for efforts to establish a "climate debate".
CLICK HERE, for Saikar Chakrabarti admitting the Green New Deal was about changing the economy, and the environment was just a pretext.
3. Sunrise Movement & Green New Deal
Once the domain of scientific debates and science fiction disaster movies, the subject of climate change and its influence on natural disasters has now become a major topic of contention among the Hollywood jet set, children's cartoons, and naturally as a result public officials and policy makers. Much of the discussion over climate change has been shrouded in controversy largely due to acrimonious debate over who has the proper professional standing on how severe the crisis is, whether human activity is the main catalyst of current trends, and if or how government policy must be applied to address it. However, the organizing tactics, funding, and structure of the organizations pushing climate change legislation like the Paris Climate Accord and the Green New Deal suggests a larger goal in mind, one that involves a power grab far beyond environmental and industrial emissions policy. The Sunrise Movement is being cited as a fresh youth-infused answer to the fossil fuels industries, and it is being touted by climate change activism patriarch William McKibben as having "cracked the code of the American political system". This statement is correct, and Sunrise is hacking into the mainframe of American politics, but if McKibben were truthful he would not be omitting his own role in their germination, as well as the intersection of the group with the Boston-based Ayni Institute and its Momentum Community program. The growing stake that these groups have in the political landscape are not a natural outgrowth of a changing public consciousness, but rather one more chess piece in a grand power grab.
We'll see what happens. . .
In 2016 TV entertainer Bill Nye, host of the children's show "Bill Nye the Science Guy" speculated that jailing "climate deniers" may be appropriate. "We'll see what happens. Was it appropriate to jail people from the cigarette industry who insisted that this addictive product was not addictive, and so on?" Nye responded when asked.
Unfortunately, this high handed attitude toward the discussion shows that much of the climate change action side of the argument has despaired of properly making their case against their opponents, the "climate skeptics". The activists scoff at accusations that they are "alarmists", but their public statements show that they are ratcheting up statements consistently in order to create a sense of panic that climate trends are sloping toward an apocalyptic event:
On July 9 Senator Bernie Sanders (I-VT) and Rep. Alexandria Ocasio-Cortez introduced a joint resolution that they wanted Congress to declare a national emergency over climate change.
As documented by the Climate Emergency Declaration, there are 740 jurisdictions that have declared a climate emergency including Scotland, Wales, the Republic of Ireland, as well as London and the Australian cities of Sydney and the Australian Capital Territory among others.
There is now a group across Europe dedicated to whipping up the public into a climate emergency frenzy known as "Extinction Rebellion". The movement is led by clinical psychologist Dr. Margaret Klein Salamon (the "Climate Psychologist") and she published a manifesto called Leading The Public Into Emergency Mode originally in 2016.
Salamon's manifesto was endorsed by Bill McKibben on the Climate Mobilization website where he is described as the "Movement Leader".
According to one of its grant donors, the Guerilla Foundation, Extinction Rebellion (XR) was given between $20 and $40 thousand in order to promote "a fundamental change of the UK's political and economic system to one which maximises well-being and minimises harm". In the grant description point number 9 figures prominently in their Theory of Change: "Create a distributed organising model based in 'momentum' organising and holocracy (training from the Ayni institute / Carlos Saavedra). This is basically a hybrid of mass protest and structure based organising. Much of this is explained in the book This is an Uprising". The book in question was written by the brothers Mark and Paul Engler, both of them former Occupy Wall Street activists themselves deeply affiliated with the Ayni Institute.
The Shame Game
While at times climate activists engage in rhetorical threats like Nye or grandstanding like Sanders and the other emergency sponsors, the value that they appeal the most to is shame. This is why the United Nations, European Parliament, Swedish Parliament and numerous other bodies have hosted the 16 year-old climate activist Greta Thunberg to speak about climate justice. Speaking about when she will be 75 years old, she asked whether her children would "ask why you didn't do anything while there was time to act. You say you love your children above all else, and yet you're stealing their future in front of their very eyes." Thunberg went on to tearfully decry the 6th mass extinction of species and the acidification of the oceans.
Another statement that Thunberg makes echoes Salamon verbatim:
"Imagine there is a fire in
your house.
What do you do?
What do you think about?"
The idea of using children to shame adults for their poor policy is an understandably ingenious strategy, but it typically yields nothing in terms of policy. In 1982 a ten year old named Samantha Smith wrote to Soviet leader Yuri Andropov to ask him if he was going to vote for a war. Smith's letter was personally answered by Andropov, and compared her to Tom Sawyer's friend Becky and invited her to the USSR, where she spent two months as Andropov's guest on a tour, and she was a "goodwill ambassador" for peace before dying in a plane crash at age 13 in 1985. By then both Andropov and his successor Konstantin Chernenko had both died of old age. Tragic as her story was, Samantha Smith's story is a footnote in history as there was no major movement behind her personal initiative.
The shame tactic has been mass-produced by the Sunrise Movement in its push to promote the issue of climate change as being an issue of primary concern in the minds of the next generation of youth voters. Sunrise was formed ostensibly by two activists, Varshini Prakash and Sara Blazevic. Both of them are former activists of the Fossil Fuel Student Divestment Network, a campaign by college students to get their colleges to withdraw investments in energy companies. Both of them were involved in student sit-ins at their colleges, Blazevic at Swarthmore in 2015, and Prakash at UMass-Amherst in 2016 where activists were arrested for civil disobedience.
Now they are trying to take the climate change movement to a broader, and younger, forum. But in comments to Energy & Environment News (E&E News) they make it very apparent that their movement is a response to failures of previous groups that they have been active in. In it, their fellow co-founder Evan Weber openly muses about how Sunrise is attempting to compensate for the same flaws that he encountered while he was an activist with Occupy Wall Street. It should be noted that while Prakash and Blazevic are the face of the movement, Weber is listed on its 2016 IRS Form 990 (when it was named US Climate Plan) as the President and Executive Director, and he was listed by the climate action website Grist.orgGrist.org as a former Occupy activist and founder of the US Climate Plan. Weber had also been an activist along with fellow Wesleyan University activist Michael Lichtash for US Climate Plan who traveled to the COP20 Climate Talks in Lima, Peru in 2014. At the time they were already claiming that delaying the Keystone XL pipeline from Canada to the US was "a step toward climate justice". At the time all were in one way or another linked through McKibben's 350.org organization.
The Guru of Green Activism
During the Obama Administration's tenure, McKibben and 350.org fought doggedly to force the President and his cabinet not to let the pipeline proceed. In 2015 the Nebraska Supreme Court removed legal hurdles to building of the Keystone XL, meaning that it would need approval from several cabinet-level officials including Secretary of State John Kerry, himself a public advocate for climate change action by governments. Until then much of the process had been tied up as conservation and activism groups battled with TransCanada (the builder) in the courts. McKibben was asked if Kerry could salvage his reputation on climate change if he approved the pipeline. According to POLITICO he answered: "No. Keystone's obviously a keystone," he said in an email. "Approve that and the rest is happy talk — you can't cut carbon without cutting carbon." For months Kerry waffled over the decision while continuing to condemn fossil fuel producers, but in November 2015 he came through for McKibben and denied the pipeline's permit application. However when Donald Trump was inaugurated as president he approved the Keystone XL pipeline within his first three days by executive order and continues to fight against challenges to it in court.
The issue at hand is not the activism itself, but the veneer of popular will. McKibben has made a long career out of claiming to be the underdog fighting against the corporate fossil fuel industry, and to be sure they are not exactly a sympathetic opponent. There's also legitimate concern over carbon consumption and its effects on oceans and wetlands leading to extinction of species. He formed 350.org in 2007 based on the notion that 350ppm of carbon dioxide in the atmosphere would be the acceptable level in order to mitigate the harmful effects of climate change. However, the standing that McKibben has within the movement is not a result of any professional knowledge or accomplishment, he is in fact a former New Yorker writer who majored in journalism at Harvard. He then wrote The End of Nature in 1989, the book that is considered to have started the climate change movement. However, as Reason observed when reviewing his 2010 follow-up Earth, humans have adapted to the rising sea levels warned about by climate alarmists like McKibben, using the example of Boston which has reclaimed land consistently since 1775 despite rising sea levels. At one point McKibben and others climate alarmists like Jim Hansen used the global warming trends to raise public consciousness about environmental issues. But according to him, that was during a period when they were "naïve". However, the new tactic of his supporters is to mask the existing climate movement that he began with The End of Nature in 1989 and institutionalized in the 2000s with 350.org through a youth activist group like Sunrise whose events he frequently headlines. As many climate skeptics point out the ability of climate alarmists to excite public attention diminishes when their predictions are not fulfilled, such as when Gore predicted in 2006 that the glaciers of Mt. Kilimanjaro would melt within a decade. Another member of 350.org's board of directors, Naoimi Klein, has evaded responsibility for advocating for the Green New Deal while also being a long-time apologist for the Chavez regime that made Venezuela's entire economy dependent on oil exports.
McKibben was also a major activist during the lead-up to COP21, the 2015 climate change conference where the Paris Agreement on Climate Change was drafted. On November 30 he wrote an opinion in Foreign Policy called "The Paris Climate Talks Will Be a Historic Success. And a Historic Disaster. " Paris He participated in the climate marches occurring during the event, and even headlined with Klein the Pathway to Paris live concert on December 4 along with Radiohead lead vocalist Thom Yorke, Red Hot Chili Peppers bassist Flea and other rock superstars. But by December 13, as the conference had just wrapped up, he claimed that it had fallen short.
"The irony is, an agreement like this adopted at the first climate conference in 1995 might have worked. Even then it wouldn't have completely stopped global warming, but it would have given us a chance of meeting the 1.5 degree Celsius target that the world notionally agreed on."
Some on the political left were too jaded to take McKibben seriously, and began to characterize his activism as "greenwashing". They noted that the agreement did much to boost the profile of the international NGO Avaaz that backed the climate march and other events, but little to accomplish anything. They also made it public that Dow Chemicals, Goldman Sachs, JP Morgan, and even BP had been sponsors the Climate Group that had organized the conferences. What McKibben needed to do was inject some steroids into the movement so as to gain ground on those detractors.
Why "grassroots"?
In the same article claiming Paris had fallen short, McKibben made a statement that demonstrated his intentions going forward: "But what this means is that we need to build the movement even bigger in the coming years, so that the Paris agreement turns into a floor and not a ceiling for action."
McKibben's influence is felt deeply largely due to the usefulness of his cause to various statesmen and former politicians. In 2010 he wrote an opinion article for GristGrist claiming that Al Gore was "kicking butt" over climate change. In 2016 he became a backer of Bernie Sanders' presidential campaign, and wound up on his five member delegation to the Democratic National Party's platform writing committee for that year's election. However this was a summit that led to nowhere as the party continued to accept contributions from the fossil fuel industry. Presidential nominee Hillary Clinton received $967,336 from them during that cycle, leading by far any other Democrat in any elected position. The crusade against fossil fuels had to enter a new phase, and the US Climate Plan (founded in 2014) went through a rebranding becoming Sunrise. Since then they have made several inroads in electoral politics including getting eleven state legislators elected throughout the US, including five in Pennsylvania.
Besides Sanders, the Green New Deal advocates can numerous other candidates for 2020 that have endorsed it or proposed their own versions of it:
New York Mayor Bill de Blasio announced in December 2018 a city-wide divestment from fossil fuel companies and a lawsuit against them, a measure cheered by McKibben's 350.org. In March the Mayor named McKibben to the OneNYC Advisory Board. De Blasio's new city-wide rules targeting energy usage by sky-scrapers were announced in May at Trump Tower.
Washington Gov. Jay Inslee has made climate change the centerpiece of his tenure in office and his presidential campaign vowing to commit to a 100% renewable energy system by 2035. This was praised by McKibben on May 3, and on May 30 another McKibben acolyte Elizabeth Kolbert of The New Yorker issued a raving review in Yale 360.
One candidate McKibben may be less bullish about is Tom Steyer, an erstwhile donor. In 2016 in the run-up to the election the two sat down for a joint interview on the need to make climate change a signature issue. Steyer's TomKat Charitable Trust has given generously to 350.org, and at one point the former hedge fund manager and the environmentalist were joined at the hipjoined at the hip in their efforts to support fossil fuel divestment. Steyer's public image has diminished since 2016 due to his sensationalist efforts to support the impeachment of Donald Trump including funding The Democracy Integrity Project (TDIP).
Not long after the 2018 midterm election Sunrise activists occupied the office of Democratic House leader Nancy Pelosi, the incoming Speaker of the House. They also ambushed Sen Diane Feinstein (D-CA) in February. Within a day McKibben had written a response in the New Yorker saying he imagines that Feinstein "would like a do-over of her colloquy". In the same opinion article, McKibben mentioned Ocasio-Cortez and Greta Thunberg, and claimed that the Green New Deal was hatched by the Sunrise Movement.
But this is untrue, and McKibben knows that. The original Green New Deal was written in 2008 by the New Economics Foundation when many of the Sunrise activists were not even in high school. The authors included Guardian editor Larry Elliott, Andrew Simms of the NEF, Caroline Lucas of the Green Party and others. Another version, the "Global Green New Deal" was adopted by the UN Environment Programme (UNEP) in 2008. The American version of the Green New Deal is HR 109 which was introduced by Ocasio-Cortez. No one from Sunrise was involved in drafting it, and if everyone was being above board it would be admitted that there was no coherent "Green New Deal" when it was supported during the 2018 election cycle; so the activists and politicians were endorsing a policy proposal prior to its existence.
Messaging the GND
Does anyone really believe that it was Sunrise activists that wrote the legislation? Even in her own office, Ocasio-Cortez has four staff members, none of whom are members of it. Corbin Trent and Saikat Chakrabarti, her press secretary and chief of staff respectively, are former members of Justice Democrats, but not of Sunrise. The nexus that drives them all together is one of the policy's most effective and most successful activists, Justice Democrats' communications director Waleed Shahid who is also a senior leader of the Working Families Party. Based in Philadelphia, Shahid was instrumental in campaigning for the legislative election success in Pennsylvania as well as propelling Ocasio-Cortez to power by focusing on her June 2018 primary.
While McKibben is an overall mastermind of the movement, Shahid is often a point man that issues day to day messages that are often picked up by Ocasio-Cortez and other elected officials regarding climate change, while also directing the defense to the inevitable backlash. A case in point was a June 21 tweet where Ocasio-Cortez claimed that an oil refinery explosion and fire was evidence of an "existential crisis" due to climate change. Up until then very few had made that observation about the accident. However, Shahid had issued a tweet earlier that day claiming that "we can't afford an economy based on fossil fuels". Sunrise Philadelphia called for a demonstration within five minutes of Shahid's tweet. During the confrontation with Sen. Feinstein during the middle of the afternoon on a Friday Shahid was live tweet echoing Sunrise Bay Area's account in order to hype the event. He issued a total of 23 tweets that day (Feb. 22) regarding the incident, including fighting with delusional mainstream anti-Trump activists Malcolm Nance and Louise Mensch who accused Justice Democrats of uploading the video and using Russian disinformation tactics.
Like the Engler brothers, Shahid was one of the earliest core team members of the Ayni Institute and Momentum Community. Blazevic is also an alumnus of the Ayni Institute, and is a Momentum Trainer along with fellow Sunrise co-founders Will Lawrence and Diyanna Jaye. The derivative of the Momentum training is to create nominally decentralized cells (called "hubs" by Sunrise) that organize on the local level to push a progressive agenda.
But the decentralized organizing is irrelevant when the ideology of Sunrise is not dependent on the membership. The leaders of the movement all come from 350.org, the agenda is set by the ideologues like McKibben and Klein, and the day-to-day messaging is directed by the powers behind the throne like Shahid. Ultimately a green economy is a secondary goal of the movement. So far during the Democratic 2020 primary season, the movement has somewhat successfully lobbied for a "climate debate" between candidates. However, in a moment of surprising candour, Chakrabarti let slip the real truth:
"The interesting thing about the Green New Deal," he said, "is it wasn't originally a climate thing at all. Do you guys think of it as a climate thing?" Chakrabarti continued. "Because we really think of it as a how-do-you-change-the-entire-economy thing."
So that leads to a concluding question: If McKibben, Salamon, and Klein were portraying the climate crisis as a global emergency on the level of World War II, then why are they pushing a piece of legislation that according to its main legislative advocate was not originally about climate change?
4. Information About The Author
YouTube: BOLD like a Leopard:
https://www.youtube.com/channel/UCqafJgJiTZik1KreMJgy4Eg
Gab.com: https://gab.com/StarScream85
Minds.com: https://www.minds.com/ChefLeopard
BitChute: https://www.bitchute.com/channel/bFrSR277N5TG/
Twitter: https://twitter.com/ChefLeopard
For donations: https://www.subscribestar.com/chefleopard