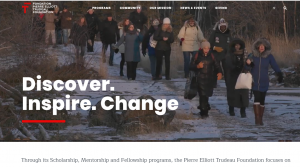 1. Media Bias, Lies, Omissions And Corruption
CLICK HERE, for #1: Unifor in bed with Federal Gov't
CLICK HERE, for #2: Global News' selective truth on TRP granted.
CLICK HERE, for #3: Post Media owning most Canadian media.
CLICK HERE, for #4: conservative content dominated by Koch/Atlas.
CLICK HERE, for #5: origins of Malcolm's "charity" True North Canada.
CLICK HERE, for #6: the people running the Post Millennial.
CLICK HERE, for #7: how to do research, investigative journalism.
CLICK HERE, for #8: Koch/Atlas both sides, AB court challenge.
CLICK HERE, for #9: picking up on predictive programming.
CLICK HERE, for #10: Trudeau Foundation & media embeds.
CLICK HERE, for #11: Trudeau swapped out for body double?
CLICK HERE, for #12: Shanifa Nasser, racism narrative, FHA.
CLICK HERE, for #13: George Floyd "murder" was staged psy-op.
CLICK HERE, for #14: culture shift to make face masks normal.
CLICK HERE, for #15: response times, crisis actors, dummy swap.
2. Context For This Article
In order to fairly and accurately report on political and social events, the media has to have a certain level of detachment from the situation. Understandably, one cannot be a part of an organization, yet do any real investigative work on it. There is an obvious conflict of interest.
But that is exactly the case with the Trudeau Foundation. Many prominent members of the media (and former members) are part of the Foundation. This becomes a problem since they do little to hold the Foundation, or the Trudeau Family, to account for anything.
It must be mentioned, however, that Koch/Atlas cronies are prominent in so-called conservative media. Also, Post Media is the parent company of not only mainstream publications, but many alternative ones as well.
3(a). Candis Callison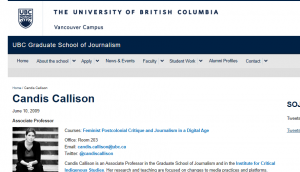 From the UBC Graduate School of Journalism.
3(b). Susan Delacourt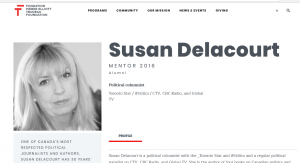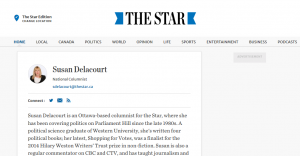 Delacourt writes for (among other outlets), the Toronto Star.
3(c). Graham Fraser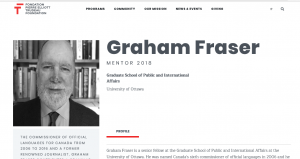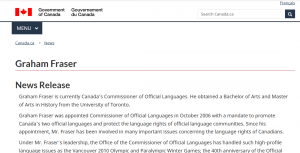 After a long career in journalism, he is appointed Commissioner of Official Languages in Canada.
3(d). John Fraser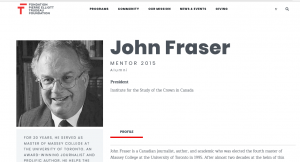 Now he is Executive Chair of the National NewsMedia Council.
3(e). Chantel Hebert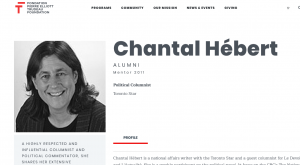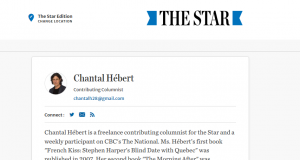 A longtime writer for many outlets, such as Toronto Star.
3(f). Daniel Lessard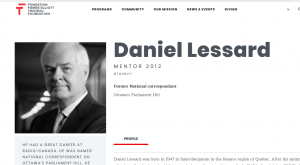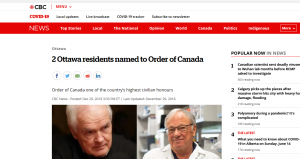 After 39 years with Radio Canada, he gets the order of Canada.
3(g). Laxmi Parthasarathy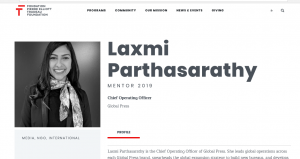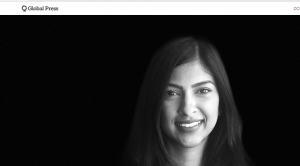 The Chief Operating Officer of Global Press.
3(h). Valerie Pringle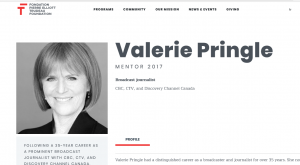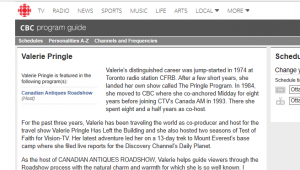 Much of Pringle's career spent at the CBC.
3(i). Jeffrey Simpson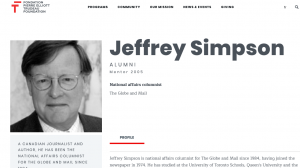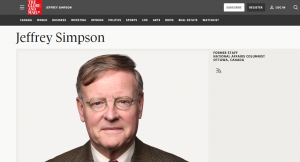 Former writer for the Globe & Mail.
3(j). John Stackhouse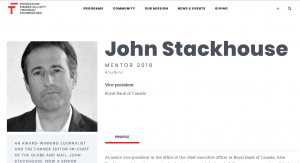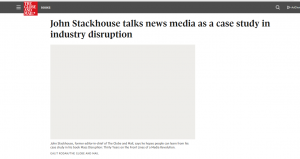 Former editor-in-chief of the Globe & Mail
3(k). Robert Steiner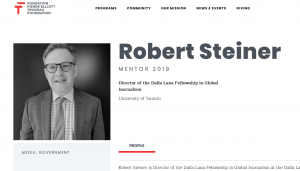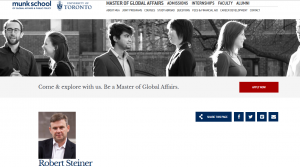 From the Munk School of Global Affairs, Steiner is a fellow.
3(l). Rosemary Thompson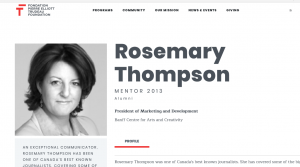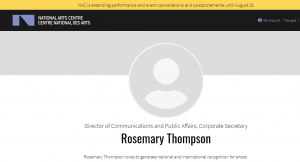 20 years in journalism, mostly with CBC and CTV.
3(m). Marie Wilson
Yet another ex-CBC journalist on the Trudeau Foundation.
3(n). Lynn Zimmer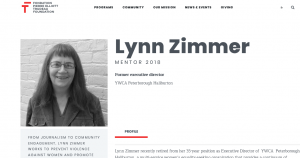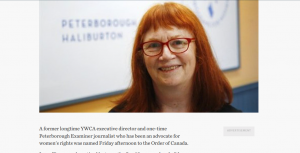 Former writer for Peterborough Examiner.
What is the result of the media being in bed with the Trudeau Foundation? For starters, they don't seem to care about how many politicians or judges are also part of the group. Again, the conflict of interest is clear for everyone to see.
4(a). Ed Broadbent – NDP Leader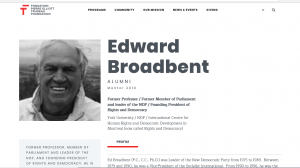 4(b).Philippe Couillard – QC Premier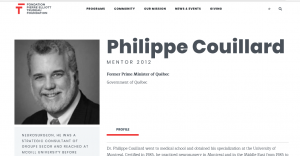 4(c). Raymond Chretien – Ambassador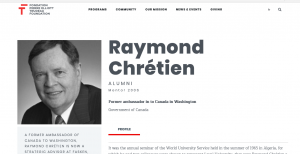 4(d). Michael Fortier – Senator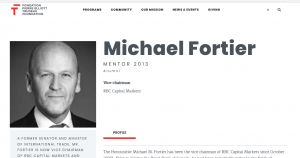 4(e). Michael Harcourt – BC Premier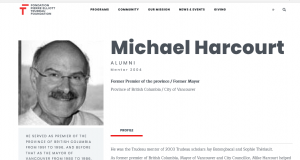 4(f). Megan Leslie — NDP Deputy Leader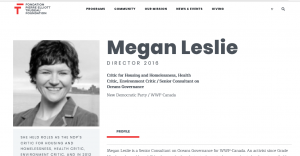 4(g). Wade MacLauchlan – PEI Premier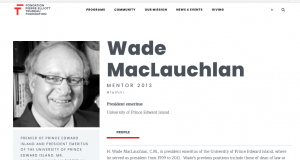 4(h). Elizabeth May – Green Party Leader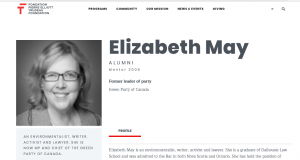 4(i). Anne McLellan – Deputy PM
4(j). Ed Roberts – NFLD Lt. Governor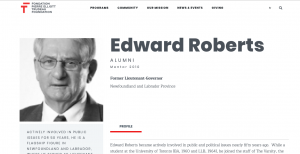 4(k). Roy Romanow – Saskatchewan Premier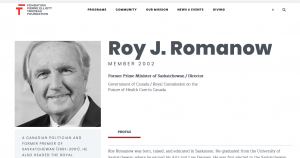 4(l). John Sims – Deputy AG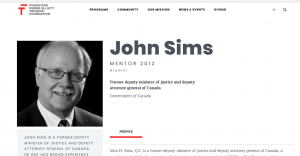 4(m). Chuck Strahl – Privy Council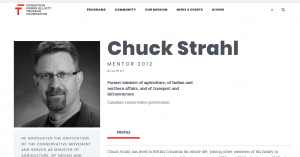 Yes, politicians across the spectrum are also involved with the Trudeau Foundation. Makes one wonder how ideologically divided they are if membership in this group (named after a former Prime Minister), is no big deal for any of them. And things are about to get even worse still.
of course, many of these people have left their positions, but still.
5(a). Thomas Cromwell – SCC Justice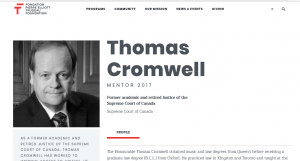 5(b). Marie DesChamps – SCC Justice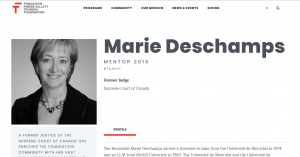 5(c). Louis LeBel – SCC Justice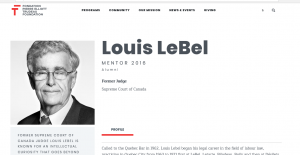 5(d). Beverley McLachlin – SCC Justice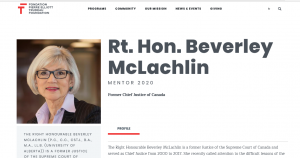 5(e). Louise Arbour – SCC Justice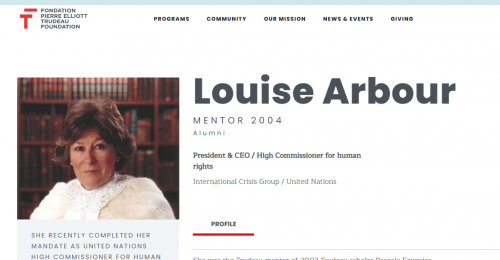 5(f). Lynn Smith – BCSC Justice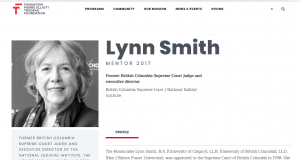 Five former Supreme Court of Canada Justices, and 1 BC Supreme Court Justice are also members of the Trudeau Foundation. This won't help with the impression that the judiciary is independent of the executive branch of government.
6. Jacques Bougie – SNC Lavalin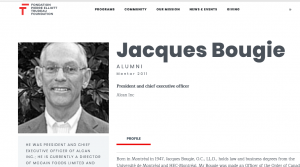 This person being with both Trudeau Foundation and on the SNC Lavalin Board of Directors wouldn't have anything to do with how Lavalin got its deferred prosecution agreement, would it? No, didn't think so.
Of course let's not forget John McCall MacBain, head of the European Climate Foundation, or Roy Heenan, co-founder of the law firm Heenan Blaikie.
7. Are They All Involved?
Why is the mainstream media in Canada so hesitant to report on topics like the Trudeau Foundation, and why won't they go into depth when they do? Consider the makeup of past and present members of the Trudeau Foundation:
Prominent members of the media
Politicians of all parties
Supreme Court Justices
Members of academia
What you see is an organization that has members of: (a) the media; (b) politicians; (c) the courts; and (d) universities, all under the same umbrella. There is no independence here, no checks and balances.