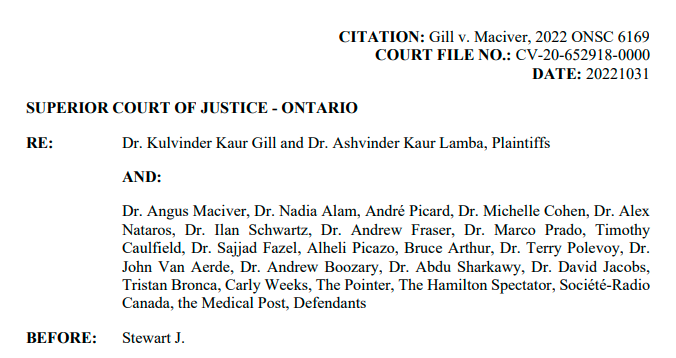 An Ontario doctor is facing financial ruination over a decision to sue almost 2 dozen parties over pretty harmless comments. Another is looking at a significant amount as well. It's hard to imagine why they thought taking this on would be a good idea.
On December 11, 2020, Kulvinder Gill and Ashvinder Lamba brought a $12.75 million defamation lawsuit against 23 individuals and organizations. While portions had to do with the CPSO, the bulk related to comments (mostly on Twitter) over "pandemic" measures.
Absurdly, many in the "freedom community" celebrated this lawsuit. Instead of suing, for example, the CPSO. this was aimed primarily at online critics.
Author's note: originally, Gill and Lamba were represented by Rocco Galati. He left in the Spring of 2022, and the pair obtained new (and separate) lawyers. Jeff G. Saikaley took over for Gill, and Asher Honickman for Lamba. Gill and Lamba are now trying to get money back from their former lawyer, but more on that coming up.
Yes, Twitter is a cesspool, and people are often nasty and rude. However, that doesn't justify attempting to bankrupt and destroy them. Cooler heads prevailed, and on February 24, 2022, the lawsuit was dismissed as a SLAPP, or a strategic lawsuit against public participation.
Ontario, like many jurisdictions, has laws on the books designed to quickly throw out claims that are brought to shut down speech and expression on issues of public concern.
Gill and Lamba served Notice of Appeal in March of 2022. That is still before the Court of Appeals, and will be addressed later on. In the meantime, there's still the issue of costs from the Trial Court, specifically fees from the various Defendants' lawyers.
Costs has been resolved, at least for this portion. Justice Stewart handed down a $1.1 million award, primarily against Gill, the main actor in the suit.
Why was this so high? Partly, because of the number of lawyers involved, but also because of the fairly unique way that SLAPP award are handed out.
For a bit of background on why SLAPP costs are calculated in an unusual manner, consider the sections from 137.1 of the Courts of Justice Act.
Costs on dismissal
(7) If a judge dismisses a proceeding under this section, the moving party is entitled to costs on the motion and in the proceeding on a full indemnity basis, unless the judge determines that such an award is not appropriate in the circumstances. 2015, c. 23, s. 3.
Costs if motion to dismiss denied
(8) If a judge does not dismiss a proceeding under this section, the responding party is not entitled to costs on the motion, unless the judge determines that such an award is appropriate in the circumstances. 2015, c. 23, s. 3.
Damages
(9) If, in dismissing a proceeding under this section, the judge finds that the responding party brought the proceeding in bad faith or for an improper purpose, the judge may award the moving party such damages as the judge considers appropriate. 2015, c. 23, s. 3.
From Sections 137.1(7) through (9) we can see full indemnity (100% of costs) is the standard if the Defendants are successful in getting the suit(s) dismissed. Should they fail, the Plaintiffs aren't automatically entitled to their costs. There's also a provision to allow for damages if a case is ever brought in bad faith.
Two other provisions worth noting: a case is considered "stayed" until all SLAPP issues are resolved, including appeals. This means that a claim can't be amended, nor can it be discontinued. It's "frozen in place", so to speak.
No further steps in proceeding
(5) Once a motion under this section is made, no further steps may be taken in the proceeding by any party until the motion, including any appeal of the motion, has been finally disposed of. 2015, c. 23, s. 3.
No amendment to pleadings
(6) Unless a judge orders otherwise, the responding party shall not be permitted to amend his or her pleadings in the proceeding,
(a) in order to prevent or avoid an order under this section dismissing the proceeding; or
(b) if the proceeding is dismissed under this section, in order to continue the proceeding. 2015, c. 23, s. 3.
One thing to consider, a lawsuit can be dismissed as a SLAPP if any of the defenses are likely to succeed. This is a much lower threshold than what's used for Summary Judgement.
Given this structure, there really isn't a reason for Defendants not to at least attempt this procedure, if it's applicable. Of course, it relates to topics of public interest, not private disputes.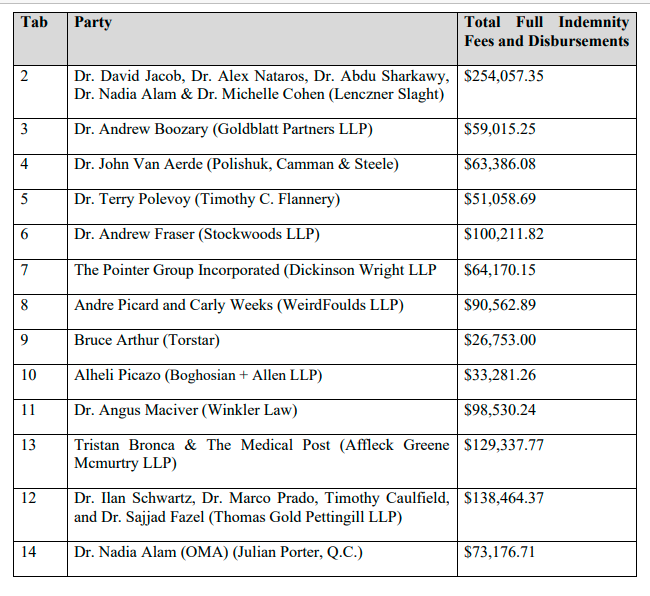 These are the cost submissions from the various Defendants. Keep in mind, full indemnity is the default position, and of course everyone asked for it.
This probably caused panic in Gill and Lamba, with reality setting in about what they're facing. Given that they attempted to bankrupt people over mean words, it's unlikely any mercy would be shown.
What did they think would happen?
Obviously, attorney-client communications are confidential, but one has to wonder why Gill and Lamba attempted this lawsuit in the first place. Many people who read it could tell that this would go nowhere, and that a high cost award was very likely. Were they fully informed about the risks ahead of time?
Things would get stranger still.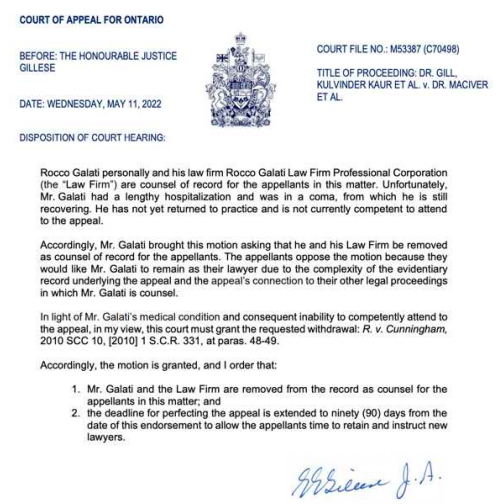 Shortly after filing the Notice of Appeal, Galati, lawyer for Gill and Lamba, filed a Motion to be removed as counsel of record. He claimed to be too ill to continue. Much of the version publicly available is redacted as it contains privileged information. May 12, 2022, Justice Gillese granted it, leaving them scrambling to retain new counsel.
This came at a time when the pair were still dealing with the cost submissions. They did eventually find someone to take the Appeal, and for the cost submissions. Gill and Lamba then threw Galati under the bus, claiming that his prior cost submissions were entirely inadequate. This is very plausible, considering the $1 million (or more) at stake.
There was "case management" during the summer, with the issue of costs at the forefront. Gill and Lamba now had separate lawyers. This made sense since their interests now diverged. Lamba, a relatively minor player in this, seemed to think that a split on costs with Gill was unfair to her financially.
Keep in mind, all of this was still going on while there was an active challenge to the SLAPP ruling. It must have been stressful.
Going to the Court of Appeals might be seen as a Hail Mary, in an attempt to ward off financially crippling costs. But in the end, it will just dig them in deeper. It seems extremely unlikely the C.O.A. will help them at all. We will get to that further on.
Now, Gill is faced with a cost award of over $1 million.
---
Kulvinder Gill has other suit pending against University of Ottawa
---

On March 15, 2021, Gill filed a $7 million lawsuit against the University of Ottawa, and Amir Attaran, one of its professors. The Claim lists 2 (two) rude and insulting tweets that Attaran had made. Apparently, the University is vicariously liable, being his employer.
This idiot is a doctor in Ontario. Sort of a female version of Dr. Scott Atlas.
Looks like the flying monkeys are out today for Dr. Gill.
Research shows the Russian military intelligence (the GRU) are behind the anti-science COVID conspiracy social media.
So with love from Canada.
Are these comments worth $7 million in damages?
July 13, 2021, a Notice of Intent to Defend was filed on behalf of Attaran and the school. It doesn't appear that anything has happened since then.
If Gill were wise, she would discontinue that case before she's faced with another anti-SLAPP Motion. She'd presumably be on the hook for a further $50,000 to $100,000.
---
Gill/Lamba are taking Galati and Coomara to Court now
---

In an interesting turn of events, Gill and Lamba are asking a Brampton Court for nearly $5,700 from their (now former) attorneys. Given the small amount, this seems likely to be a refund for disbursements. Samantha Coomara works at the same firm, and is a junior associate.
---
Gill/Lamba Appeal pending, but has zero chance of success
---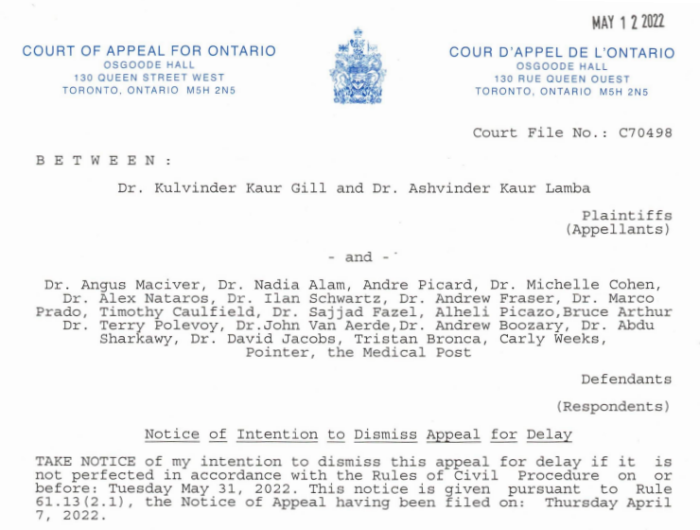 Gill and Lamba did file a Notice of Appeal, along with their Certificate Respecting Evidence within the 30 day time limit.
Then things started happening. Or rather, not happening.
It really doesn't help when the Appellant's counsel suggests that the Trial Judge may have been biased in making determinations. It was raised a few times in the Notice.
Nor does it help when the Appeal itself is baseless. Anti-SLAPP laws exist to throw out suits that clearly have little to no merit. The issue isn't who is the better expert, but whether the Defendants have the right to express themselves on certain topics. Name calling or insults alone are not actionable.
May 12, 2022, the Court of Appeals issued a notice that it was considering dismissed the Appeal for delay. Timelines are very short, and this can happen, unless proper permission to extend time is obtained. It seems that no material had been submitted by this point.
Counsel for Gill and Lamba bailed from the Appeal, claiming to have a prolonged illness, making it impossible to continue the work. In spite of that, the following happened:
May 25, 2022, he filed a suit in Federal Court over workers who were fired
May 31, 2022, he attended an Application to Strike (Action4Canada case)
June 28, 2022, he sued an anti-lockdown group in BC
July 12, 2022, he sued the Law Society of Ontario
August 28, 2022, he filed a Notice of Appeal in BC (Action4Canada)
October 12, 2022, he attended hearings for 2 Ontario cases
This is in addition to several ongoing fundraisers with groups like Action4Canada and Vaccine Choice Canada. There's still money to be made in this.
He just wanted off the Gill case — for whatever reason — and illness was a pretext.
Gill and Lamba have new counsel for their Appeal, but the problems remain. Specifically, that they sued many parties over content that isn't actionable. When the Appeal is eventually thrown out, they'll be on the hook for those costs as well.
The Appeal deadlines have been extended (yet again), and it's unclear when the materials will ever be submitted. A wise move at this point would be to discontinue, but that's a decision the Appellants have to make. They're digging themselves in deeper. True, they have new lawyers, but that doesn't make the Appeal any less frivolous.
While Section 137.1(7) typically allows for full indemnity (100% costs) for successful anti-SLAPP Motions, this would apply to the Appeals of those decisions. It's not too farfetched to see Gill and Lamba — or, primarily Gill — hit with another $200,000 to $400,000. This would be in addition to the $1.1 million that they're already on the hook for.
As for the Defendants, who still have to deal with an Appeal: they want their pound of flesh. There won't be any sympathy. There's already talk about getting liens, and having garnishment done. Unless Gill has significant assets to sell, she's looking at bankruptcy.
One has to wonder what kind of legal advice Gill and Lamba have received since 2020. Anyone with a working knowledge of anti-SLAPP legislation could have foreseen this outcome.
It would be interesting to see if a Law Society complaint gets filed, or already has been. With so much money at stake, things are going to be messy.
KULVINDER GILL/ASHVINDER LAMBA CASE:
(1) Gill/Lamba Defamation Lawsuit December 2020
(2) Gill/Lamba Factum Of Medical Post Tristan Bronca
(3) Gill/Lamba Case Dismissed As A SLAPP
(4) Gill/Lamba Notice of Appeal and Appellants' Certificate
(5) Gill/Lamba Appeal – Notice of Intention to Dismiss Appeal for Delay, May 12, 2022
(6) Gill/Lamba July 15 Letter To Obtain New Counsel
(7) Gill/Lamba Case Conference Brief July 29, 2022
(8) Gill/Lamba Endorsement New Counsel Cost Submissions August 3, 2022
(9) Gill/Lamba Case $1.1 Million In Costs Ordered October 31, 2022
KULVINDER GILL/ATTARAN/UOTTAWA CASE
(1) Gill-Attaran Statement Of Claim
(2) Gill Attaran Affidavit Of Service
(3) Gill-Attaran Notice Of Intent
VACCINE CHOICE CANADA COURT DOCUMENTS:
(1) VCC – Statement Of Claim Unredacted
(2) VCC – Discontinuance Against CBC
(3) VCC – Mercer Statement Of Defense
(4) VCC – Mercer Affidavit Of Service
VACCINE CHOICE CANADA LAWSUIT (2019):
(1) VCC – Statement Of Claim, October 2019 Lawsuit
ACTION4CANADA COURT DOCUMENTS:
(1) A4C Notice of Civil Claim
(2) A4C Response October 14
(3) A4C Legal Action Update, October 14th 2021 Action4Canada
(4) A4C Notice of Application January 12
(5) A4C Notice of Application January 17
(6) A4C Affidavit Of Rebecca Hill
(7) A4C Response VIH-Providence January 17
(8) A4C Response to Application BC Ferries January 19
(9) https://action4canada.com/wp-content/uploads/Application-Record-VLC-S-S217586.pdf
(10) https://drive.google.com/file/d/1BfS_MyxA9J11WeYZmk8256G7GsWEFZ62/view
(11) Notice_of_Discontinuance_Federico_Fuoco_Fire_Productions
(12) Notice_of_Discontinuance__Amy_Muranetz_
(13) A4C Notice Of Appeal September 28 2022
CHILDREN'S HEALTH DEFENSE CANADA/ONTARIO STUDENTS:
(1) Notice Of Application — April 20, 2021, Masks On Students
(2) Schools – Rule 2.1.01 Decision
(3) Schools — Notice Of Appearance Robert Kyle
(4) Schools — Notice Of Appearance Halton Durham
POLICE ON GUARD/OFFICERS:
(1) Notice Of Application — April 20, 2021
FEDERAL VACCINE PASSPORT CHALLENGE:
(1) Statement Of Claim, Federal Workers Forced Out