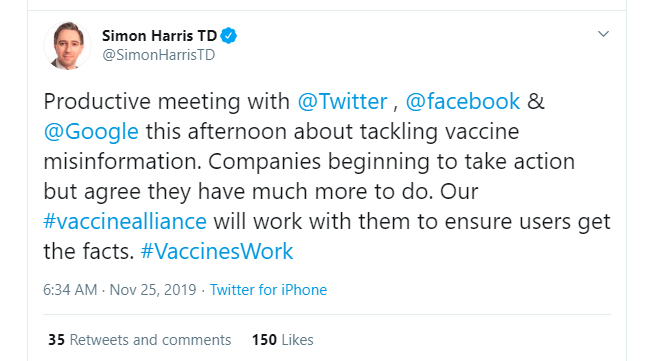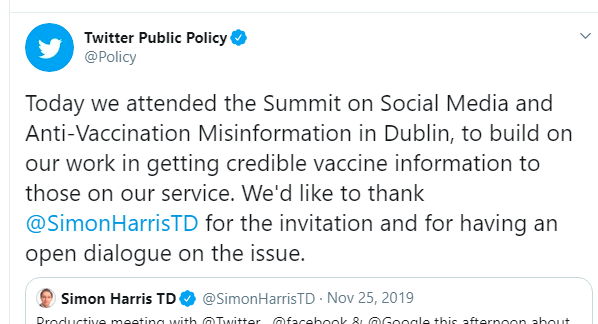 https://twitter.com/SimonHarrisTD/status/1198973132385738752
http://archive.is/yBp2k
https://twitter.com/Policy/status/1198993450668048385
http://archive.is/A7WVH
1. Free Speech Under Constant Threat
For more on free speech and the problems we face, check out this series. The right to speak one's mind and be open are essential in any functioning society. However, there are hurdles and attacks all the time. Also, take a dive down the coronavirus and media rabbit holes. See what else there is.
2. Twitter Admits Shadow-Banning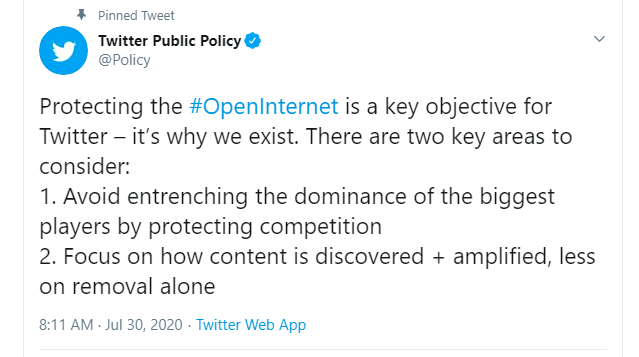 https://twitter.com/Policy/status/1288854760829980674
In it's July 30 pinned tweet, Twitter claims to be protecting the idea of an open internet. While the first item (preventing a few people from domination) makes sense, the second item is disturbing. It mentions focusing on "how the content is amplified and discovered", implying that opinions the hosts don't like will be supressed.
3. Twitter/UNESCO Collude On Media Literacy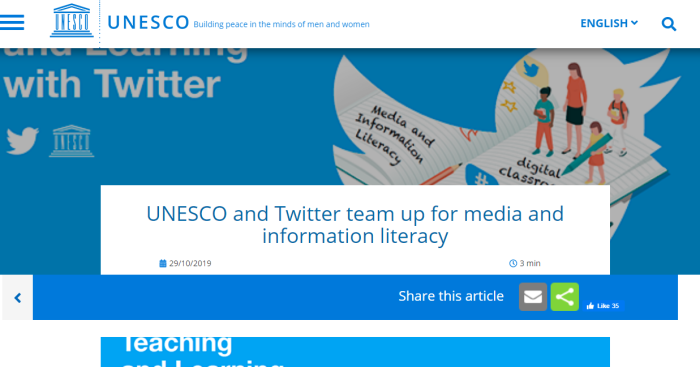 Social media conglomerates are often looked upon with suspicion when it comes to the management of their platforms and collaboration for social development. Media and information literacy is a potent way to help people to critically navigate these information superhighways while enabling them to understand that they have the autonomy to choose what they do online or not.
In a unique partnership with UNESCO, Twitter is launching its updated Teaching and Learning with Twitter Guide during the Global MIL Week celebrations from 24-31 October 2019. The Twitter Learning Guide now has media and information literacy as its focus.
The Twitter Learning Guide benefitted from the direct rewriting and content provided by UNESCO through yearlong consultations. The vision and making of a partnership with Twitter were initiated a year ago when Twitter joined UNESCO on the promotion of Global Media and Information Literacy Week 2018.
This bold move demonstrates Twitter's open commitment to enhancing the critical capacities of its users to make informed and wise choices about how they use the social media platform and engage with information that they encounter therein.
In October 2019, UNESCO and Twitter announced that they were partnering up for what they call "media and information literacy".
While a campaign for media literacy sounds great on the surface, the devil is in the details. For example, UNESCO recently published "articles" telling people to only trust official sources for information on the coronavirus "pandemic".
No one wants to see journalists harmed for doing their job. However, discrediting people for going against the official narratives is weasely and dishonest. See the previous article.
4. Big Tech Supports ChristChurch Call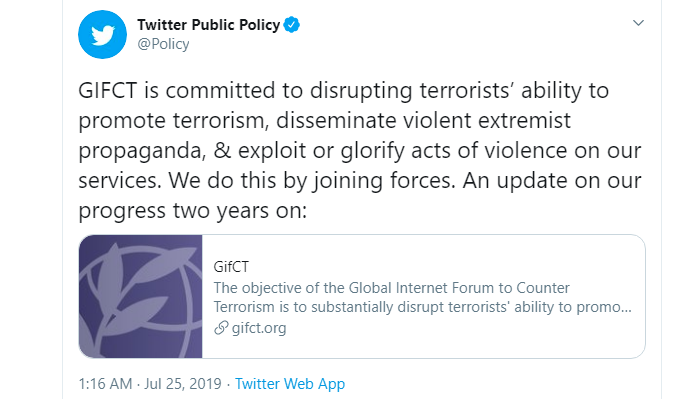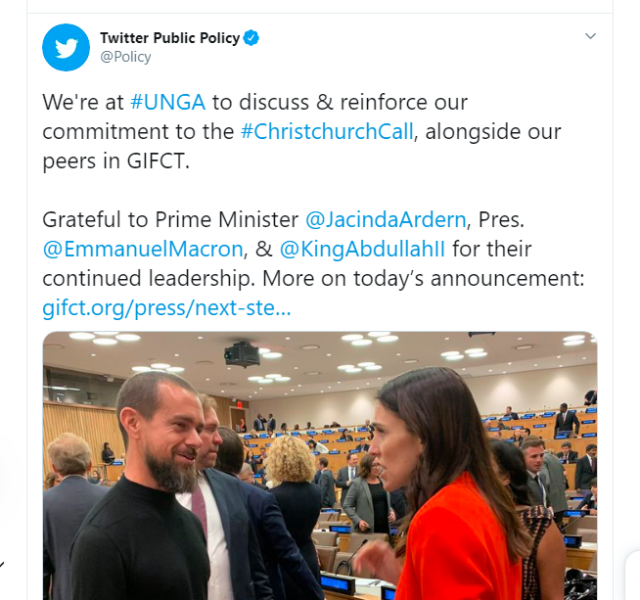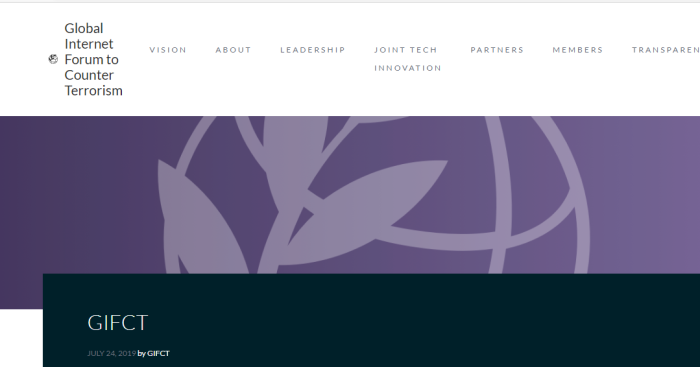 https://twitter.com/Policy/status/1154304423344136192
http://archive.is/NT9zz
https://twitter.com/Policy/status/1176238961947291649
In summer 2017, Facebook, YouTube, Microsoft and Twitter came together to form the Global Internet Forum to Counter Terrorism (GIFCT).
The objective of the GIFCT has always been to substantially disrupt terrorists' ability to promote terrorism, disseminate violent extremist propaganda, and exploit or glorify real-world acts of violence on our services. We do this by joining forces with counterterrorism experts in government, civil society and the wider industry around the world. Our work centers around three, interrelated strategies:
Interesting. Microsoft was (until recently), headed by Bill Gates, who now spends his time trying to vaccinate the planet. Microsoft, Facebook, YouTube and Twitter are all apparently on board with censoring information they deem harmful.
One has to wonder if this cooperation extends to Gates' vaccination agenda. Would social media outlets do what they can in order to ensure it succeeds? As it turns out, yes they will.
5. Big Tech Supports Replacement Agenda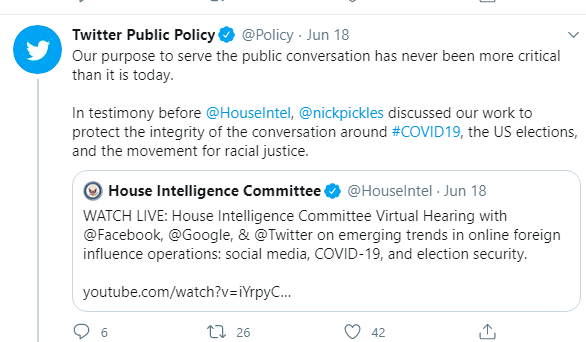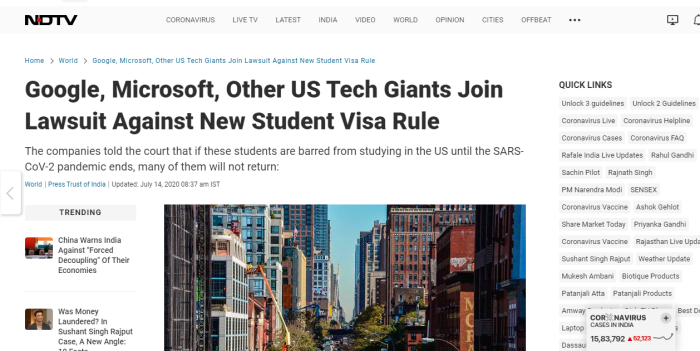 Washington: More than a dozen top American technology companies, including Google, Facebook and Microsoft, on Monday joined a lawsuit filed by the Harvard University and the Massachusetts Institute of Technology against the Immigration and Customs Enforcement's (ICE) latest rule that bars international students from staying in the United States unless they attend at least one in-person course.
Seeking a temporary restraining order and a preliminary injunction, these companies, along with the US Chamber of Commerce and other IT advocacy groups, asserted that the July 6 ICE directive will disrupt their recruiting plans, making it impossible to bring on board international students that businesses, including amici, had planned to hire, and disturb the recruiting process on which the firms have relied on to identify and train their future employees.
For all the talk about not interfering in elections, big tech seems to have no issue with suing the Government in order to keep the cheap labour flowing. Then again, it was always about importing people who will work for less.
Of course, with record high unemployment, continuing to bring people in makes no sense to society. But it was never about that.
6. Twitter Openly Censors CV Information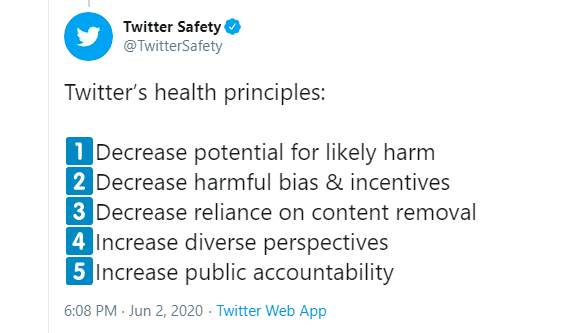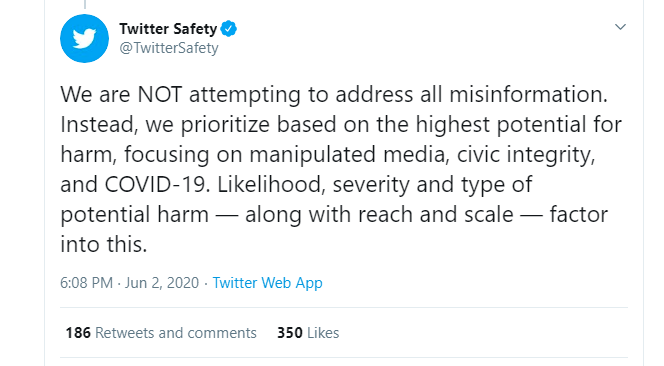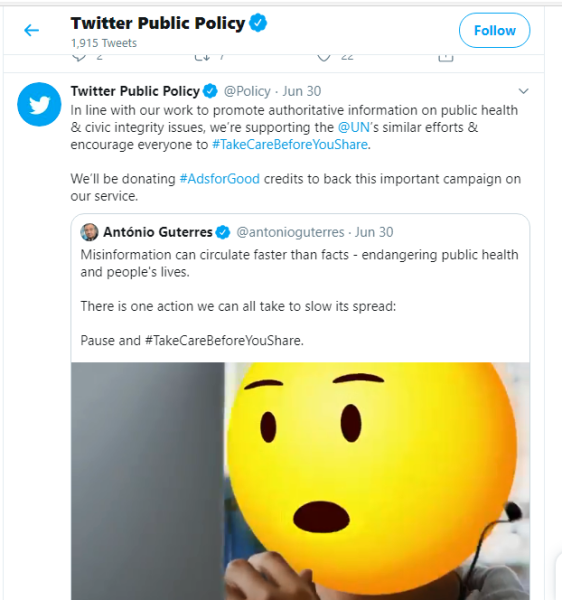 https://twitter.com/TwitterSafety/status/1267986500030955520
https://twitter.com/Policy/status/1278095924330364935
http://archive.is/fHoLx
In serving the public conversation, our goal is to make it easy to find credible information on Twitter and to limit the spread of potentially harmful and misleading content. Starting today, we're introducing new labels and warning messages that will provide additional context and information on some Tweets containing disputed or misleading information related to COVID-19.
In March, we broadened our policy guidance to address content that goes directly against guidance on COVID-19 from authoritative sources of global and local public health information. Moving forward, we may use these labels and warning messages to provide additional explanations or clarifications in situations where the risks of harm associated with a Tweet are less severe but where people may still be confused or misled by the content. This will make it easier to find facts and make informed decisions about what people see on Twitter.
While false or misleading content can take many different forms, we will take action based on three broad categories:
.
(a) Misleading information — statements or assertions that have been confirmed to be false or misleading by subject-matter experts, such as public health authorities.
(b) Disputed claims — statements or assertions in which the accuracy, truthfulness, or credibility of the claim is contested or unknown.
(c) Unverified claims — information (which could be true or false) that is unconfirmed at the time it is shared.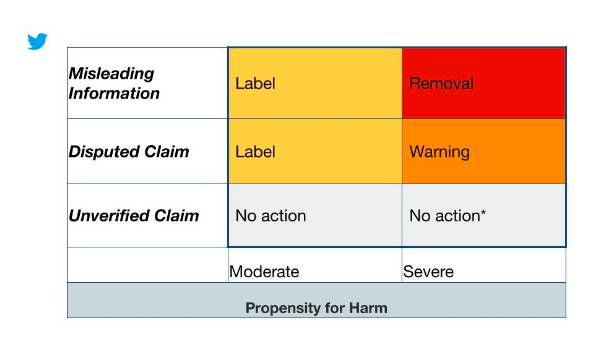 Information that public health authorities or subject matter experts deem to be misleading will be grounds for terminating your account. But what happens to those wanting to fact-check or disprove misleading information from experts or authorities? Guess you're guilty of wrong-think.
Of course, other media outlets should not get a free pass. Twitter, Facebook and YouTube are notorious for deleting accounts which post information that runs counter to the narrative.
7. AMA Wants Crackdown On Misinformation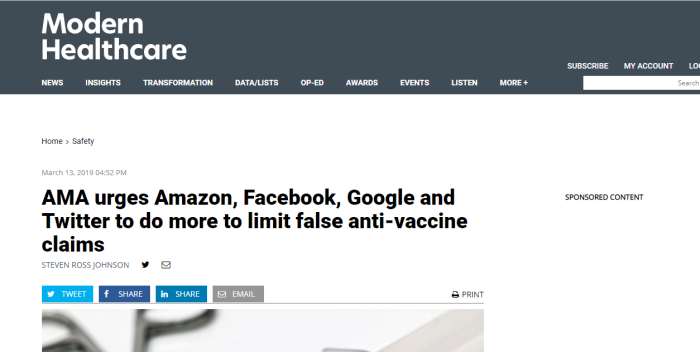 The American Medical Association is urging the country's largest internet technology firms to clamp down on misinformation about vaccines in light of the ongoing series of measles outbreaks.
The nation's most influential physician organization on Wednesday sent a letter to the CEOs of Amazon, Facebook, Google, Pinterest, Twitter and YouTube expressing concern that their respective internet media channels are spreading false information about the safety and efficacy of vaccines, and as a result have been driving parents to not immunize their children.
In a similar fashion, last month Rep. Adam Schiff (D-Calif) sent a letter to chief executives at Facebook and Google requesting they address false claims about vaccines made on their platforms.
In March 2019, the AMA, the American Medical Association, urged social media platforms to crack down on what it calls "misinformation" about vaccines and their safety.
Several companies have taken steps to reduce vaccine misinformation in response to the criticism. On March 7, Facebook announced it would block advertisements that included false claims about vaccines and no longer show or recommend content that contained misinformation on its platform or on Instagram. In February, Pinterest announced it had blocked all vaccine-related searches on its platform in an effort to stop the spread of misinformation on anti-vaccination posts. Also, in the same month Google announced it had begun removing ads from videos that promote anti-vaccination content on YouTube.
It seems like these social media companies were already on board with the AMA's request. They saw no issue with removing information that contradicted the narrative, though the methods differed somewhat.
8. Big Tech Helps Push Vaxx In Ireland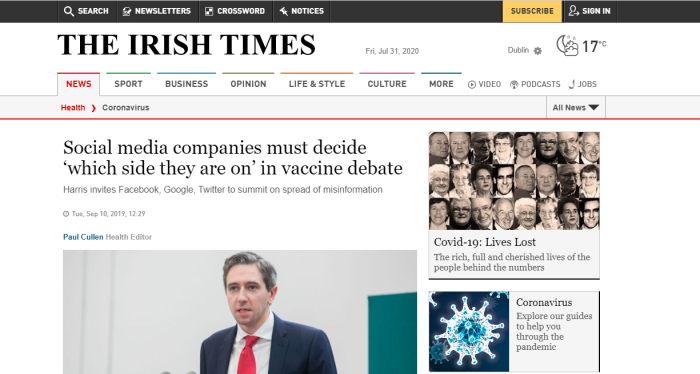 Social media companies have to decide "which side they are on" in the vaccine debate and should consider closing accounts and web pages that spread false information, Minister for Health Simon Harris has said.
Mr. Harris said he had invited Twitter, Facebook, Google and other companies to a "summit" to explain what they can do to support public health and clamp down on misinformation.
"These platforms can be a powerful tool for good, or they can be a vehicle for falsehoods and lies, and they need to decide what side they want to be on," he said on Tuesday at the announcement of a vaccine alliance aiming to boost the uptake of childhood vaccines and reduce parental hesitancy about them.
Mr Harris said social media companies have to decide if they want their platforms to "be on the side of public health, or to be exploited for lies and disinformation". He also challenged fellow TDs not to allow themselves to be "used" by asking "irresponsible" parliamentary questions about vaccines.
The Minister said the need for accurate, evidence-based information outweighed the need for "false balance" in the debate about vaccines and that efforts needed to be redoubled in order to save lives.
The Irish Minister of Health, in September 2019, invited big tech companies to Ireland to figure out ways to get people vaccinated in higher numbers. There is no pretense of having an open debate. Instead, the objective is quite clearly to push this agenda.
9. Big Tech Censors CV-19 Information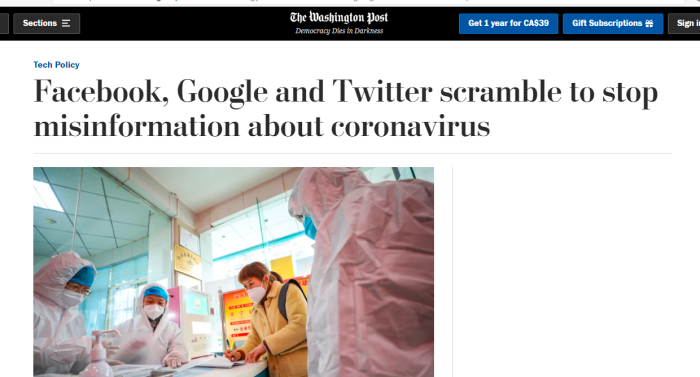 The rapid spread of the coronavirus in China and around the world has sent Facebook, Google and Twitter scrambling to prevent a different sort of malady — a surge of half-truths and outright falsehoods about the deadly outbreak.
The three Silicon Valley tech giants long have struggled to curtail dangerous health disinformation, including posts, photos and videos that seek to scare people away from much-needed vaccines. But the companies face their great test in the wake of a potential pandemic, now that the coronavirus has infected 4,400 people in China, killing at least 100, while sickening another five in the United States.
Already, Facebook and its peers have tried to battle back pervasive conspiracy theories, including a hoax that wrongly claims U.S. government officials secretly created or obtained a patent for the illness. Some of the misinformation has circulated through private Facebook groups — channels that are hard for researchers to monitor in real-time — that came into existence after news first broke about the coronavirus.
Even in January 2020, Facebook, Google and Twitter had been put to work trying to snuff out so-called "misinformation". Plainly put, this is information that contradicts official narratives, regardless of how truthful or well researched.
Now, as seen in the tweets earlier in the article, outlets like Twitter are quite open about their agenda. This is not a free speech platform.
10. Big Tech Moves To Censor In EU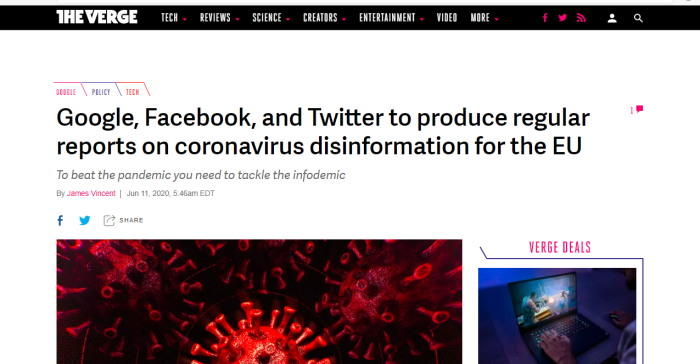 A representative for the EU told The Verge the program would be launched "without delays" and that detailed timings would soon be made public. The EU has told tech companies it would rather the data was comprehensive than rushed, and it's likely the format will be similar to reports produced to tackle misinformation about the 2019 EU elections.
Spokespersons for Google, Facebook, and Twitter, told The Verge they supported the EU's efforts and had already stepped up plans to combat misinformation about the pandemic on their platforms. Facebook and Google said they were committed to producing new monthly reports, while Twitter said it was still considering how to present this information, but that it would be adding regular updates to its coronavirus misinformation blog.
Similarly to the United States, Google, Twitter, Facebook, and others are being used to manipulate Europeans into believing that vaccines are completely safe. The article is from last month, June 2020. This is despite a litany of legitimate questions about what is in them, and what the side effects are.
11. Tech Censorship Is Done Openly
This isn't some mystery, or crazy conspiracy theory. Companies like Google, YouTube, Facebook and Twitter are being asked — and agreeing — to alter the media to create a more pro-vaxx environment. They are complicit in ensuring that difficult questions aren't being asked and answered. There is no benefit to this, whether is be from a free-speech perspective, or from a health and safety perspective.
To drive home the point: this censorship and manipulation isn't some secret plan. It's all out in the open.