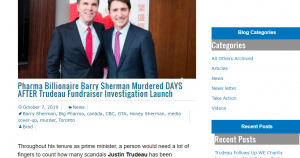 One of several articles (this from Capforcanada.com) suggesting that the killings of Barry and Honey Sherman were related to an ethics investigation of Trudeau.
1. Other Articles On CV "Planned-emic"
It is now August, and the coronavirus hoax is more than 6 months old. To fully understand what is going on, one needs to see the events that are happening behind the scenes. The media in Canada (and elsewhere), will never give you the complete picture.
2. Important Links
CLICK HERE, for the Elections Canada mainpage.
CLICK HERE, for Office of the Lobbying Commissioner.
CLICK HERE, for Rob Silver leaving Crestview Strategy.
CLICK HERE, for CapforCanada article on Sherman killings.
CLICK HERE, for 2019 Toronto Star followup.
CLICK HERE, for Democracy Watch's main page.
CLICK HERE, for Apotex aiding Clinton Foundation missions.
CLICK HERE, for records, donations to foreign charities.
CLICK HERE, for Bloomberg on Apotex donating HCQ doses.
3. Context For This Article
This may be going a bit too far down the rabbit hole, but let's address it anyway. While it is widely believed that the Shermans were killed because of an ethics investigation into illegal lobbying, there are other factors to consider.
First: the motive seems iffy, as there are no real consequences to being found guilty of violating these rules. Trudeau has proven that again and again.
Second: what if there were bigger financial issues at stake?
Mar 2016 – Members of Trudeau's family take trip with Aga Khan
Dec 2016 – Trudeau takes infamous Christmas trip with Aga Khan
Nov 2017 – Raj Saini introduces M-132 in the House
Dec 2017 – Barry & Honey Sherman are murdered
Dec 2017 – Trudeau found guilty of ethics breach
Mar 2018 – GAVI lobbies Canadian Government, continues
Sep 2018 – Committee hearings on M-132 start up
Mar 2019 – House of Commons formally adopts M-132 findings
Jun 2020 – Saini/Gladue lobbied by GAVI
Mar 2020 – Apotex begins lobbying Federal Government again
Apr 2020 – WHO releases list of vaxx research underway
As a disclaimer: this is only a THEORY. The site doesn't have any hard evidence that these killings are connected. There is just: odd factors, curious timing, and a potential financial motive. Take all of this with a grain of salt.
4. Donations & Lobbying By Shermans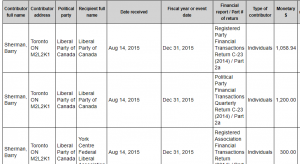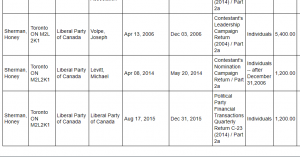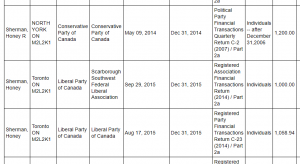 The Shermans have engaged in a small number of donations at the Federal level, according to Elections Canada. Nothing overtly suspicious from this alone. But let's look into the lobbying that has been going on.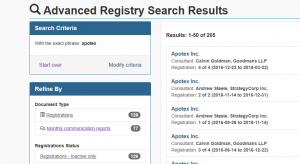 77 communications reports have been filed with the lobbying registry. Interestingly, the bulk of them were PRIOR to the scandal that broke for the Shermans (allegedly) illegally lobbying then-Candidate Trudeau. However, on March 17 and 20, 2020, there were 3 more meetings, on the topic of producing generic pharmaceuticals.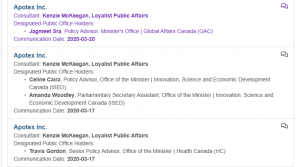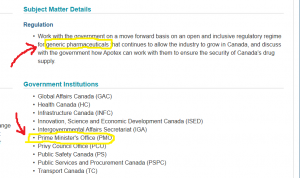 Certainly it would have been interesting to be a fly on the wall at that meeting. One can only imagine how it proceeded.
5. M-132 Introduced, Killings A Month Later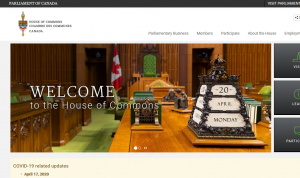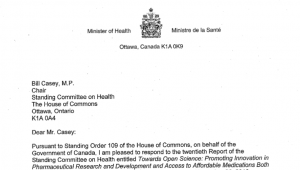 For a speech on passing M-132.
The text is below
Motion Text
That the Standing Committee on Health be instructed to undertake a study on ways of increasing benefits to the public resulting from federally funded health research, with the goals of lowering drugs costs and increasing access to medicines, both in Canada and globally; and that the Committee report its findings and recommendations to the House no later than one year from the time this motion is adopted.
This could be the mother of all coincidences, but a month after M-132 was introduced, (see here, and see here, for background information), Barry Sherman of Apotex, and his wife Honey, were murdered.
Apotex was the major Canadian producer of hydroxychloroquine, which is touted as a cure for the coronavirus. With it being used, there would be little need for massive vaccine research.
6. GAVI Lobbying Very Profitable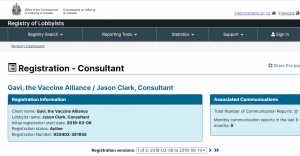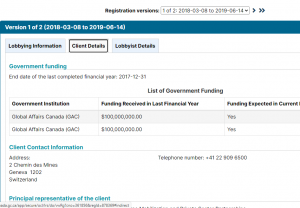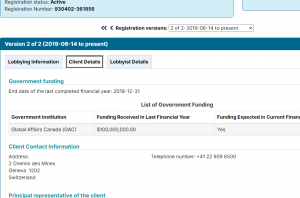 From March 2018 until June 2019, GAVI received $200 million from Global Affairs Canada. From June 2019 to June 2020, GAVI received another $100 million.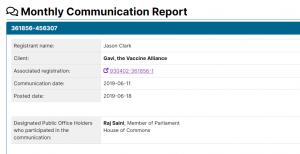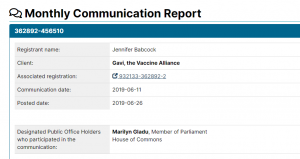 This may be a coincidence as well, but after M-132 was formally adopted in March 2019, GAVI continued with their lobbying. They met with Raj Saini (who introduced M-132), and Marilyn Gladue (Vice-Chair of the M-132 Committee), in June 2019.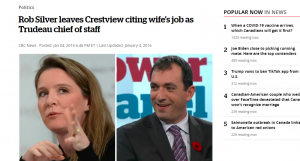 Also worth a reminder: GAVI's lobbying firm, Crestview Strategy, was co-founded by Rob Silver, husband of Katie Telford, who is Justin Trudeau's Chief of Staff.
7. Murder Staged As Murder/Suicide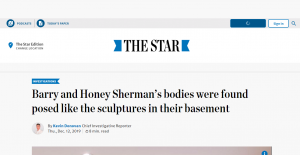 Barry and Honey's lifeless bodies were discovered by realtors and clients who were touring the house on Friday, Dec. 15, 2017. The couple was last seen alive on the evening of Wednesday, Dec. 13. Initially thought by police to be a murder-suicide, their deaths were later determined to be a "targeted" double homicide, according to Det. Sgt. Susan Gomes, who was then the lead detective on the case.
Their bodies were found in what Gomes told news conference was a "semi-seated position." Belts around their necks were attached to a low railing at one end of their basement swimming pool, holding them upright. Brian Greenspan, one of the lawyers working for the Sherman family, has said publicly that the Shermans were found seated side by side, and that one of Barry's legs was "crossed over the other." People who saw the bodies in the pool room that Friday have confirmed this to the Star. One of those people said the bodies were not seated in a 90-degree position but tipped back slightly, with the belts around their necks holding them from falling backward into the pool.
While the police originally thought this to be a murder-suicide, they quickly changed their findings to that of a double homicide. This was just staged in order to throw investigators off the trail.
It seems that many people correctly suspected that the Sherman killings were staged, but didn't figure out why. Of course, the coronavirus "pandemic" wouldn't hit until 2020.
8. Apotex Documents Purged From Corp Canada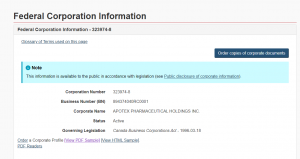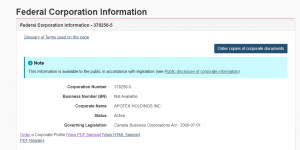 Typically, when searching Corporations Canada, one can instantly get major corporate documents, such as by-laws, directors, and articles of incorporation. However, Apotex Holdings & Apotex Pharmaceutical Holdings seem to have been removed from the site.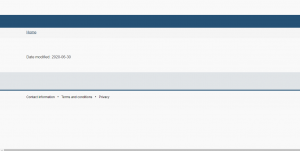 But, when these documents were issued a few months ago, this was the confirmation email.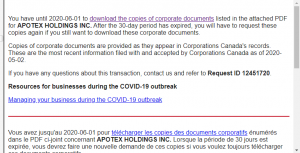 Note: at one time these, the documents were available for download (and were). However, it seems the link and content has been disabled.
9. Democracy Watch In Federal Court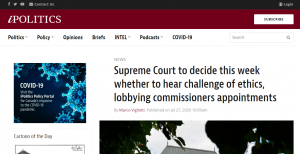 The Supreme Court of Canada will announce on Thursday whether it will hear an appeal from an ethics watchdog challenging the Trudeau government's appointment of new ethics and lobbying commissioners.
Democracy Watch's application for judicial review of cabinet's appointment of Mario Dion as ethics and conflict of interest commissioner and Nancy Belanger as lobbying commissioner was dismissed by the Federal Court of Appeal earlier this year.
In that ruling, the presiding judges said they weren't convinced by Democracy Watch's arguments that the actions of the governor-in-council, or cabinet, in making the appointments were "unreasonable."
The Supreme Court on Monday said it would it issue its judgment in Democracy Watch's application for leave to appeal on July 30. The court usually releases judgments on leave to appeal applications on Thursday.
The Group called Democracy Watch has been trying for years to get a proper investigation into Trudeau and the Shermans, going as far as Federal Court and the Supreme Court of Canada. However, On July 30, the SCC declined to hear the case.
10. Apotex Offers Drug For Free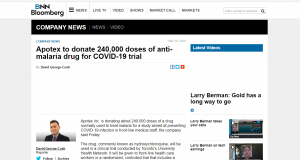 Apotex Inc. is donating about 240,000 doses of a drug normally used to treat malaria for a study aimed at preventing COVID-19 infection in front-line medical staff, the company said Friday.
The drug, commonly known as hydroxychloroquine, will be used in a clinical trial conducted by Toronto's University Health Network. It will be given to front-line health care workers in a randomized, controlled trial that includes a placebo to determine whether it would be an effective treatment in preventing further spread of the novel coronavirus which had infected nearly 900 Canadians as of Friday afternoon, Apotex said in a statement.
Apotex was back in the news recently with announcements to donate large samples of hydroxychloroquine for research in determining its effects on CV-19. Keep in mind, this is a drug that has been out for a long time, so there is little money to be made from mass producing it.
11. Efforts To Stop Hydroxychloroquine
This is too long to go into here, but just search "BAN HYDROYXCHLOROQUINE", and an almost endless amount of articles will come up regarding efforts to prevent this drug from being used.
12. Ties To Clinton Foundation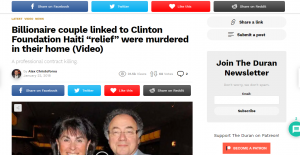 Of course, the "Clinton Body Count" is beyond a meme at this point. But it should be pointed out that Apotex donated to the Clinton Foundation missions in Haiti, Rwanda and Puerto Rico. And people connected to them have a nasty habit of committing suicide.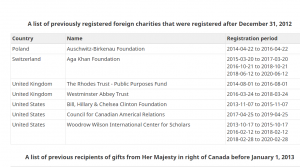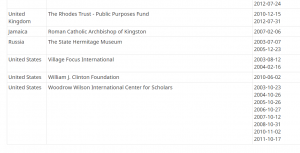 Worth noting: according to CRA records, the Clinton Foundation (along with the Aga Khan Foundation), have received gifts from the Canadian Government. It has happened under both the Harper and Trudeau Governments.
13. Why Were The Shermans Really Killed?
Considering how little information has been publicly released on the case, it's impossible to know for sure.
However, this is a very strange set of coincidences, if that's what it really is.
Pandemic "simulations" are run for years: Dark Water (2001); Atlantic Storm (2005); Clade X (2018); and Event 201 (2019)
M-132 is announced in November 2017, to fund global pharma research, and it comes just a month before the killings.
The M-132 committee gets lobbied by the pharma industry, including GAVI itself.
GAVI's lobbying firm, Crestview Strategy, was founded by Rob Silver, Katie Telford's husband.
Shermans worked with Clinton Foundation
Then this "pandemic" hits, with all the signs of premeditation.
Now efforts are underway to stop the use of hydroxychloroquine, a drug Apotex can mass produce and share.
True, it has been widely speculated that this was done to stop an ethics investigation into Justin Trudeau. However, that seems unlikely, given these laws have no teeth.
This article may be viewed as a wild conspiracy theory. But it is an attempt to explain a set of seemingly nonsensical events.