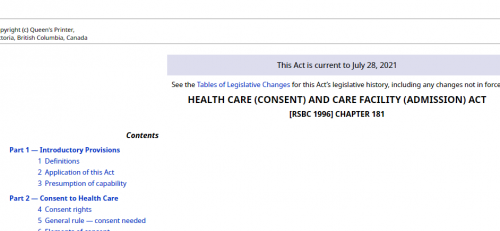 With the looming vaccine passports in B.C. (and elsewhere), a good piece of legislation to know is the B.C. Health Care (Consent) And Care Facility (Admissions) Act Of 1996. It doesn't really require much commentary, as the quoted passages are pretty self explanatory.
Part 2 — Consent to Health Care
.
Consent rights
4 Every adult who is capable of giving or refusing consent to health care has
(a) the right to give consent or to refuse consent on any grounds, including moral or religious grounds, even if the refusal will result in death,
(b) the right to select a particular form of available health care on any grounds, including moral or religious grounds,
(c) the right to revoke consent,
(d) the right to expect that a decision to give, refuse or revoke consent will be respected, and
(e) the right to be involved to the greatest degree possible in all case planning and decision making.
General rule — consent needed
5 (1) A health care provider must not provide any health care to an adult without the adult's consent except under sections 11 to 15.
.
(2) A health care provider must not seek a decision about whether to give or refuse substitute consent to health care under section 11, 14 or 15 unless he or she has made every reasonable effort to obtain a decision from the adult.
Elements of consent
.
6 An adult consents to health care if
(a) the consent relates to the proposed health care,
(b) the consent is given voluntarily,
(c) the consent is not obtained by fraud or misrepresentation,
(d) the adult is capable of making a decision about whether to give or refuse consent to the proposed health care,
(e) the health care provider gives the adult the information a reasonable person would require to understand the proposed health care and to make a decision, including information about
(i) the condition for which the health care is proposed,
(ii) the nature of the proposed health care,
(iii) the risks and benefits of the proposed health care that a reasonable person would expect to be told about, and
(iv) alternative courses of health care, and
(f) the adult has an opportunity to ask questions and receive answers about the proposed health care.
How incapability is determined
7 When deciding whether an adult is incapable of giving, refusing or revoking consent to health care, a health care provider must base the decision on whether or not the adult demonstrates that he or she understands
(a) the information given by the health care provider under section 6 (e), and
(b) that the information applies to the situation of the adult for whom the health care is proposed.
No emergency health care contrary to wishes
12.1 A health care provider must not provide health care under section 12 if the health care provider has reasonable grounds to believe that the person, while capable and after attaining 19 years of age, expressed an instruction or wish applicable to the circumstances to refuse consent to the health care.
However, depending on how malicious the higher ups may be, there are sections that could be twisted and perverted to force certain types of health care. That being said, the whole issue of consent seems pretty clear cut.
Threatening someone's livelihood, finances, or general freedoms in order to obtain consent amounts to coercion. And that is exactly what forced "vaccines" and tests do. And yes, this has been brought up many times, but these aren't even approved by Health Canada. They have interim authorization. Considering the emergency declaration was cancelled in Ontario and B.C., this should actually be illegal.
Also check out the Ontario Health Care Consent Act of 1996. So-called medical professionals aren't allowed to do anything to you if you don't give voluntary and informed consent.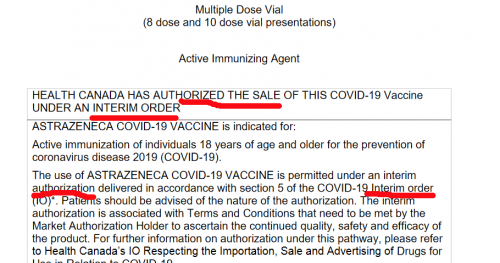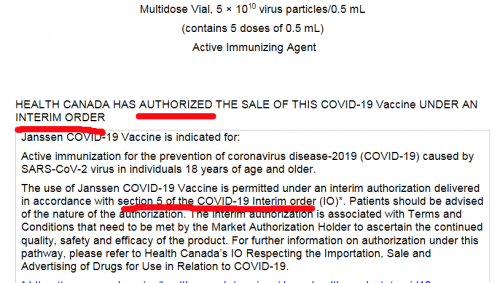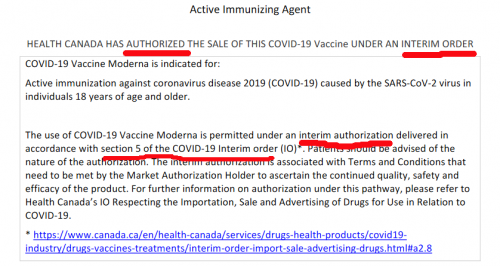 (1) https://www.bclaws.gov.bc.ca/civix/document/id/complete/statreg/96181_01#part2
(2) https://canucklaw.ca/ontario-health-care-consent-act-of-1996-fyi-for-vaccines-or-tests/
(3) https://covid-vaccine.canada.ca/info/pdf/astrazeneca-covid-19-vaccine-pm-en.pdf
(4) https://covid-vaccine.canada.ca/info/pdf/janssen-covid-19-vaccine-pm-en.pdf
(5) https://covid-vaccine.canada.ca/info/pdf/covid-19-vaccine-moderna-pm-en.pdf
(6) https://covid-vaccine.canada.ca/info/pdf/pfizer-biontech-covid-19-vaccine-pm1-en.pdf
(7) https://www.laws-lois.justice.gc.ca/eng/acts/F-27/page-9.html#docCont
(8) https://www.canada.ca/en/health-canada/services/drugs-health-products/covid19-industry/drugs-vaccines-treatments/interim-order-import-sale-advertising-drugs.html#a2.3