(#STWT 83 – Rachel Chandler, Robert Maxwell, Epstein, Mossad, Eminem, Waris, NXIVM, etc)
https://www.youtube.com/watch?v=-_SuZGSzhaU
(Fake refugees pretending to be children.)

(European Court of Human Rights: Can't call a pedo a pedo)

(Lauren Southern & Ariel Ricker)

(Squatting Slav: What Lauren Southern withholds)

1. Trafficking, Smuggling, Child Exploitation
CLICK HERE, for TSCE #1: series intro and other listings.
CLICK HERE, for TSCE #2: suing for the right to illegally enter U.S.
CLICK HERE, for TSCE #3: the U.N.'s hypocrisy on sexual abuse.
CLICK HERE, for TSCE #4: fake refugees gaming the system.
2. Important Links
CLICK HERE, for piece on Safe 3rd Country Agreement.
CLICK HERE, for a previous piece on sanctuary cities.
CLICK HERE, for a previous piece on Islamic blasphemy laws upheld by ECHR.
CLICK HERE, for previous piece on New York Declaration of 2016.
CLICK HERE, for previous piece on Global Migration Compact.
CLICK HERE, for the UN admitting it has an agenda to promote the "caravans" into the US.
CLICK HERE, for a Fox article on Bill for new DNA testing on so called "family units" seeking asylum at U.S./Mexico border.
CLICK HERE, for HILL article on lawsuit to allow illegal immigration.
CLICK HERE, for the Canada/US Safe 3rd Country Agreement.
CLICK HERE, for CBC article on Roxham Road crossings.
CLICK HERE, for Epoch Times article on ICE Director Homan's comments about sanctuary cities.
CLICK HERE, for an article on Sweden conducting "age tests".
CLICK HERE, for France's "bone tests" ruled constitutional.
CLICK HERE, for France's bone test ruling itself.
CLICK HERE, for Atlantic article, ECHR upholds blasphemy conviction.
CLICK HERE, for child marriage case in Germany.
CLICK HERE, for NXIVM cult, Allison Mack case.
CLICK HERE, for a Trudeau friend sentenced for child porn.
3. Context For This Article
Pardon the rather scattershot nature of this piece. It will cover a range of different topics all within the context of human trafficking and child exploitation. Links provided, and so will be relevant screenshots.
There will be follow up articles to come
4. Child Trafficking Across US/Mexico Border
(The UN is partially responsible for efforts to overrun the US/Mexico border)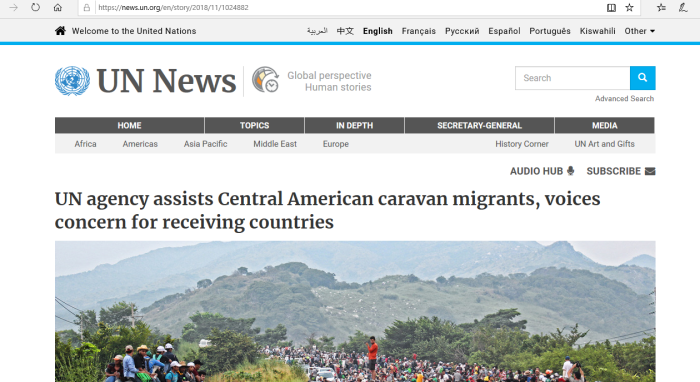 (The UN demands the "rights" of all migrants be respected, regardless of their status. This means, regardless of whether they are in the country illegally)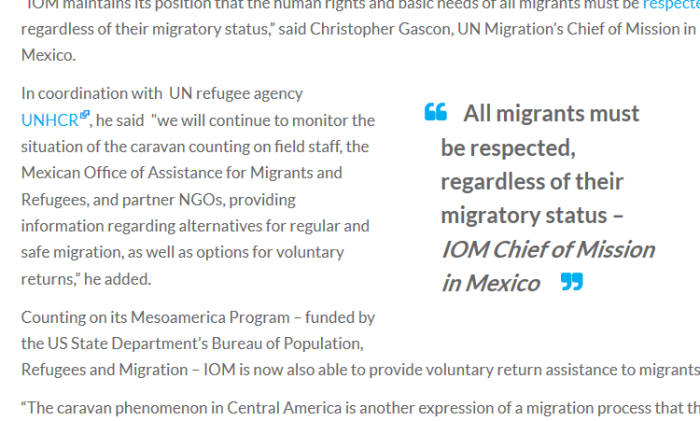 (Officially, the UN condemns "smuggling of migrants")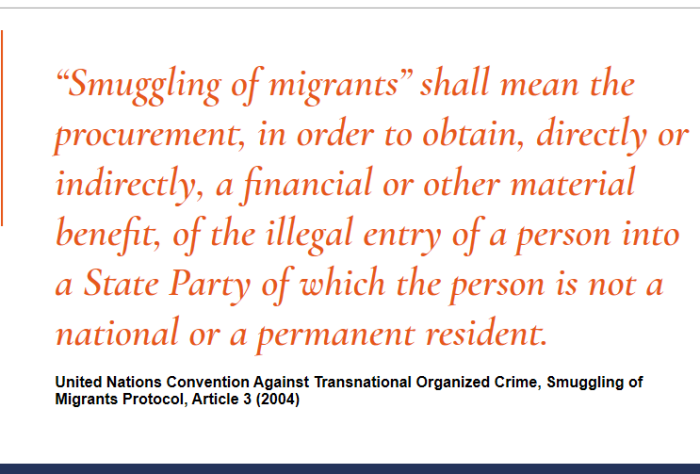 (Children used as props for "family units")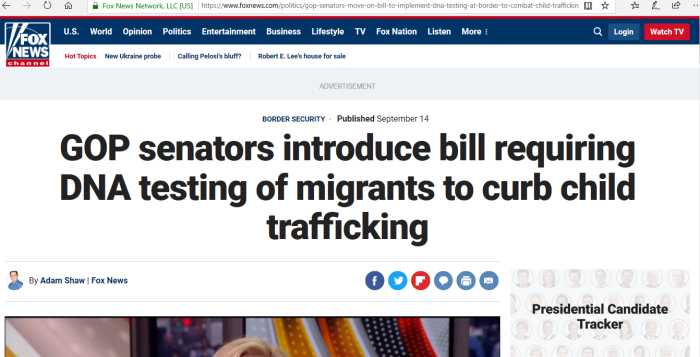 Senate Republicans this week introduced a bill to implement DNA testing of migrants claiming to be part of family units — a move aimed at cracking down on child trafficking along the southern border.
Sens. Marsha Blackburn, R-Tenn., and Joni Ernst, R-Iowa., introduced the End Child Trafficking Now Act that would require DNA testing to verify relationships between adult migrants and the children they claim are part of their family. The senators say it will help prevent children from being exploited by drug traffickers and gang members.
"It is horrifying that children are becoming victims of trafficking at our southern border," Blackburn said in a statement. "By confirming a familial connection between an alien and an accompanying minor, we can determine whether the child was brought across the border by an adult with nefarious intentions. The current crisis at our border is multifaceted and requires a holistic approach. By tackling these problems piece by piece, we will get this situation under control."
Blackburn's office said more than 5,500 fraudulent asylum claims have been uncovered since March by the Department of Homeland Security.
The FOX article delves straight into a disturbing topic: children are being used as shields. Adults cross with children they allege are theirs, but it is a ruse to be declared a "family unit" which will lead to an easier time staying in the U.S.
The UN and George Soros are helping to facilitate packs, or "caravans" of Central American migrants into the United States. This is despite the explicit orders of Donald Trump to stay away, and the overwhelming opposition of the American public.
Of course, there is often no way to tell what the true circumstances are. is the child being "recycled", and used to help multiple "families"? Is there smuggling going on? Are the children being physically or sexually exploited?
5. Canada/U.S. Safe 3rd Country Agreement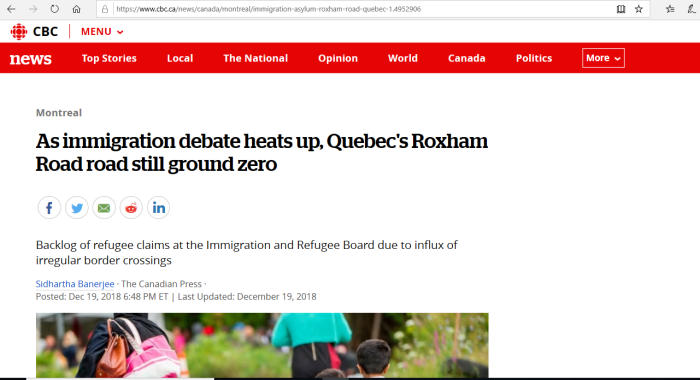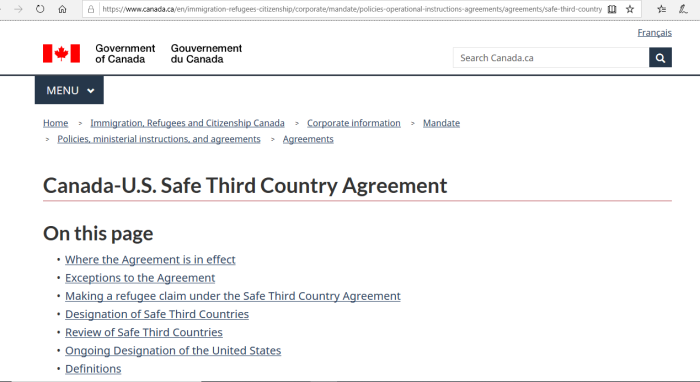 EMPHASIZING that the United States and Canada offer generous systems of refugee protection, recalling both countries' traditions of assistance to refugees and displaced persons abroad, consistent with the principles of international solidarity that underpin the international refugee protection system, and committed to the notion that cooperation and burden-sharing with respect to refugee status claimants can be enhanced;
DESIRING to uphold asylum as an indispensable instrument of the international protection of refugees, and resolved to strengthen the integrity of that institution and the public support on which it depends;
NOTING that refugee status claimants may arrive at the Canadian or United States land border directly from the other Party, territory where they could have found effective protection;
CONVINCED, in keeping with advice from the United Nations High Commissioner for Refugees (UNHCR) and its Executive Committee, that agreements among states may enhance the international protection of refugees by promoting the orderly handling of asylum applications by the responsible party and the principle of burden-sharing;
There is a loophole, in that the agreement covers official ports of entry. It has been taken to mean, however, that simply bypassing those ports and crossing elsewhere means an expedited entry into Canada.
This has been covered in other articles. The point being that both Canada and the United States are safe countries, and offer generous protections to people seeking asylum. It circumvents the intent of the agreement to go "asylum shopping" and hop around. Legitimate refugees should attempt to seek asylum in the first safe country they get to.
The U.S., as noted, is a safe country. People attempting to cross into Canada illegally should immediately be turned back. Simply passing through is not an excuse. Fearing being deported (if in the U.S. illegally) is also not a valid fear of persecution.
Instead, not only has the Federal Government not done anything, they have fought outside efforts to close the loophole. More on that in another article.
6. Sanctuary Cities Mask Child Trafficking
(Thomas Homan, Acting Director of I.C.E.)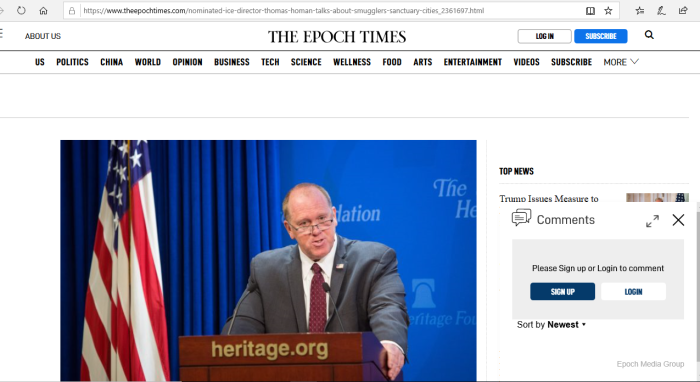 "So we can't arrest them in the jail, we can't arrest them at their homes because they won't open their doors and cooperate with us because they've been trained not to—what option does that leave us?" Homan said. "And when you're in New York City, Los Angeles, or Chicago, chances are, when you pull that car over, you're within a block or two of a school, or a church, or a hospital."
Homan said sanctuary cities entice more illegal aliens to enter the United States and hide out in those cities. "Sanctuary cities are alien smugglers' best friend. You don't think the alien smuggling organizations are using that as an enticement?"
Homan said the United States spends billions of dollars a year on border security, detention, immigration courts, attorneys, and appeals courts.
So called "sanctuary cities" are Municipalities that have decided not to cooperate with Federal officials in removing illegal aliens. People without legal status are allowed access to public services such as health care, education, library privileges, and other social services. Of course, these are services that taxpaying citizens have been contributing to.
Worth noting: many jurisdictions that have such policies are done so without any democratic mandate from the people. Objectors may be gaslighted as being racist or far-right.
In the above article, I.C.E. Director Homan raises another interesting point. Sanctuary cities are perfect targets for human smuggling. And why wouldn't they be? police officials have been instructed not to enforce the law.
In these instances, sanctuary laws are not helping children. Instead, they are being used to provide cover to predators engaging in smuggling. Curiously, Liberals will never get into this side of it.
7. Flooding Europe With Fake Refugees
(Mass sexual assaults in Cologne, Germany, by "refugees".)

In 2015, German Chancellor Angela Merkel decided to open Germany's, and by extension Europe's borders to the world. Over 1 million people came in just the first year.
Note: she was never elected to do this, nor did she ever attempt to seek a democratic mandate. Many "refugees" repaid the kindness with acts of violence and sexual assaults towards the German people, particularly the women.
Loads of this information is readily available online, so this will be skipped over for this article.
8. Pretending To Be "Child" "Refugees"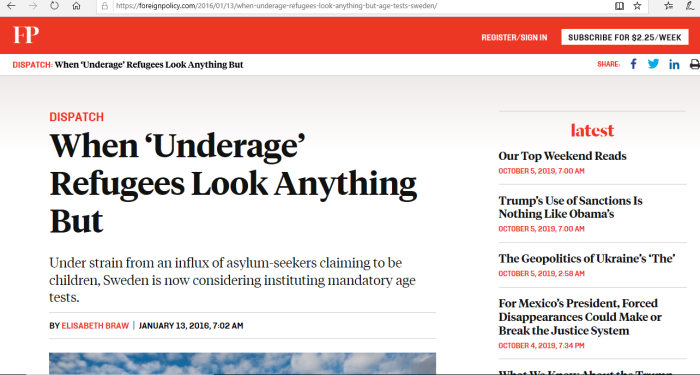 Jamal, who arrived in Sweden in August with his 16-year-old brother, isn't the only one who noticed some rather seasoned-looking men among the 1,000-2,000 unaccompanied minors who were arriving in Sweden each week over the summer and fall. Now, in the midst of a fierce debate over asylum policy that saw Sweden backtrack on its generous open-door position late last year, Swedes are also weighing how to treat migrants who claim to be children but lack identification.
The government and the country's Migration Agency have long been reluctant to medically test unaccompanied minors' ages as a standard procedure. "The government has been hoping that silence about age cheating will solve the issue," said Johansson. But now as part of the recent reversal of its open-door asylum policy, the government is considering making age-determination tests standard practice for unaccompanied minors. The test, which involves dental and wrist-bone X-rays, can usually determine a young person's age within a one-year margin. A Justice Ministry spokesman told Foreign Policy that a proposal is expected within the next six months.
There are also videos available on the subject. The Swedes are right though. There needs to be a crackdown.
Why pretend to be a child? A few reasons. First, children are virtually impossible to deport. This means that a minor who arrives in a Western nation (whether the child claim is genuine or not) is essentially guaranteed to remain there. Another reason is that there are more financial benefits available to children, which adults would not have access to.
9. France's Bone Scans Ruled Legal"
THE CONSTITUTIONAL COUNCIL DECIDED THAT:
l. Article 388 of the Civil Code, in its formulation resulting from the aforementioned Act of 14 March 2016, stipulates:
"A minor is an individual of either sex who has not yet reached the full age of eighteen years.
"Radiological bone scans used to determine age in the absence of valid identification documents and when the alleged age does not seem to correspond, can only be carried out by decision of the judicial authority and with the consent of the party concerned.
"The conclusions of these scans, that must specify their margin of error, cannot by themselves be used to determine if the party concerned is a minor. Any doubt benefits the party concerned.
"In case of doubt as to whether the party concerned is a minor, age may be evaluated through a pubertal development exam of primary and secondary sexual characteristics."
To be fair the language is a bit sticky when it comes to consent. However, it can reasonably be seen that a refugee claimant can have an application refused if they won't give their consent.
10. Push For Child Marriage in Europe
"Religious or cultural justifications obscure the simple fact that older, perverse men are abusing young girls," said Rainer Wendt, head of the German police union.
Monika Michell of Terre des Femmes, a women's rights group that campaigns against child marriage, added: "A husband cannot be the legal guardian of a child bride because he is involved in a sexual relationship with her — a very obvious conflict of interest."
The Justice Minister of Hesse, Eva Kühne-Hörmann, asked: "If underage persons — quite rightly — are not allowed to buy a beer, why should the lawmakers allow children to make such profound decisions related to marriage?"
Others said the ruling would open the floodgates of cultural conflict in Germany, as Muslims would view it as a precedent to push for the legalization of other Islamic practices, including polygamy, in the country.
This is just one instance of efforts by Muslims to have their "marriages" overseas recognized in other countries. Typically, it is of an adult man married to an adolescent or teenage girl. Muslims predictably make cries of discrimination.
However, there is a very legitimate concern for the welfare of the child. If the girl is below the age of consent, and unable to make mature decisions, why should she be getting married? Is child sexual exploitation mitigated simply by cloaking it in religion?
On the flip side, the European Court of Human Rights is making it more difficult to criticize such acts. An Austrian woman had her "religious defamation" conviction upheld, on the grounds it would upset religious peace.
Yes, don't bother protecting children from pedophiles and exploitation. Instead, let's prosecute people who upset the pedophiles' feelings. Much better approach.
11. UN Global Migration Compact Enables Smuggling
This non-binding agreement was signed by Canada back in December 2018. While touted as just a "framework", the Compact has many chilling provisions.
OBJECTIVE 17(c) Promote independent, objective and quality reporting of media outlets, including internet based information, including by sensitizing and educating media professionals on migration-related issues and terminology, investing in ethical reporting standards and advertising, and stopping allocation of public funding or material support to media outlets that systematically promote intolerance, xenophobia, racism and other forms of discrimination towards migrants, in full respect for the freedom of the media
So the UN GMC has provisions to "educate" media on the terminology and issues. And it also has the power to pull the funding for media it deems offensive. This is blatant censorship and propaganda, and flies in the face of a free media.
OBJECTIVE 4: Ensure that all migrants have proof of legal identity and adequate documentation
20. We commit to fulfil the right of all individuals to a legal identity by providing all our nationals with proof of nationality and relevant documentation, allowing national and local authorities to ascertain a migrant's legal identity upon entry, during stay, and for return, as well as to ensure effective migration procedures, efficient service provision, and improved public safety. We further commit to ensure, through appropriate measures, that migrants are issued adequate documentation and civil registry documents, such as birth, marriage and death certificates, at all stages of migration, as a means to empower migrants to effectively exercise their human rights.
This really needs to be clarified. Will the UN be working with other nations to ensure that identification papers will be available? Or will the UN just go ahead and provide their own papers to people based on who they claim to be? And why would 1st world countries want to take in large numbers of people who haven't had proper ID before?
OBJECTIVE 5: Enhance availability and flexibility of pathways for regular migration
21. We commit to adapt options and pathways for regular migration in a manner that facilitates labour mobility and decent work reflecting demographic and labour market realities, optimizes education opportunities, upholds the right to family life, and responds to the needs of migrants in a situation of vulnerability, with a view to expanding and diversifying availability of pathways for safe, orderly and regular migration.
Translation: we are going to expand the number of pathways available to immigrate to another country. It doesn't seem to matter that the majority of nations and people in those nations want less immigration. The U.N. believes that migration is by definition, good.
OBJECTIVE 11: Manage borders in an integrated, secure and coordinated manner
27. We commit to manage our national borders in a coordinated manner, promoting bilateral and regional cooperation, ensuring security for States, communities and migrants, and facilitating safe and regular cross-border movements of people while preventing irregular migration. We further commit to implement border management policies that respect national sovereignty, the rule of law, obligations under international law, human rights of all migrants, regardless of their migration status, and are non-discriminatory, gender-responsive and child-sensitive.
"Regardless of their migration status" is a euphemism for people who are in the country illegally. And this managing of borders sounds like control will be taken away from the host country. Who will be managing this integrated project? The UN?
OBJECTIVE 13: Use immigration detention only as a measure of last resort and work towards alternatives
29. We commit to ensure that any detention in the context of international migration follows due process, is non-arbitrary, based on law, necessity, proportionality and individual assessments, is carried out by authorized officials, and for the shortest possible period of time, irrespective of whether detention occurs at the moment of entry, in transit, or proceedings of return, and regardless of the type of place where the detention occurs. We further commit to prioritize noncustodial alternatives to detention that are in line with international law, and to take a human rights-based approach to any detention of migrants, using detention as a measure of last resort only.
Find other alternatives to custody. Presumably this also includes people in the country illegally, though that is not made clear. Does the public know that this removes any teeth the laws have to protect the citizens from crimes committed by migrants?
OBJECTIVE 15: Provide access to basic services for migrants
31. We commit to ensure that all migrants, regardless of their migration status, can exercise their human rights through safe access to basic services. We further commit to strengthen migrant inclusive service delivery systems, notwithstanding that nationals and regular migrants may be entitled to more comprehensive service provision, while ensuring that any differential treatment must be based on law, proportionate, pursue a legitimate aim, in accordance with international human rights law.
This is exactly what it sounds like. Migrants will be entitled to basic public services in another country, regardless of whether or not they are there illegally. Seems like something the host population should be deciding on (and voting on), don't you think? Shouldn't the public get a say in the matter at all.
12. UN GMC Immunizes Migrants For Smuggling
OBJECTIVE 9: Strengthen the transnational response to smuggling of migrants
25. We commit to intensify joint efforts to prevent and counter smuggling of migrants by strengthening capacities and international cooperation to prevent, investigate, prosecute and penalize the smuggling of migrants in order to end the impunity of smuggling networks. We further commit to ensure that migrants shall not become liable to criminal prosecution for the fact of having been the object of smuggling, notwithstanding potential prosecution for other violations of national law. We also commit to identify smuggled migrants to protect their human rights, taking into consideration the special needs of women and children, and assisting in particular those migrants subject to smuggling under aggravating circumstances, in accordance with international law.
Interesting. The UN Global Migration Compact claims in Objectives 9 and 10 to want to combat human trafficking, yet states that migrants participating will not be subject to criminal penalties. Does this mean that even those who are complicit will also be immune?
13. Smugglers Posing As UN Staff?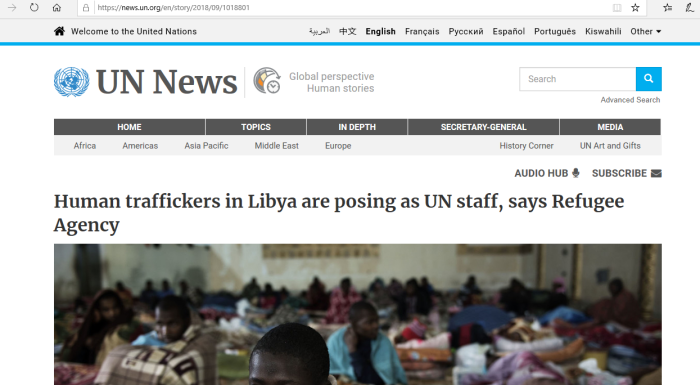 The UN claims that smugglers are targeting vulnerable people by posing as UN staff.
The Agency says that reliable sources and refugees have reported criminals using vests and other items with logos similar to that of UNHCR, at disembarkation points and smuggling hubs.
Genuine UNHCR staff are present at official disembarkation points in Libya, providing medical and humanitarian assistance, such as food, water and clothes, to refugees and migrants.
UNHCR is opposed to the detention of refugees and migrants, but has staff monitoring the situation at Libyan detention centres, aiding and identifying the most vulnerable.
However, the Agency insists that they do not engage in the transfer of refugees from disembarkation points to detention centres. The reports of criminals impersonating UNHCR staff come as the situation for refugees and migrants detained or living in the Libyan capital, Tripoli, has dramatically deteriorated.
Even is this story is true, the hypocrisy is ripe. The UN aids and abets "caravans" trying to overwhelm the Southern U.S. border. It gives information on how to circumvent the Safe Third Country Agreement to enter Canada. The UN helps flood Europe with African and Muslim migrants. Sure, the UN has nothing to do with smuggling people.
14. NXIVM Sex Cult, Mack, Raniere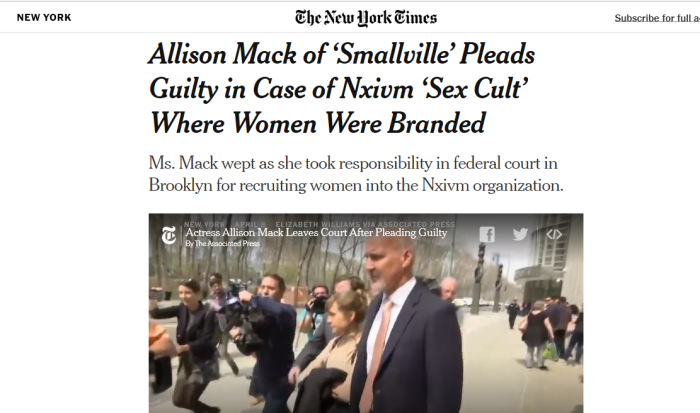 According to the filed complaint, Raniere (who was known in the group as "The Vanguard") oversaw the functioning of NXIVM, which operated under an archaic system: women were told the best way to advance was to become a "slave" watched over by "masters."
They were expected to have sex with their "master" and do any and all menial chores they were ordered to do. They weren't to tell anybody about the arrangement and risked public humiliation if they ever revealed details to any party.
According to a Global News article, Allison Mack has pleaded guilty to 2 charges and is expected to be sentenced later. The entire sex cult is now in the public eye, and more charges are expected.
15. Ray Chandler, Epstein, Pedophile Island
(Allegedly) Bill Clinton with Rachel Chandler at 14 years old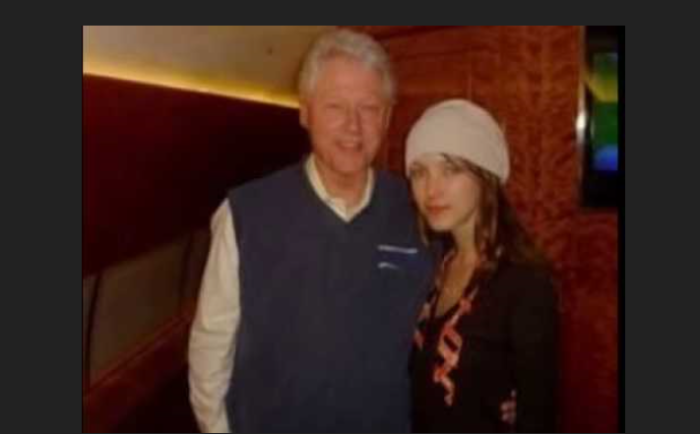 (Allegedly) Prince Andrew with Virginia Roberts at 17 years old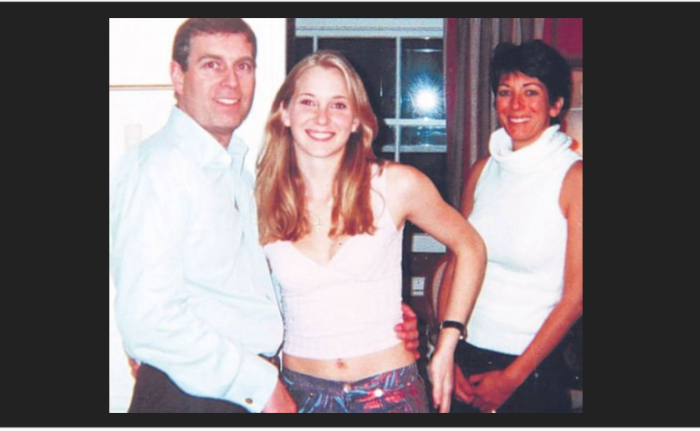 The question to ask in crimes or suspicious deaths is always who would benefit from this individual's death. It was mere coincidence, of course, that a day after a federal appeals court released formerly sealed records in a defamation suit linked to accused pedophile Jeffrey Epstein's "madam" revealing names and a Bill Clinton party on Epstein's sexual fantasy island, Jeffrey Epstein, on suicide watch after a previous attempt, is found dead of an apparent "suicide" in a secure facility that once safely housed Mexico drug lord "El Chapo" Guzmán.
Epstein had an island which he would take underage girls and older men to. The media fittingly dubbed it "Pedophile Island". Since the story broke, new details keep coming to light.
Luckily for many people, Jeffrey Epstein committed suicide (or was "suicided) when the Court decided to unseal documents which would have implicated other people in the conspiracy. The death is widely expected to be just another Clinton suicide. Nothing to see here, people.
16. Pedo Connected To Prime Minister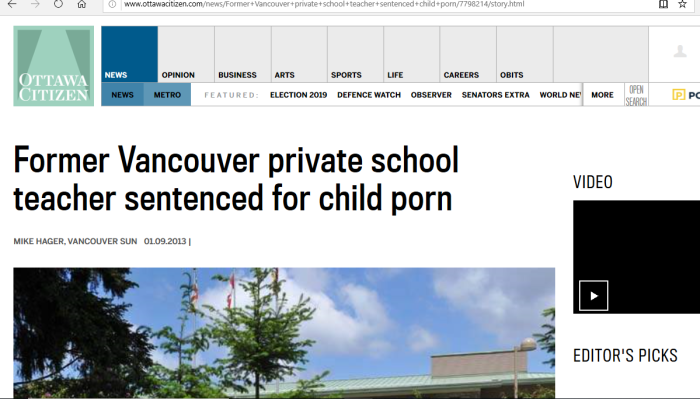 Ingvaldson was reported to have told the court "I have lost many things since being arrested in June, 2010; a marriage, a career that I loved, numerous friendships, respect in the community at large," according to the ruling.
He was caught in 2010 during an international police sting using Facebook. At the time, RCMP said 11 members of the ring had been arrested in Canada, Australia and the U.K.
Ingvaldson had previously taught at another Vancouver private school, West Point Grey Academy, with federal Liberal leadership hopeful Justin Trudeau.
The Crown had asked for a six-month prison term and two years' probation. For the next five years after his prison sentence he is not allowed to go to public parks, swimming pools or other areas where children under 16 are expected to be present, unless he is with another adult over 21. During that same period, he is not allowed to work or volunteer with children under 16 in a position of trust or authority.
Hardly the only pedo in Canadian political circles. He won't be the last either.
17. Final Thoughts On Article
Yes, this could have gone on for much longer, and each topic could have been more in depth. However, this is more of an introduction to what is coming ahead. So, if the coverage seems light, that's why.
The topic is disturbing. It's sickening to see what people are capable of doing to each other.
But as they say, sunlight is the best disinfectant. Hopefully much more will be coming.