(Andrea Horwath ran to be Ontario Premier. She offered the entire Province of Ontario to become a "sanctuary" Province)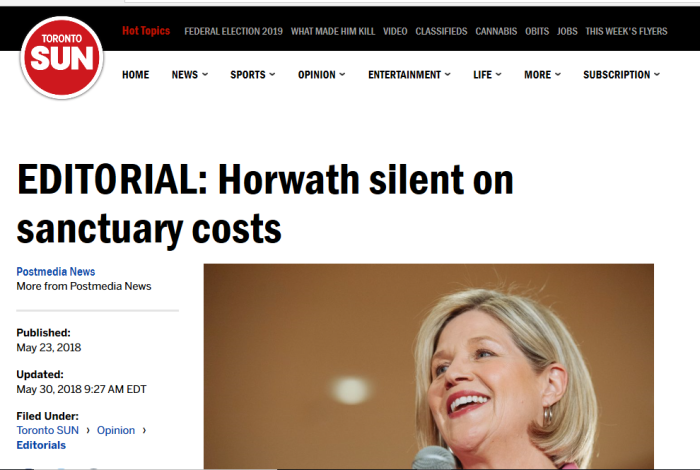 (Canadian Labour Congress supports sanctuary cities)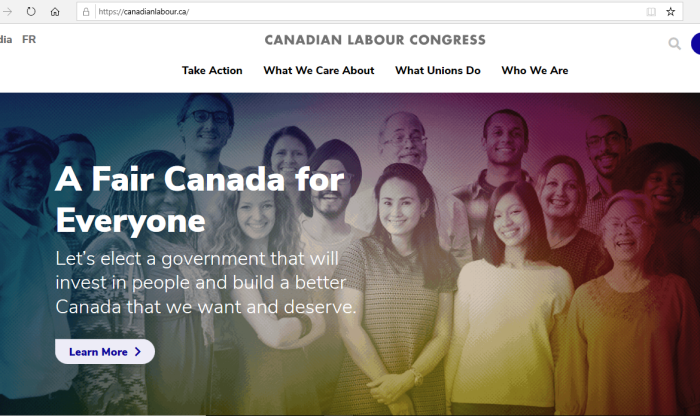 (HuffPo Author Defends Open Borders)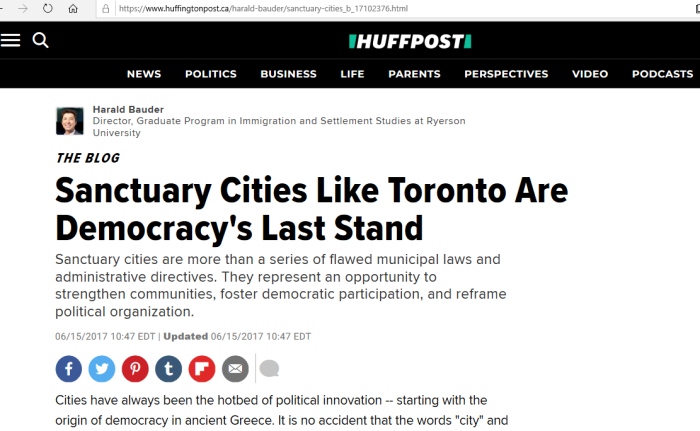 1. Trafficking, Smuggling, Child Exploitation
There is a lot already covered in the TSCE series. Many of the laws politicians pass absolutely ensure this obscenity will continue. Also, take a look at the Border Security topic for some extra background, and the NGOs who are supporting open borders.
2. Important Links
(1) http://publications.gc.ca/site/eng/359079/publication.html
(2) https://canucklaw.ca/canadas-current-immigration-intake-about-1m-annually/
(3) https://canucklaw.ca/economic-immigration-absurd-when-we-have-high-unemployment/
(4) https://canucklaw.ca/true-scale-of-illegals-in-us-22-million-more-amnesty-coming/
(5) https://torontosun.com/opinion/editorials/editorial-horwath-silent-on-sanctuary-costs
(6) https://canadianlabour.ca/uncategorized/sanctuary-cities/
(7) https://torontosun.com/2017/03/14/the-high-cost-of-illegal-migrants/wcm/a2cdce17-4808-48df-9569-1247cba8bcf0
(8) https://www.cbc.ca/news/canada/montreal/montreal-sanctuary-city-1.3990835
(9) https://www.huffingtonpost.ca/harald-bauder/sanctuary-cities_b_17102376.html
3. Horwath Supports Sanctuary Ontario
NDP Leader Andrea Horwath dodged questions Tuesday about how much her campaign promise to declare Ontario a "sanctuary province" for illegal migrants and refugee claimants will cost taxpayers.
Instead, she said providing public services without asking questions about anyone's legal status in Ontario, or co-operating with federal authorities to determine it, is the humane thing to do.
During the 2018 Provincial election campaign in Ontario, NDP Leader Andrea Horwath campaigned on (among other things), turning Ontario into a sanctuary province. She claimed providing social services to people with no legal right to be in the country was "humane". Unsurprisingly, she refused to tell the public how much it would cost, fearing a backlash.
To be fair however, Conservative leader Doug Ford supported Toronto becoming a sanctuary city. So did his brother, Rob Ford. Both men claimed to be "populists" yet supported giving illegal aliens (with no right to be in the country), the right to remain in Toronto and receive taxpayer funded services. It also needs to be said that John Tory, the current mayor of Toronto, supports sanctuary cities as well. He used to be the leader of the Conservative Party of Ontario.
Conservatives supporting sanctuary cities in Ontario? Guess they figure the economic growth will offset the erosion of borders and identity.
4. Canadian Labour Congress Supports Sanctuary Cities, 200-500K Illegals
There are an estimated 200,000 to 500,000 non-status migrants in Canada.
Non-status migrants of course is a euphemism for illegal alien/illegal immigrant. It would be interesting to get a source for that estimate. A Toronto Sun article also quoted the 200K to 500K estimate of illegals, but did not provide a source.
Non-status Migrants in Canadian Municipalities
In Canada, non-status migrants live and work in profound and constant fear.
No kidding. They are in the country illegally.
If they are detected, detained, and deported by immigration officers, their lives and families would be uprooted and their chance to be part of our communities and country destroyed. Social isolation and ever-present fear of detection and deportation makes them an "invisible" population in our communities and can take a very heavy toll on their physical and mental health.
So, should we turn a blind eye to this law breaking just because it would greatly inconvenience the people who are doing it?
Migrants also experience increased insecurity and violence as a result of the rise of racism, Islamophobia, and anti-immigrant sentiment. Having sanctuary city designations in municipalities from coast to coast to coast will not only place Canada on the map with respect to responding to a global crisis, it will also mean that Canadian municipalities are taking an active stand against racism and xenophobia.
Rise in anti-immigrant sentiment? Yes, because they are in the country illegally. Nice job of conflating legal and illegal. For a union that claims to represent 3 million people, it's scary how little it thinks of existing laws.
5. HuffPo Author: Borders As Undemocratic
Sanctuary cities are more than a series of flawed municipal laws and administrative directives. They represent an opportunity to strengthen communities, foster democratic participation, and reframe political organization.
"Sanctuary cities" is a loose term that applies to cities refusing to cooperate with federal authorities to enforce national immigration law. In the U.S. and Canada, so-called don't-ask-don't-tell policies ban municipal service agencies from asking residents for immigration status and — if they happen to find out anyway — from providing this information to federal authorities. In this way, sanctuary cities aim to provide policing, health, housing and other municipal services to the residents who lack federal citizenship or immigration status. These cities are defining membership based on who lives in their urban community, and not who can be classified as worthy based on federal status.
This is what sanctuary cities are trying to achieve: they imagine the city as a democratic space where everyone is included and can politically participate. Sanctuary cities refuse to label some residents deserving and others unwanted because of federal status. All residents — independent of national status — belong in the city.
The current fight in the U.S. over sanctuary city policies reflects a wider struggle over democracy and political inclusion, with cities mitigating the effects of failing national policies. When national leaders such as Donald Trump are challenging the core values of democracy, sanctuary cities are stepping in to defend the principles of liberty and inclusion at the local scale. Cities are proving to be the last bastion of safety for the "huddled masses yearning to breathe free."
Even for Huffington post, this is nonsense. Apparently, being in the country illegally is nothing to be concerned about. Being treated differently for being here illegally is discrimination. Sanctuary cities are a way to redress this grievance.
Donald Trump is challenging the core values of democracy? So are illegal aliens entitled to voting rights? Are they entitled to weigh in on democratic affairs, despite being in the country illegally?
Residents belong in the city, regardless of immigration status? Okay, then why bother with borders at all? Is seems that borders are discriminatory.
Obvious question: sanctuary cities are the last vestige for people yearning to breathe free, then why go to these countries at all? They don't seem very warm and welcoming.
6. 41,000 Illegals To Be Deported Vanish
"The agency's working inventory contains 22,000 individuals with enforceable removal orders, whose whereabouts are known to the agency. The remaining 41,000 cases are individuals with immigration warrants for removal, whose whereabouts are unknown to the agency," her report states.
Most of those who have disappeared are believed to be failed refugee claimants. In 2003, it was estimated that there were 36,000 missing illegal immigrants.
The article explains how Auditor General Sheila Fraser in 2008 found that 41,000 out of 63,000 (about 2/3) of those with pending deportation orders have simply disappeared. Nicely done. Wonder how many of them are now hiding in sanctuary cities. Guess we'll never know.
7. Canucks, Put This In Perspective
As bad as this seems for us Canadians, our situation doesn't hold a candle to the situation going on in the United States.
8. How Bad In The U.S.A.?
Cities and Counties
California
Alameda County
Berkley
Contra Costa County
Los Angeles County
Los Angeles
Monterey County
Napa County
Oakland
Riverside County
Sacramento County
San Bernardino County
San Diego County
San Francisco
San Francisco County
San Mateo County
Santa Ana
Santa Clara County
Santa Cruz County
Sonoma County
Watsonville
Colorado
Arapahoe County
Aurora
Boulder County
Denver
Denver County
Garfield County
Grand County
Jefferson County
Larimer County
Mesa County
Pitkin County
Pueblo County
Routt County
San Miguel County
Weld County
Connecticut
East Haven
Hartford
Florida
Alachua County
Clay County
Georgia
Clayton County
DeKalb County
Iowa
Benton County
Cass County
Franklin County
Fremont County
Greene County
Ida County
Iowa City
Iowa City, Johnson County
Jefferson County
Marion County
Monona County
Montgomery County
Pottawattamie County
Sioux County
Illinois
Chicago
Cook County
Kansas
Butler County
Harvey County
Louisiana
New Orleans
Massachusetts
Amherst
Boston
Cambridge
Concord
Lawrence
Newton
Northhampton
Somerville
Maryland
Baltimore
Montgomery County
Prince George's County
Minnesota
Hennepin County
Mississippi
Jackson
Nebraska
Hall County
Sarpy County
New Jersey
Middlesex County
Newark
Ocean County
Union County
New Mexico
Bernalillo County
New Mexico County Jails
San Miguel
Nevada
Washoe County
New York
Albany
Franklin County
Ithaca
Nassau County
New York City
Omondaga County
St. Lawrence County
Wayne County
Oregon
Baker County
Clackamas County
Clatsop County
Coos County
Crook County
Curry County
Deschutes County
Douglas County
Gilliam County
Grant County
Hood River County
Jackson County
Jefferson County
Josephine County
Lane Countyn
Lincoln County
Linn County
Malheur County
Marion County
Marlon County
Multnomah County
Polk County
Sherman County
Springfield
Tillamok County
Umatilla County
Union County
Wallowa County
Wasco County
Washington County
Wheeler County
Yamhill County
Pennsylvania
Bradford County
Bucks County
Butler County
Chester County
Clarion County
Delaware County
Eerie County
Franklin County
Lebanon County
Lehigh County
Lycoming County
Montgomery County
Montour County
Perry County
Philadelphia
Pike County
Westmoreland County
Rhode Island
Providence, Rhode Island
Rhode Island Department of Corrections
Virginia
Arlington County
Chesterfield County
Fairfax County
Vermont
Burlington
Montpelier
Winooski
Washington
Chelan County
Clallam County
Clark County
Cowlitz County
Franklin County
Jefferson County
King County
Kitsap County
Pierce County
San Juan County
Skagit County
Snohomish County
Spokane County
Seattle
Thurston County
Walla Walla County
Wallowa County
Whatcom County
Yakima County
9. Various Legal Challenges
This is far from exhaustive, but here are a few court challenges regarding sanctuary cities.
A Judge has ruled that Tucson, AZ can in fact hold a referendum in making the city a sanctuary city. Opponents are considering an appeal.
A Texas law against sanctuary cities is being challenged in Federal Court. Lawyers claim a variety of constitutional issues.
A lawsuit against a Florida law against sanctuary cities is being challenged in a Federal Court lawsuit.
Efforts to block funding for sanctuary cities has been stopped by a San Francisco, CA, judge.
10. Sanctuary Cities Do End-Run On Borders
The Federal Government (regardless of country) should be the one setting its own border security policies. Certainly immigration is a topic to be openly discussed, but that is not the case here.
Sanctuary cities circumvent national governments by providing social services to people who aren't even allowed to be the in country in the first place.
It is not "failing to be inclusive" by preventing such cities from happening. Rather, it is respecting the laws and the public.
Certainly the Canadian situation is not nearly as extreme as the American one. We have only a handful of "sanctuary cities", at least for now. The U.S. has 7 sanctuary STATES, and countless cities and counties.