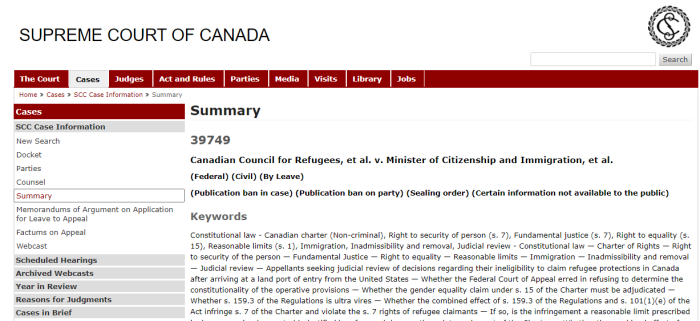 The Supreme Court of Canada recently heard a challenge to strike down the Safe Third Country Agreement (S3CA), on grounds that it violates the Charter of Rights. This was based on 3 consolidated cases of people attempting to enter Canada from the U.S., and being denied.
The primary NGOs acting were: (a) Amnesty International; (b) the Canadian Council for Refugees; and (c) the Canadian Council of Churches. However, there were others who piled on, demanding open borders for people entering Canada illegally.
Appellant Canadian Council for Refugees et al.
Appellant Minister of Citizenship and Immigration Minister of Public Safety and Emergency Preparedness
Intervener Association québécoise des avocats et avocates en droit de l'immigration
Intervener David Asper Centre for Constitutional Rights et al
Intervener National Council of Canadian Muslims et al
Intervener Canadian Association of Refugee Lawyers
Intervener Queen's Prison Law Clinic
Intervener Canadian Civil Liberties Association
Intervener British Columbia Civil Liberties Association
Intervener Advocates for the Rule of Law
Intervener Rainbow Railroad
Intervener HIV AIDS Legal Clinic of Ontario
Intervener Canadian Lawyers for International Human Rights et al
Intervener Rainbow Refugee Society
It's strange that virtually any special interest group can get standing as an intervenor to attack our borders. Meanwhile, actual citizens don't have standing to demand that laws and borders be enforced.
For context, it's important to realize that attacking the function of a border is not new. In fact, these groups have been at it for a long time. Here are some of their efforts. Note: these listings are not exclusive.
Efforts appear to have kicked off after January 1, 1989. This was based on changes to the procedures for determining whether applicants come within the definition of a Convention Refugee.
First attempt to remove "safe country" designation:
April 26, 1989, the Federal Court dismissed an application to strike from the Attorney General of Canada. This had been brought on the basis that the Canadian Council of Churches did not have standing to bring the action and had not demonstrated a cause of action.
March 12, 1990, the Federal Court of Appeals refused to hear the challenge of this idea, since no country had yet been designated a "safe country". In other words, the Canadian Council of Churches had simply fought the concept of a safe country designation.
January 23, 1992, the Supreme Court disallowed the challenge on the grounds that the CCC lacked the necessary standing, and that there were other, more effective ways to achieve their results.
Second attempt to remove "safe country" designation:
December 2004, the Canada/U.S. Safe Third Country Agreement comes into effect. It's worth noting that it's really a 3-way treaty that includes the UNHCR, or United Nations High Commission on Refugees. Of course, there are also limitation and exceptions that make it largely worthless.
November 29, 2007, the Federal Court ruled that the S3CA violated Sections 7 and 15 of the Canadian Charter, and that they couldn't be "saved" as reasonable limitations under Section 1. Ottawa decided to appeal that ruling.
June 27, 2008, the previous ruling was set aside on the grounds that appearing at a border port meant they could be turned away, and that it wasn't a breach of international obligations.
Third attempt to remove "safe country" designation:
July 23, 2015, the Federal Court allowed reconsideration of refugee applications from people coming from Hungary and Serbia. Up until this point, those countries were considered "safe" under the Designation Country of Origin (DCO) policy. This meant that approximately 40 countries — mainly in Europe — were viewed as safe. As a result, there would be mechanisms to expedite the process (and deportations) of claimants from there.
May 17, 2019, the Trudeau Government ended the DCO practice. This meant that no source country would automatically be considered "safe", for people coming to Canada. Considering the S3CA was still in place, that left the United States as the only country that people could be turned away from (close to automatically). The list (and dates) are still available for reference.
Fourth attempt to remove "safe country" designation:
July 22, 2020, the Federal Court ruled that Section 7 of the Charter (security of the person) was violated by the S3CA. While Section 15 (equality) was cited as well, the Judge declined to rule on that provision. Barring an appeal, or legislative changes, the treaty was effectively dead.
April 15, 2021, the Federal Court of Appeals overturned that decision. Section 7 was no violated after all. Now, there had been a cross appeal, as the initial Judge declined to address Section 15. That was dismissed as well, meaning the S3CA was restored to its original form.
October 6, 2022, the Supreme Court hears arguments on striking down the S3CA on constitutional grounds. The decision is reserved, and it's unclear when the ruling will occur. This is where we are today.
There's a certain hypocrisy that needs to be pointed out: Refugee groups attack the S3CA, at least partially on the grounds that the U.S. is an unsafe country, and that they need better protection. In the meantime, these same groups promote refugee resettlement into America, as it's a safe haven. In other words, whether or not the U.S. is safe depends entirely on who the audience is.
Of course, there was never any consultation with Canadians as to whether this is what they really wanted. It's outrageous that the citizens might want to weigh in.
There's also another elephant in the room that needs to be addressed: having lax border policies makes it easier to smuggle (or worse, traffic) people into another country. This does nothing to address that problem, but more on that elsewhere on the site.
(1) https://scc-csc.ca/case-dossier/info/sum-som-eng.aspx?cas=39749
(2) https://scc-csc.ca/case-dossier/info/af-ma-eng.aspx?cas=39749
(3) https://www.canlii.org/en/ca/fct/doc/1989/1989canlii9436/1989canlii9436.html
(4) https://www.canlii.org/en/ca/fca/doc/1990/1990canlii8019/1990canlii8019.html
(5) https://www.canlii.org/en/ca/scc/doc/1992/1992canlii116/1992canlii116.html
(6) https://www.canada.ca/en/immigration-refugees-citizenship/corporate/mandate/policies-operational-instructions-agreements/agreements/safe-third-country-agreement/final-text.html
(7) https://www.canlii.org/en/ca/fct/doc/2007/2007fc1262/2007fc1262.html
(8) https://www.canlii.org/en/ca/fca/doc/2008/2008fca229/2008fca229.html
(9) https://www.canlii.org/en/ca/fct/doc/2015/2015fc892/2015fc892.html
(10) https://www.canada.ca/en/immigration-refugees-citizenship/news/2019/05/canada-ends-the-designated-country-of-origin-practice.html
(11) https://www.canlii.org/en/ca/fct/doc/2020/2020fc770/2020fc770.html
(12) https://www.canlii.org/en/ca/fca/doc/2021/2021fca72/2021fca72.html