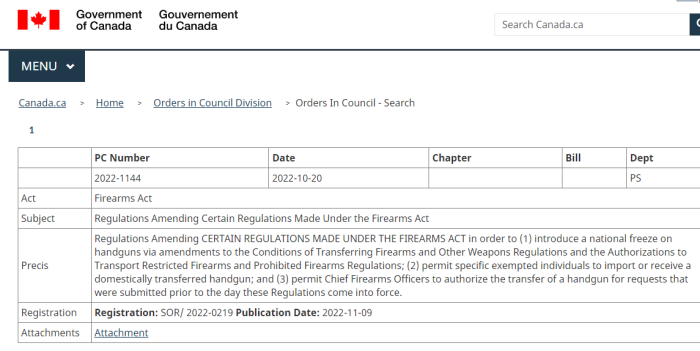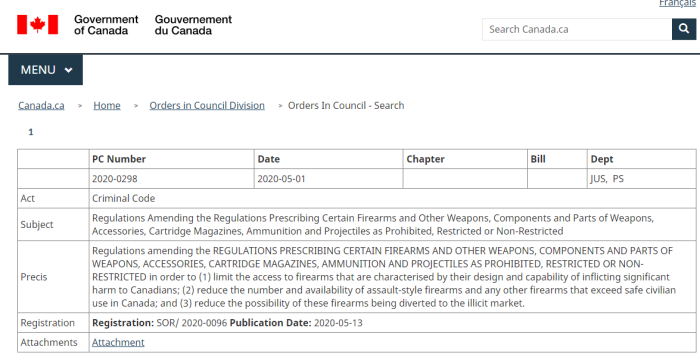 Without going through the legislative process, the Canadian Government has banned the sale, purchase or transfer of handguns. This has been done by Order In Council, and not by a vote. The specific Order is #2022-1144, from the Ministry of Public Safety.
The disarmament of the Canadian public continues, piece by piece.
Bill C-21 would have made a number of changes, including this ban on handgun sales.
The earlier incarnation of this Bill died when the Fall 2021 election was called. A similar version was re-introduced, with many of the same draconian measures. This includes red flag laws and yellow flag laws. That being said, it seems the Government isn't willing to wait, or to take the chance that this won't pass either.
This isn't the first time (even on this Bill) that Ottawa has unilaterally implemented a portion of its own legislation without debate. On August 19, 2022, the importation of handguns into Canada was banned
Bill C-21 is currently only in its second reading, and addresses portions of the Firearms Act, such as:
Registration Certificates
Marginal note:Registration certificate
12.1 A registration certificate may only be issued for a prohibited firearm or a restricted firearm.
This would have been changed by adding that by adding a provision that a certificate cannot be issued for a handgun.
Apparently, any handgun applications submitted before today will still be processed, but any new ones will not.
Many predicted that after O.I.C. 2020-0298 (banning hundreds of models by executive decision), the incremental cuts would come. Keep in mind, it's too obvious to do all at once, so the rights must be whittled away in a piecemeal fashion in order to succeed.
Now, how long until there's a new O.I.C. to confiscate all handguns completely?
(1) https://orders-in-council.canada.ca/results.php?lang=en
(2) https://orders-in-council.canada.ca/attachment.php?attach=42706&lang=en
(3) https://www.parl.ca/legisinfo/en/bill/44-1/c-21
(4) https://www.parl.ca/DocumentViewer/en/44-1/bill/C-21/first-reading
(5) https://orders-in-council.canada.ca/attachment.php?attach=39208&lang=en
(6) https://canucklaw.ca/ottawa-to-ban-handgun-imports-august-19th-using-regulatory-measure/
(7) https://nationalpost.com/news/canada/canada-bans-new-handgun-sales-in-latest-gun-control-action
(8) https://twitter.com/JustinTrudeau/status/1583502471238160384