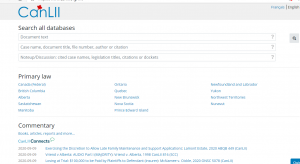 In case you ever want to take the Government to court, or are just morbidly curious about how things work. Here are some standards that get applied in actual cases.
1. Legal Process In Canada
For more information in various processes, check out this series. Some useful tidbits for the average person.
2. Standard For Review (Appeals)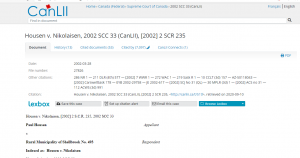 The standard of review for findings of fact is such that they cannot be reversed unless the trial judge has made a "palpable and overriding error". The same degree of deference must be paid to inferences of fact, since many of the reasons for showing deference to the factual findings of the trial judge apply equally to all factual conclusions. The standard of review for inferences of fact is not to verify that the inference can reasonably be supported by the findings of fact of the trial judge, but whether the trial judge made a palpable and overriding error in coming to a factual conclusion based on accepted facts, a stricter standard. Making a factual conclusion of any kind is inextricably linked with assigning weight to evidence, and thus attracts a deferential standard of review. If there is no palpable and overriding error with respect to the underlying facts that the trial judge relies on to draw the inference, then it is only where the inference‑drawing process itself is palpably in error that an appellate court can interfere with the factual conclusion.
Questions of mixed fact and law involve the application of a legal standard to a set of facts. Where the question of mixed fact and law at issue is a finding of negligence, it should be deferred to by appellate courts, in the absence of a legal or palpable and overriding error. Requiring a standard of "palpable and overriding error" for findings of negligence made by either a trial judge or a jury reinforces the proper relationship between the appellate and trial court levels and accords with the established standard of review applicable to a finding of negligence by a jury. Where the issue on appeal involves the trial judge's interpretation of the evidence as a whole, it should not be overturned absent palpable and overriding error. A determination of whether or not the standard of care was met by the defendant involves the application of a legal standard to a set of facts, a question of mixed fact and law, and is thus subject to a standard of palpable and overriding error, unless it is clear that the trial judge made some extricable error in principle with respect to the characterization of the standard or its application, in which case the error may amount to an error of law, subject to a standard of correctness.
FACTUAL FINDINGS: Overriding, palpable errors
ERRORS IN LAW: Standard of correctness
PRINCIPLES INVOLVED:
(1) Limiting the Number, Length and Cost of Appeals
(2) Promoting the Autonomy and Integrity of Trial Proceedings
(3) Recognizing the Expertise of the Trial Judge and His or Her Advantageous Position
Housen v. Nikolaisen, 2002 SCC 33 (CanLII), [2002] 2 SCR 235
https://www.canlii.org/en/ca/scc/doc/2002/2002scc33/2002scc33.html</a5
3. Test For Gross Negligence
Per the Chief Justice: Comment as to attempting to define or replace by paraphrases the phrases "gross negligence" or "wilful and wanton misconduct", and observations as to a trial judge's duty in assisting a jury in an action based upon said enactment. The said phrases imply conduct in which, if there is not conscious wrong doing, there is a very marked departure from the standards by which responsible and competent people in charge of motor cars habitually govern themselves. Subject to that, it is entirely a question of fact for the jury whether conduct falls within the category of one or other of said phrases.
That case was about a motor vehicle accident, but the same principles should apply elsewhere.
McCulloch v. Murray, 1942 CanLII 44 (SCC), [1942] SCR 141
https://www.canlii.org/en/ca/scc/doc/1942/1942canlii44/1942canlii44.html
4. Gross Negligence Through Willful Blindness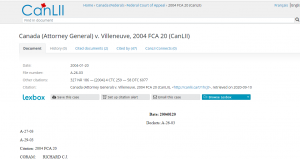 [6] With respect, I think the judge failed to consider the concept of gross negligence that may result from the wrongdoer's willful blindness. Even a wrongful intent, which often takes the form of knowledge of one or more of the ingredients of the alleged act, may be established through proof of willful blindness. In such cases the wrongdoer, while he may not have actual knowledge of the alleged ingredient, will be deemed to have that knowledge.
[8] In this case there is nothing like that. On the contrary, there are misrepresentations and payment of rebates. Before cashing the refund cheques, the respondents were either made aware of the misrepresentations or had strong suspicions as to the existence of misrepresentations or the legitimacy of the refunds themselves. By cashing the refunds and paying rebates, the respondents acquiesced and participated in the scheme that had been established to defraud the Agency. Their participation, which was free and voluntary, was an essential link in the realization of that scheme and they benefited economically from it. It is simply impossible not to conclude that this was willful blindness and consequently gross negligence.
This involved a rebate scheme that people had to know was fraudulent. Consequently, their willful blindness amouinted to gross negligence, according to the Federal Court of Appeal.
Canada (Attorney General) v. Villeneuve, 2004 FCA 20 (CanLII)
https://www.canlii.org/en/ca/fca/doc/2004/2004fca20/2004fca20.html
5. Test To Obtain Interlocutory Injunction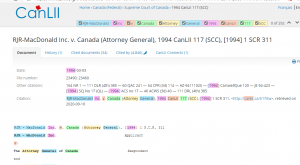 There are three aspects to the test, all of which must be satisfied before interlocutory (temporary) injunctive relief can issue. An applicant must demonstrate:
(a) First, that there is a serious constitutional question to be tried;
(b) Second, that the applicant will suffer irreparable harm if the injunction is not granted; and
(c) third, that the balance of convenience favours the injunction
[1] Manitoba (Attorney General) v Metropolitan Stores Ltd. 1987 CanLII 79 (SCC), [1987] 1 SCR 110
https://www.canlii.org/en/ca/scc/doc/1987/1987canlii79/1987canlii79.html
[2] RJR-MacDonald Inc. v. Canada (Attorney General) 1994 CanLII 117 (SCC), [1994] 1 SCR 311
https://www.canlii.org/en/ca/scc/doc/1995/1995canlii64/1995canlii64.html
[3] Harper v. Canada (Attorney General) 2000 SCC 57 (CanLII), [2000] 2 SCR 764
https://www.canlii.org/en/ca/scc/doc/2000/2000scc57/2000scc57.html
6. Test For Public Interest Standing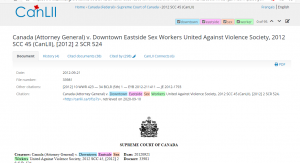 In order for a party to bring a case claiming "public interest standing", there are a few questions that have to be answered. This is so they limit their time to important matters:
(a) Serious Justiciable Issue
(b) The Nature of the Plaintiff's Interest
(c) Reasonable and Effective Means of Bringing the Issue Before the Court
Canada (Attorney General) v. Downtown Eastside Sex Workers United Against Violence Society, 2012 SCC 45 (CanLII), [2012] 2 SCR 524
https://www.canlii.org/en/ca/scc/doc/2012/2012scc45/2012scc45.html
(alternatively) …..
(a) whether there is a serious justiciable issue raised by the claim;
(b) whether the plaintiff is directly affected by the proposed action or, if not, has a genuine interest in its outcome; and
(c) whether the action is a reasonable and effective means to bring the claim to court
Canada (Minister of Justice) v. Borowski, 1981 CanLII 34 (SCC), [1981] 2 S.C.R. 575
https://www.canlii.org/en/ca/scc/doc/1981/1981canlii34/1981canlii34.html
7. Test For Striking Out Pleadings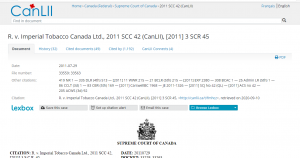 On a motion to strike, a claim will only be struck if it is plain and obvious, assuming the facts pleaded to be true, that the pleading discloses no reasonable cause of action. The approach must be generous, and err on the side of permitting a novel but arguable claim to proceed to trial. However, the judge cannot consider what evidence adduced in the future might or might not show.
A. The Test for Striking Out Claims
.
[17] The parties agree on the test applicable on a motion to strike for not disclosing a reasonable cause of action under r. 19(24)(a) of the B.C. Supreme Court Rules. This Court has reiterated the test on many occasions. A claim will only be struck if it is plain and obvious, assuming the facts pleaded to be true, that the pleading discloses no reasonable cause of action: Odhavji Estate v. Woodhouse, 2003 SCC 69, [2003] 3 S.C.R. 263, at para. 15; Hunt v. Carey Canada Inc., 1990 CanLII 90 (SCC), [1990] 2 S.C.R. 959, at p. 980. Another way of putting the test is that the claim has no reasonable prospect of success. Where a reasonable prospect of success exists, the matter should be allowed to proceed to trial: see, generally, Syl Apps Secure Treatment Centre v. B.D., 2007 SCC 38, [2007] 3 S.C.R. 83; Odhavji Estate; Hunt; Attorney General of Canada v. Inuit Tapirisat of Canada, 1980 CanLII 21 (SCC), [1980] 2 S.C.R. 735.
R. v. Imperial Tobacco Canada Ltd., 2011 SCC 42 (CanLII), [2011] 3 SCR 45
https://www.canlii.org/en/ca/scc/doc/2011/2011scc42/2011scc42.html
8. Self Represented Litigants/Accused People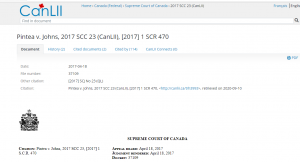 In 2017, the Supreme Court of Canada entrenched rights and protections of self represented litigants and accused persons into law. In the ruling they endorsed the Statement of Principles on Self-represented Litigants and Accused Persons (2006) (online) established by the Canadian Judicial Council. Now, while it's nice to have that extra protection, it won't help a person if they truly have no case.
9. All You Need To Know?
No, of course not. But the following should at least be useful information in determining your options and next move.