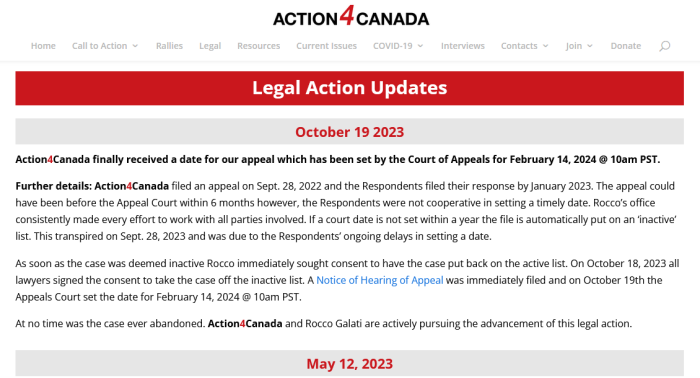 It's interesting what people can do when motivated. October 13th, this piece went out, publishing that the Action4Canada Appeal had been listed as "inactive" due to a failure to schedule the hearing.
Less than a week later, it's been announced that the case has been removed from the "inactive" listings, and a hearing booked for February 14th, 2024.
Further details: Action4Canada filed an appeal on Sept. 28, 2022 and the Respondents filed their response by January 2023. The appeal could have been before the Appeal Court within 6 months however, the Respondents were not cooperative in setting a timely date. Rocco's office consistently made every effort to work with all parties involved. If a court date is not set within a year the file is automatically put on an 'inactive' list. This transpired on Sept. 28, 2023 and was due to the Respondents' ongoing delays in setting a date.
The update is accurate, at least in the sense that Appeals are automatically considered inactive if a Notice of Hearing isn't filed within a year of the Notice of Appeal. That part is true. Section 50 of the B.C. Court of Appeal Rules spells this out.
However, it's probably not a good idea to go around accusing the Respondent/Defendant lawyers of attempting to delay and sabotage the hearing of the Appeal. It seems unlikely that this would be protected under anti-SLAPP laws.
On the off chance that this is true, some receipts would be nice.
Also, delaying the case would make no sense from their perspective. The Appeal is baseless — as has been covered here — and focuses primarily on issues that a B.C. Civil Court has no jurisdiction to grant. It revolves around Paragraph 52 in Justice Ross' ruling. This would be an easy case to get thrown out.
This also isn't the first time that Government lawyers have been accused of deliberately stalling this case. Back in late 2020, there were claims that the B.C. officials had delayed service by 2 1/2 months.
This makes little sense either, as the 391 page Notice of Civil Claim, or NOCC, was a convoluted mess that was doomed to fail from the outset.
Looking at the big picture, Action4Canada has been fundraising for about 3 1/2 years now and still hasn't put forward a valid NOCC. This will never get to Trial.
In other news:
(1) The Federal Court of Appeals will hear the Appeal of some 600+ Plaintiffs — both Government workers and employees of Federally regulated industries — on November 8th, 2023. See the background information here.
(2) Vaccine Choice Canada will be in Court for 2 days, January 30 and February 1st, 2024. This is to finally have the hearing to strike out the July 6, 2020 Claim. For anyone wondering why it took so long, it's because it took 2 1/2 years to have a first appearance.
Factums (arguments) are due starting in November, and will be provided.
(3) Vaccine Choice's other case, from October 2019, hasn't gotten past the pleading stages. This is despite being filed 4 years ago. It may very well be dismissed for delay soon.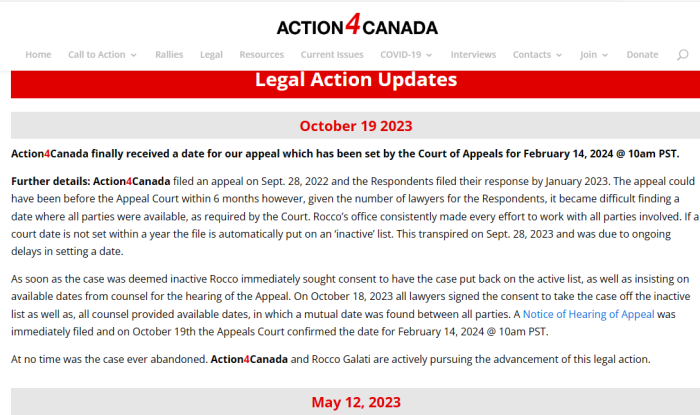 Update: Shortly after this was published, Action4Canada made significant changes to their October 19, 2023 update. They removed references to the Respondent lawyers deliberately delaying the hearing of the Appeal. Guess someone had to explain that these kind of accusations are a bad idea. Without receipts or other proof, a defamation claim was quite possible.
Remember to donate!
ACTION4CANADA APPEAL DOCUMENTS:
(1) A4C Notice Of Appeal September 28 2022
(2) A4C Appeal – Notice Of Appearance – VIHA
(3) A4C Appeal – Notice Of Appearance – BC Defendants
(4) A4C Appeal – Notice Of Appearance – Attorney General of Canada
(5) A4C Appeal – Notice Of Appearance – Peter Kwok, Translink
(6) A4C Appeal – Notice Of Appearance – BC Ferries, Brittney Sylvester
(7) A4C Appeal – Appeal Book – Appellant
(8) A4C Appeal – Appeal Book – Respondent VIH And PHC
(9) A4C Appeal – Appeal Record – Stand Alone Respondents VIHA
(10) A4C Appeal – Appeal Record – Stand Alone
(11) A4C Appeal – Factum – Appellant
(12) A4C Appeal – Factum – Respondent Attorney General Of Canada
(13) A4C Appeal – Factum – Respondent BC Ferries and Brittney Sylvester
(14) A4C Appeal – Factum – Respondent HMK -Provincial Defendants
(15) A4C Appeal – Factum – Respondent Peter Kwok and Translink
(16) A4C Appeal – Factum – Respondent VIHA and Providence Health
(17) A4C Appeal – Consent Order – Factum, Time Limits
(18) A4C Appeal – Change In Representation – BC Defendants
(19) A4C Appeal – Notice Of Hearing February 2024
ACTION4CANADA BCSC DOCUMENTS:
(1) A4C BCSC – Notice Of Civil Claim
(2) A4C BCSC – Response to Civil Claim (Health Authority Defendants)
(3) A4C BCSC – Response to Civil Claim (Provincial Defendants)
(4) A4C BCSC – Affidavit No 1 of Rebecca Hill
(5) A4C BCSC – Notice of Application (AG and RCMP applies to strike)
(6) A4C BCSC – Notice of Application (Provincial Defendants applies to strike)
(7) A4C BCSC – Notice of Application (Translink applies to strike)
(8) A4C BCSC – Application Response (Health Authority Defendants consent to strike)
(9) A4C BCSC – Application Response (BC Ferries consents to strike)
(10) A4C BCSC – Application Response (AG and RCMP consent to Prov. strike application)
(11) A4C BCSC – Application Response (Translink consents to HA Defendants strike application)
(12) A4C BCSC – Application Response (Translink consents to Prov. strike application)
(13) A4C BCSC – Affidavit No 2 of Rebecca Hill
(14) A4C BCSC – Application Record (to strike)
(15) A4C BCSC – Application Response (all plaintiffs)
(16) A4C BCSC – Amended Application Response (all plaintiffs)
(17) A4C BCSC – Reasons For Striking NOCC In Its Entirety
(18) A4C BCSC – Order striking pleadings
(19) A4C BCSC – Order striking pleading in its entirety with costs payable forthwith
(20) A4C BCSC – Appointment to assess bill of costs for Kwok and Translink
(21) A4C BCSC – Notice of Discontinuance (Kimberly Woolman & Estate of Jaqueline Woolman)
(22) A4C BCSC – Notice of Discontinuance (Amy Muranetz)
(23) A4C BCSC – Notice of Discontinuance (Federico Fuoco & Fire Productions Ltd.)
OTHER:
(1) https://www.canlii.org/en/bc/bcsc/doc/2022/2022bcsc1507/2022bcsc1507.html
(2) https://www.lawsociety.bc.ca/Website/media/Shared/docs/becoming/material/civil.pdf
(3) https://www.bclaws.gov.bc.ca/civix/document/id/complete/statreg/168_2009_01#rule3-1
(4) https://justice.gov.bc.ca/cso/index.do
(5) https://www.bclaws.gov.bc.ca/civix/document/id/complete/statreg/120_2022a#division_d0e3656
(6) https://www.canlii.org/en/bc/bcca/doc/2022/2022bcca450/2022bcca450.html#par10
ACTION4CANADA FINANCIAL DOCS:
(A) A4C Docs Profits And Losses 2021-2022
(B) A4C Docs Balance Sheet 2021-2022
(C) A4C-Docs-General-Ledger-2021-2022