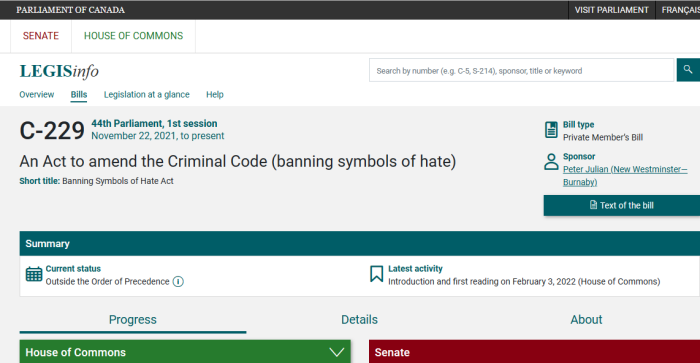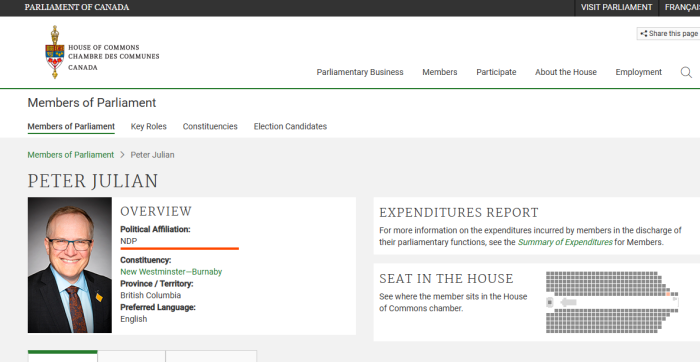 Private Member's Bill C-229 was introduced in early 2021 by N.D.P. M.P Peter Julian. The stated purpose of this piece is to ban so-called symbols of hate.
This goes far beyond Human Rights Tribunals and fines. This Bill (if passed) would amend the Criminal Code and potentially put people in prison for up to 2 years.
Free speech advocates should be calling out such legislation. However, considering this isn't a Government Bill, it's likely that few know about it.
-Whereas Parliament recognizes the importance of preventing all forms of hatred or violence against any group that is distinguished by colour, race, religion, national or ethnic origin, age, sex, sexual orientation, gender identity or expression, or mental or physical disability;
-Whereas Parliament acknowledges past atrocities and violence committed against such groups by persons or organizations whose symbols, emblems, flags and uniforms continue to this day to be used to promote or incite hatred and violence against these groups;
-And whereas it is in the interest of all Canadians to prevent the display or sale of symbols or emblems such as the Nazi swastika and the Ku Klux Klan's insignia, flags such as the standards of Germany between the years 1933 to 1945 and those of the Confederate States of America between the years 1861 to 1865 and uniforms, including the German and Confederate States of America military dress of those periods, as well as the hoods and robes of the Ku Klux Klan;
There's also an obvious pivot here. While the Bill states that it's in the interest of Canadians to ban Nazi or KKK symbols, the earlier text makes it obvious that the scope is far more broad. Specifically, it lists:
colour;
race;
religion;
national or ethnic origin;
age;
sex;
sexual orientation;
gender identity or expression;
mental or physical disability
Another major problem is there is no distinction between "hate", and having a lively and controversial discussion. What about protests based on honest beliefs? Could signs, slogans and speech be lumped in with symbols?
Is it a violation of "gender identity or expression" to say that biological men don't belong in women's sports, changerooms or prisons? It it hateful to say that there are only 2 genders (assigned from before birth), and that there's no switching between them?
As for discrimination against age, could pedophiles use this in order to justify actions and behaviours that would otherwise be considered criminal? Would it be illegal now to criticize and condemn them?
There is a further complication. The Bill would add a provision that states no prosecution will happen if in good faith: "including for educational purposes or accurate depiction in a film, and if on reasonable grounds the person believed the display to be proper and for the public benefit". Now, who's to say what's good faith and what's not?
It appears that such legislation could be selectively applied to target people depending on their ideology. This is so poorly written that it leaves plenty of room for abuse and misapplication.
Sources:
(1) https://www.parl.ca/legisinfo/en/bills?page=3
(2) https://www.parl.ca/legisinfo/en/bill/44-1/c-229
(3) https://www.parl.ca/DocumentViewer/en/44-1/bill/C-229/first-reading
(4) https://www.ourcommons.ca/Members/en/peter-julian(16399)
Private Member Bills In Current Session:
(A) Bill C-207: Creating The "Right" To Affordable Housing
(B) Bill C-219: Creating Environmental Bill Of Rights
(C) Bill C-226: Creating A Strategy For Environmental Racism/Justice
(D) Bill C-235: Building Of A Green Economy In The Prairies
(E) Bill C-250: Imposing Prison Time For Holocaust Denial
(F) Bill C-261: Red Flag Laws For "Hate Speech"
(G) Bill C-293: Domestic Implementation Of Int'l Pandemic Treaty
(H) Bill S-243: Climate Related Finance Act, Banking Acts
(I) Bill S-248: Removing Final Consent For Euthanasia
(J) Bill S-257: Protecting Political Belief Or Activity As Human Rights