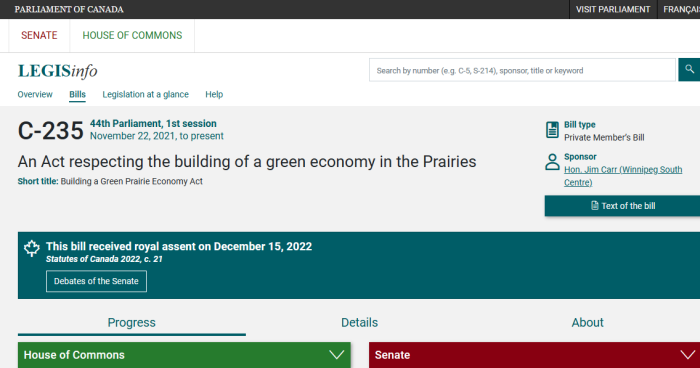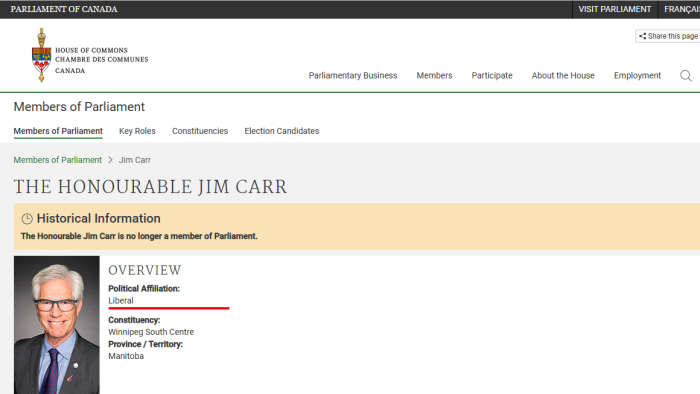 Bill C-235 has received Royal Assent, which is to be the building of a green economy on the Prairies. As the name implies, this legislation ties development in the West to the climate change agenda.
It was brought in by Liberal Jim Carr, who died of cancer in December 2022. He was the Member of Parliament for Winnipeg South Centre. Nonetheless, this Bill did eventually go through.
Content
(3) The framework must include measures that promote economic sustainability and growth and employment in the Prairie provinces by
(a) addressing the limited or non-existent transportation options in small cities and communities, and advancing innovative solutions for public transportation services in those cities and communities;
(b) fostering job creation and skills transfer, as evidenced by increased employment, in Prairie regions that rely on traditional energy industries to enable them to build a net-zero emissions green economy and mitigate their impact on climate change;
(c) prioritizing projects that generate natural infrastructure and a clean environment, such as tree-planting initiatives, solar energy projects and environmental management of the boreal forest, and that make use of all sources of energy, including nuclear energy;
(d) supporting the continued development of clean energy in fields such as agriculture, forestry, transportation, manufacturing and tourism;
(e) establishing programs and projects that stimulate a green economy, in a way that takes into account local circumstances, and the participation of local businesses, governments and civil society organizations; and
(f) preparing infrastructure projects that facilitate adaptation to climate change and mitigation of its adverse effects.
On the surface, all of this sounds fine. However, the details of how this would be implemented are pretty sparse. Would industries that are deemed inconsistent be shut down? Would they be starved financially?
Hearings in the House of Commons took place from September to November 2022, and it involved calling 17 witnesses.
Thursday, September 22, 2022
Thursday, October 6, 2022
Monday, October 17, 2022
Thursday, October 20, 2022
Thursday, November 17, 2022
The Senate also briefly considered the Bill in Committee on December 14, 2022.
So, what happens now that it's passed? Guess we'll have to see in the coming months and years. Potentially, it could lead to the further crippling of industries such as oil and gas.
Sources:
(1) https://www.parl.ca/legisinfo/en/bills?page=3
(2) https://www.parl.ca/legisinfo/en/bill/44-1/c-235
(3) https://www.ourcommons.ca/Members/en/jim-carr(89059)
(4) https://www.parl.ca/DocumentViewer/en/44-1/bill/C-235/royal-assent
(5) https://www.ourcommons.ca/DocumentViewer/en/44-1/INDU/report-7/
(6) https://www.ourcommons.ca/Committees/en/INDU/StudyActivity?studyActivityId=11727447
Private Member Bills In Current Session:
(A) Bill C-207: Creating The "Right" To Affordable Housing
(B) Bill C-219: Creating Environmental Bill Of Rights
(C) Bill C-250: Imposing Prison Time For Holocaust Denial
(D) Bill C-261: Red Flag Laws For "Hate Speech"
(E) Bill C-293: Domestic Implementation Of Int'l Pandemic Treaty
(F) Bill S-243: Climate Related Finance Act, Banking Acts
(G) Bill S-248: Removing Final Consent For Euthanasia
(H) Bill S-257: Protecting Political Belief Or Activity As Human Rights